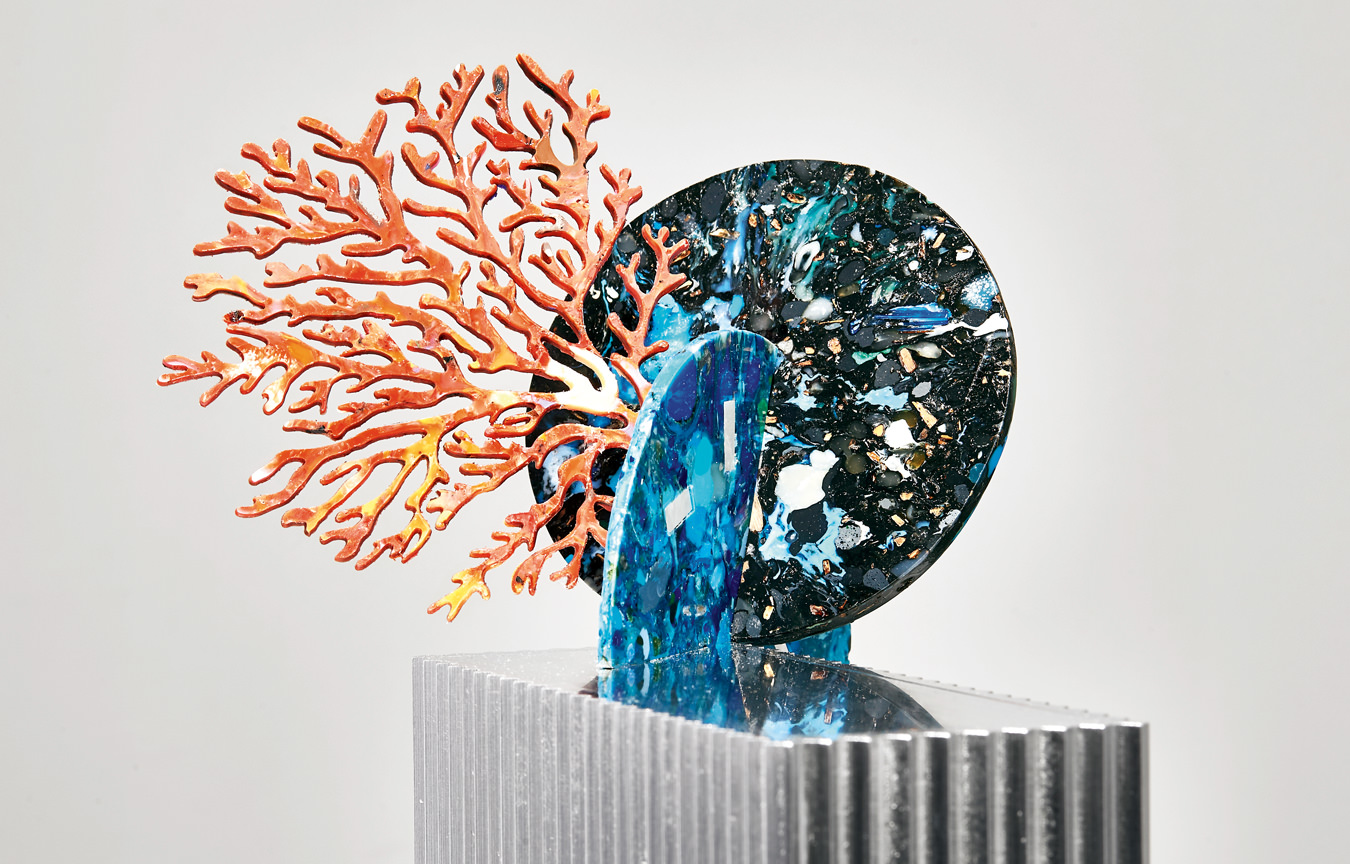 This year's Designer of the Future at Design Miami/Basel included London-based practice Studio Swine, who are quickly picking up a reputation for leading the way in a new wave of communication-led design messages that may actually tip the balance in the environmental battle for hearts and minds.
Studio Swine (an acronym for Super Wide Interdisciplinary New Explorers) was founded five years ago by Japanese architect Azusa Murakami and British artist Alexander Groves after they met at the Royal College of Art, where they both studied product design. Central to their nomadic practice is the importance of place-making, which involves highly detailed research into locations and cultures. "We both came to design from different disciplines of art and architecture so really had to adapt both of our practices to work together and also to work in the design field," Groves explains. "We love collaborating as it results in work that we would never come up with on our own—there's a loss of control and a flexibility that leads to more exciting solutions."
Indeed it does. In 2011, Swine devised their first sea-plastic project, Sea Chair. Determined to bring attention to ocean plastic pollution, they took to sea on a fisherman's boat in Hastings, England, making a film that documented them fishing for plastic and using a mobile plastics furnace to create a functional chair. Sea Chair went viral, achieving 350,000 hits on Vimeo and YouTube and winning them design accolades from around the world, including a second-place award at the Cannes Film Festival.
In 2015, Swine followed up the success of Sea Chair with Gyrecraft, a voyage into the North Atlantic Gyre that revealed the result of using the ocean as a garbage can: at present there are estimated to be over 119,000 pieces of plastic per square kilometre in our seas. The design objects they made with their solar extruder—a manual 3-D printer that uses the sun to melt plastic—again achieved global fame through the film, which was featured on National Geographic online.
While many of their projects have an eco-message, what sets Swine apart from other design studios is their desire to elevate so-called waste products into the luxury sphere. A good example of this to date is Hair Highway, an art project created during a residency in China (courtesy of gallerist Pearl Lam) that saw them add their alchemic touch to human hair, transforming the hair, and bio-resin, into a material reminiscent of tortoise shell. So impressed was The New York Times that it nominated Hair Highway as the highlight of Design Miami/Basel 2014, while the Victoria and Albert Museum in London made it the centrepiece of its recent What Is Luxury? exhibition.
For Groves and Murakami (who married in 2013), what counts is not just the objects they make but the bigger message. "It would be ridiculous to think that we can solve the problem of marine pollution through the production of Sea Chair, but we are a studio of communication as much as we are a studio of design," says Groves. "We want to educate and inspire, as much as we want to play our part."