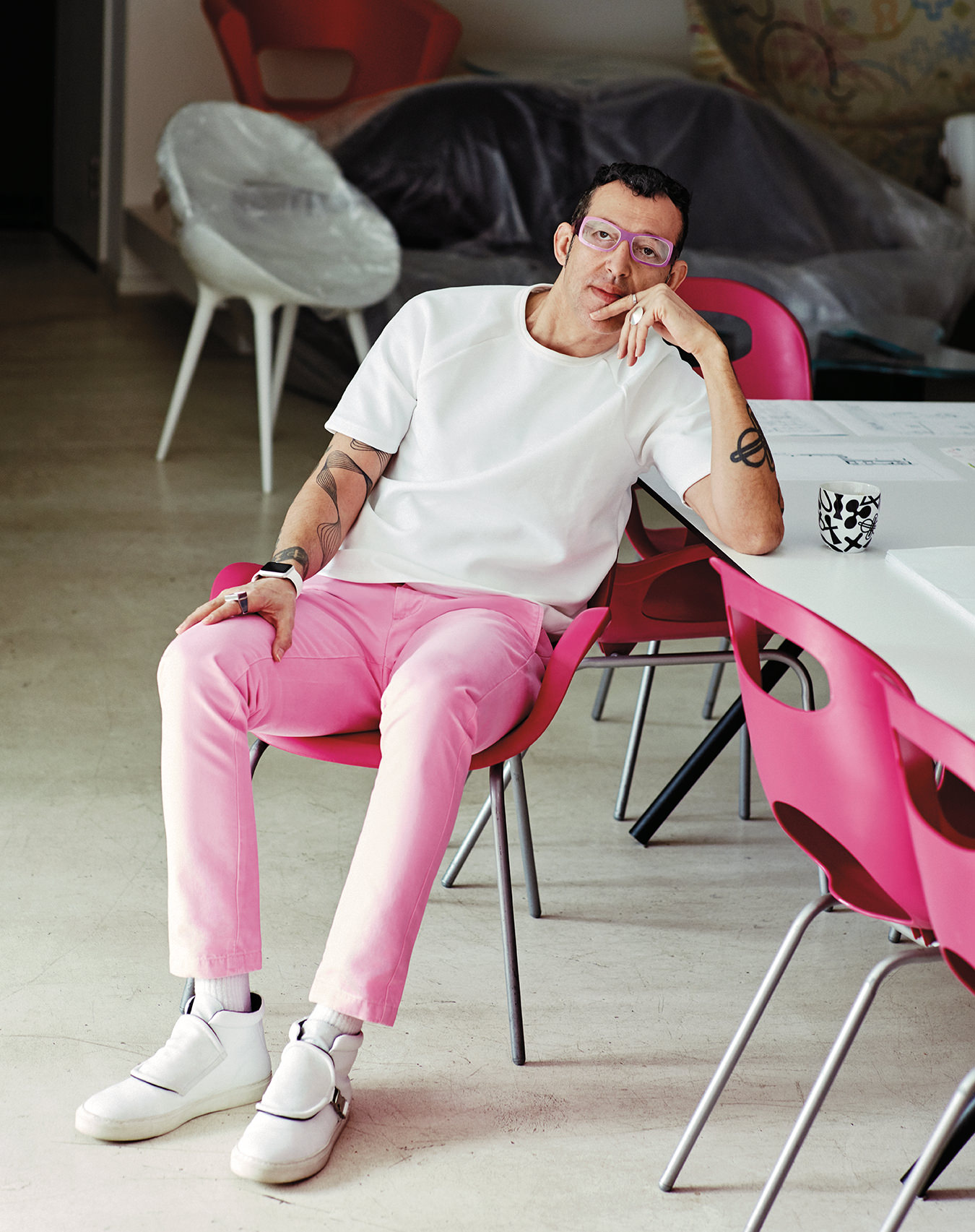 There is a particular location on the spectrum—a little deeper than flamingo, somewhat flusher than cerise—that is occupied almost entirely by a single human being. That individual is Karim Rashid, and his synonymy with the hue in question is so well established, so well known, that it almost doesn't bear mentioning. So let this be as much mention as it gets; the designer, in any case, is eager to talk about other things.
And he has a lot of other things to talk about.
To say that Rashid, 55, is an industrial designer is a bit like saying Michael Jackson was a famous llama enthusiast. Rashid's range goes far beyond household products, extending to architecture, to graphics, to shoes; he has published shelves of books, released dance music compilations, and has generally spent his now nearly three-decade-long career making—not a spectacle of himself necessarily, for he is remarkably subdued in person—but a scene, in the sense that your mother always admonished you not to do at department stores. He has attracted attention less through sheer outrageousness than through a childlike obstinacy, stamping his foot and stubbornly stating that there must be something else, something better, that designers could be doing with their time.
"What I have strived for, for 30 years, is to do original things," says Rashid. "Whether it's a watch or a new hotel, my feeling immediately is I have to do something original, or if I don't someone else will do it." The pursuit of novelty has always been a problematic issue in design: done for its own sake, it can quickly slide into irrelevant gestures; ignored altogether and the designer can decline into repetition or, worse, a kind of puritanism. Rashid inveigles unapologetically on the side of the new, but does so on grounds that are surprisingly (especially for anyone familiar with his colourful public profile) principled. Even moralistic.
"Design is about looking forward, about shaping a new world," he explains. In an environment saturated in nostalgia, where designers seem to be turning more and more to mid-century and even older stylistic formulas, Rashid remains committed to an almost high modernist ideal of Zeitgeist—of an essential spirit of the times that he looks to both reflect and shape in his work. "I see a bistro in Williamsburg with spindle-back chairs, and it all looks to me like blatant kitsch," he says, before turning on his interviewer—who is dressed in a faintly sixties-ish windbreaker and Harry Truman–style clear-framed spectacles—and observing, "These archetypes are so old! You could be dressed in almost any period." One felt upbraided: it's one thing to be behind the times, but Rashid gives you the sense that your passé style choices are a kind of personal failing.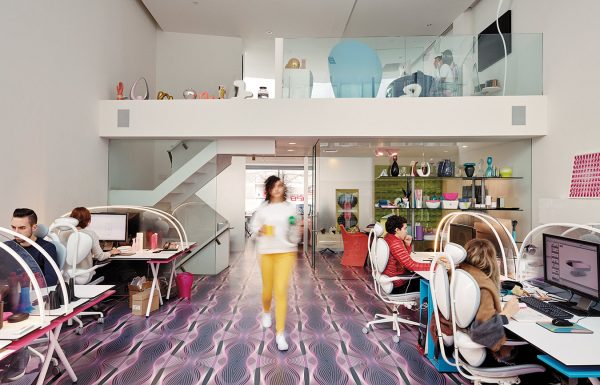 "Design is about looking forward, about shaping a new world."
But that's only because, for him, there are real stakes to these kinds of choices, and Rashid makes his own reasons clear enough in his work. The designer is presently at work on an apartment building in Manhattan's Hudson Heights that uses an innovative building technology rarely employed in the complex New York development world. "It's actually a modular prefab building," says Rashid: the superstructure is being manufactured off-site and then trucked into the city to be assembled unit by unit. Prefab has long been one of the dreams of architecture's big thinkers, an approach that—in theory at least—could allow for the mass production of high-quality housing at a lower cost. The idea that Karim Rashid—provocateur, image-maker, lifestyle marketer—is doing a low-cost housing project may come as a surprise, but that's precisely the point: his gadfly sensibility comes from a conviction that design should be constantly conquering new terrain, stretching its reach and becoming ever more inclusive and pervasive.
Another large-scale project of his that's currently underway is a 500-room hotel in Cancún, Mexico, replete with swimming pools, multiple restaurants, and a location right on the popular resort town's main drag. This last point, says Rashid, has been a challenge—as well as an opportunity for yet another new design solution. "The whole area is just overrun with all these kind of banal, yuppified resorts, and they're almost all identical," says the designer. To make his stand out, he's infused it with vibrant colour and swirling forms, in order "to remind you of Mexico's nature and history," as he puts it, without stooping to time-worn tropes like white stucco and Spanish tile. The theme of the hotel is somewhat risqué: "It's a playground for adults," Rashid explains, a hotel for couples seeking a little, shall we say, variety. (Its name is Temptations.) But even in this rather louche setting, the overall design objective is, at least according to its creator, a lofty one. "The world has become so homogenized," says Rashid. "I'm trying to keep some sense of originality and local culture, but not be too literal about it."
Originality—its pleasures and paradoxes—has been the leitmotif of Rashid's life and career. "I always wanted to do these crazy, wild things," he says, and coming from an artistic family (his father was a painter; his brother Hani is a prominent architect) he felt some licence to try. Born in 1960 in Cairo to English and Egyptian parents, he moved to Canada at a young age and was trained as an industrial designer in Ottawa. "In Canada, we had this functionalist approach to design that wasn't about making beautiful things, but about making better things," he recalls; Rashid's attraction to richer, more varied aesthetics might seem a reaction to that more austere ethic, but his belief that design can tackle any problem, however big, is also a direct reflection of it. Another early influence was post-structuralist theory, which Rashid imbibed heavy doses of when the theoretical tide was at its historical high-water mark with regards to design in the late eighties and early nineties. "I was teaching at the Rhode Island School of Design, and the administration complained I was teaching theory and not design," Rashid recalls. "I was talking about these French philosophers, how they could inspire us and help shape the future—and they kicked me out."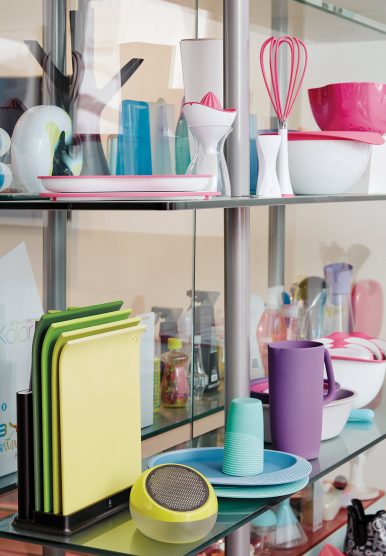 Getting fired from RISD may have been for the best, however. Immediately thereafter, Rashid moved to New York City and set about building a practice of his own, and quickly found a way to marry his interest in the abstractions of theory with the more pragmatic considerations of his functionalist background. "I realized that fortunately my brain is pretty well balanced between left and right—the creative and practical," he says. The insights of Derrida, Deleuze, and others into the complex and shifting nature of contemporary reality could find a visual analogue, Rashid discovered, in complex and shifting forms, and in a headlong embrace of new media and technology, with their potential for still greater formal dynamism. Such a visual approach could, in turn, produce products and spaces that would be better suited to the needs of life in the then-incipient 21st century. "Design is a field where we're shaping daily experiences," says Rashid, "and the daily experiences should perpetually just get better and better—not just from an aesthetic point of view, but easier to use, higher performance." Extravagance, caprice, maybe even solipsism, if done with sufficient energy: these could be turned, under this rubric, to the purposes of making things that truly work for the world today.
"The world has become so homogenized. I'm trying to keep some sense of originality and local culture, but not be too literal about it."
Rashid arrived at this conclusion at a key moment in the history of design, and a fortunate one from his perspective. The power of modern media and the rise of the Internet gave birth, beginning in the late nineties, to a new generation of designers who could ride the new wave of celebrity culture to transform themselves not just into big names but into brands. Rashid understood this implicitly, and became—along with contemporaries and near-contemporaries like Marcel Wanders, Philippe Starck, and Zaha Hadid—a capital-P Personality, a ubiquitous presence on the design scene. At times it feels like he is everywhere: in Milan, at this year's Salone del Mobile, he unveiled new chairs, new faucets, a new modular system for furniture construction, a new graphic identity for Pepsi. He DJed at one party and turned up at scads of others, in full regalia of course, to the delight of the Italian paparazzi. He is, to use a much-abused title, an icon, and he seems to revel in it. In a recent list posted by popular design website Architonic, duly tweeted out by Rashid himself, he ranked 13th among the site's most searched-for designers, losing out to number one Tom Dixon but ahead of Ron Arad and the Campana brothers. (When Rashid was omitted from Wallpaper magazine's inaugural Design Power List in 2014, he fiercely took to Facebook to express his disbelief.)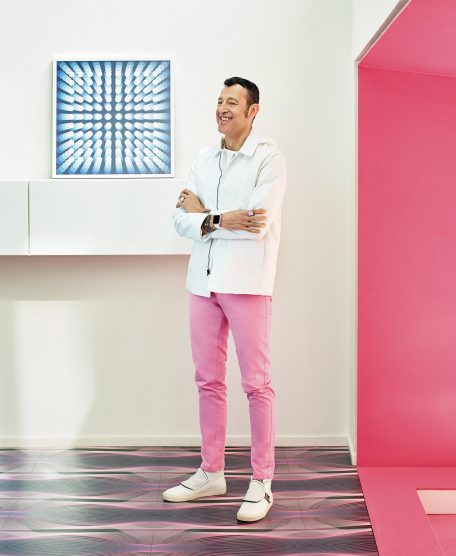 Again, however, there is a lurking earnestness behind all this high-profile hoopla, and it's driven by Rashid's assurance in the power of design (his own, in particular, but design in general) to suit any purpose, fill any need, and otherwise keep pace with the changes being wrought every day in the era of globalization. "Karim can be rational" is the tag line for one of his products that debuted at Salone this year, a kitchen suite for the German manufacturer Rational: the message plays off the designer's image as a doyen of the glitzy and the hyper-stylized, but it's a case Rashid is actually eager to make for himself. "True design is a selfless act," he says. "It's about the objects, not about you at all." And if there's anything Karim Rashid is about, it's objects—as proven by just how many of them his company is turning out.
On the docket right now: a $15,000 super high-end luxury cell phone, for "an American-Kazakh-Finnish-Israeli" startup, the technical powers of which are so extraordinary that Rashid isn't even certain what they are. A new colour line of lamps for FontanaArte. An entire line of self-branded kitchen products, manufactured in China courtesy of a new office he's opened there. Biodegradable flooring systems that line his Manhattan office. A line of toilets. And then there's the condo building in SoHo, the chain of hotels in Germany, and the interiors for the shoe store in Russia. "I'm excited by all of them," says Rashid. "I'm most excited when I feel like I'm going to get a fabulous project. I can be so inspired that I can walk right upstairs and make 30 or 40 sketches. And then sometimes I don't even get the job.
"As a child, I hated the idea of being brought up in a world being told how to live and how to behave and everything," says the designer. His willful determination to do things his own way has certainly earned him his share of detractors, but it's also borne remarkable fruit: this summer he'll be receiving an honorary doctorate (to add to three honorary doctorates already received) from Carleton University, the country that produced him finally giving a little credit to its prodigal (or at any rate prodigious) son. So long as the world around him continues to be characterized by constant mutation and evolution, Rashid will consider it something like his duty to keep producing work that's equally variable, alive, and maybe just a little over the top. In a weird world that's getting weirder every day, Karim Rashid is the designer we deserve.