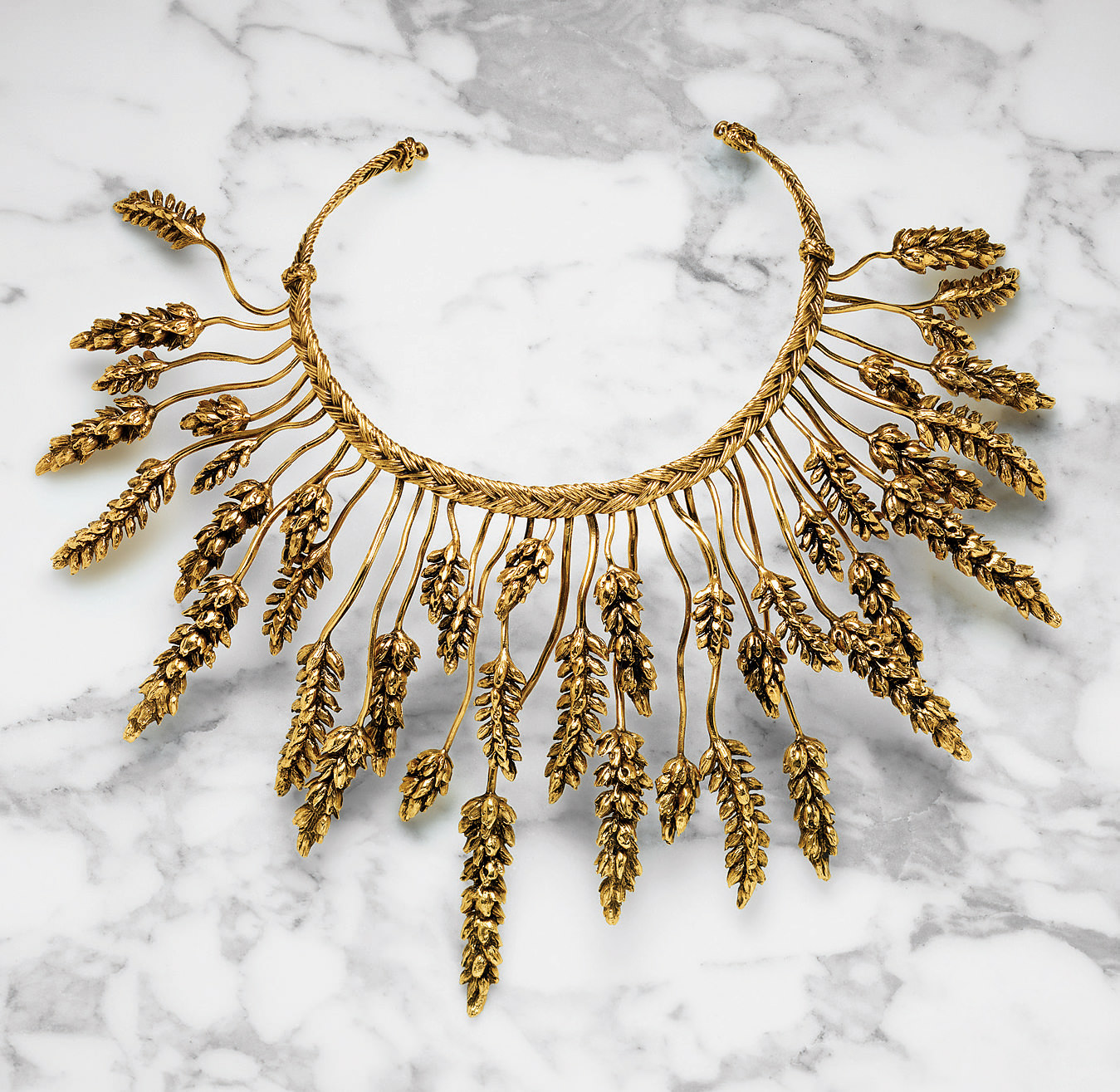 Nature and nurture entwine like a double helix in Aurélie Bidermann's jewellery. For nature, she incorporates butterflies, leaves, and swan feathers in some designs; for the nurture element, first consider her artistic background. She was born in Paris in 1975, and began studying art history in her native city, then in London, and next at Sotheby's impressionist and modern art department in New York. Then it was back in the United Kingdom to work in Sotheby's contemporary art department. To that bank of experience, add childhood travels with family and friends to South America, Europe, and Asia which have made her, she says, "a very Parisienne nomad."
Now take a look at her upbringing. When Bidermann calls her family "amazing", she understates influences that, in light of her subsequent career, are better termed "fortuitous". Living next door was her grand-mère, extremely chic, involved in the arts, and happy to let her granddaughter come over and play with her jewellery. Bidermann's own maman not only let her daughter do the same, she also allowed la petite Aurélie to embellish some of the bijoux with flowers—and wore the results, as did her aunt. A further lucky spoke in fortune's wheel: this same aunt worked for designer Takada Kenzo, another milieu that Bidermann grew familiar with. More good fortune: her parents were art collectors, and they took her to flea markets and auctions.
Feed all this into the hopper and it's no wonder that Bidermann was set for a future in the arts. But not art. Working for Sotheby's, she realized she "had this creativity inside" that she yearned to express in jewellery. Courses in gemology and design provided the basics, and internships taught her different techniques, but it was a sojourn in India that inspired her first collection, launched in 2003. It sold out within a month, mostly to friends in creative fields.
Today, Bidermann sells at the ne plus ultra of boutiques globally, and online at sites such as Net-a-Porter. Her next-door neighbour on rue Saint-Honoré, Colette (arguably the world's first concept store), scooped up Bidermann's designs back in 2004 and, a testament to her approach, has always carried her goods.
Bidermann's signature piece and best seller is a dazzling cuff made from vintage flea-market lace dipped in gold—a find from grandmother's attic given the Midas touch. Like all Bidermann's work, it defies categorization. Underscoring much of her design is a sophisticated playfulness. Witness the wrist-encircler she crafted from linked gold-plated safety pins that fastens with a paper clip, or the interwoven bracelet of ribbon and chain that ties in a bow. "My jewellery is for all generations," says Bidermann. "It's not about style—it's about how you want to wear it."
She's done a runway show with Jason Wu and an exclusive collector's series for Lacoste, and she counts Kate Moss, Drew Barrymore, Liv Tyler, and Sharon Stone—all stylistic one-offs—among her customers. "I am very happy these iconic women wear my pieces," says Bidermann. Men do, too; among them, members of Red Hot Chili Peppers. And it's possible, she says, that she may eventually create an exclusively masculine collection.
In the same way that classic pearls cohabit as easily with worn denim as a little black dress, her eclectic looks work around the clock. Antiquity, ethnicity, and a jokey, contemporary chic are the common themes. Snakes twist into the shape of hearts. Rings miniaturize medieval helmets (the inspiration sourced, she says, at New York's Metropolitan Museum of Art). Liberty fabric combines with old silver and baroque pearls in offbeat headbands. She cites a chat with Sex Pistols manager Malcolm McLaren as inspiring the punk vibe that runs through some of her pieces.
Seeking design inspiration, Bidermann surfs the centuries as effortlessly as she skips across continents. Inquire what her favourite historical period is and she replies, "That's horrible, what you're asking me." What she does, quite simply, is take everything that she loves, shake it up with all the influences she absorbed growing up, and put it into her jewellery.
Photos by Christophe Bouquet.