Mercedes-Benz Collectibles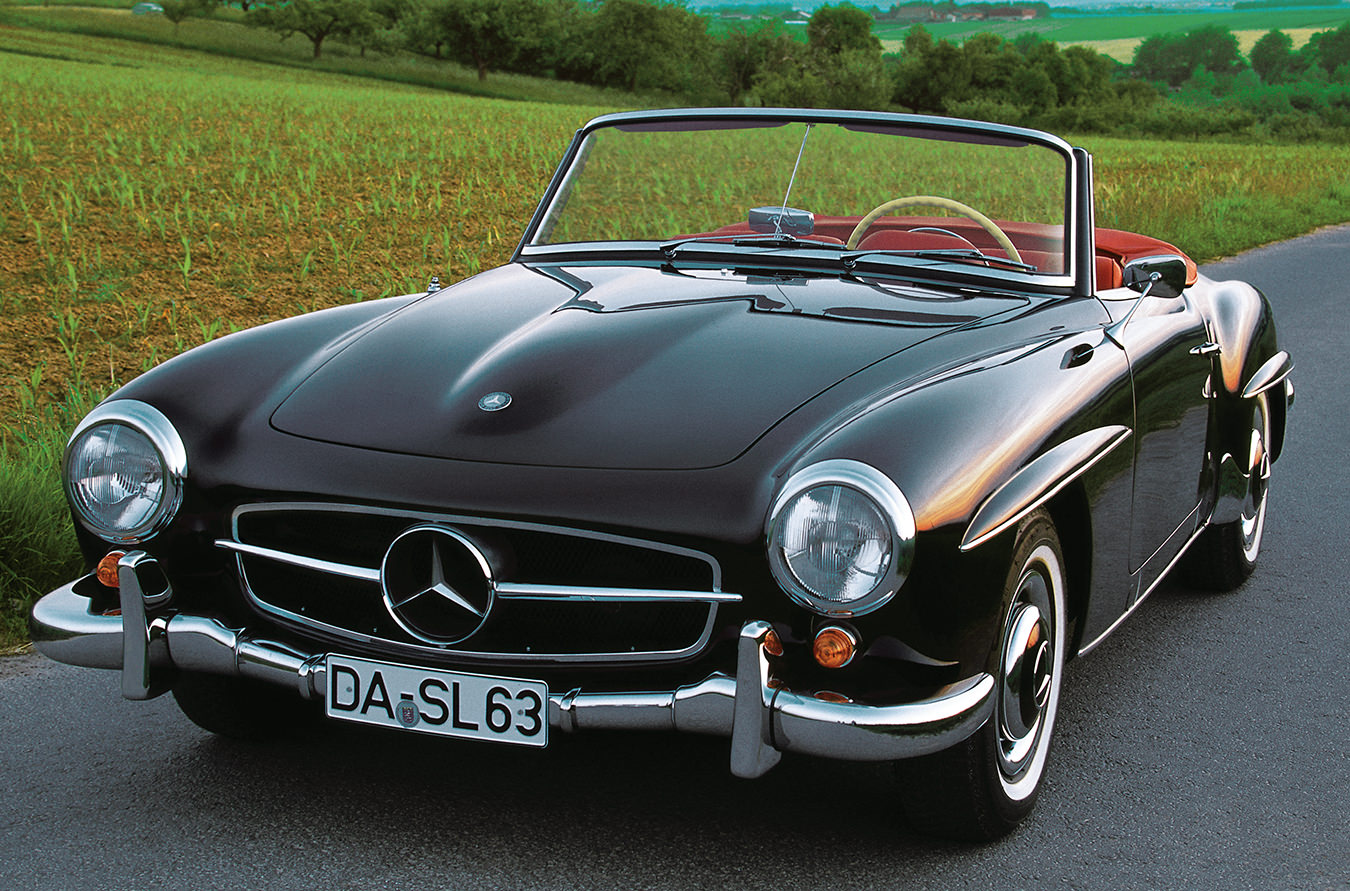 The history of Mercedes-Benz is the history of the car itself. Since company founder Carl Benz became the father of the modern automobile with his three-wheeled Benz Patent-Motorwagen in 1886, followed months later by Gottlieb Daimler's first motorized four-wheeled carriage, Mercedes-Benz has long placed a special emphasis on celebrating its past. This is especially true in 2011, exactly 125 years after those first patents, when we can plainly see how the car has reshaped neighbourhoods, cultures, economies, and the daily routines of billions of people around the world.
Sure, many European luxury car companies look to their long histories to find inspiration for their current models, whether in styling or interior design (key to the left of the wheel, chrome-plated switches, wood accents). But it's a continuously wavering balancing act, since the most exclusive of manufacturers also tend to pioneer new technologies to help give their cars—or perhaps their emblem overall—that vital gloss of desirability.
For Mercedes-Benz, though, its long history of now-collectable classic cars is more than a marketing tool, it's an obsession—one it fosters, as well as shares, as a growing part of its business. The company has operated a Classic Center in Fellbach, Germany, just outside of Stuttgart, since 1993, where it showcases a collection full of immaculately restored Benz classics for sale. It's also where the firm repairs and restores cars for customers, and for its own extensive Mercedes-Benz Classic collection. Some of the cars even make it to the Mercedes-Benz Museum, a nine-storey architectural jewel in Stuttgart that displays more than a century's worth of Mercedes-Benz vehicles, including a working replica of that very first Benz three-wheeler, as well as various early Daimler, Benz, and hyphenless Mercedes models.
This museum opened in 2006, also the year a second Classic Center opened in Irvine, California. And a couple years ago, the company launched a Young Classics program for production vehicles 15 to 30 years old. During a recent visit to the Fellbach Classic Center, the most impressive Young Classic was a limited-edition 2009 SLR Stirling Moss; the windshieldless roadster stood out as a super-sleek post-modern contrast to a line of about 10 glistening pre-1980 machines. This was the 23rd of only 75 such missiles built, the 650-horsepower V8-powered yet windowless creation that marked the end of the supercar co-operation between Mercedes-Benz and Formula One powerhouse McLaren.
It's no longer on the showroom floor, as it recently sold for the princely sum of €750,000 ($1,037,500 Canadian), the exact same price that was announced when the car was unveiled at the 2009 Detroit auto show. Looking back, it could possibly have been the worst location and timing ever for an exotic car launch, with the country, local auto industry, and world economy in the throes of a financial crisis that is only now ebbing. The vehicle looks more like a concept car than the regular SLR, and commemorates Stirling Moss's 1955 record time at the Mille Miglia, a record that still stands.
For most classic Mercedes-Benz owners, it's not about the power the automobile puts out or the cachet it implies, but the emotions the car elicits.
For most classic Benz owners, however, it's not about the power it puts out or the cachet it implies, but the emotions the car elicits. Steven Levy knows all about this powerful emotional pull. The Toronto-based entrepreneur owns a midnight black 1956 190 SL convertible, purchased from a friend three years ago.
"It has no power, no pep [compared to modern cars], but it's just a gorgeous thing to have. There really isn't a car on the road that's as pretty as this," he says, discussing why successful, usually time-starved folks would become collector-car owners, and thus willing and enthusiastic to drive cars that are slower, less comfortable, less reliable, and more finicky than any modern vehicle.
"It's like any other aberration in one's life—some guys jump out of airplanes, others rocket down mountains at 300 kilometres an hour," says Levy. It's a fascination that takes hold and doesn't let go. While some collectors may be hoping for a big financial payoff at some point, the fact that well-chosen classic cars depreciate very slowly helps make up for the higher and more-involved maintenance that's always part of the package. "For most of us, I think it's just a love object, and the lack of depreciation is more of a bonus," he says.
Levy sold his trade show business to the Kennedy family—yes, that Kennedy family—years ago, staying on to run MMPI Canada, which is headed up by Christopher G. Kennedy. While Levy talks glowingly about the car's 10 coats of rich and lustrous black paint, he jokes that it's not much of a babe magnet. "I get lots of looks from guys, but the young women don't notice it much, especially compared to Ferraris and Lamborghinis." He estimates that the car is restored to about 90 per cent of its pristine original form. "With a car like this, you become obsessed with making it perfect."
To help owners like Levy achieve that elusive target, the Classic Centers will help owners locate the parts they need from all Mercedes-Benz parts inventories around the world. The Fellbach facility also stockpiles parts for classic cars going back more than 60 years, with stamping equipment on hand to fabricate any other needed components, which are produced using original Mercedes-Benz engineering blueprints.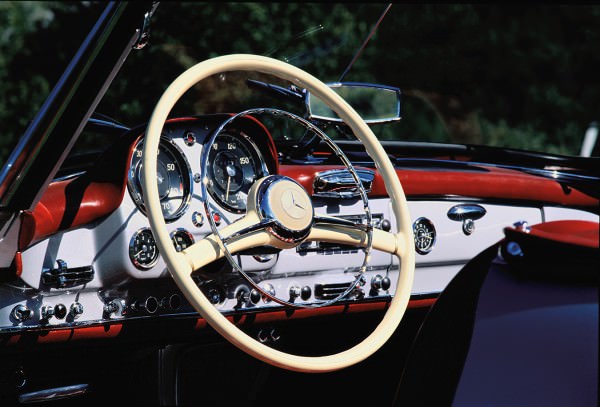 As a special treat after my visit to the Fellbach Classic Center and Young Classics Center at the base of the company museum, Benz officials took me to their "holy halls" of classics, a nondescript building that houses a treasure trove of historically significant models that's off limits to the public. This is their supply chain to the museum, where vehicles are stored before rotating into museum displays or various classic-car events. Some cars are stored in hermetically sealed glass cases, displayed on top of each other like toy racing cars, until one gets up close and sees that they really are life-sized.
Many of the cars are covered for protection, but even the small sampling I saw included a familiar 1965 Pullman Landaulet Popemobile that was first created for Pope Paul VI and used by the Vatican for two decades. It was only returned to Stuttgart in 1985. Sitting next to the glass cubes was an ultra-aerodynamic 1978 C-111, the third in the C-111 series, which established 10 world records for vehicle top speed and fuel efficiency. The near-stock 230-horsepower diesel engine powered the super-aerodynamic engineering project to an average top speed of over 300 kilometres an hour on the Nardo circuit in Italy, and averaged less than 16 litres per 100 kilometres, a figure that some modern SUVs can't manage on government fuel-economy
tests at mere double-digit speeds.
And it went on. To a 190 SLR, a 1955 factory racing replica of a car similar to Levy's car, designed and used by Benz's racing department that never made it to showroom floors. And on. To the Maybach concept that sparked a new brand, Mercedes-Benz's answer to Rolls-Royce. And on.
Of course, the Classic Centers are for vehicles that Mercedes-Benz is willing to part with, such as the 1955 fire-engine red 300 SL Coupe available for sale in Irvine, the first sports car Mercedes-Benz sold in North America, known famously for its gull-wing doors. It's one of 1,400 ever produced and is now listed for $675,000 (U.S.). And although the first Classic Center opened in 1993, Benz's first "classic" car exhibition dates back to 1936, and the firm opened its first automotive museum in 1961.
With a life-sized model of a horse, representing all personal transportation before the late 19th century, at the beginning of the glistening automotive museum in Stuttgart, the history of Mercedes-Benz is not just represented as a century-plus of luxury automobiles, buses, and various celebrity and race cars. The car really did shape the modern world, and the company realizes that it has a responsibility to provide answers to the societal, safety, and environmental changes the car has at least helped bring about.
But whether it's with the Classic Centers or the retro design cues of the SLS or SLK, there's no other car company that celebrates its past quite like Mercedes-Benz.