Chef Jean-Georges Vongerichten
London's Mayfair neighbourhood is synonymous with good taste. Bordered by Oxford and Regent streets, it teems with Georgian town homes and bespoke tailors, smart shops tucked inside glass arcades and historic hotels like the legendary Connaught. There's more than a smattering of Michelin stars, too, and it is here that legendary chef Jean-Georges Vongerichten has staged his victorious return to the city's highly competitive culinary scene, opening his casual-chic restaurant Jean-Georges at the Connaught last summer.
It isn't his first London establishment, however. "I spent time in London [in the '90s] opening Vong at the Berkeley hotel," the New York–based chef explains in a thick French accent, referencing the iconic restaurant that shook up the city's restaurant scene. Vong's fare melded French and Asian flavours—lobster and daikon rolls with rosemary-ginger dip, cumin ice cream served with figs baked in port and Chinese honey—before shuttering in 2002. So what made him foray back over the pond?
"Who cannot choose to run a restaurant at the Connaught?" Vongerichten says laughing. When the Maybourne Hotel Group (which includes the Berkeley, the Connaught, and Claridge's) called, it was an easy decision. "People approach us to open a new restaurant, oh, twice a week, so we do handpick," he admits. "But it is one of my favourite hotels in Europe."
Now 60 years old, Vongerichten's illustrious career can be retraced as both a business lesson and a study in culinary evolution.
The chef's meteoric rise to fame is well-known foodie lore. Now 60 years old, his illustrious career can be retraced as both a business lesson and a study in culinary evolution. Born in Alsace, the region of France known for its German-influenced cuisine—sauerkraut and choucroute plates, tarte flambée speckled with lardons—Vongerichten's parents were talented home cooks. Casting his memory back to that Alsatian childhood, he recalls, "The first flavour that really turned me on to food, I remember it so well, was a banana crushed with a fork, with some orange juice on it. It was then I experienced the balance of the sweetness, the acidity. It triggers the palate. When you're four years old, it's perfect!"
At the age of 16, Vongerichten's parents took him to a birthday dinner at the three-Michelin-starred Auberge de L'Ill, inspiring him to enroll in classic French culinary training, which he did under the legendary likes of Paul Bocuse and Louis Outhier. Next came his travels to Asia, where he opened three restaurants for upscale hotels, his palate changing in unison to crave the aromas and spices of the East. Vongerichten moved to New York in 1986 and opened his first restaurant, JoJo, five years later, of which critic Ruth Reichl wrote in The New York Times, "His food took my breath away." The reviews continued to glow and nearly 27 years later, JoJo, which was renovated last year, is still a New York institution.
Today, the chef's global restaurant portfolio numbers 38 establishments, all under the Jean-Georges Management umbrella, and it spans continents and cities, from St. Barths to Beverly Hills. The man himself weaves chef and restaurateur with prescient finesse, completely controlling all 13 of his famed New York establishments—which include his jewel-in-the-crown Jean-Georges, and two new spots, Public Kitchen and ABCV, open since last year—and spending real time in their kitchens, sometimes a different one every night.
Today, the chef's global restaurant portfolio numbers 38 establishments, and it spans continents and cities, from St. Barths to Beverly Hills.
As for the food, it has become difficult to categorize. A trademark Vongerichten-ism is to enhance meals with vegetables and herb vinaigrettes rather than with meat stocks and creamy bases; his French-Asian culinary finesse is championed. But the chef has also heralded in restaurants with vegan cuisine, pan-Latin plates, and the all-American steakhouse. There is an innate understanding for the need to innovate. "The scene here in New York has changed a lot. There are more young people interested in food now than ever—more kids in their 20s and 30s because of Instagram, social media, and chefs on TV," he says. (He receives intel from his brood: Cedric, 36, Louise, 30, and Chloe, 17.) Over in London, times have changed, too. Vongerichten's new approach there represents, in many ways, a return to the basics—if your "basics" fall into the category of Michelin-starred dining, that is.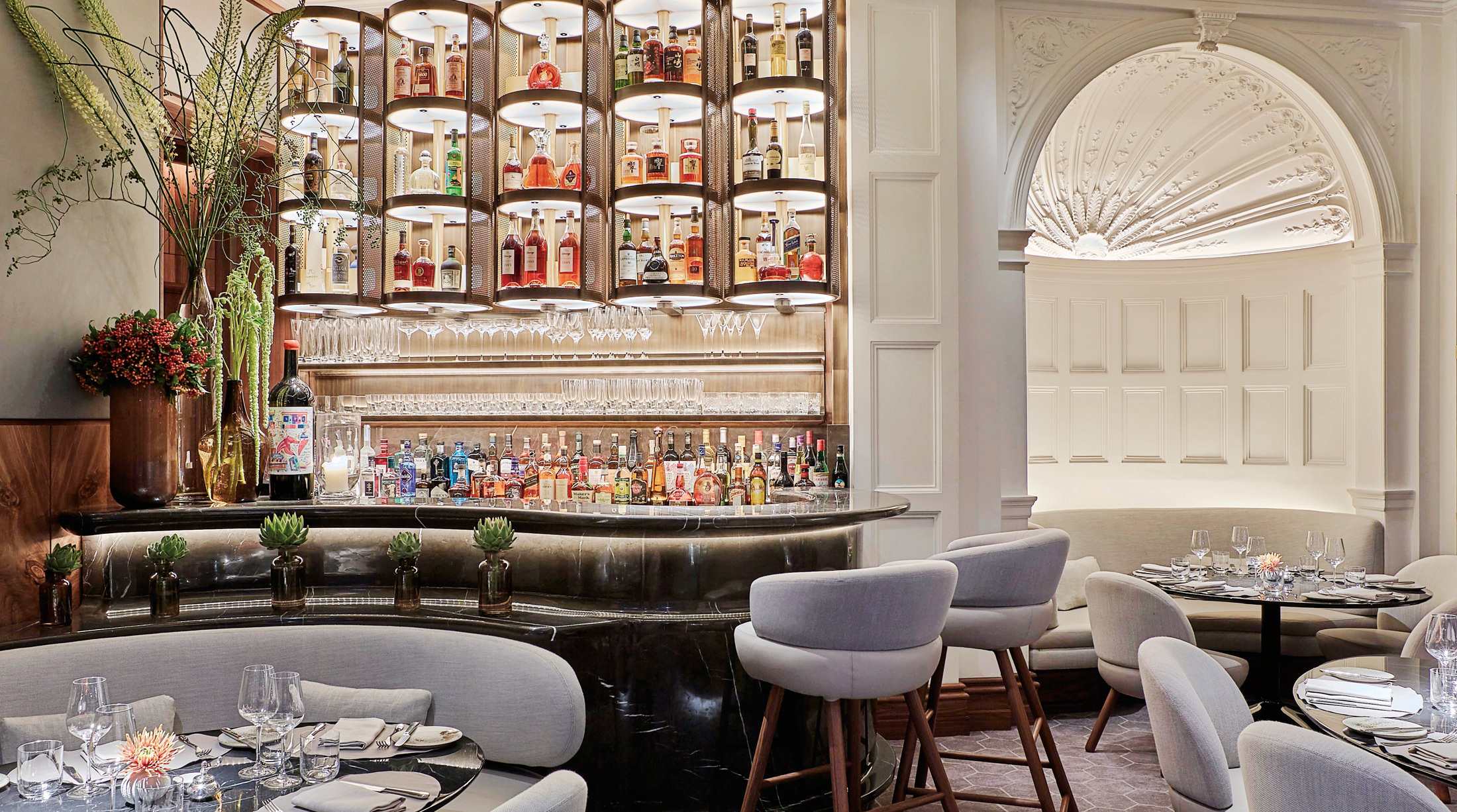 Jean-Georges at the Connaught plates up the best of his New York menus, prepared by executive chef Anshu Anghotra, who hails from India and most recently worked at London's Lanesborough hotel. On any given night, lights are dimmed as dusk falls outside on Mount Street, and diners pore over Jean Jullien–illustrated menus, deciding whether to start with brioche toast and caviar, or crispy salmon nigiri lacquered with chipotle emulsion and soy glaze. The buzzed-about black truffle and fontina pizza is best eaten piping hot, though it can be ordered for takeaway, packed up in a cheeky illustrated box. And of course, the quintessential British meals can't be shunned: there is a 28-day aged ribeye steak and silky mashed potatoes; Vongerichten adds caper and chili rémoulade to fish and chips.
"I've been cooking for 44 years, and I still wake up in the morning and I run to work," says Vongerichten.
As for his order? Sushi over steak, any day of the week. A plant-based crusader at his core, Vongerichten only eats meat twice a month, but still tries every menu item to note acidity, balance, and seasoning. ("After two bites, if the dish is boring, it is missing something.") Perhaps surprisingly, toast ranks up there as a favourite snack: the chef has an extensive toaster collection (more than 50); adores it with avocado; and serves up a simple and delicate peas on toast dish to diners. A fresh twist on the British breakfast staple beans on toast, his recipe lightens up with peas, confit lemon, and mint, then tops it with homemade ricotta.
Vongerichten's only food taboos? They're of the zoo variety: kangaroo, alligator, and the like. Fish, on the other hand, is definitely on the menu as the focus of a future project in New York's revitalized South Street Seaport Tin Building. Slated to open in early 2019, the venue will be "similar to Eataly," the chef says, "but more seafood focused and with a fish market like back in the day—all the men with hooks moving boxes. I'm excited to bring all that back."
With the future looking full, it is clear that Vongerichten's passion satiates him along the way. "I've been cooking for 44 years, and I still wake up in the morning and I run to work. To me, cooking is one of the last tactile pleasures," he says. "I chose this path when I was very young, and I like it now more than ever. And it all began with a crushed banana."
_________
Never miss a story. Sign up for NUVO's weekly newsletter, here.