Rías Baixas and its albariño.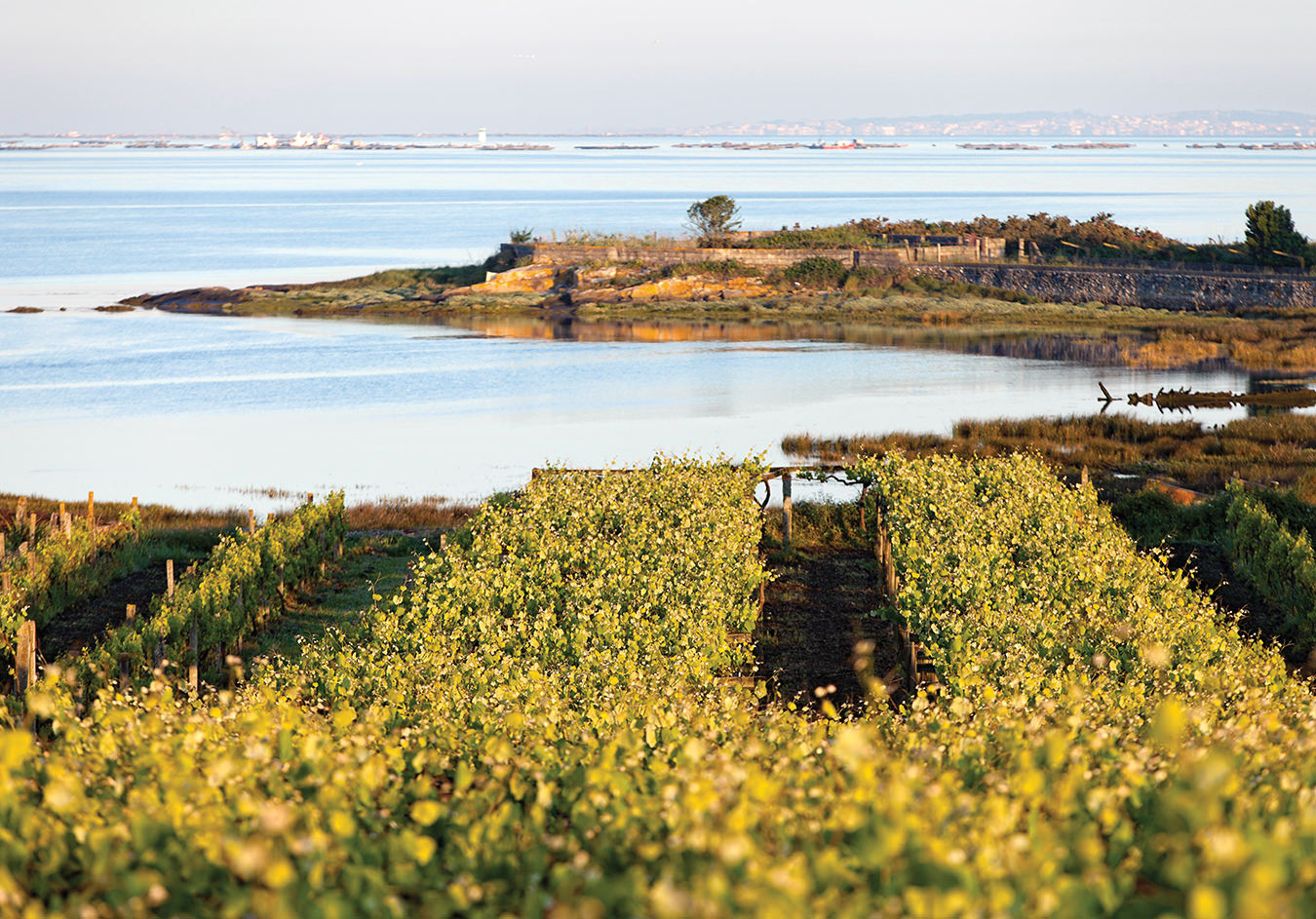 It's a cliché that the wines and food from a particular region go well together. So the high-acid reds of northern Italy complement the many tomato-based dishes common there, while pinot noir from Bourgogne pairs nicely with coq au vin. Yet the principle doesn't always work. Marlborough sauvignon blanc with New Zealand lamb? English sparkling wine with roast beef?
But if you need a poster region for this wine and food matching principle, it might well be Rías Baixas (pronounced ree-ahs buy-shuss), in Galicia, on the Atlantic coast of northwest Spain. Rías Baixas refers to the lower rivers that run from the inland hills into the Atlantic Ocean and form four big estuaries in the Rías Baixas wine region. The diet there reflects the rivers and ocean: octopus is a favourite, but there are many other shellfish, as well as many fish. And the wine? It's mainly the albariño (alba-REE-nyo) variety, usually made in a fresh, fruity, and crisp style that's perfect for washing down grilled octopus, fresh cockles and oysters, grilled turbot or sea bass, or the ubiquitous tuna empanadas.
Albariño is grown in other parts of the world—in northern Portugal (where it's called "alvarinho"), it is used to make vinho verde—but Rías Baixas is its home. It generally grows in vineyards not far from the rocky coast, in a climate that's dry and warm in the summer but cool and very wet in the winter. Albariño wines have become increasingly popular in the last few years, as they've been discovered to be great wines to drink not only with seafood, but also with spicy Asian dishes.
Although most of the 180-or-so wine producers in Rías Baixas are small-scale, there are some larger commercial outfits. Paco & Lola is a co-operative of more than 400 members that produces nothing but albariño. Half of their annual production of two million bottles is a classic, easy-drinking style: dry, with plenty of fresh fruit flavour, lifted by bright and crisp acidity, and sometimes with a hint of creaminess in the texture. Another co-operative is Pazo Baión, where winemaker Andrea Obenza Fervenza made the region's first single-vineyard albariño. Pazo Baión Albariño 2013 shows real finesse and elegance, with assertive acidity (not softened by malolactic fermentation), and impressive structure. Her small-batch (a mere 2,000 bottles) Condes de Albarei En Rama Albariño 2010 has some yeasty aromas from resting on its lees for two to three years, and is bright with some fino sherry notes. The winemaker observes that "this wine will be alive for a long time."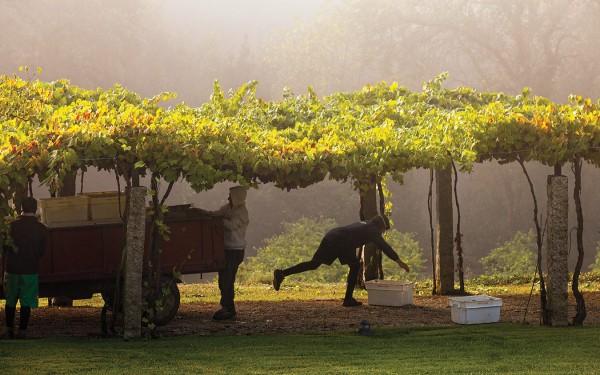 That statement raises the question of the ageability of the albariños of Rías Baixas. The conventional wisdom is that albariño should be drunk young, in its current vintage, rather than be cellared, and there's definitely a lot to be said for a glass of fresh, vibrant albariño with a plate of freshly shucked oysters. But some albariños age very well. At the small, artisanal Adega Pedralonga winery, proprieter Francisco Alfonso Reboreda and his son, winemaker Miguel Alfonso, produce a bottle of 2001 albariño that Alfonso says is "dedicated to those who think albariño has to be drunk within a year." The colour is rich gold, darker than his wines of more recent vintages, but it's in beautiful condition, with well-focused and concentrated fruit and vibrant acidity. Well over a decade old, it has retained its fresh youthfulness. Not as old, but still lively and fresh, and showing rich texture from aging on its lees, is a 2007 albariño from the La Val winery.
Not all albariños age this well, and most are made to be consumed while they are quite young. But Pedralonga's seem to do well. A vertical from the 2010 to 2013 vintages showed the annual variations you expect—lower acidity in 2012 compared to 2013, more intensity in 2011—but all showed the same style: bright, balanced acidity with fruit flavours that stayed solid from start to finish. The fruit is concentrated, but it's not overstated and forward. Alfonso says he used natural yeasts that do not give his wine tropical flavours. "We are not in the tropics, here."
Although some albariño vines are trained on trellises that form a vertical wall of leaves, the most common method in Rías Baixas is the pergola system (called emparrado in Spanish) where the vines grow laterally along wires stretched at the top of two-metre-high granite stakes, forming (in the growing season) a leafy roof over the ground below. Growers who use this method say it provides more air circulation, which is important in a region where heavy rainfall produces dampness that can foster fungal and other vine diseases. It's also said that the pergola system was a more efficient way of using land: it freed the surface of the land for small livestock (like pigs and sheep) and poultry, and even for other crops. But trellised vines have their supporters, too, and they make the same claims for their system—good ventilation and sun exposure—adding that vines on trellises are easier to manage. It seems to be six of one and half a dozen of the other.
It's notable that many of the winemakers in Rías Baixas are women; it's an easy impression that they make up a higher percentage than elsewhere in Spain or Europe more generally. The explanation often given is that for centuries men have been the region's fishers, and have gone off to sea for weeks and months at a time. This left the women to look after the household, including caring for the vineyards, harvesting the grapes, and making the wine. This tradition meant that there was much less resistance in Rías Baixas than in other wine regions to women becoming professional winemakers.
The conventional wisdom is that albariño should be drunk young, in its current vintage, rather than be cellared; but some albariños age very well.
At Santiago Ruiz winery, winemaker Luísa Freire blends other grape varieties with albariño. She makes only one wine (250,000 litres of it), and the 2013 vintage is a blend in which albariño contributes 61 per cent and the loureiro variety 11 per cent, with the remainder made up of three other grapes. Although she appreciates albariño, she sees beyond it: "The world of Galicia is not only albariño. If you look at the other varieties, you find very good things." Still, she is committed to making the albariño-loureiro combination at least 70 per cent of the blend each year. Freire's wine spends three months on lees, and has a generous texture, plenty of structured fruit flavours, and the high acidity that so well suits many of the regional dishes.
It might sound as if there's one style of wine in Rías Baixas, but in fact the region's winemakers compose many variations on the albariño theme. Some of the variations reflect blends, as at La Val, where winemaker José María Ureta makes a fruit-forward crisp white, from albariño (70 per cent) and two other varieties, that is designed to appeal to young people. And there are many elegant 100 per cent albariños that display real finesse. At Viña Cartín, Rosa Pedrosa's Terras de Lantaño shows impressive depth of flavour and structure. Meanwhile, from Adega Eidos, Eidos de Padriñán 2013 delivers a quality take on the classic albariño style. The fruit and acidity are there in spades, but there's also a lovely creamy note to the texture and also a hint of the salinity that is perceptible in some wines from Rías Baixas.
Albariño has been growing in Rías Baixas for centuries, but it is now getting more attention than ever. Exports have risen from around 3-million to 5.5-million litres between 2008 and 2013, with the United States taking almost half of that. Viticulturists and winemakers are studying albariño closely, and experimenting in the vineyard and the winery. As winemaker Freire says, "If we in Rías Baixas don't study it, no one will." There's no consensus on many things: whether there's better quality from vines grown on pergola or trellis, or whether albariño is best drunk in its first year, after two or three years, or when it's even older. Nor should there be a consensus, as there's a wide enough range of styles to justify many positions. The lively debates and disagreements are a good thing: they are reflective of a dynamic wine region that is rediscovering its signature variety and propelling albariño from relative obscurity to growing popularity in world wine markets.
Photos by Xurxo Lobato, ©C.R.D.O. Rías Baixas.