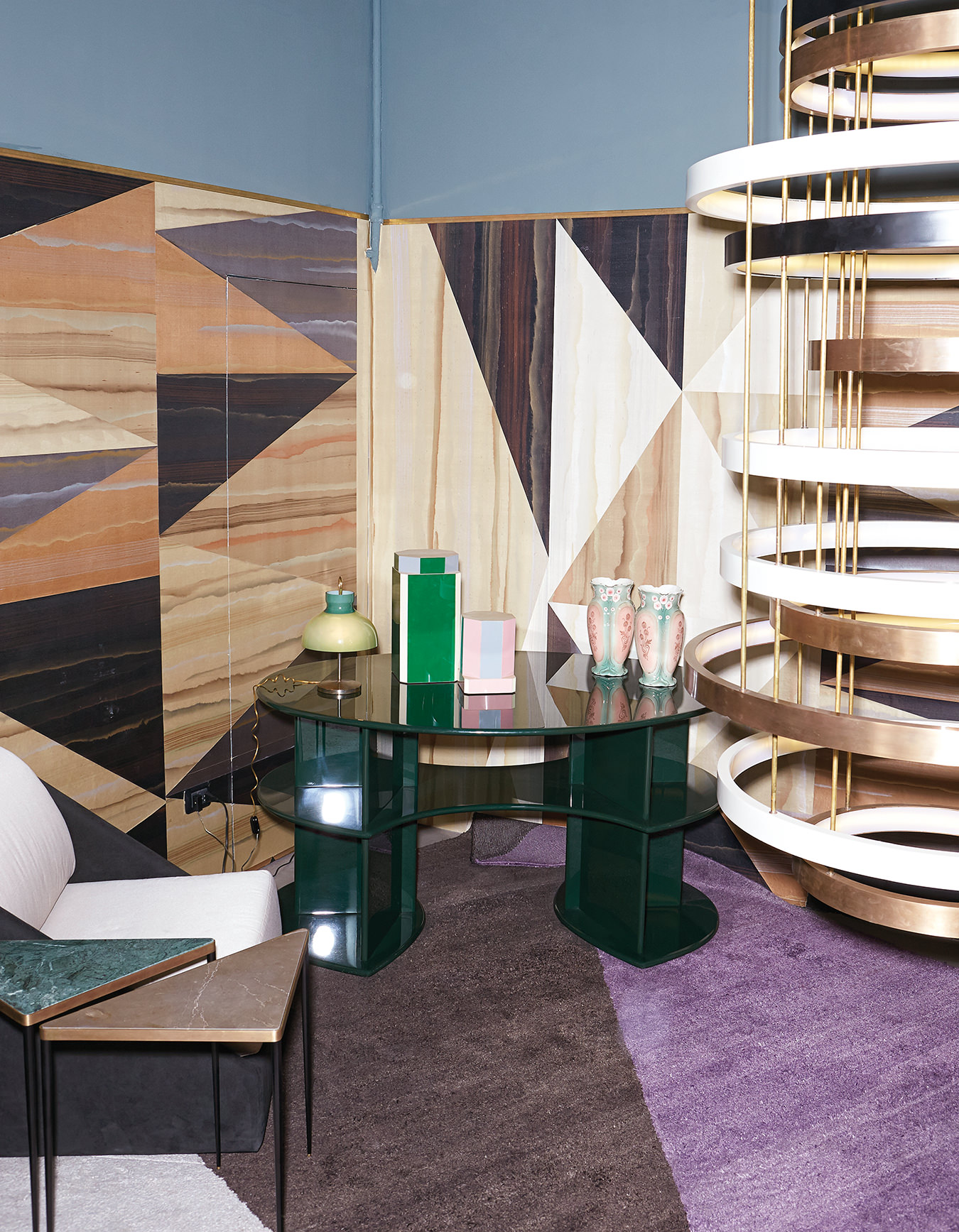 Simultaneously exotic and classical, crafted and industrial, the Dimore Gallery is a suite of bright rooms in the second-floor apartment of an 18th-century Milanese palazzo. This February, interior designers Emiliano Salci and Britt Moran opened the gallery across the hall from their studio, also called Dimore, to showcase the lesser-known aspects of their practice. Indeed, it is an apotheosis of the two men's emotionally immersive work as curators, connoisseurs of craft, and scenographers. More a home than a gallery, like their interiors, it is a product of historical research and synthesis; the collection and creation of objects and objets d'art; and a constantly thrilling confusion of the two.
Frescoes have been excavated, decaying across the ceilings while the walls are awash in a pelagic blue-grey-green colour that is hundreds of years old, formulated afresh from an image found in a book. In the foyer, the brass Lampada Anelli 028 chandelier wafts in concentric hoops that descend to a metre above the floor and, on closer inspection, the geometric marble walls turn out to be ultramodern wallcoverings by Gio Ponti for Fromental. In front of them stand a white bidet, also a Ponti design, and an industrial porcelain sink that has the groovy pinkish tint commonly found in public restrooms circa the 1970s. Elsewhere, where traditional gilt-framed canvases have surely hung over the past 300 or so years, swatches of short-shag rugs have been fitted together like puzzle pieces and mounted on the walls, looking for all the world like a series of Frank Stella paintings. Having recently served as the designers' home, the gallery is still filled with objects they lived with there, pieces of wildly varying provenance rescued by them from unidentifiable historical periods and sources, and bespoke pieces of their own design, which have evolved into a collection called Progetto Non Finito (Unfinished Project). The partners happen to be superb portraitists of personality and place, and so the gallery can also be seen as a portrait of the designers themselves that will always and never be finished.
The Dimore Studio designers, for whom the gallery may be something of an incomplete Wunderkammer, are both alike and unalike. Salci, with his long oval face and close-cropped dark hair and beard, looks patrician: the 42-year-old sometimes wears light, pyjama-like trousers and collarless shirts, asymmetrical vests, and colourful socks, or none at all. Moran, only a year younger, wears his hair tousled and looks Irish, puckish, and spruce. He grew up among the old plantations, the simple colonial houses and mahogany furniture, and the torrid climate and equally torrid history of North Carolina. He remembers the colours—pinks first—of old Charleston, the terracotta tiles, the green of the countryside. Salci also grew up in the countryside, in a Tuscan casolare, or farmhouse, among a sun-bitten Mediterranean landscape, architecture, and palette. The two met while working on a hotel project in Shanghai and now share a home in the Porta Venezia district of Milan, managing a staff of 22 between the gallery and studio. Moran sometimes speaks with that sweepingly imprecise vernacular of interior designers the world over: "things" have "a bit of interest" or are "not super perfect." That this is a business and not an artistic fa-la-la is quite clear: Salci and Moran will be the first to point out with surprising pragmatism that their art direction, interiors, and furnishings are fashioned to articulate unique identities for clients and brands at a time when technology is homogenizing the globe. They'll point it out to you, but then, as you enter each of their spaces, you'll forget it completely.
Dimore is a practice that draws on design, art, architecture, and fashion to create hotels, restaurants, shops, and furnishings. The pair have esoteric interests and catholic tastes—beauty is beauty and ideas, ideas, wherever they may be found—that aren't led, fenced in, or propped up by trend despite the men's creative proximity to the fashion industry. Dimore clients include not just fashion-forward individuals but fashion companies like Bottega Veneta and Hermès, for whom they create atmospheric installations; also, hoteliers Ian Schrager and Thierry Costes. For experimental beauty brand Aēsop, the studio recently completed its most classical retail interior in Paris's Saint-Sulpice district, with checked floors and undulating brass drawers. (A constant stream of projects in France means they commute a few times each month to Paris.) They also designed the freshly minted Ceresio 7, a swimming pool–flanked restaurant on a Milan rooftop that looks onto the Alps like a Miami Beach for Swiss bankers. Right now, the men, both scions of families working in the furniture industry, who came from graphic design (Moran) and art direction (Salci), are working on two luxury hotels—one in Mexico and the other in Paris—for which they will create everything from interiors to menu graphics, poolside towels to logos.
Dimore Studio is a practice that draws on design, art, architecture, and fashion to create restaurants, hotels, shops, and furnishings. Beauty is beauty and ideas, ideas, wherever they may be found.
Dimore spaces articulate oppositions seamlessly, where wood worn with age cohabits with oxidized metal, raw silk with fibreglass, industrial bidets with centuries-old frescoes. The designers revel in subtle but discernible details partly because their version of luxury is an expression of the stories told by objects, and the relationships between objects, as much as the objects themselves. "Each piece has to have a history that is coherent and creates a link between what we want to create, the owner's history and style, and its own intrinsic characteristics," Salci explains. Most of the things they collect or make are unconventional—a coffee table made from an offset stack of irregularly shaped slabs, each lacquered in pink, beige, or black—or used unconventionally, like the carpet-paintings and a modular bookshelf they made from irregular columns of wall-mounted hollow brass tubes. They pair a recycled cement artwork with a Chinese art deco rug; a late-18th-century Gustavian daybed with a marble Eero Saarinen Tulip dining table and a new brass-clad kitchen island of their own design, lit by an embedded fluorescent strip. They can fill a room with a menagerie of objects without creating clutter or incoherence and eschew anything superfluous while distilling an atmosphere as thick as Milan's sultry summer air. This may be because the designers take objects and furnishings out of their original contexts and drop them into unexpected combinations, where they assume new identities and establish unexpected connections with one another, absorbed in and reconciled to their own rich differences—warm and noble, heavy and light, light and dark. Sometimes the essential beauty of an object is not obvious: "We use objects with special details or characteristics that are not immediately evident, to give character to a space," Salci says. "The object itself can be hidden or it can have hidden preciosity, that you don't see at first sight but you discover with a more careful observation." He gives as one example a Chinese table from circa 1700 that they own: "At first sight it is just a very nice table, but when you get close to it, you discover a very precious and detailed mother-of-pearl decor on the top." Through their lens, space is a collage of times, places, materials and moods, colours and textures that seem still on the surface while a strong current runs in their depths.
Making literal their view of space as a collage of creative disciplines and influences, Dimore assembled a mood board–like catalogue—or, rather, a vaguely catalogue-like mood board—for gallery visitors during April's Salone Internazionale del Mobile in Milan. It took their furnishings out of any ordinary context by collaging each piece into photographs of random places: end tables in a derelict WC, a pendant light in a pet store, a coffee table in a gym's weight room, a bench beneath a delivery truck, or a daybed in the middle of the street. "As creative as our clients let us be, you always have to do the blueprints and the renders. The poetic part is the mood boarding," Moran says in an indeterminate drawl shaped by a childhood in the American South and early adulthood in Europe, including studies in Edinburgh, regular sojourns in Paris, and a lush domesticity in Milan. "We do one large collage in our head that we turn into reality, a 3-D collage for people to live in," he says, pointing out that Dimore even assembles a final mood board for each client, bound in leather pressed with gilt lettering by a Milanese bookbinder. "It makes it unique, a box of samples that becomes a cabinet de curiosité just for them."
Projects begin with the location and existing elements and decor, Salci explains: the architecture, history, and light exposure, even its links to the street. What's outside the space influences what will be inside. "Context is fundamental," Moran agrees. "Location dictates a lot of what we do, and researching the project is a great form of inspiration." Inspiration comes from every direction: history, art exhibitions, photography, fabric samples, film. Every office at the studio has a large bookshelf behind the desk, a personal library of ideas maintained by each staff member. Dipping into these libraries, an extensive office archive, and anywhere else that seems helpful at the time, the team prints off fabrics and cuts out photos to place objects together visually while brainstorming around the conference table. Later they place and replace objects and furniture together in the actual rooms. The designers' composition and layering of ideas and materials appear deliberate and sure-footed, but Moran suggests that a project's character may equally have its origins in not being able to decide what to eliminate.
This means that Dimore must mix masterfully. Its materials' palettes range from tarnished silver and brass patinated by the touch of hands, and exuberant printed textiles and traditional velvet, to glossy lacquer, fibreglass, and coarse ceramics. Their silhouettes range from squishy to slender, insistent forms: their Poltrona 08 armchair consists of a boxy frame as thin as a straight-back chair cushioned shallowly with blue velvet, making it look hard and soft at the same time.
They also achieve hard and soft using light, mapping interiors strategically in ways that are alternately surreptitious and deeply textural. Salci believes that light is "fundamental" because it partitions a room without taking up space or obstructing sightlines; describes the way that antique shades in linen, silk, parchment, or tin plate diffuse light as "charismatic"; and considers shadow to be as important a design element as illumination. Rather than becoming disjunctive, these oppositions and relationships are immediately felt. "The emotional side always governs our decisions," Salci says about the selection of objects. "To give character to space, we use objects with special details that you don't see at first, but which you discover with careful observation," Salci continues. "We do not like objects and elements that show off their precious soul. What really counts is the interaction each object has with those surrounding it."
Likewise reinforcing and augmenting each in the pair, the interaction between Salci and Moran is what really seems to count. "When we see something, we're able to extrapolate the same sensation from the same object," Moran says. "I'm more traditional and [Salci] is more contemporary, but if you put something very traditional and something very contemporary together, you're able to captivate several different audiences at once. Sometimes there's a heated discussion, but it's always constructive for the project." He pauses for a moment and then adds, "That heated discussion is passion."
Aug 25, 2014
Updated: Jun 27, 2014