Vintages from the mountains, plains, and coast.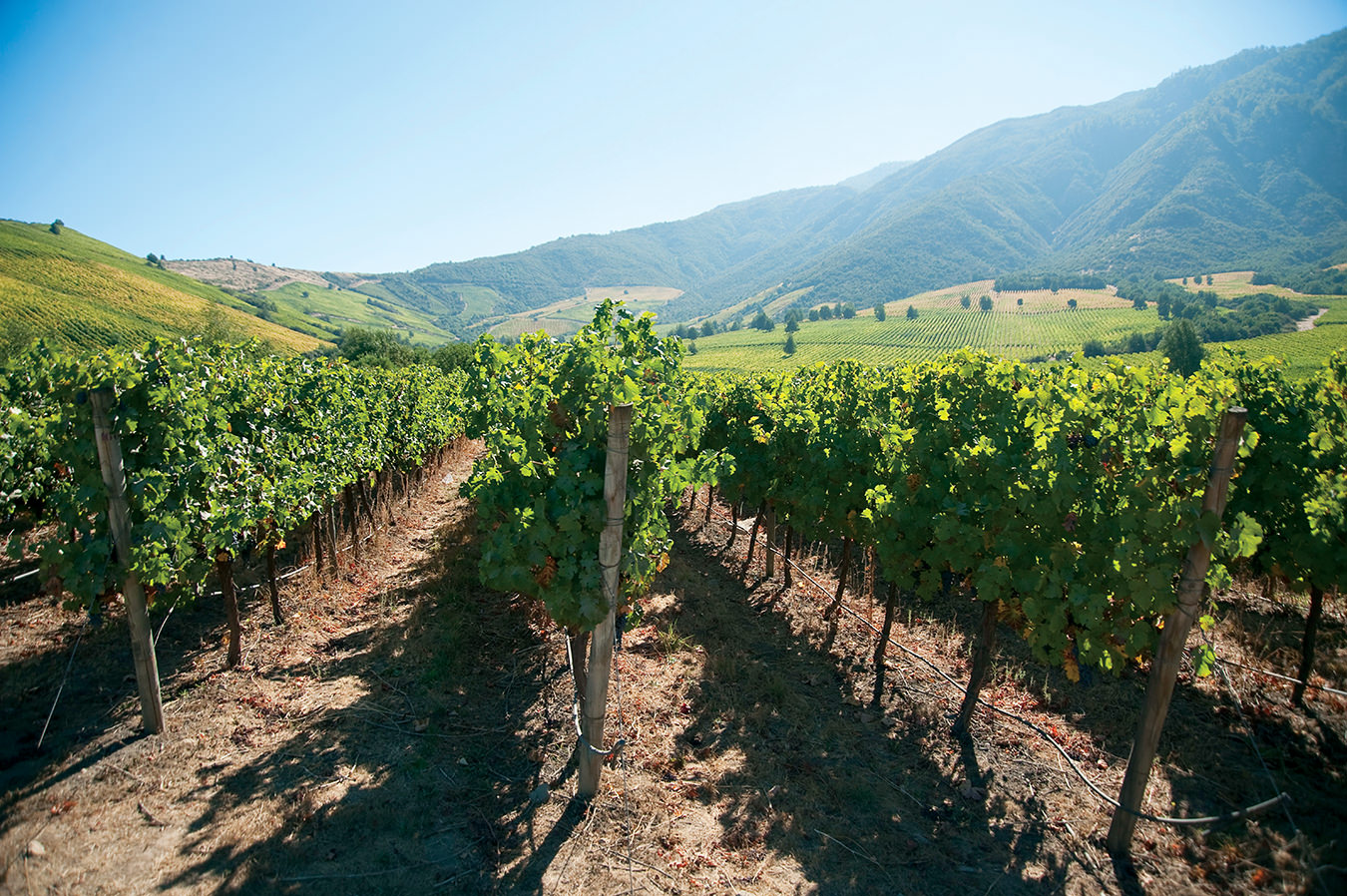 Geographically, Chile counts as part of the New World, but in terms of its wine, it has a good claim to be part of the Old. Spanish missionaries and settlers planted grapevines there as early as the 1550s—and not just for sacramental purposes, by any means. Wine was part of the Spanish diet, and Spaniards in the colonies wanted regular and plentiful supplies of it so as to re-create the lifestyle they were used to. By starting to produce wine as soon as they conquered the country, the Spanish beat the Dutch in South Africa by 100 years, and the English in Australia by 250. And in terms of producing wine at home, they even beat major European regions, like Bordeaux's Médoc, where grapevines were not planted until the 1600s.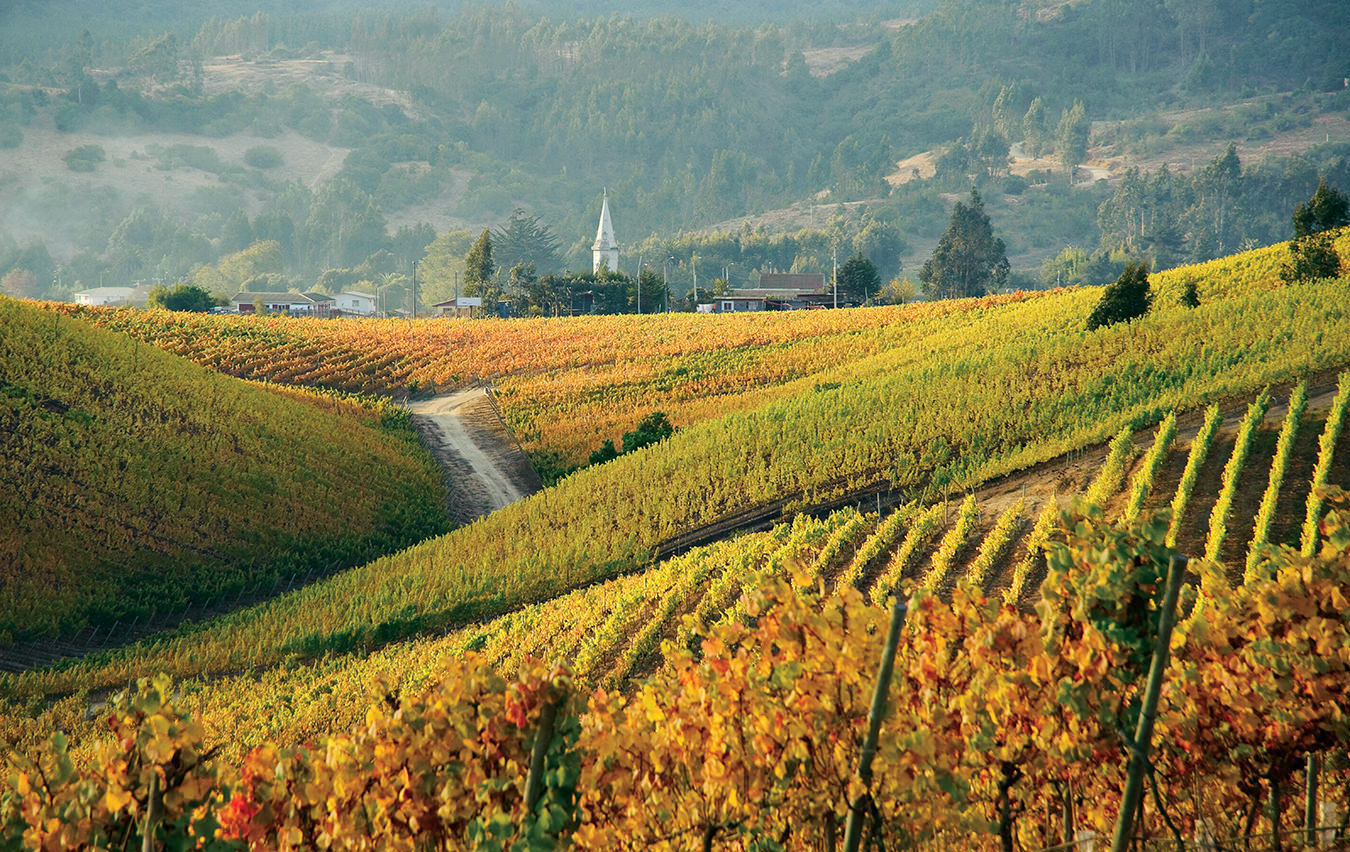 Not only were the early Spanish viticulturists precocious but they also had a keen eye for good sites, and many of the earliest vineyards were located in what are now Chile's prime wine-producing regions. Of course, vines are planted far more extensively now, as Chile has become one of the world's major wine-producing countries—it sits in eighth place, between Australia and South Africa.
You can now find vines in the far north of Chile, in remote valleys such as Elqui and Limarí. In the south (heading toward Antarctica), there are cooler sites like Bío-Bío and Malleco. There's a temptation to read Chile in a north-south direction: looked at on a map, it's a long, thin strip of land that seems to be clinging to the Andes so as not to slide into the Pacific. But Chile's wine industry has recently adopted a classification system that's counterintuitive, working east-west.
Wine regions are now divided into three zones: "Andes" represents the regions in the foothills of the famous mountain range; "between the ranges" comprises the plains between the Andes and the coastal mountain range; and "coastal" consists of the regions open to the influences of the Pacific Ocean by breaks in the coastal range.
Each zone has broadly distinctive growing conditions. The coastal regions are cooled by the breezes from the Pacific, which is in turn cooled along Chile's coast by the Humboldt Current as it sweeps north from the Antarctic. Even in the heat of summer, when the popular beaches of Viña del Mar are teeming with sunbathers, few people brave the water, which is so cold that it sends fog over the vines in the coastal areas and protects the grapes from direct sun. The inland plains are much warmer (although they vary from north to south), while the Andes mountains drop cool air onto the regions in their foothills, ensuring a wide variation in temperature from day to night, which fosters both fruit ripeness and good acidity. Each of Chile's wine regions is now assigned to one of these three zones.
Many of the coastal regions, which include Limarí, Casablanca, and Leyda Valleys, have been developed as recently as the 1980s but are already well known for their fresh sauvignon blancs, chardonnays, and pinot noirs. The Limarí vineyards of Concha y Toro produce an elegant, stylish chardonnay and a pinot noir that delivers some of the herbal character of New Zealand pinot, although with more weight behind it. Montes Limited Selection Sauvignon Blanc 2013, from Leyda Valley, shows delicious citrus flavours penetrated by crisp, fresh acidity, and great fruit-acid balance. Its sibling Alpha Chardonnay, from Casablanca Valley, delivers the variety in a restrained, elegant style with complex consistency right through the palate.
Casa Silva makes the point by branding a sauvignon blanc "Cool Coast"—from vineyards in the "coastal" zone. Matetic, one of the few biodynamic wineries in Chile, produces a very impressive EQ Chardonnay from vineyards in the coastal San Antonio Valley. There's a hint of light toast in the aromas, and the wine has a winning combination of stylish freshness and concentrated, serious substance.
Chile has become one of the world's major wine-producing countries—it sits in eighth place, between Australia and South Africa.
Cabernet sauvignon from Chile has earned a reputation for quality, and many have excellent cellaring potential. The top cabernet from Concha y Toro, Don Melchor, has a 1996 vintage that looks set to hold well for two decades. It's fresh and balanced, and it shows nuanced fruit flavours with some mature notes just coming to the fore. Santa Rita's Casa Real Cabernet Sauvignon 2010 is the stunning result of a demanding barrel selection; only 15 per cent of the barrels are chosen for this rich, juicy red, with its gorgeous, silky tannins.
Although Chilean cabernet sauvignon has a well-deserved reputation, carmenère is thought of as the country's signature variety. Often called the "lost grape", it is more accurately the "found grape": carmenère disappeared from its home in Bordeaux in the late 1800s and was generally assumed to have become extinct, until vines were discovered in the merlot vineyards of the Carmen winery in 1994. It had been mistaken for a subvariety of merlot, but since then, carmenère has been planted separately, and it now makes for many fine wines—although winemakers say they're still working on their carmenère projects. "I think Chile is still learning about carmenère," says Alejandro Abarca, general manager of the Odfjell winery.
Some producers make wine from carmenère alone, while others think it needs some cabernet sauvignon or other variety to give it structure. At Concha y Toro, winemaker Marcelo Papa blends 10 per cent cabernet sauvignon into his Terrunyo Carmenere 2010 for a result that's big bodied, well structured, and framed by sleek, ripe tannins. Over at Santa Rita, though, the 100 per cent varietal Medalla Real Carmenere 2009 is packed with flavour and shows very good balance and structure. Anakena, a smaller producer, also makes a high-end 100 per cent carmenère called Alwa, which is big and dense, with concentrated black fruit to the fore.
One of the top wines at Montes, Purple Angel, is predominantly carmenère (92 per cent in 2011) with a little petit verdot. It's an extraordinarily rich and dense blend, but it never loses sight of the virtues (it's an angel, after all) of balance and structure. At the Montes winery, which is built on feng shui principles, the wines are aged in barrels in a room shaped like an amphitheatre, where they are serenaded with Gregorian chants.
One promising trend in Chilean wine is the restoration of old vineyards. Through the central valley, producers have located vineyards, often rundown or poorly managed, that contain vines as old as a hundred years. Many of the vines are cabernet sauvignon and carignan varieties, and a number of producers are now looking after them and making impressive wines. In the Maule Valley, producers using carignan vines that are at least 60 years old have formed an association, called Vigno, to promote quality. Blends must be at least 65 per cent old-vine carignan, and the other varieties must be from old vines from the area. The wines must be kept at least two years in barrel or bottle before being sold.
Santa Carolina offers a Specialities Dry Farming Carignan, made from 80-year-old vines. It's rich in concentrated flavours of wild berries, and it has generous tannins. Spanish producer Miguel Torres draws on 100-year-old vines for Manso de Velasco Cabernet Sauvignon. It's a weighty red, with spicy fruit, framed with firm tannins.
Other red varieties also shine in Chile. Syrah is becoming popular, and it appears to have a very promising future. Odfjell Orzada Syrah 2008 is a stunning example that's replete with well-defined fruit, a clean, juicy texture, and fine-grained tannins. Errazuriz, which recently opened a futuristic winery next to its original, 19th-century facility, produces La Cumbre Syrah, a deep wine with ripe sweetness at its core. Pinot noir is widely planted, too, and Montes's Outer Limits Pinot Noir 2011 is an impressive, high-toned example.
Chile has a long history of wine production, but it's a relatively recent player in the world wine market. Producers have long agonized that Chile seems to have no clearly defined international identity that the country's wines can exploit. Categorizing them by broad regions based on the coast, the plain, and the Andes might just be the smart move that gives Chilean wines a unique identity. There's a sense that Chile's wine producers are attuned to the market, and that augurs well for the Chilean wine industry's having a future as impressive as its past is long.