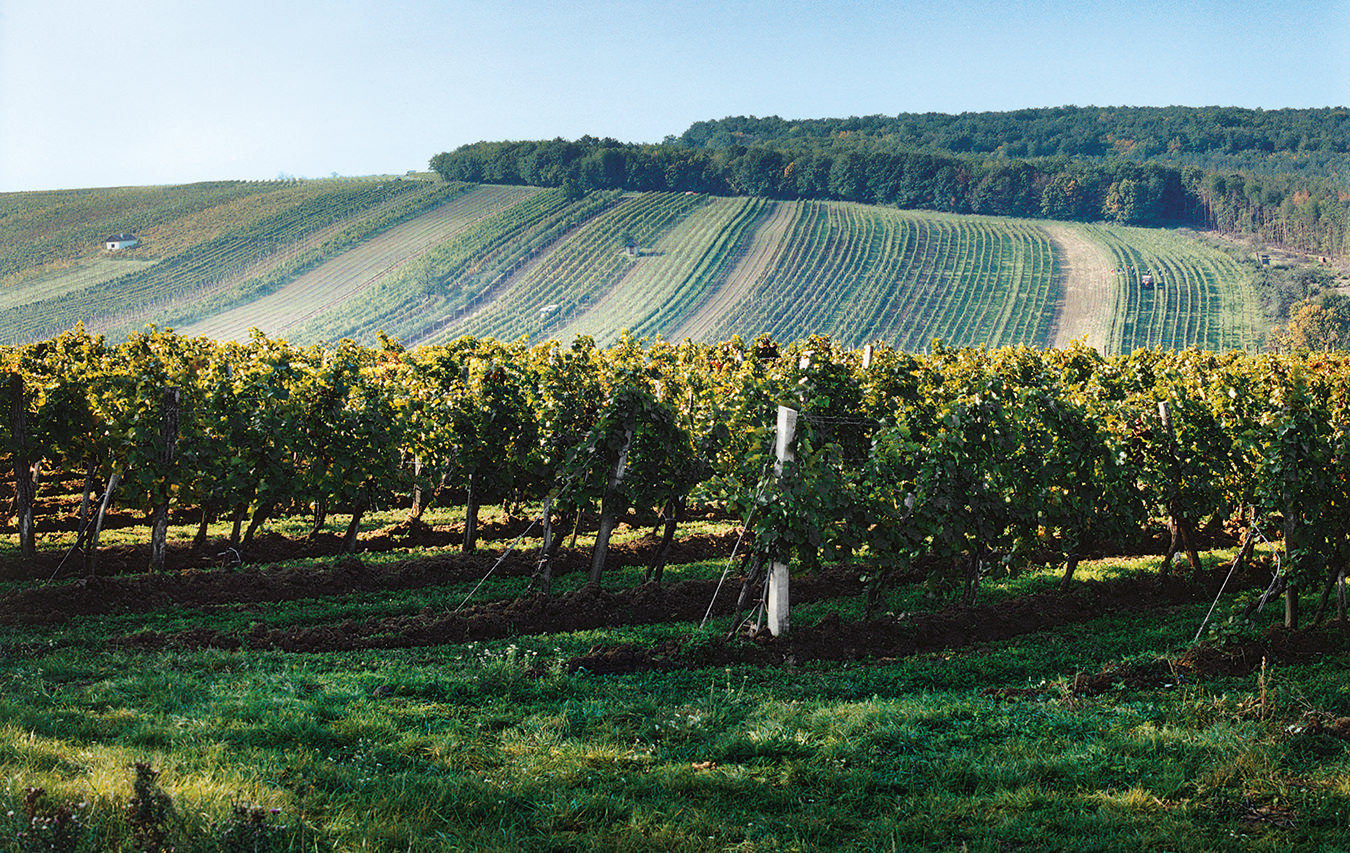 It's generally easy to spot an Austrian wine. The tops of most screw caps or foils show the design and colours of the country's flag (two red bars separated by a white one), a smart move that makes Austria's quality wines readily identifiable. But in another way, it's an inappropriate choice, because the flag has twice as much red as white, whereas Austria's vineyards are planted almost in the reverse: 30,000 hectares of white grape varieties and 15,000 hectares of red.
Among the whites, grüner veltliner stands out, not least because it represents 30 per cent of all white plantings (its next closest competitor, welschriesling, comes in at only eight per cent) and has been Austria's big international success in the last few years. It's a common story in the world of wine that a country or region builds its reputation on one grape variety or style of wine. Canada did it with icewine, Germany with riesling, New Zealand with sauvignon blanc, and Argentina with malbec. Austria did it with grüner veltliner.
Turning many English-speaking wine drinkers on to a variety that looks tricky to pronounce was an achievement in itself. It's almost commonplace in the wine world that one of the things that held the gewürztraminer variety back was its name, even though supermarket-style wine stores make it unnecessary for consumers to articulate the names of grapes. As for grüner veltliner, shortening it to grüv or groo-vee (as some of its advocates do) might have helped, and one producer went even further, marketing one of its wines under the brand name Grooner. Despite the linguistic obstacles, grüner veltliner has proved popular with its fruity, easy-drinking style.
Just as California made a breakthrough in the famous 1976 Judgment of Paris, when its cabernet sauvignons and chardonnays wowed some later-rueful French officials who judged the Californian wines better than iconic wines from Bordeaux and Burgundy, so Austria began to hit its international stride with tastings in 2002 in Vienna, Singapore, Tokyo, and London. In the London taste-off, Austrian grüner veltliners and chardonnays went head-to-head with famous chardonnays from around the world, and took the top four positions. In fact, the Austrians occupied seven of the first 10 choices.
Since then, grüner veltliner, in particular, has been on a roll. But the Austrians have learned a thing or two from other regions that put too much of their stock in one variety, and they've been quick to point out that there's more than grüner veltliner in the country's vineyards. There are all the other whites, of course: notably riesling, weissburgunder (pinot blanc), and welschriesling (a northern Italian variety). Then there are the reds, mainly zweigelt, blaufränkisch (lemberger in Germany), and blauer portugieser, a Portuguese variety.
Just as California made a breakthrough in the famous 1976 Judgment of Paris, so Austria began to hit its international stride with tastings in 2002 in Vienna, Singapore, Tokyo, and London.
There are also international grape varieties here (like cabernet sauvignon and merlot), including small volumes of pinot noir (called blauburgunder), but they are minor players, and it's easy to see that one of the obstacles that Austrian wines will face in English-speaking markets is the names of most of the grape varieties. They might be very descriptive of their origins (the Austrian name for pinot noir means "the blue grape of Burgundy," and for pinot blanc, "the white grape of Burgundy"), but they are little known this way outside Austria itself.
Still, if they can succeed with grüner veltliner, maybe they can with these others. And they should, because the reds include some very interesting and attractive wines. Most red wines come from fairly close to Vienna. One of the most important regions is Burgenland, where about 60 per cent of the wine made each year is red. Compare this with Austrian wine in general, where the percentage is reversed: in 2010, white wine accounted for 65 per cent of production.
Burgenland includes a number of subappellations, as it sprawls down Austria's eastern frontier with Hungary and Slovakia—and now that the formal border has come down, some Austrian producers own vineyards in both countries, tending their Austrian grapes in the morning and their Hungarian vines in the afternoon. What makes Burgenland so successful for red wine is the long growing season in many areas that allows the red varieties to ripen fully.
The Neusiedlersee appellation lies on the east side of Lake Neusiedl, and benefits from the warmth it generates, in addition to having long sunshine hours. The same lake influences the climate in the Carnuntum region, which extends east of Vienna to the border with Slovakia. Red wines, most made from zweigelt and blaufränkisch, represent slightly more than half these regions' wine. That proportion pales against the
95 per cent that red wines represent in Mittelburgenland. Most are made from blaufränkisch, although there are some attractive wines made from zweigelt, merlot, and cabernet sauvignon.
Blaufränkisch is also the red grape of choice in Eisenberg, in the southern part of Burgenland, and in the emerging Leithaberg appellation. Grapes have been cultivated for wine in Leithaberg since the Middle Ages, with the arrival of monks from Burgundy's famous winemaking Cistercian order. These monks had a nose for a good grape-growing site. Leithaberg is exposed to the foothills of the Alps, which send cooling winds that bring out acidity in the grapes, and the lake, whose moderating, warm influence provides ideal growing conditions. As local producers see it, the tension between these geographical influences is expressed in the wines, which offer solid, sometimes dense fruit flavours combined with vivacity and finesse.
These qualities, and especially the high-toned acidity, certainly come out in many of the Leithaberg reds. Grenzhof-Fiedler's 2008 Blaufränkisch delivers fruit that's consistent, concentrated, and complex, underpinned by a platform of crisp acidity. Meanwhile, Reichardt's 2008 Blaufränkisch adds good structure and supple tannins to its well-balanced fruit and acidity.
But quality is not left solely to geography and nature. Leithaberg is a new region, and the wine producers' association here is determined to ensure not only consistent standards, but also a distinctive style profile. Before producers can use the Leithaberg appellation on their labels, their wines are judged by a panel of six professionals; if two or more adjudicators register negative votes, the wine cannot be labelled as a Leithaberg. This is a rigorous test that puts many other quality tastings to shame.
Some producers are working organically and biodynamically. In Mittelburgenland, Franz Reinhard Weninger, who took over his family winery in 1982, went organic in 2004 and biodynamic two years later. "You find your own way to organic methods," he says, "and it leads you to make individual wines." Like other winemakers who follow these principles, he gives the impression that the process is more natural than anything. But it's not all about nature, and Weninger's innovations include moving to big Austrian and Hungarian barrels for aging his reds because, he says, the larger size has a slower and more gentle effect on the wine.
Weninger, one of the producers with vineyards in both Austria and Hungary (his are 15 kilometres apart), makes fine blaufränkisch. Weninger's Blaufränkisch Alte Reben (Old Vines) is made from vines that are 30 to 40 years old, and it spends two years in barrels and one year in the bottle before being released for sale. It's big, dense, and full bodied, with plush flavours and excellent fruit-acid balance. Also impressive, and showing more elegance in its style, is their Blaufränkisch Dürrau 2007, which is notable for its complexity and supple, velvety tannins.
Clearly, reds are hot in Austria, and not only in the regions where red wine is dominant. Throughout the country, individual producers and small regions are making fine reds.
Too often we think of countries in terms of their signature grape varieties, or in terms of white and red wines—often because marketing strategies lead us to think this way. Thinking beyond the clichés can take us into some wonderful experiences, like Austrian reds.
Top photo ©Gerhard Wasserbauer/Weninger Winery.