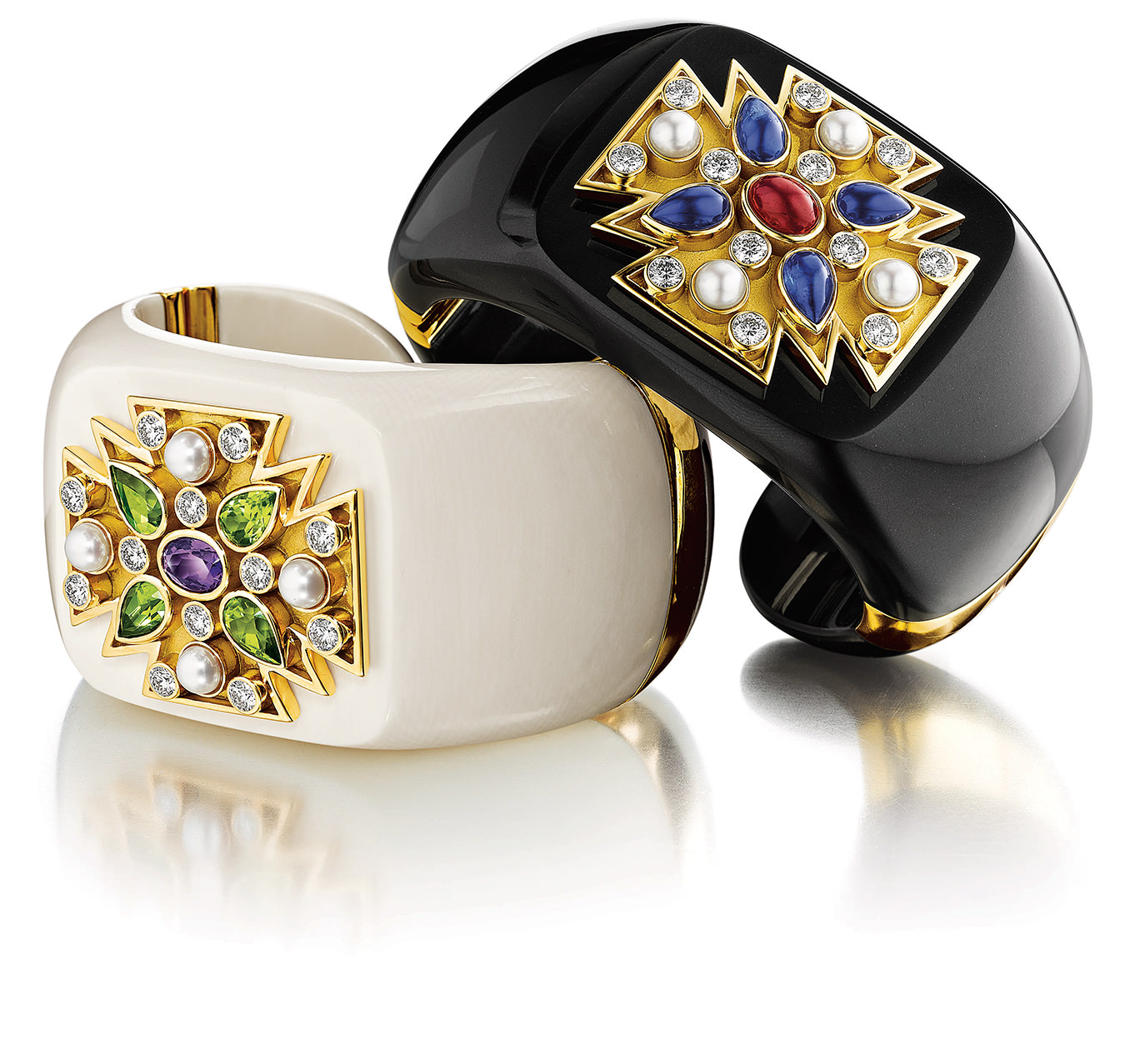 If you look at any piece of Verdura jewellery, you might become aware of a vague sense of familiarity. It could be a pavé curb link, a Byzantine-style Maltese cross, or a tassel necklace on a mouse chain. You could swear you've seen it somewhere before, and you probably have—as they say in the jewellery world, there is no such thing as an original design. Except that if you're looking at a Verdura piece, you generally are looking at the original design. Duke Fulco di Verdura brought European and then American jewellery design into the 20th century, and in the process established many of the motifs, styles, and techniques that designers still use today.
As his title suggests, Verdura was born into European aristocracy, in 1898. He was raised in splendour at his family's 18th-century estate, Villa Niscemi, near Palermo, Sicily, surrounded by lush, semi-tropical gardens and lavishly decorated rooms with bold fabrics and upholsteries, artworks, chandeliers, and gilt. It was the site of extravagant costume parties attended by guests from European and American high society, as well as other exotic creatures—the young Fulco's many pets included a pair of baboons and a camel named Momo. This profoundly aesthetic existence inspired Verdura's exotic, decorative style.
He got his start working for Gabrielle "Coco" Chanel—"the first person to ever take me seriously," he once said—who hired him in 1925 to help her design new textiles. He also served as her escort to the legendary parties and costume balls of 1920s Paris society, and it soon became evident that Verdura had an eye and a talent for jewellery design. Chanel gave him carte blanche. They travelled together to art exhibitions and galleries, and once to Ravenna to see the famous Byzantine mosaics at the Church of San Vitale, which had a lasting influence on Verdura's multicoloured designs.
It was during this time that he created his signature Maltese cross cuffs, which Coco and later Diana Vreeland considered essential elements of their signature styles. Verdura shattered the traditional boundaries of jewellery design, mixing metals and enamels, precious and semi-precious stones in a way that no one had done before. It preceded the decorative works of Jean Schlumberger, who was mentored by Verdura.
"Some of it has a deconstructed look, as if the gem were a found object," says Nico Landrigan, current president of the Verdura brand. (Landrigan was in Toronto last fall to launch the Verdura Hollywoodland collection in Canada at Mindham Fine Jewellery.) "Fulco was anti–art deco. As a designer, he had the audacity to go against the straight lines and platinum aesthetic of his day. He even had the nerve to mix rubies with amethyst—precious with semi-precious." Landrigan speculates that Verdura's entrenched sense of entitlement helped make him such a nonconformist. "He was a duke. I imagine he felt that if some peasant wanted to tell him he was doing it wrong, he really didn't care."
After eight years with Chanel, Verdura decamped for America in 1934, drawn by the glamour of Hollywood. Within months, he was designing for Paul Flato, "jeweller to the stars", and joined the design staff full-time in Flato's boutique on Sunset Boulevard in 1938, releasing Verdura for Flato pieces. By then, he had a loyal following among the era's inhabitants of the red carpet: Marlene Dietrich, Joan Fontaine, Joan Crawford, and Greta Garbo were loyal fans. Those were the days before stylist suites and placement fees, when stars were genuine customers and actually paid for their jewellery. Garbo fell in love with Verdura's curb link necklaces, bracelets, and watches, which she wore throughout her life. Dietrich loved the Lily bracelet, another Verdura motif. After conquering Hollywood, Verdura moved to Manhattan in 1939, opened a shop on Fifth Avenue, and became the jeweller to high society, serving the likes of Slim Keith, Millicent Rogers, and Babe Paley.
He retired in 1973 at the age of 75, selling his business to long-time associate Joseph Alfano. It was acquired in 1985 by Ward Landrigan, former head of Sotheby's U.S. jewellery division, who named his son, Nico, president in 2009. The Landrigans didn't so much take the brand over as become its stewards. Every piece is a faithful reproduction of an archival design, and is made entirely by hand. Fortunately, Verdura was a prolific sketcher, and close to 10,000 of his gouache drawings survive.
"This is jewellery for people who value craftsmanship over big brands or displays of wealth," says Landrigan. "If the purpose is to be ostentatious, then you're not buying Verdura—you're buying the biggest diamond … Fulco likened it to wearing a cheque around your neck." Every piece of Verdura jewellery is directly descended from the archives—history recreating history.