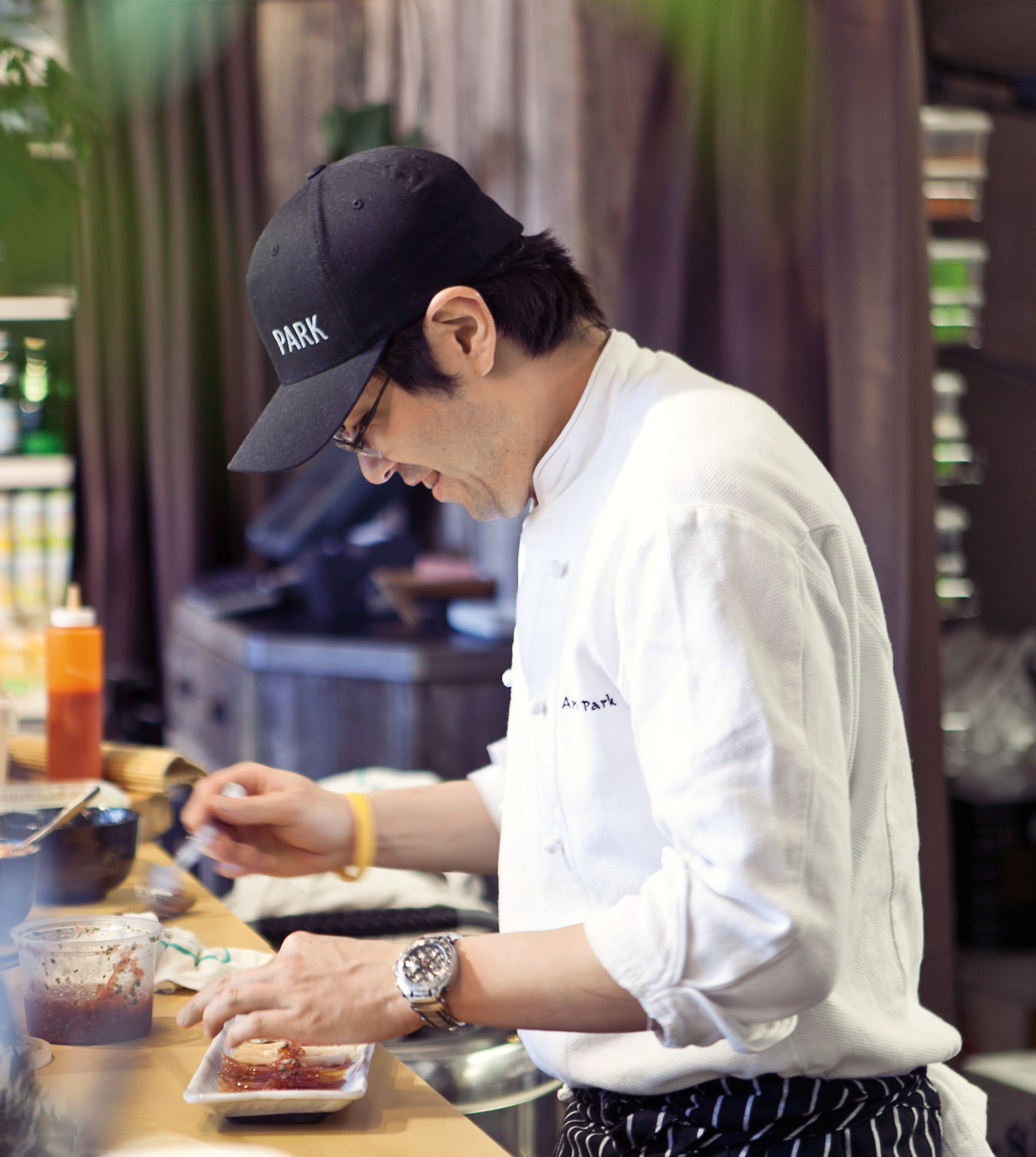 At first glance, the crowd at Park restaurant would seem the envy of any restaurateur. Located in Westmount, Montreal's poshest neighbourhood, Park has a typical clientele that counts beautiful women, buff men, cool kids, and toro fanatics with a few bucks to spare. Look a little further and you'll see politicians, the odd celebrity, and hey, isn't that the Canadiens' star player, defenceman P. K. Subban, sitting at the sushi bar?
In reality, though, this is one hard crowd to please. Chances are the comely ladies are nixing the gluten and the buff men are counting carbs (or vice versa), the cool kids are looking for a deal, and the fanatics are scrutinizing every bite. Yet there behind the sushi bar is the ever-smiling Antonio Park, taking everything in stride, chatting with Subban while sliding his knife through yellow sea bream, sustainable tuna, or wild B.C. sockeye salmon. Special orders seem to be the least of his concerns. "Westmount is known for its picky customers," says Park with a shrug and a smile. "But who cares? I say yes to everybody."
Park, 39, has been chef and partner at his restaurant since 2012. At that time, Montreal's sushi scene was in a definite Kamikaze-and-California-roll rut. Park's success was immediate. Having built a following of sushi aficionados at the private club 357c and Kaizen Sushi Bar, Park was ready to break out on his own. And this wasn't the classic sushi still favoured by the city's masters. Park's sushi is enhanced with chimichurri sauce or pickled jalapenos, blanketed with foie gras, or topped with grilled Black Angus. His fish often arrive directly from Japan and are killed not with a sharp hit of a cleaver but with the gentle prodding of acupuncture needles, assuring the resulting flesh hasn't seized up.
In a style of cuisine known for its culinary constrictions, this chef is wowing us by taking risks. Just take a look at the plate presentations that fill his Instagram feed, and you'll see sushi and sashimi crafted by not only a technician, but an artist.
And his food tastes even better than it looks. The excitement of Park's cooking is not only the perfection that comes with that level of technique, but the fusion-style flavour combinations similar to sushi stars Masaharu Morimoto and Nobuyuki "Nobu" Matsuhisa. But where Nobu's fusion cuisine is more Japanese/South American in style and Morimoto's is centred on North American/Asian, Park's cooking reflects his Korean heritage and his South American upbringing. On his omakase menu, seared scallops arrive on a bed of spicy kimchi and supercrisp soft-shell crabs are served alongside quenelles of sweet potato purée. A dish featuring a twirl of kaimin tai (acupunctured pink snapper toro) is served in broth made of tosazu (Japanese vinegar) with sudachi (green citrus fruit), usukuchi soy sauce, and truffled baby peach oil, with a fan of marinated, sous-vide-cooked and pickled bamboo shoots alongside. His creativity is seemingly bottomless, especially as he's drawing from a canon unfamiliar to much of his clientele. This is a chef who brews his own soya, works directly with fishers, orders rice from Japan, and will only use fresh wasabi. "I use the best of everything," says Park without missing a beat as he slices.
In a style of cuisine known for its culinary constrictions, chef Park is wowing us by taking risks. He crafts his sushi and sashimi not only as a technician, but as an artist.
To best understand Antonio Park, you have to watch him in action behind his sushi bar. One can't help but admire his precise gestures. His speed and concentration. The way he smiles when speaking to admiring customers. His pride. At a time when so many chefs are doing more talking than cooking, this man's work ethic has made him a star. "I worked like crazy for two years straight," says Park. "I worked from 8 a.m. to 2 a.m., Monday to Saturday. What people started noticing about me was that I was always here, for every service, that I was always working. But also that I was making dishes that came from my experience, not anyone else's."
Park's youth was spent in Argentina, Paraguay, and Brazil, where his parents owned lavanderias where they acid-washed and stone-washed jeans for the likes of Levi's, Wrangler, and Lee. When he was 15, his parents relocated to Montreal, where they opened supermarkets and convenience stores. "I learned how to do inventory, ordering, cash, cleaning, and organizing at my parents' grocery store," says Park. As for cooking, his initial inspiration came from his mother. "Chefs say 'my mom' all the time, but for me it wasn't a matter of just cooking with her but watching her make everything from scratch. My mom made paprika, starting with the peppers, drying them in the sun, and grinding them up with a mortar and pestle. She made miso, soya sauce, all from scratch. She came from a small village in Korea, and that's the way they made everything. And I was always by her side, peeling things: garlic, potatoes, carrots—but not with a vegetable peeler but a knife."
At the age of 16, Park got his first restaurant job, as a dishwasher in a Chinese restaurant. Was it brutal? "No, I liked working with all that water," says Park with his signature giggle. "I was a swimmer when I was at school, so it didn't bother me to have my hands in water all the time. And I think that love of water eventually translated into my love for fish."
Today Park estimates that he slices some 35 to 40—always sustainable—fish a day. But at his next job, at the traditional Montreal sushi restaurant, Takara, the first ingredient he had to master was rice. "What I learned first from Takara-san was not fish but rice, because sushi is really all about the rice," says Park. "And he would always say to me, 'Do it again.' We threw out a lot of rice."
After his job at Takara, Park worked in a restaurant owned by his sister, where he took on the responsibilities of head chef. It was a decision he would soon regret. "I moved on too fast," says Park. "My full interest in sushi had not yet developed. I just knew how to make sushi, tempura, and teriyaki. I was a maki boy. What I learned from that experience was that all the Montreal sushi chefs were taught by the same people so we were all doing the same thing: California roll, Kamikaze, Dynamite. And also, that I wasn't very good."
Park decided that if he wanted to deepen his sushi skills, he had to go to Japan. "There's a difference between liking food and knowing food," he says. "And to really know food, you have to learn the culture behind the food you're making." He attended the Michiba culinary school in Tokyo for four, as Park says, "very tough" years. "What I learned in Japan were the values of cooking and discipline. There is huge competition in Japan, and everyone thrives—or fails—based on that. You have to push your boundaries, let go of everything. I also understood that I was going to be the first one coming into the restaurant and the last one out at night, after the chef, even if it's 3:30 a.m."
After completing a stage at the famous sushi bar (and one of Manhattan's costliest restaurants) Masa, Park came back to Montreal, "my city", as he says. And Montreal is lucky to have him. At a time when the city's restaurant scene is contracting, Antonio Park is expanding. In 2014 he opened his second restaurant, Lavanderia. A complete change of pace from Park, Lavanderia has a menu that is not so much Asian as Argentinian, and more meat-driven than fish-driven. The stand-out dish at Lavanderia is the parrilla laden with lamb shanks, short ribs, chicken, sea bream, cauliflower, broccoli, and grilled lemons, all served with chimichurri, chimol, and chipotle. Not to be missed are his delicious chorizo verde sausages that are made—like everything—in-house.
Park is also a partner and the brains behind the menu at the swish new Jatoba restaurant in downtown Montreal, where menu items range from pork and shrimp dumplings to roasted eggplant and corn dumplings with eel sauce. Crispy tofu is paired with smashed avocado and cucumber, and as for the classic fried rice, Park's version is enhanced with duck confit. "I love Japanese food and sushi," says Park, "but I also love French food, Quebecois food, South American food, and Korean food. When people ask me, 'What are you?' I tell them that I don't know anymore," adds Park, laughing.
Antonio Park may laugh a lot, but he's dead serious when it comes to building his empire. Between juggling tapings of the Food Network's Chopped Canada, where he's on his second season as a star chef judge alongside the likes of Susur Lee, Lynn Crawford, and Michael Smith, Park is planning on opening a pastry shop/café next door to Park. Plans are also under way to launch restaurants in 2016 in both Toronto and Prague. "I feed a lot of Czech hockey players," says Park. His partners on the Prague project are none other than star hockey players Petr Svoboda and Jaromír Jágr.
But if Antonio Park has one big dream, it would be to open the best Korean restaurant in Montreal. "I'm imagining a farm-to-table restaurant, and I see a kitchen staffed by all Korean ladies who put their heart and love into it. I want people to know Korean food. I'm always going back to my roots, and I'm so lucky to have so many to draw from."