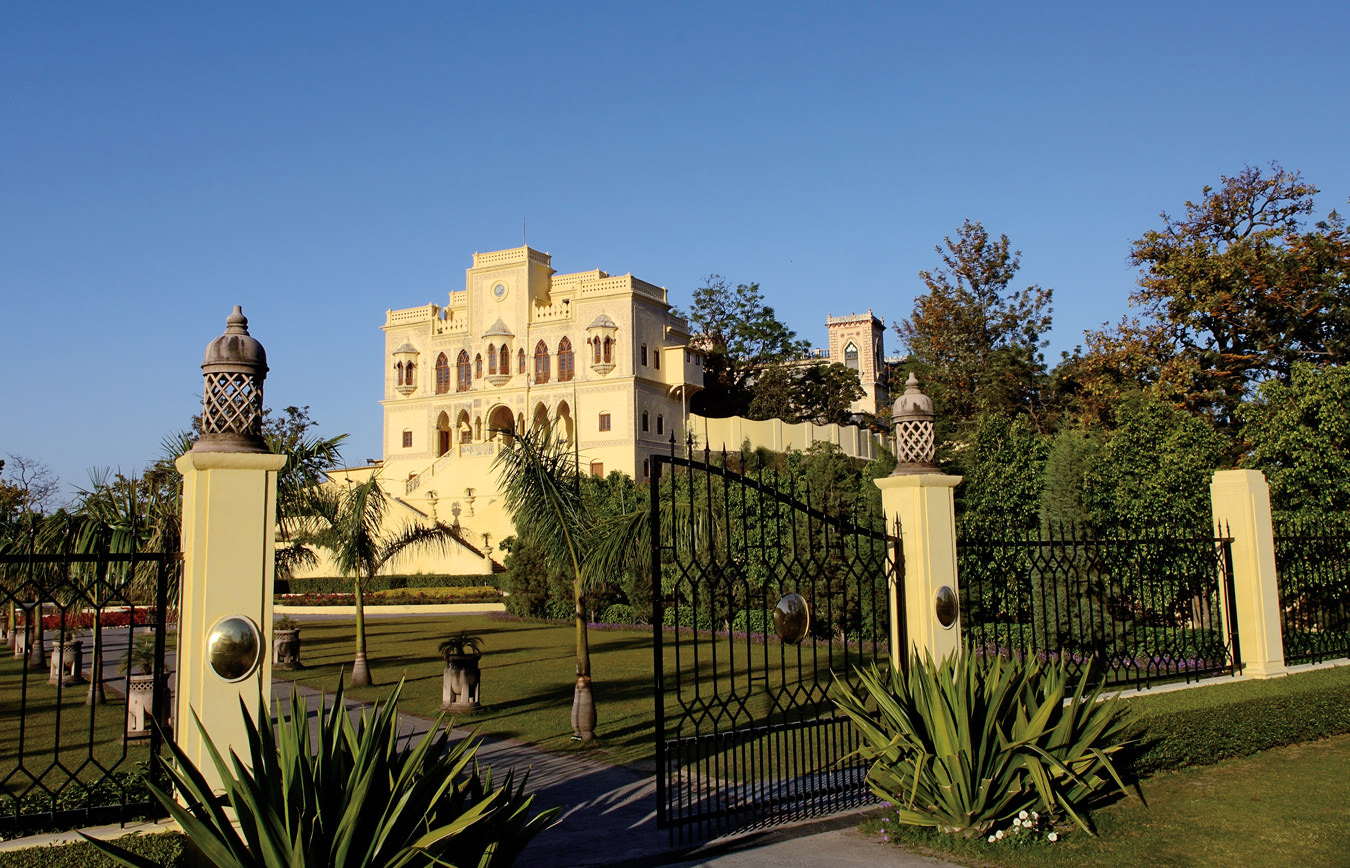 An inflatable Zodiac floats down a sliver of the Ganges River, and the current is picking up. I raise my voice, asking my guide to repeat himself, my hands tightening around a paddle as whitewater rapids churn all around. "You need 10 lives to see India," yells Mukesh Joshi, his voice barely audible. The remark quickly turns into a call to action: "Paddle!"
Our raft plummets into the froth of a violent Class II rapid, and I join my comrades in digging and pulling our paddles in unison. The swells pummel us around as though we are an out-of-class boxer in a ring before spitting us out into calmer waters. Eight voices erupt, yelling in cathartic exhilaration. Joshi just smiles. "The Class IVs are coming up next," he says. These waters are his adrenalin, his daily driving force. The 30-year-old has worked with Paddle India and trekking company Nanda Outdoor & Retreats for over a decade, so I trust his 10-lifetime estimate needed for experiencing this country.
Rising in the western Himalayas before flowing southeast through India and Bangledesh, the Ganges is sacred to many, especially Hindus, whose ancient scriptures deem it a source of purification and say that even the gods Brahma, Vishnu, and Shiva sanctified its waters. Early on its 2,500-kilometre path, the Ganges carves through Rishikesh, a holy land for reasons much greater than simply being on this river's bank. Believed to be the birthplace of yoga, the city plays host to the annual International Yoga Festival. (In 1968, the Beatles attended Transcendental Meditation training at an ashram here with their guru, Maharishi Mahesh Yogi.)
Spiritualism is abundant at this juncture where the Ganges emerges from the Himalayan peaks. Our raft floats by snapshots of Rishikesh life: army-green tents destined to host vacationers intent on escaping the heat of Delhi, wild peacocks strolling the brush, cross-legged backpackers playing harmonica, and the patina of coloured ashram turrets that speak a language of ancient architecture set in stone.
As if to break the spell, two Russian daredevils dive off our inflatable at Joshi's encouragement, allowing lifejackets to carry them downstream beneath a narrow iron suspension bridge called the Lakshman Jhula, a city landmark that dates back to 1929. (According to legend, the god Lakshmana crossed the river on ropes placed between where the bridge is built.) We've arrived at the heart of Rishikesh in time for the nightly Ganga Aarti ceremony at the entrance to the city's biggest ashram, Parmarth Niketan.
The scene is a riot of colour with young men and women decked out in traditional saffron-orange robes, singing prayers and devotional songs while seated upon marble steps that lead into the river. Incense is lit atop golden pyres and oil lamps symbolically burn ghee. Leaf bowls filled with ochre marigold blooms and lit tea lights—ritualistic offerings—float downstream on the waves as dusk turns to darkness.
My journey to India is not solely in tribute to the waters of the Ganges, or to yoga, or the Beatles. Nor is it an ashram-bound Eat, Pray, Love pilgrimage. Instead, it is a retreat of a holistic sort to Ananda in the Himalayas, one of the world's great destination spas, which is built above Rishikesh and, as its name suggests, is nestled in the Himalayan foothills. The whitewater rafting excursion and sunset ceremony are organized as part of my stay at Ananda, which is situated nearby at an address that foreshadows its exotic location: the Palace Estate, Narendra Nagar Tehri, Garhwal, Uttarakhand.
To get there, it takes an hour's flight from Delhi to Dehradun, followed by a winding drive through Rajaji National Park—if you're lucky, elephants can be spotted roadside—before a precarious drive upwards along a highway that, if you were to continue, would snake through the mountains and reach Tibet. When you see the façade of a maharaja's palace, you have arrived. Founder and managing director Ashok Khanna and his wife, Neelam, spent years travelling India in search of the right piece of land upon which to situate their escapist retreat. Open since 2001, the resort is built upon three pillars of spiritualism—yoga, Ayurveda, and Vedanta—a holy trinity complemented by traditional meditation practices and cuisine. In essence, it is the pinnacle of a holistic wellness retreat in a palace fit for (and built for) a king.
The 100-acre property still belongs to the Maharaja of Tehri Garhwal, who leases it to Ananda and visits on occasion; within these historic palace walls, the likes of Mahatma Gandhi and various heads of state have been entertained. Khanna and his team restored the entire Viceregal Palace and preserved all of the best furnishings, right down to the maharaja's ancient library, preciously kept under lock and key. What used to be the maharaja's skating rink is now a brightly lit conference hall. And the billiard room boasts India's oldest pool table, which dates back over a century. Guests check in at this palace, sipping on ginger tea with lemon and honey, then are whisked away by golf carts to their villas or suites. In the cool mountain air, white parakeets stroll the lawns fluffing their feathered tails, and nimble monkeys swing through the treetops.
From my porch overlooking the Ganges, the practice of hatha yoga draws me up a hill then down 25 ancient steps to an open-air pavilion, its roof held high by white columns. It is here that groups meet for either yoga or meditation each morning. "Shanti, shanti, shanti…" chants the red-turbaned yogi as he takes us through the sun salutations. "If you do one balancing exercise a day for the rest of your life, you will never use a walking stick in old age," the teacher explains as we push, pretzel, and stretch out our bodies while wind from the valley blows over us and through the surrounding forest.
Rishikesh is believed to be the birthplace of yoga, and spiritualism is abundant at this juncture where the Ganges River emerges from the Himalayas.
Peaceful tranquility aside, Ananda is not without rules. Those who don't heed the warning at check-in to keep balcony doors locked from the inside may be awoken by monkeys. It happens all the time; rising early one morning, I see the troops gathered two by two, sizing up the rooms before jumping between decks, brazenly trying door handles in pursuit of apples from our well-stocked fruit bowls.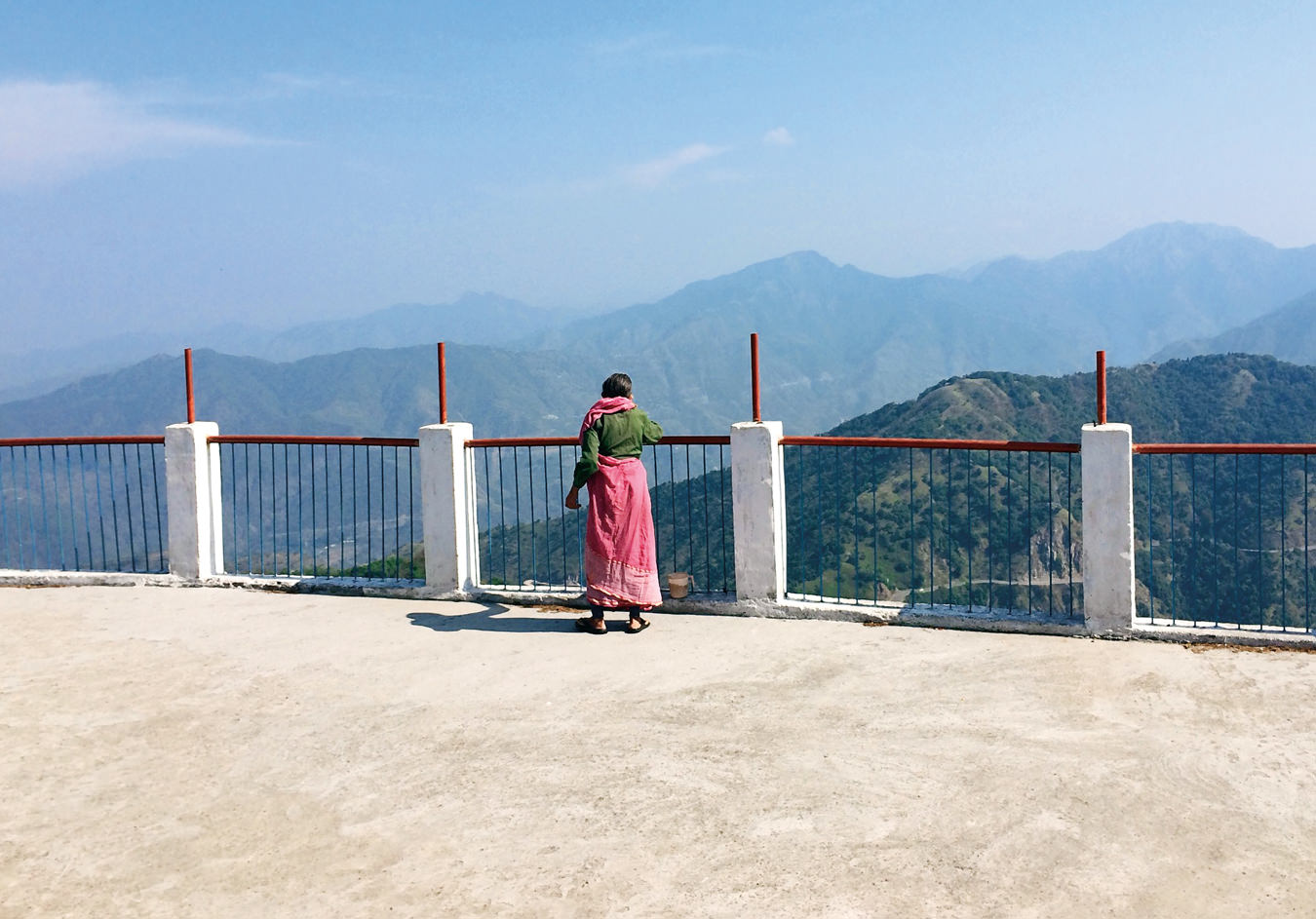 At Ananda, there is boundless pampering and mental reprieve, but for those that come on a wellness package, it is not purely a holiday. Resident spa manager Rita Srivastava firmly believes this. "It takes most people three to four days to relax—to calm the mind," she says. "Wellness is so much more than just the physical." Programs pragmatically titled Detox, Stress Management, and Weight Management allow guests with specific goals in mind to follow regimented plans. Some guests select the Active offering, which mixes hikes and rafting trips into the itinerary; others may choose none at all, preferring to order freely off the restaurant menu and join in classes and treatments only when the mood strikes. But those who package their stay receive a tailored plan; some even go further to provide specialized therapies for specific medical and health conditions, such as the 14-day Ananda Ayurvedic Sodhanam program, and more.
"In Ayurveda, one treatment doesn't help," Srivastava explains. "It is a preventative and curative medicine geared toward lifestyle improvement, health enhancement, and self-renewal. Those who choose an Ayurveda-specific program may have as many as 21 to 24 treatments during their stay here." Visits can range from a night, to a month, to six weeks. "I personally believe that this is a place you need to come to alone," Srivastava says. "Only then can you be selfish—you need to invest in yourself." She explains that the choices we make on a daily basis are so infrequently selfish, for only our own good. "Of course, a couple will have a wonderful escape, but there will always be some sort of compromise."
That's not to say Ananda's brand of medicine isn't indulgent. This is one of the world's top-rated destination spas, built within arguably the most spiritual foothills this side of heaven. Uma Thurman has stayed here, as has Steven Spielberg's family. When Prince Charles and Camilla visited Rishikesh in 2014, they stayed at Ananda; Oprah came last year, too.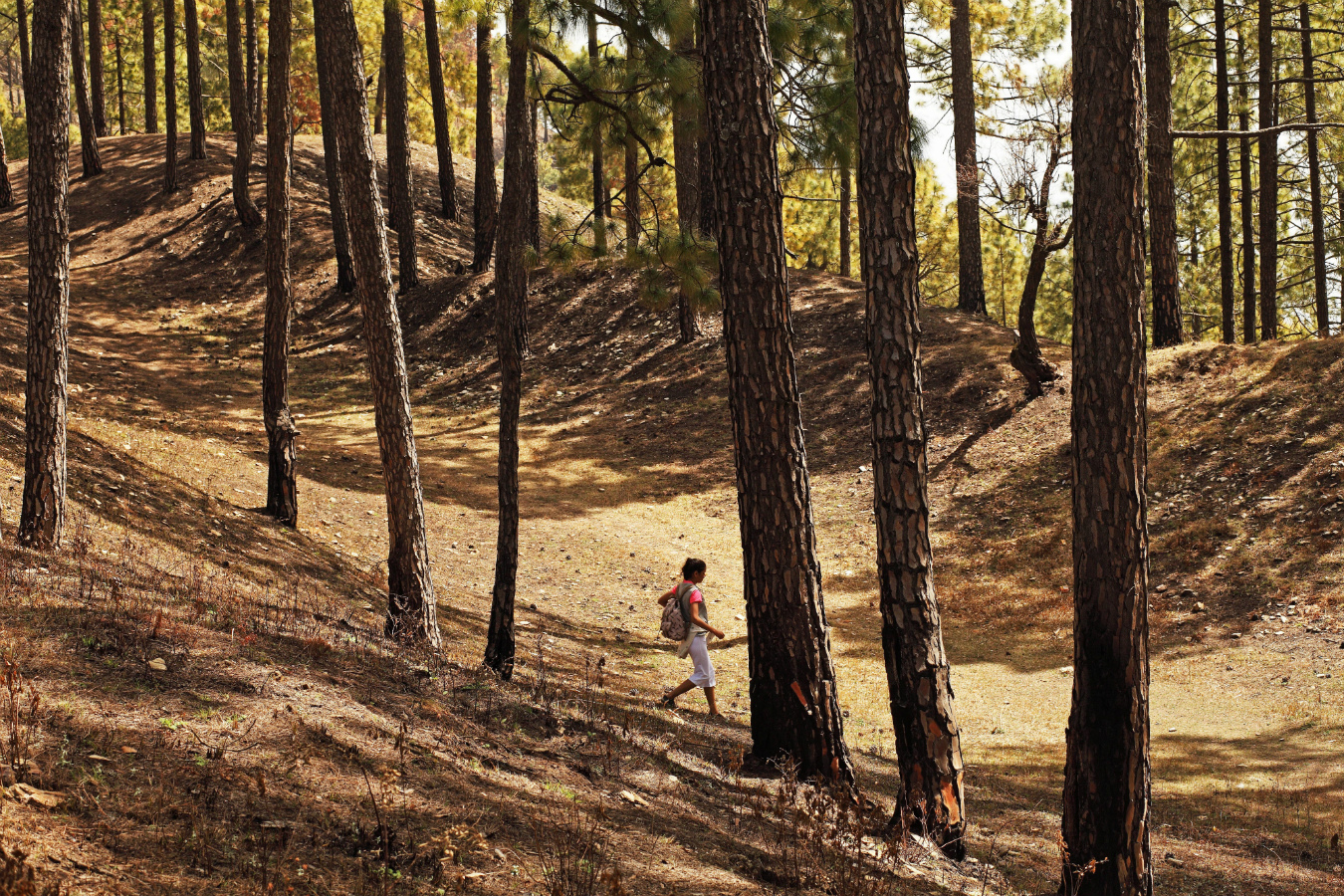 Medicine from Eastern and Western traditions runs through every program, and striking a fine balance is the overarching goal. At the start of a stay, a sit down with an Ayurvedic doctor for a series of lifestyle questions is a requisite to determine your dosha. This philosophy subscribes to the notion that all humans can be divided into an energy category—kapha, pitta, or vata—that governs physiological activities. My doctor takes my pulse, asks about my eating and sleeping habits, and queries my behavioural tendencies. Alcohol, caffeine, fresh salads, and meat don't make the cut on my vata diet plan, but no matter: I'm blissfully lightheaded in these high-altitude hills and drunk off deep-tissue massages.
The wellness promises of clean eating and exercise are balanced with entertainment, such as Indian music performances a few nights a week in the open-air amphitheatre, set among buds of fragrant jacarandas. Ananda also brings in celebrated international teachers, therapists, and healers to deliver talks that are open to all guests. (The Hindu philosophy of Vedanta, one of Ananda's pillars, prides the pursuit of knowledge.) "The brain matters too," explains Srivastava. "Whatever thoughts you put in here," she taps her head, "they affect everything you do."
Subtle gestures follow you around the property; it takes days to pick up on some of the more discreet rituals that are woven into Ananda's fabric. Staff members place their hands in prayer, whispering a greeting of "namaskar" when walking by guests. There are sporadic trios of sand-filled vases on display throughout the 24,000-square-foot spa (red sand to symbolize the outer cloak of the Tibetan monk, orange as an ode to the traditional Hindu dress, and yellow to represent the sunshine that gives life to us all). Those vases conjure up visions of sunsets, something India's very good at, and on the west of the property is a small plateau for viewing night fall over the gaping valley.
Ananda has 58 specially-trained therapists for treatments ranging from Abhyanga (a four-handed massage from two therapists using rich, herbal-infused sesame oil) to Nasyam (a sinus cleanse involving massage and inhaled essential oils to induce sweating) to Pranayama breathing classes. Medicated buttermilk, herbal head packs, wheat-flour paste, and other exotic ingredients are peppered throughout the spa menu. And there are no "Sounds of Nature" playlists emanating from loudspeakers. Instead, one afternoon on the massage table, a monsoon-like rainfall begins outside and my therapist leans over, deftly pushing open the window to allow the wet-rain scent and authentic noise to permeate the room.
Some argue that in order to see beauty, you have to put yourself in front of it. But the Himalayan foothills are alive with a beauty that presents itself to you. Forsaking the bold colours and wild streets of Mumbai, the gilded mosques of Delhi, and the brilliant spice markets all over India, these hills paint tranquility with a palette of hazy blues and greens, diffuse sunsets, and light brown ranges that beg to be hiked. And trek I do, tempted by the possibility of viewing the snow-capped peak of Mount Chaukhamba, elevated 7,100 metres above sea level.
My guide, Dinesh Singh Dhanai, was born nearby and knows the terrain well. The hills around Ananda are planted with crops that cascade down corrugated hills: fresh ginger, lentils, peas, coriander. Tiny white temples appear in valleys. But I spy no snow-capped mountain. Dhanai sees my disappointment, sits me down on a rock, and philosophizes. "You know, some flies get to live just one day—think about that. Don't worry about the destination. Just worry about the path."