Tractor Foods Co-owner Meghan Clarke Talks About Restaurants in Crisis
Plus a yam falafel recipe.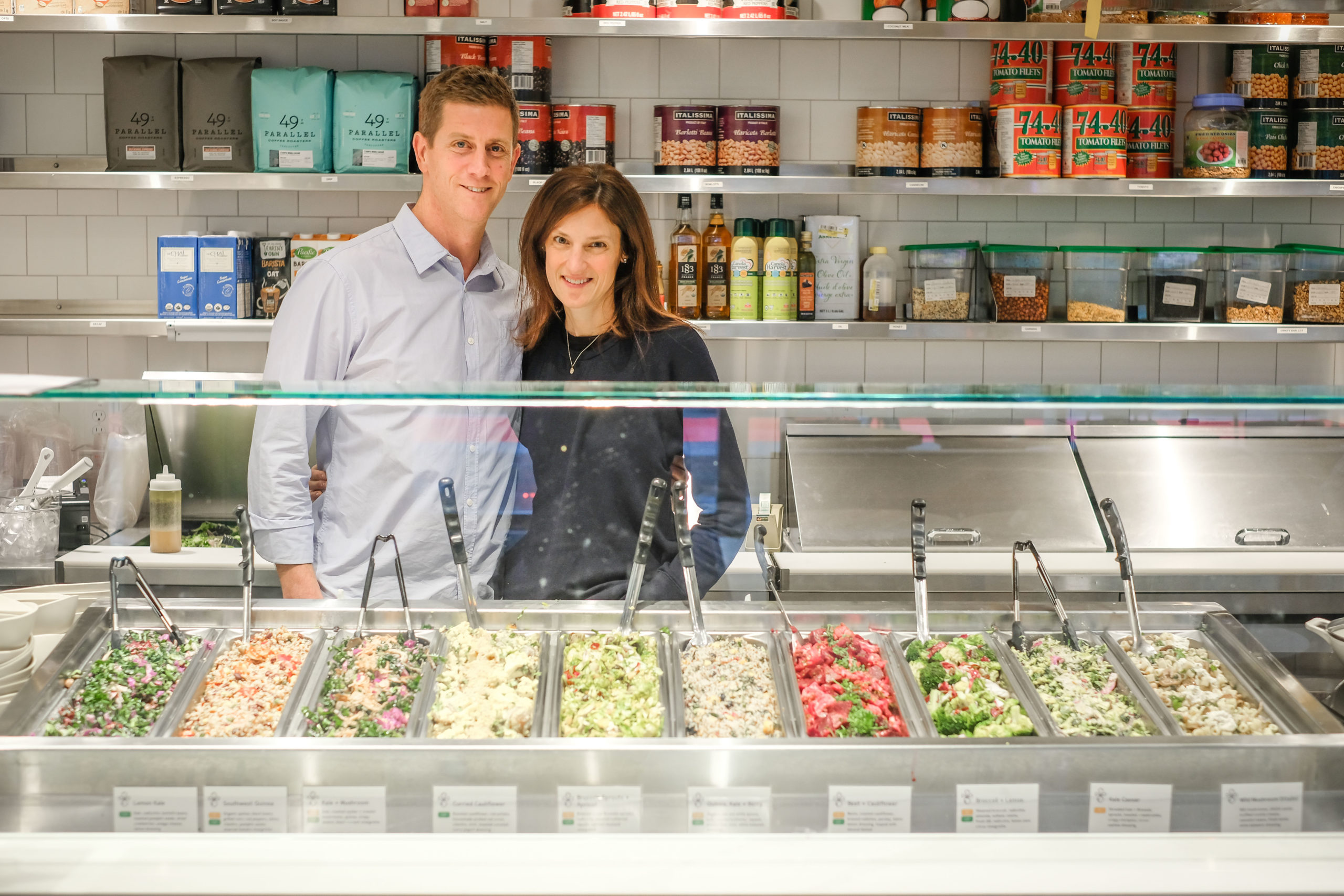 Journalists and magazines, more often than not, speak to people at the height of their careers, when some big milestone has just been reached, some accomplishment achieved. But what about when businesses face hardship and uncertainty? What about when situations are fraught and emotional? Those times are rarely discussed constructively. In reality, these are some of the more relatable, universal circumstances of life. Now, more than ever, we are all in the same boat.
Meghan Clarke of Tractor Foods gets teary when discussing laying off most of the staff across Tractor's eight locations. In an industry with a high turnover rate as it is, Clarke and her husband, Steve, are just one example of restaurateurs and industry workers experiencing the consequences of the COVID-19 pandemic.
The two have backgrounds in marketing and finance, respectively, and founded Tractor, the nutritional cafeteria-style restaurant, in 2013, with their first location in Kitsilano. At the time, their passion for food and health made them aware of a desperate gap in the market for healthy foods served quickly.
"We had two kids that were little, and we would come home from our corporate jobs and we just wanted to spend the time that we had with our kids before putting them to bed and not spending that time all in the kitchen," Clarke recalls. Their takeout options were pretty slim, so Tractor was a solution. The learning curve was steep, but eventually the couple were able to expand across Vancouver and to Toronto. Clarke thinks that "the more scalable we became, the easier it was to really grow our concept on the whole."
"We're a very small team," she says, "but I think for the size of the company it allows us to make quick decisions, and in a situation like this where it's a crisis, were able to pivot pretty fast." Now, all but three locations are temporarily closed; the open restaurants are moving to online orders for takeout and delivery.
These are bizarre times for restaurants and all restaurant-adjacent businesses. Many places are also offering takeout, services but Clarke says those margins are slim. "We just hope that people will remember us and remember that every sale for us right now really counts."
Her feeling is, "just continue to trust us and support that we're extremely safe with how we prepare our food." But she does understand that people are nervous right now and they may not want to leave their houses. If that's the case, she hopes that diners will flood restaurants if they are able when this is over. Until then, Tractor is sharing a falafel recipe from its menu for you to make at home.
Yam Falafel
Part A:
80 g toasted sliced almonds
Part B:
400 g roasted yams (skin on) cut into large pieces—ensure yams are cold
100 g chickpeas (rinsed and drained)
Part C:
100 g chickpeas (rinsed and drained)
Part D:
2 g ground coriander
pinch cayenne pepper
pinch ground green cardamom
1 g ground turmeric
1 g ground cumin
1 g kosher salt
pinch ground black pepper
Part E:
12 g flat leaf parsley (rough chop)
1 clove garlic (grated or minced)
30 g red onion (fine dice)
5 ml lemon juice
5 g tahini
Yield: 12 portions @ 52 grams each
Method:
Preheat oven to 350°F.
Collect and group all parts. All items in one group can be placed together in the same container.
Process Part A to a coarse grind in a clean and sanitized food processor.
Transfer ground nuts to a mixing bowl and set aside.
Add Part B to the same food processor and process until smooth; scrape down sides with a rubber spatula as necessary. Transfer to the same bowl as the ground almonds. Fold in mixture until well combined.
Add Parts C, D, and E to the same food processor and process to a coarse grind by pulsing, scraping down sides as necessary. Transfer to the same bowl as the Part A and B mixture and mix thoroughly until well combined.
Taste and adjust seasoning if necessary.
Prepare a baking sheet lined with parchment paper.
Using a 2 oz ice cream scoop, scoop falafel mixture and flatten scoop on the inside of the mixing bowl. Dispense scoop onto baking sheet ensuring equal spacing. This can also be done by hand (wear gloves or keep your hands wet to help prevent sticking). Using a scale, each falafel will weigh 52 grams.  You can also divide the mixture into 12 equal portions.
Wearing a glove and using your thumb or index finger, make a shallow indentation in each falafel. Lightly spray each falafel with canola oil spray or brush with oil.
Transfer baking sheet into preheated oven and bake for 20 minutes.
Finished falafel should look dry and crisp.
While falafels are baking, prepare another baking sheet with a wire cooling rack placed in it.
Remove cooked falafels from oven and let cool on tray for 7-10  minutes.
Serve immediately or transfer to baking sheet with wire cooling rack and let cool completely.
Transfer cooled falafels to an airtight container. Falafels can be stored at room temperature in a cool dry area for up to 3 days or refrigerated for up to 5 days.
To refresh falafels (if necessary):
Preheat oven to 350°F.
Place a clean and sanitized wire cooling rack on a clean and sanitized baking sheet.
Transfer cooked falafels onto cooling rack with baking sheet.
Transfer baking sheet in oven and heat for 3-5 minutes
________
Never miss a story. Sign up for NUVO's weekly newsletter here.