The Unstoppable Dame Zandra Rhodes  
Unapologetically herself.
With her Louise Brooks bob as precise and punk-rock-pink as ever, bold blue eyeshadow, and fuchsia lipstick, Dame Zandra Rhodes remains an inspiration at 81 years young. The eccentric British design pioneer has never wavered from her path of being unapologetically true to herself. Rhodes' work continues to thrive and fascinate us, including her most recent collaboration with John Fluevog Shoes, a capsule collection that launched in June.
Starting out designing clothes and textiles in the late 1960s, Rhodes offered a unique style that caught the eye of performers and celebrities who shared her aesthetic and desire to proudly stand out. Diana Ross, Freddie Mercury, and Barbra Streisand were clients, which seems fitting, but Diana, Princess of Wales, may come as a surprise. Apparently the painfully shy Lady Di was a fan, and Rhodes claims she was delightful to work with.
Rhodes' textile designs, especially her hand-screened prints, progressed over the years to become part of her signature look. Aficianados know her Wiggle, Hands & Flowers, and Cactus Everywhere designs, as well as the pleated metallics and chiffon fabrics that become sculpture under her skilled hands.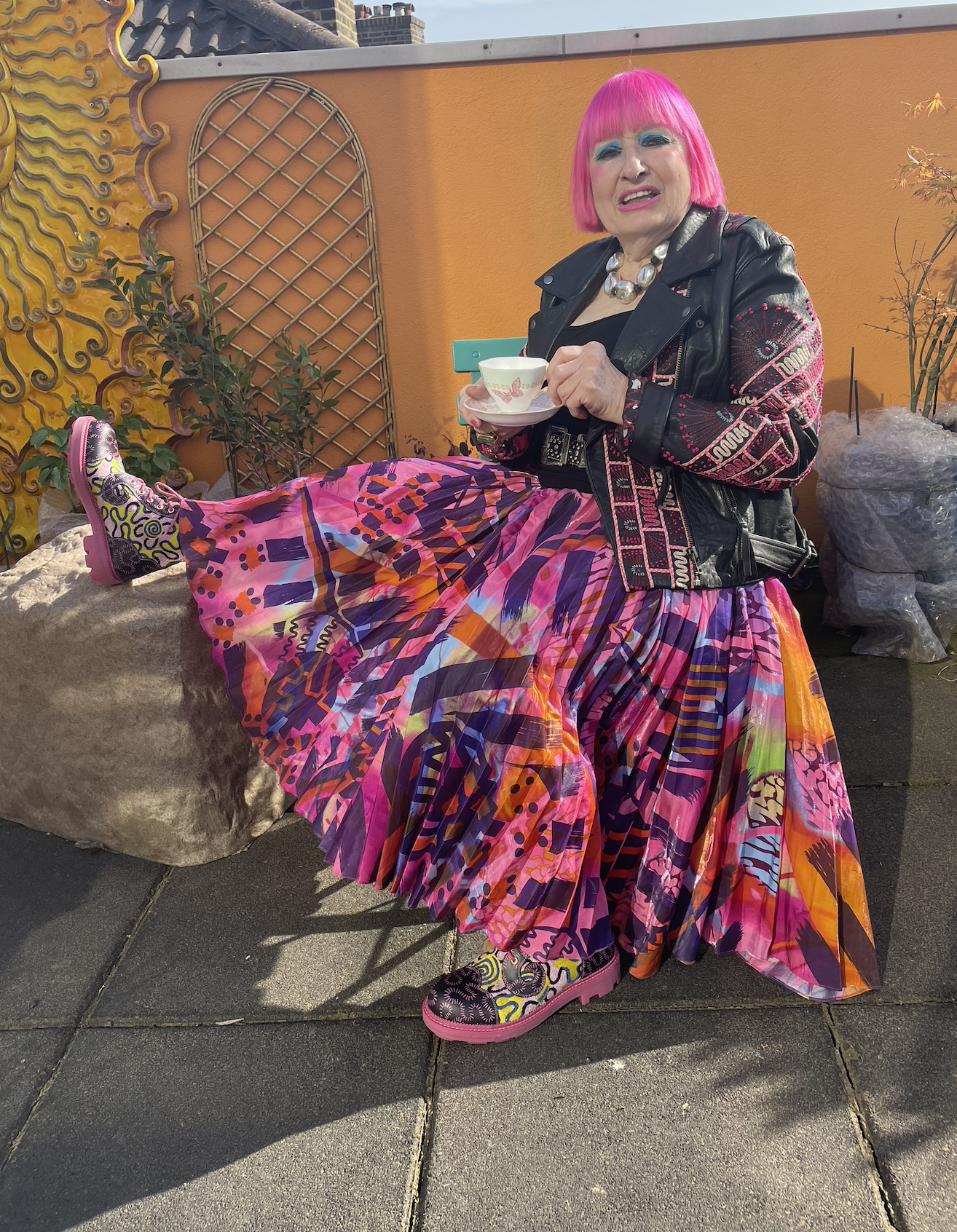 Numerous labels and brands have tapped her to create collections bearing her name, including Valentino, Topshop, M•A•C Cosmetics, and IKEA. Rhodes has appeared on Absolutely Fabulous and Celebrity MasterChef, and in 2014 she was invested as a Dame Commander of the Order of the British Empire by Princess Anne at Buckingham Palace. In 2019, her 50th year in fashion was celebrated with a retrospective exhibition called Zandra Rhodes: 50 Years of Fabulous at the Fashion and Textile Museum, which Rhodes founded in 2003.
During the pandemic, Rhodes was diagnosed with cancer, beating it so successfully that she and six other Dames were driven down the Mall in seven vintage convertible Jaguars as part of the Queen's Platinum Jubilee.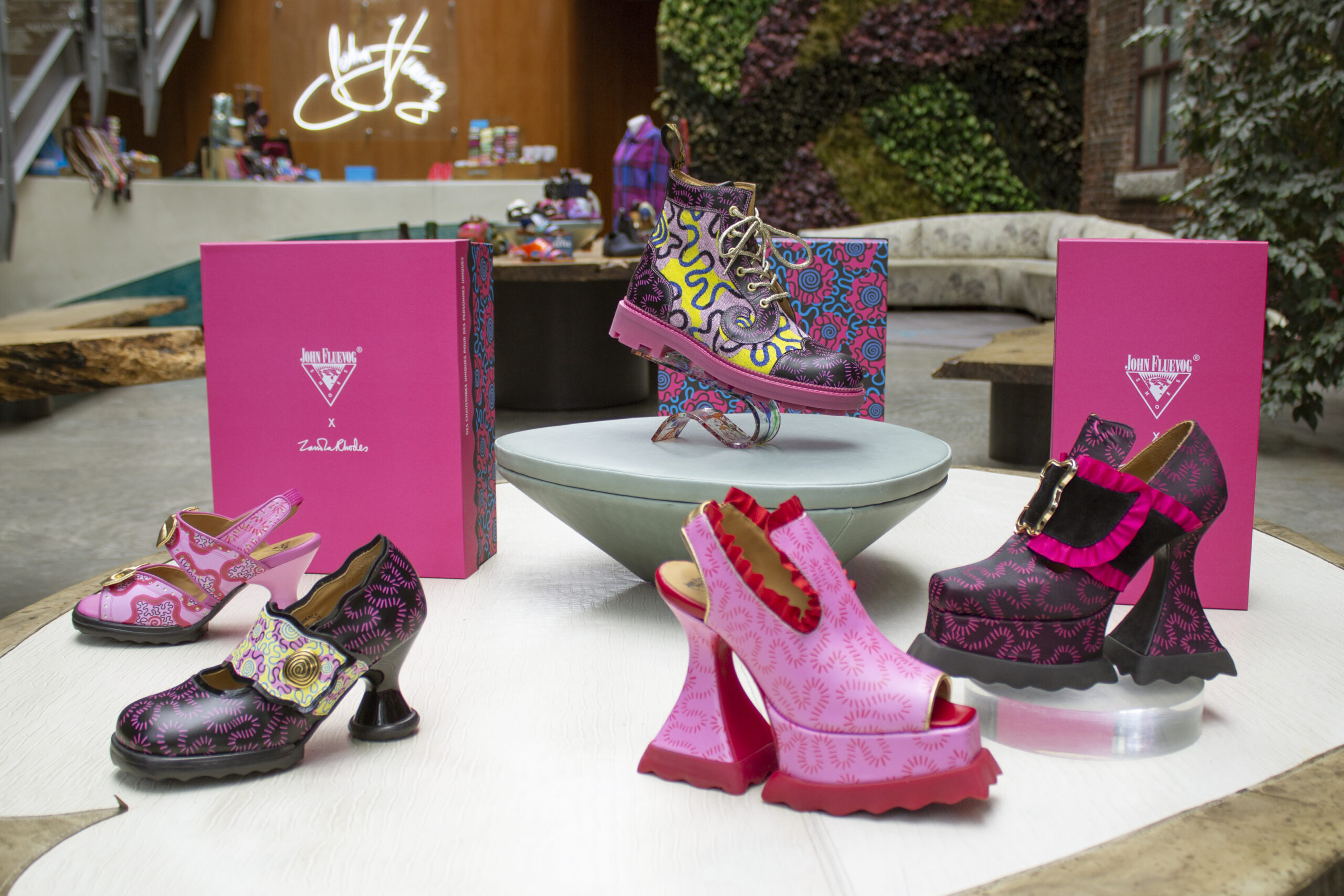 In Vancouver recently to unveil the Fluevog x Zandra Rhodes collection, Rhodes seemed delighted to apply her iconic prints to Fluevog's most recognizable styles. The collection is lighthearted and fun, with both designers' distinct, colourful personalities all over each piece of footwear. "And they are so comfortable!" she says, showing off her pair of Mini Bips slingbacks with gold metallic bows—of course, with a Wiggles print.
Rhodes and Fluevog created the collection over Zoom calls during the pandemic, back-and-forthing with themselves and their teams until they got it just right. Rhodes believes their shared commitment to shunning fast fashion and "trying things, not being like everyone else" is the key to their individual successes and hopefully applies to their recent shoe designs as well.
Resplendent in a whimsical floral print frock of her own design, a bronze chain necklace with links the size of a toddler's fist, plus bracelets and rings that redefine "chunky" jewelry, Rhodes seems comfortable in her own skin. Unbothered by ageism in an industry known for it, Rhodes credits her team and their hard work for her brand's relevance after 50 years.
Inspirational and iconic are two words that are often overused but most certainly apply to Dame Zandra Rhodes. She's earned them. Don't expect her to stop any time soon.