Brentwood Bay's Relaxing Island Retreat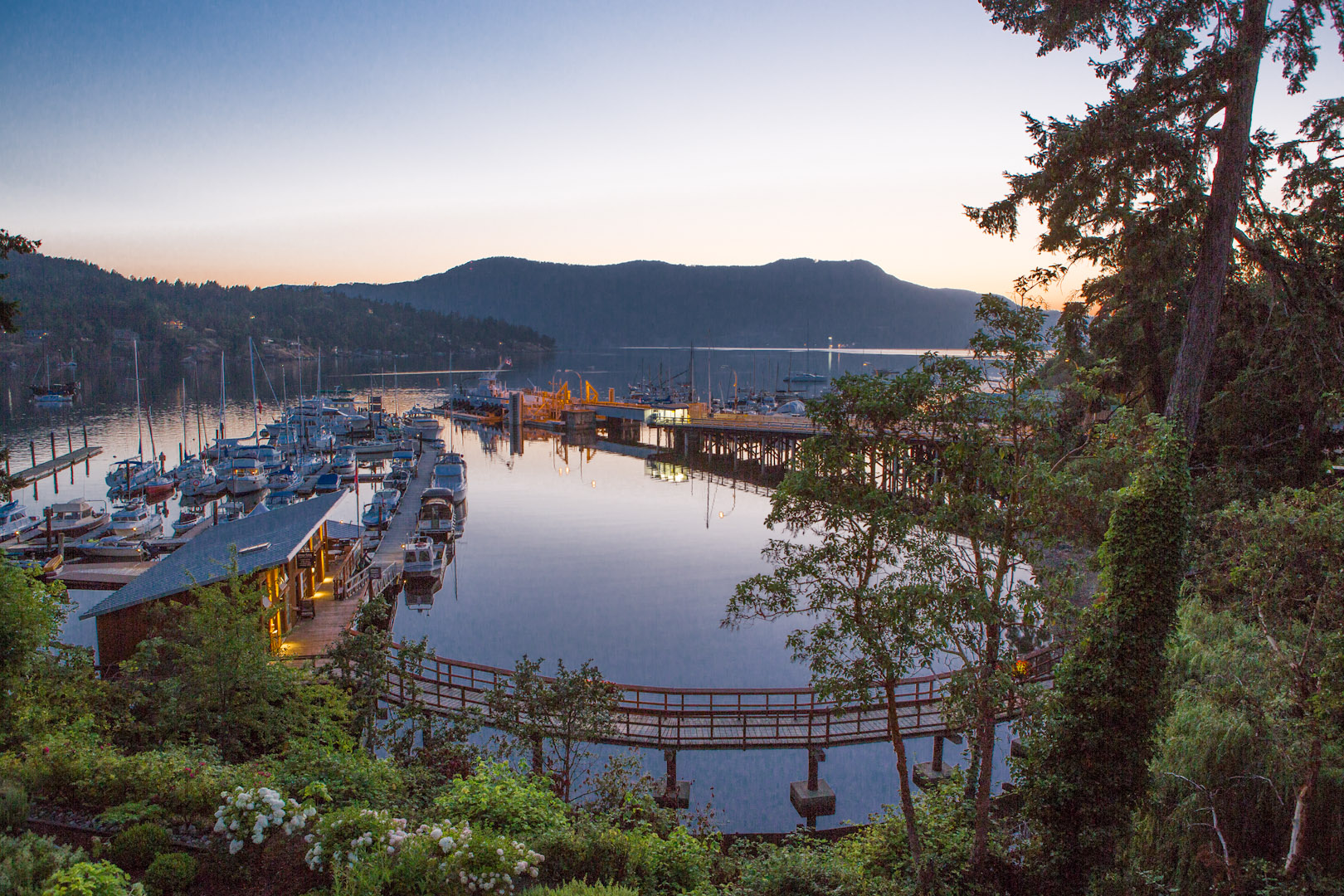 In a quiet bay off B.C.'s Saanich Inlet, Brentwood Bay Resort beckons as a haven of waterfront relaxation in a quaint residential neighbourhood a short journey from Victoria. Set against Vancouver Island's stunning coastline, the resort has an elevated cabin charm, with huge windows and exposed wood. Away from the hustle and bustle of the city, it feels almost like a luxury summer camp for adults. Brentwood Bay's pace of life is languid, allowing guests to slip easily into a vacation mindset for a night or longer.
The 36 rooms, with unbeatable west-facing views over the water, all have either balconies or ground-level patios. Offerings range from traditional suites to larger one- and two-bedroom apartments. Throughout the hotel, work by local artists is on display—in the lobby, an enormous wolf made from wood and recycled materials by artist Tanya Bub greets guests.
The hotel is equipped with two restaurants. The Pub is a popular casual watering hole for locals, with one of the best views on the island. With equally stunning bay outlooks, the dressed-up sister restaurant, the Arbutus Room, showcases Vancouver Island's love of all things local, highlighting goods from neighbourhood producers like Country Bee Honey Farm, Little Qualicum Cheeseworks, Vancouver Island Sea Salt, Sunwing Farms, and Island Farmhouse Poultry. The menu changes, but expect a selection of fresh pastas and well-executed meats, plus vegetarian options. With live music playing on Friday and Saturday nights and a great selection of the island's wines, there are few better places to take in a sunset.
In the warmer months, kayaking and paddleboarding are popular activities. Follow the boardwalk down to the hotel's marina and paddle through the bay's ever-changing gaggle of eccentric boats. A trip through nearby Tod Inlet, which is bordered by the Butchart Gardens, is a peaceful excursion through evergreen forests. Be sure to look for jellyfish floating through the crystalline waters and purple starfish clinging to submerged trees and roots below. Curious harbour seals often keep paddlers company, and bald eagles can sometimes be spotted hunting for fish.
From Victoria, it's a 25-minute direct drive to Brentwood Bay Resort, but taking the scenic route offers the perfect opportunity for a stop at the recently opened Malahat Skywalk. The 32-metre-tall spiralling structure is an accessible way for all ages to get above the treeline and take in panoramic views of the Saanich Peninsula, Mount Baker, and Finlayson Arm—and an enclosed slide from the midway point to the bottom makes the trip down much faster. Along the boardwalk and path leading up to skywalk, keep your eyes peeled for more animal sculptures by Tanya Bub tucked into the landscape. Once you're done exploring, hop on the Mill Bay ferry to cross the Saanich Inlet, and you'll be delivered to the doorsteps of Brentwood Bay Resort, where a peaceful getaway awaits.