GE Monogram Design Center
A range of possibilities.
Four blocks away from New York's Central Park, on the 10th floor of the Architects & Designers Building, is the GE Monogram Design Center—an oasis of possibility for a master chef, and an exploration for a culinary neophyte. Open since 2008, the 4,000-square-foot space was created to showcase GE Monogram's repertoire of professional appliances in a tactile environment where cooks can play under one all-immersive roof. Here, "try before you buy" is a divine right, not just added value.
The design was planned with a New York state of mind. Loosely themed, the facility features a tiled terrazzo floor mirroring a grid of Manhattan, and there is a Monogram 36″ Built-in Side by Side Refrigerator on display with an engraving of the Empire State Building across its door. And, in living colour, behind the cushy club chairs in the entranceway wine-tasting area, lays the sweeping New York skyline through a picture window—test kitchens have never looked this good.
The Fortune 500 company's premiere Monogram line has cut and carved its place in the high-end appliance realm with the skill of a master chef, debuting hundreds of products, 70 of which are on display at the centre in New York. "We always say that GE Monogram is a top-grade appliance, but for people who actually use them for cooking," says Philippe Meyersohn, general manager of marketing and training at GE Appliances / Mabe Canada. "Everything here has use in mind."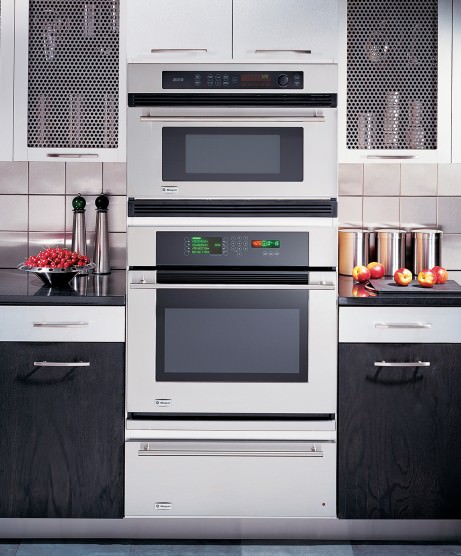 An innovator in its field, GE Monogram was the first brand to offer a complete suite of premium appliances. "We design our products for two types of clients: people who make great food, and people who make reservations," says Paula A. Cecere, the national Monogram Design Center manager. Either group will gravitate toward the 30″ Fully Integrated Glass-Door Refrigerator, which turns the upper shelves into a façade of visible ingredients. Skilled chefs will appreciate the small details such as the ball bearings on the full extension self-cleaning oven racks found in all Monogram Pro Ranges; GE enlisted the help of aircraft engineers in their development so they could withstand the heat of a self-cleaning oven.
The success of the New York location has turned up the heat for GE Monogram to plan for more design centres of its kind. This March saw an opening in Chicago, and a Toronto location will debut in 2014. The company is tight-lipped about its new northern home base, but a CN Tower–emblazoned refrigerator, at the very least, wouldn't feel out of range.