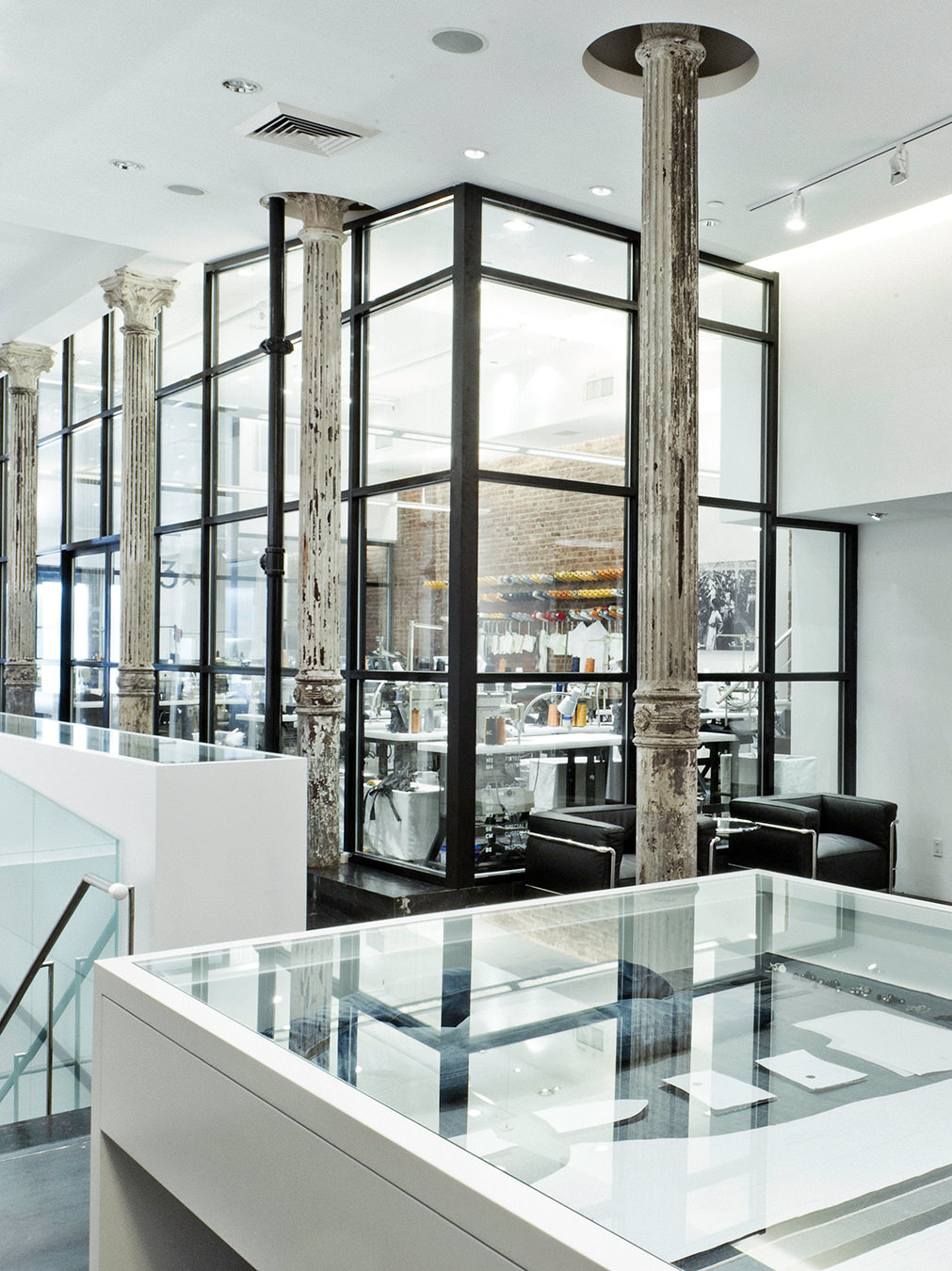 When it comes to style, less is more. Fashion-industry veteran Scott Morrison took this truth to heart when he opened premium New York denim boutique and atelier 3×1 with co-founder Eric Rothfeld in May 2011. Morrison's goal? "To make the best jean in the world." While the bright, modern SoHo shop also sells ready-to-wear and customized fits, its claim to fame is its bespoke denim service. Much like visiting a tailor for a proper custom-made suit, you can work directly with Morrison and his pattern maker to design your dream pair of jeans, made on-site.
Because the ultimate emphasis is on customization and personalization, Morrison limits bespoke appointments to just 100 a year. Each pair of jeans takes five to seven days to complete, and has a price tag of $1,200 (U.S.). "A bespoke jean can be made to measure, inspired by a customer's favourite pair, or something totally conceptual," explains Morrison. The customer "typically has an eye for detail combined with very exacting standards. We try to show them all possibilities given their idea, and although the level of involvement varies from customer to customer, there's always a sense of accomplishment when their pair is finished and they're invited in for that final fitting."
Along with the bespoke option, 3×1 makes a ready-to-wear line, Limited Edition, which is the shop's most popular collection. "The customer selects their jean [style] of choice, the button, rivets, hem length, which are modified while they wait—typically in about 10 minutes," says Morrison. And then there is a third option: Custom Made, where "the customer then gets to choose from the 145 different denims we have in stock—the backpocket design, thread theory, button or
zipper fly, et cetera."
Best of all, you can watch. Almost half of the 7,200-square-foot space is dedicated to the design studio, where, in three workshops and factory rooms located behind glass walls, all 3×1's jeans are made from start to finish in a showcase of not only craft and aesthetic, but also the cultural values of transparency, quality, and simplicity.
"As I've gotten older, and hopefully a bit wiser, my process started to change," says Morrison, who is known for his previous companies Paper Denim & Cloth and Earnest Sewn. "I wanted to invite customers into the same process I've found so inspiring, and provide a window into the world of denim, jean making, and design. I felt it was time to do something in denim that wasn't homogenized, something that inspired people."
As such, the final stitch in 3×1's conceptual pattern is a cultural one. This is an environment focused on "showcasing great ideas," says Morrison. "The experience itself was designed to be unique and take advantage of the fact that we're trying something new. It is all about informing, educating—in a sense, discovery. For many of our customers, a pair of jeans is their suit, and they are looking for something exceptional."
_______
Never miss a story. Sign up for NUVO's weekly newsletter here.