Recipe of the Week: Pad Thai
A recipe from Maenam: A Fresh Approach to Thai Cooking.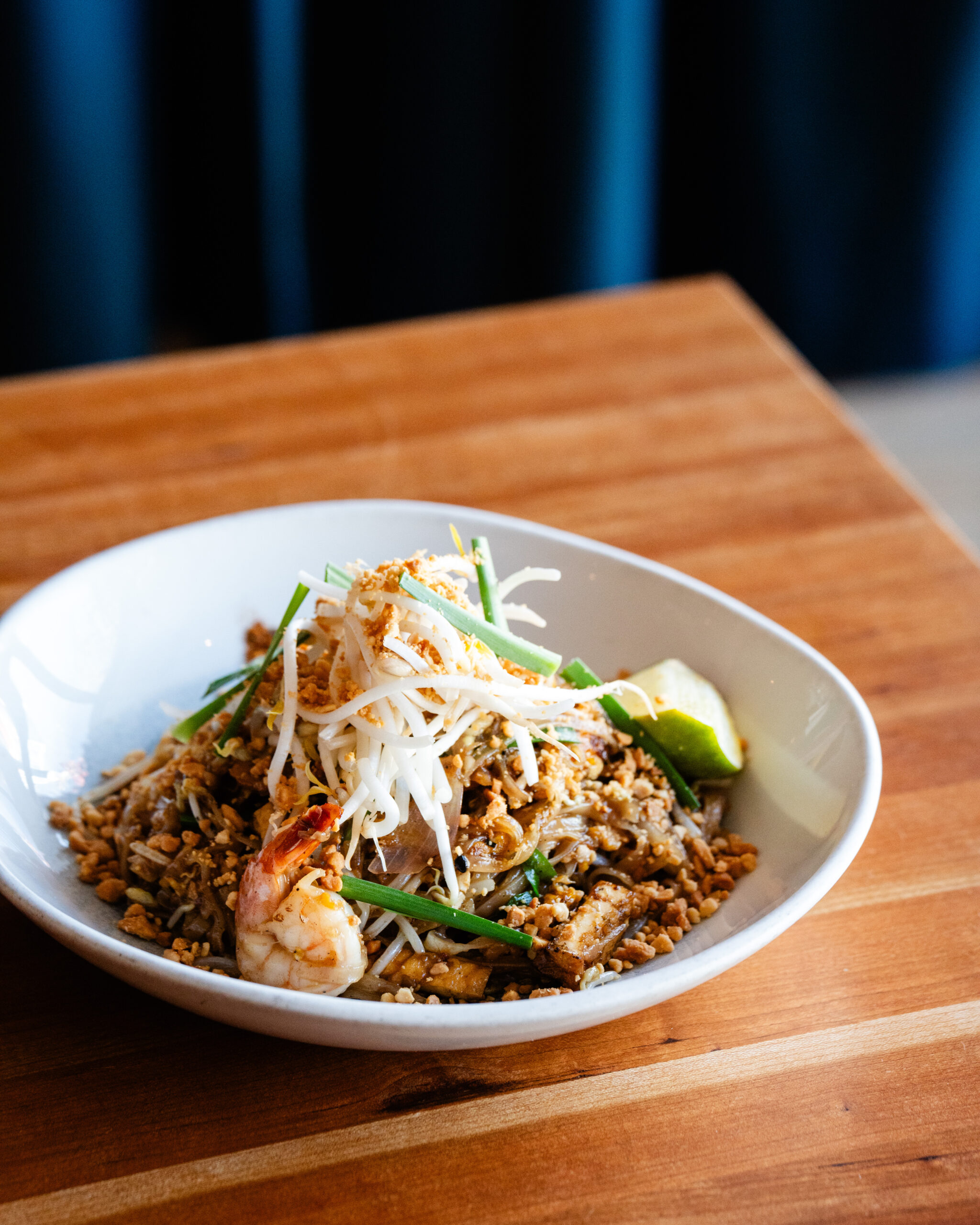 Pad thai is by far one of the most popular dishes in Thai cuisine, because its sweet-and-sour flavour profile appeals to western palates, according to Vancouver chef Angus An. And he should know. An's restaurants Maenam, Longtail Kitchen, Fat Mao, and Sen Pad Thai are all influenced by Thai cuisine. Pad thai is also probably the Thai dish that's been modified the most from its traditional version, An says, adding, "One thing's for sure—when done right, it's absolutely delicious. I've seen pad thai recipes that call for ketchup and dried rice noodles—that's dead wrong."
Sen Pad Thai serves three variations of pad thai, and An's new cookbook, Maenam: A Fresh Approach to Thai Cooking, includes the recipe below. "Tamarind and fresh rice noodles are the secrets to making this dish, along with a screaming hot wok," he says.
Pad Thai
Serves 2 to 4 family style
Prep time 30 minutes, cooking time 5 minutes
Ingredients
For the pad thai sauce:
1 cup tamarind water
1 cup granulated sugar
¼ cup fish sauce
¼ cup water
1 pandan leaf
For the pad thai:
⅛ cup peanut oil
½ shallot, sliced
½ cup firm tofu, cut evenly into matchsticks
1 tablespoon preserved radish
3-4 wild or sustainably farmed prawns
1 egg, lightly beaten
2 cups fresh pad thai noodles
1 cup water
Pinch of toasted chili powder (optional)
4-6 tablespoons fish sauce
½ cup pad thai sauce
½ cup bean sprouts, plus extra to garnish
¼ cup chopped Chinese chives, plus extra to garnish
1 spoonful crushed peanuts, to garnish
1 lime, cut into wedges, to garnish
Method
For the pad thai sauce:
In a bowl combine the tamarind water, granulated sugar, fish sauce, water, and pandan leaf.
For the pad thai:
Preheat a wok over medium heat. Add the peanut oil, then the shallot and tofu and stir-fry together for about 30 seconds, until caramelized but not too dark.
Add the radish and prawns, and continue stir-frying for another 15 seconds.
Add the egg and stir in until it has coagulated, then add the noodles. Toast the noodles until they turn white, about 15 seconds.
Add 1 cup of water, toasted chili powder, and fish sauce.
Toss the noodles to coat them, then turn down the heat to medium and allow the noodles to absorb the liquid for 3 to 5 minutes. The noodles should be pliable and slightly chewy but not firm.
Pour ½ cup of the pad thai sauce over the noodles, turn the heat up to high, toss together to coat the noodles evenly, and allow the syrup to reduce and caramelize. Your pad thai should be darker in colour, have a slightly nutty aroma, and texturally should be pliable but not mushy.
Add the bean sprouts and Chinese chives and stir to combine.
Transfer the pad thai to a serving platter. Garnish with more bean sprouts, Chinese chives, crushed peanuts, and lime wedges.