The craft of Thai cooking.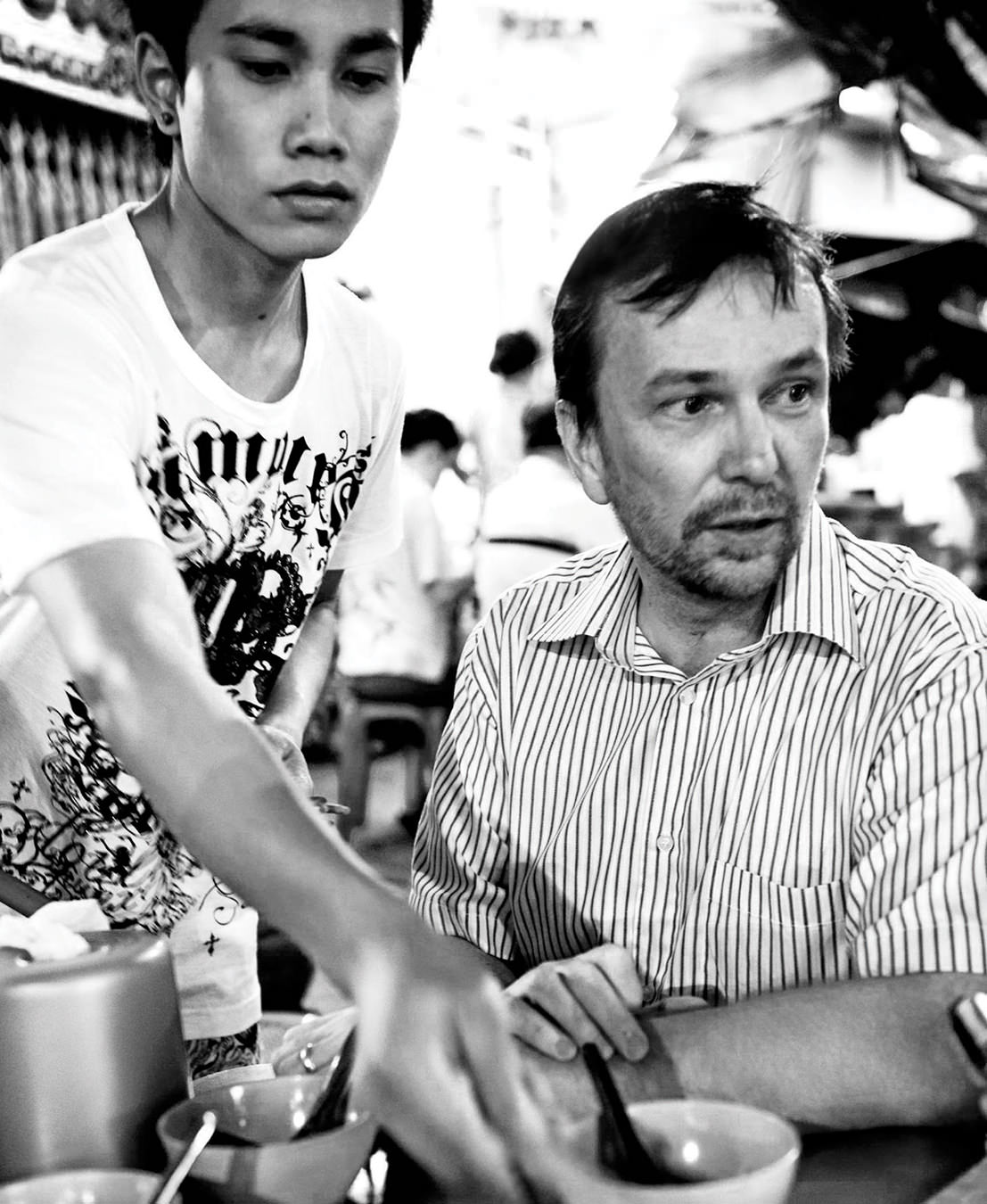 Glacial air con, steam-bath humidity, temple bells, jackhammers; Bangkok is a city that throws you into the deep end of contrasting sensory overload. It's also a city that feeds you very, very well, especially on the street, where vendors prep, cook, and serve all manner of dishes from small, mobile carts. Watch with appetite as green papaya is shredded, and chilies and lemon grass pounded into a palate-dazzling salad. Let the juice from an utterly ripe pineapple wedge drip sensuously down your arm. Tune in to the clang-scrape of wok frying that presages noodles. The crispiest chicken, soups pungent with mint and coriander, aromatic satay sticks—"It's hard not to eat acceptably in Bangkok," says David Thompson of Nahm restaurant at the city's Metropolitan hotel.
Thompson has been dubbed the best Thai chef in the world, which is not a bad accolade for the Aussie, a non-Thai cooking in a culture that reveres what it eats. As he explains, "In England, they care for literature, homes, gardens, and dogs. In Germany, it's music. In Thailand, it's their stomach and their soul."
The story of how an Australian came to be cooking Thai food for Thais begins with a 1986 vacation in the Land of Smiles, where Thompson experienced the Thai version of coup de foudre. Two years later, he was back there to live; he delved into authentic Thai cooking and eventually returned to Sydney where, in 1991, he launched Darley Street Thai. Definitely not your ho-hum tom yum, this was a place staffed by self-styled Luddites who created fresh curry pastes with pestles and mortars, and tapped coconuts for milk.
Above all, Thompson served a menu that most Australian diners had never tasted before, which was inspired by his collection of Thai memorial books, small volumes distributed at funerals that combined a biography, memories, prayers, regional sayings, and often the deceased's favourite recipes. Memorial books were first published in the 1870s—back when Thailand was known as Siam—as a way of broadcasting knowledge in a country that had very few books. Back in 1999, Thompson showed me part of his collection after a memorable dinner at Darley Street Thai that included a rich prawn relish with hair-thin shreds of lemon grass, and Murray River cod wrapped in bai yor, an aromatic leaf.
I still remember that meal, and his words then still stand: "Good Thai food presupposes you will modify, change. It has a looseness and generosity to it that Western food often doesn't have. The ingredients tell you when they're ready, not the imposition of the clock." These were not showpieces laid on extravagantly carved carrots, elaborately presented "palace food" he termed "too pretentious." What he cooked was more Thai haute cuisine. Darley Street Thai worked, scooping up awards, becoming a global byword for non-formulaic Thai food, and only closing in 2000 when lease renewal became prohibitive.
"In England, they care for literature, homes, gardens, and dogs. In Germany, it's music. In Thailand, it's their stomach and their soul."
An offer from Bangkok didn't work out. Then came a phone call from luxe hotelier and entrepreneur Christina Ong, waving the idea of Thompson coming to London to do "something similar to Darley Street Thai" at the Halkin hotel. "I managed to jump from cutting edge to cutting edge," he says. Nahm opened in 2001 and, one year on, became the first European-based Thai restaurant to gain a Michelin star.
It wasn't all easygoing. "The British still don't have such a handle on southeastern Asian [food] as on Indian," says Thompson. "The food wasn't what you'd expect from a Thai restaurant. At times, it left people disconcerted." Mind you, Sydney and London did offer different culinary advantages. In Australia, he could get domestically grown produce. In the United Kingdom, well, "there's still not swathes of lemon grass in Kent yet," says Thompson, although less-strict import restrictions did mean he could get his hands on lemon basil, "with its haunting, pervasive aroma," within 18 hours of picking. But Bangkok? There, he could access authentic ingredients even closer to their source. When Christina Ong asked him to open a Bangkok sister restaurant last year, he jumped at the chance.
Near Lumphini Park, set back from the urban roar, the Metropolitan Bangkok hotel's modernist aesthetic cohabits easily with Nahm's stepped brick columns, teak, gold leaf, and silk. Menu descriptions are just as unforced although the dishes are equally rooted in tradition. "Nahm caters to the most timid and the most intrepid," says Thompson, adding that waiters can explain the subtleties of, for instance, lon plaa raa, which can be translated literally as "coconut milk, fish, to abandon." Fermented fish is "absolutely delicious," says Thompson. "It has a wonderful, almost old Parmesan flavour."
While Thais lean to à la carte, 60 per cent of diners choose the set dinner (basically free run of the menu). "We try to shepherd Westerners into a balanced meal," says Thompson. Taking the waiter's advice "often means you won't get the head-in slam of chilies, but you won't get the heat of them either." (He calls the small, fiery, and lethal chilies "scuds".)
Like dulcet gongs, clashing cymbals, elemental drumbeats, Thompson plays the whole orchestra of Thai flavours in his intricate, layered food. Take just one from his overture of assorted canapés. Betel leaf-wrapped miang kham is, on paper, typical Thai street food, combining ginger, shallots, dried and fresh prawns, tamarind, toasted coconut, coriander, palm sugar, and a dash of fish sauce. Thompson's version is the entire sensory onslaught of a Thai market in one explosive mouthful. A classy variant on northern Thai pork scratchings comes with a smoky chili relish and a quail egg. Move on to the visually simple, orally complex mains, and a dish of stir-fried wild mushrooms is all about slithery, slightly crunchy textures, plus the surprise of black pepper is a discernible spice. Deeply flavoured, Mussaman curry is like hearing Bach on an organ. Crab curry, a signature dish, is pure velvet—okay, maybe satin, or suede: you can argue for hours. How can an uncomplicated plate of baby squid and sugar snap peas be so staggeringly fresh and good that, months later, I can still taste that blend of marine and vernal?
Thompson works alongside his partner of 25 years, Thai-born Tanongsak Yordwai, and a kitchen brigade familiar with the cuisine's nuances. "There's a greater fluidity and instant, intuitive understanding, and it's much more collaborative," he says. "To be honest, I think the food here is better than London. It's cooked by bloody Thais, isn't it?"
His sense of commitment has inspired a new generation. The Thai and Australian owners of Bo.lan in Bangkok are London Nahm alumni, and Vancouver restaurateur Angus An—whose Maenam restaurant showcases regional Thai cuisine—did his stage at Nahm in London with Thompson. "His food and his passion and knowledge blew me away," says An. "The food was amazing, flavours I can't even explain. David was able to put all those flavours in a dish and present them with a delicate balance … I don't think there's anything about Thai food that man doesn't know, and doesn't want to share."
Thompson shares more in his book Thai Food, a 688-page, four-year project, which, he says, "helped me articulate a complex cuisine. Thai food is, at its essence, very nebulous. It's so circumstantial … it's a damned hard beast to nail down." His second, and slimmer, book, Thai Street Food, celebrates everyday urban cooking. Thompson says, "I have no self-discipline whatsoever. I see a deadline as a starting point." He is planning further books on the social aspects of street food, and on ingredients. (His year is now divided between London and Bangkok, so it's hard to figure out when he will find the time.)
"There's so much possibility and diversity [in Thailand]," he says as he talks of offbeat rhizomes like torch ginger, and wild types of cardamom. Preserving variety is essential, he believes; he speaks of the "loss of ethnic differences," and of regional cuisines that are "less than they were." The jungle curry he serves comes from the funeral book for a woman named Jaomae Jantadii. "She lived from 1896 to 1963, and the recipe originally called for jungle bird." Thompson's adaptation uses plaa chorn (serpent-head), a freshwater fish similar to catfish.
Reading The Omnivore's Dilemma, Michael Pollan's analysis of different food chains, was one catalyst that spurred Thompson to develop increasingly closer links with producers. For freshwater crayfish and poultry, he taps the Royal Project in Chiang Mai in the north; sponsored by the King of Thailand, it has introduced alternative crops to hill tribe peoples. "There's still that closeness to the food. Two steps away from the paddy and three steps away from the orchard," he says. "All Thais know how to cook."