Unparalleled deliciousness.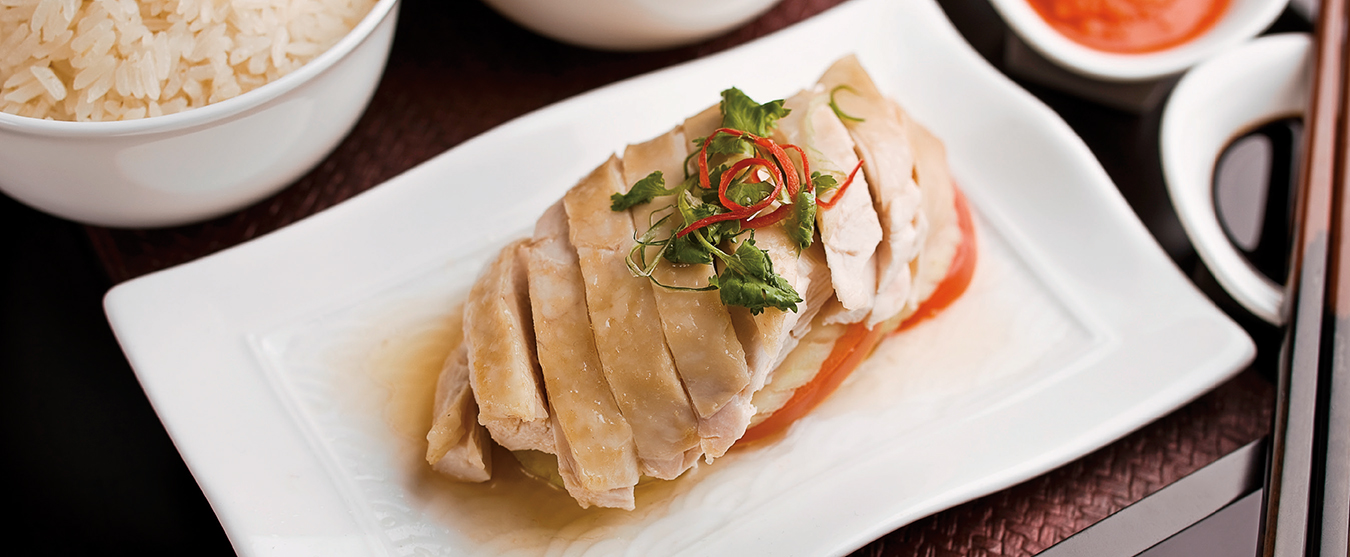 The year I lived in Thailand can basically be divided into time before boiled chicken (BBC) and time after (ABC). The transition occurred early one afternoon a few months after I arrived. A particular little cart down the street from my apartment that I must have walked past dozens of times suddenly entered my conscience. It was a relatively sophisticated contraption compared to the more basic varieties that consisted of little more than boxes on wheels. This one had a bright blue base that housed tall plastic windows, which were steamy from a pot of simmering stock. Aromatic jasmine rice in a bowl built into the base simmered gently and plump yellow chickens hung from hooks at the top.
There was a clean simplicity to the cart that was instantly appealing. I asked the vendor what he was making and he explained that the dish was called khao mun gai. I ordered a plate. The vendor deftly packed some rice into a small bowl and overturned it out onto a faded blue plastic plate. Wedges of cucumber were fanned out on one side of the rice dome and cleavered slices of chicken balanced out the other. A few sprigs of coriander added colour. Two other bowls arrived. One holding a clear broth with tiny white cubes submerged in it and a few discs of green onion floating on top. The other, smaller, bowl contained a chunky, black, fiery-looking sauce punctuated by flashes of red and green chilis that I spooned onto the rice.
With that first bite, for a moment, the din of car horns and barking dogs, of motorbikes and tuk-tuks—everything—stopped. My eyes widened, my heart skipped a beat, and I was completely engrossed by the unparalleled deliciousness of the moment.
The chicken's taut, toothsome skin protected a thin layer of slick fat that gave the delicate meat an unexpected richness. A masterpiece in its own right, it was elevated to the level of genius by that sauce. It was spicy, but the dominant impression was of a dark, fermented complexity, with bright chili heat and ginger exquisitely balanced by salt, garlic, and the deep sweetness of palm sugar. Even the rice was special: full and fragrant from being cooked in some of the bird's rendered fat with garlic (a fact I discovered by quizzing the vendor endlessly about his recipe). He told me that the white cubes in the broth were long-cooked bitter melon, and that the chicken had to be boiled and then dipped in ice water a couple of times to achieve its silky perfection.
I ordered a second plate and polished it off with equal relish. For the next several months I ate that dish nearly every day. When I was away from my beloved cart I would seek out other khao mun gai vendors, often wandering for hours in my quest. My obsession led me to seek out the reputed best purveyors, like Mongkolchai, the 60-year-old family-run institution; the upscale Ruenton in the Montien Hotel; and the legendary Gai Tawn Pratunam, where waits even late at night can stretch up to an hour.
Although my first exposure to khao mun gai was in Thailand and I always associated it with that country's rich food history, I've since learned that many Asian countries share a love of it, and its provenance is by no means established. Thought to have originated in Hainan—the smallest province in China, where it is known as Hainanese chicken rice—and brought by Chinese immigrants to the rest of Southeast Asia centuries ago, it is now beloved across the region. Consequently there is no clear consensus on who owns the rights to call this simple, profoundly delicious dish their own. This led to something of a diplomatic kerfuffle when Malaysian Minister of Tourism Ng Yen Yen recently accused Singapore of "hijacking" the dish. Singapore has yet to respond, but the situation remains tense.
I recently had a version of the dish in Hong Kong at a small Thai restaurant in the Sham Shui Po neighbourhood on Fuk Wing Street. Getting there required several subway transfers and a long walk in the heat, but it was well worth the effort. Everything I first loved about the dish still enchanted me: the slippery, aromatic rice, the purity of the boiled chicken, the complexity of the sauce. Once again I quizzed the restaurant's owner, but he was giving away no secrets, only telling me that the dish had more than 25 ingredients.
Since then I've made it a priority to re-create the dish at home. For the sauce, I scoured Chinatown to find fermented yellow bean paste and purchased a special mortar and pestle for combining the garlic, ginger, cilantro roots, and other ingredients. The rice requires rendering the fat very slowly out of the extra chicken skin, and the chicken itself gets cooked in a lightly aromatic broth and cooled in its own stock. I prefer my soup without the bitter melon—sacrilege to be sure, but personal taste—favouring pure broth with just a sprinkle of sliced green onions. Although I've yet to achieve the profound results of those who have been cooking the dish for generations, the learning curve has been utterly delicious.
Photo ©Btrenkel/istockphoto.