East meets West in Playa del Albir, Spain.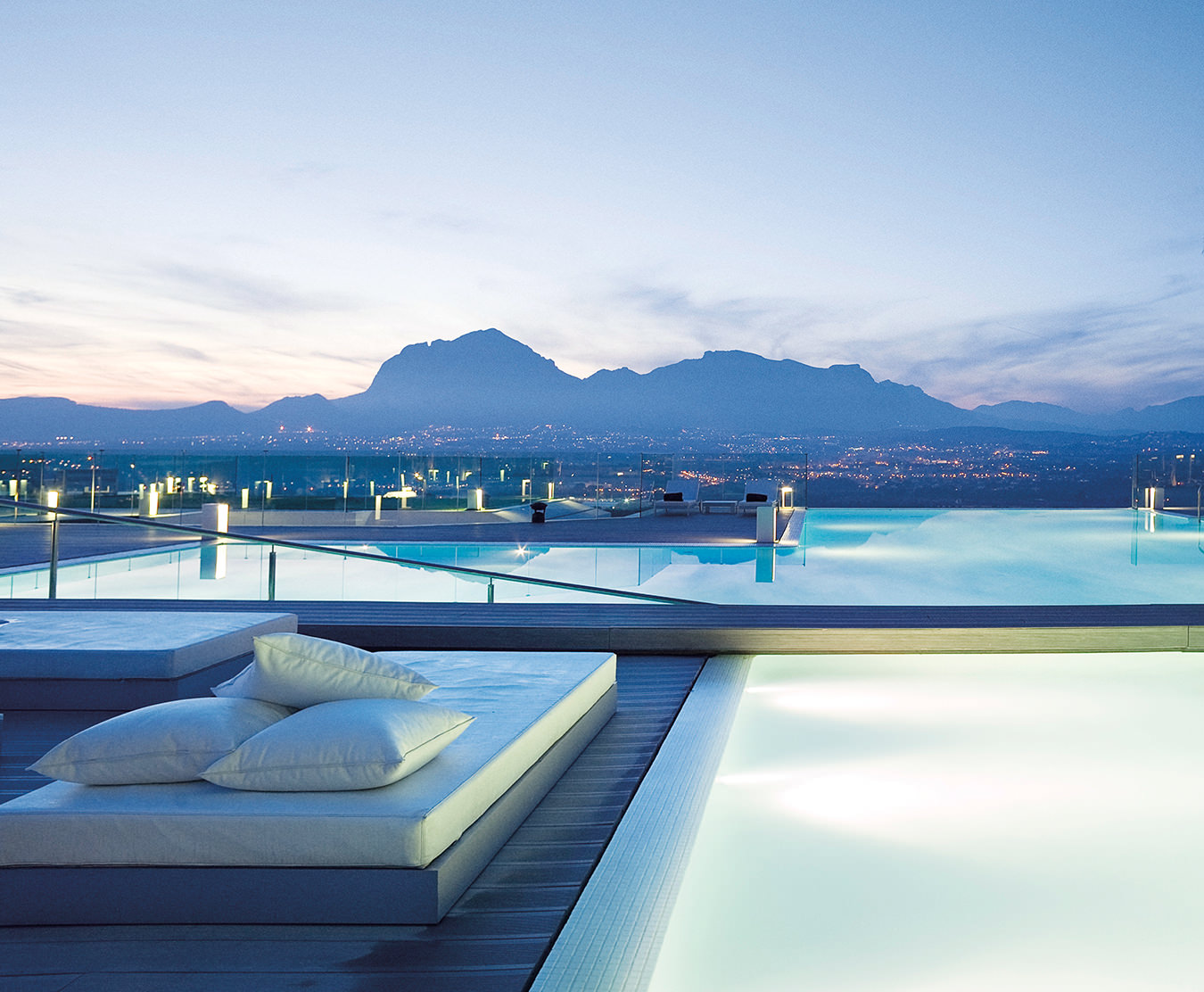 Just outside of Alicante, in eastern Spain, lies the Mediterranean seascape of Playa del Albir, an aquamarine bay cradled in a low mountain range. Scores of swimmers take to the waves, and bronzed runners follow a concrete path that fringes the beach. If scenery could exude a sense of health, this one would. But look upward, and the epitome of health and relaxation awaits 350 metres above sea level within the white walls of SHA Wellness Clinic. The seven-storey monolith, embedded into the Sierra Helada mountainside and designed by Uruguayan architect Carlos Gilardi, reigns over the valley below. There are 93 suites and a 2,000-square-metre spa inside, with a melding of Eastern and Western ideas that forms a spa experience quite unlike any other.
Founder Alfredo Bataller Parietti selected the site for his clinic after years of vacationing in this part of the world, and it is a project that the 64-year-old holds very close to his heart because it was founded upon the very principles that essentially saved his.
Years ago, the Argentinian businessman was diagnosed with a malignant tumour in his stomach that proved incurable by Western medicine. He claims that holistic medicine, oriental techniques, and a macrobiotic diet—which focuses on whole grains and vegetables, and shuns highly processed foods—eliminated the tumour, in just eight weeks. That experience crystallized a desire to open a spa founded upon those principles, and after four years of building and planning, the palatial doors of SHA Wellness Clinic opened in 2009.
"We are not a spa for sick people, but for vitality," says one of Alfredo's effusive sons, Alejandro Bataller Pineda, who is vice-president of sales and marketing. "We are here for exploring your full potential at every stage of life." His father's experience, along with his own (a macrobiotic diet cured Alejandro's chronic migraines), formed the firm foundation for SHA.
The recommended spa visit is two weeks, but just a few days on a macrobiotic diet leaves the body feeling noticeably healthier. "In that full two weeks, you can completely clean your blood, organs, and usually achieve an ideal weight, if that is your goal," says Pineda. At any given time, about half of the guests are on weight-loss or detoxifying programs, but it certainly isn't a requirement.
SHA has cultivated its own arsenal of health and wellness professionals, and while its name may have the word clinic in it, the environment is anything but austere. Guests saunter throughout the property enrobed and white slippered, heading to outdoor yoga classes, traditional shiatsu massages, and detoxifying seaweed body wraps. They may be en route to a holistic therapy session using Bach Flower Remedies, to a physiotherapist-led Aqua Relax water therapy class, or to the more specialized treatments like laser acupuncture, recommended to treat stress and anxiety. Like any top-of-the-line health oasis, there are many different soaks for different folks.
As the name suggests, overall wellness forms the core of the SHA experience and to this end, diet is paramount. After an initial assessment, every SHA-goer receives one of three menu categories. For those on a weight-loss plan, there is the Kushi diet, and for those on an anti-stress plan, there is Biolight—both of these include medicinal teas, smaller portions, and special juice concoctions specifically assigned by nutritionists. For those with respite on their minds, there is the gourmet SHA plan. All three menus of modern macrobiotic fare are plated at the rooftop Shamadi restaurant in a creative fusion of Greek, Japanese, and Spanish haute cuisine by chef Pablo Montoro, formerly of the now closed but still famous elBulli. (The world expert in macrobiotics, Michio Kushi, also acted as a consultant on all menu aspects.)
Molecular gastronomy shines through in Montoro's dishes, where you can find an appetizer of cold miso gazpacho topped with a gratin scallop, baby squid air, and liquefied seaweed tempura; a main of crispy cod confit served with hot potato foam and wild mushrooms; and unconventional garnishes like vanilla oil and licorice jelly soup. There is neither a chorizo nor dairy offering in sight, but there is seafood amidst the bounty of seasonal organic ingredients. There is also no alcohol listed on the menus, but ask, and—if your plan allows—you shall receive.
At times, with its unique melting pot of treatments and cuisine, SHA feels like it could be anywhere—until you look out at that unmistakable view. After a few days detoxing on the mountain, nothing instills a sense of wellness quite like a bicycle ride down to the sandy beach for a hint of authentic seaside España, a day of deep-sea diving in the Mediterranean, or one of the spa's planned excursions to the fishing village of Altea. And for a taste of authenticity at day's end? "We have a dairy-free crema catalana dessert on the menu," says Pineda with a smile. "And a wonderful macrobiotic paella, too."