Life Is Just Fine When You're on Cloud 9
Cloud nine is an expression describing a state of bliss—and a fitting way to describe one of Oceanco's finest motor yachts.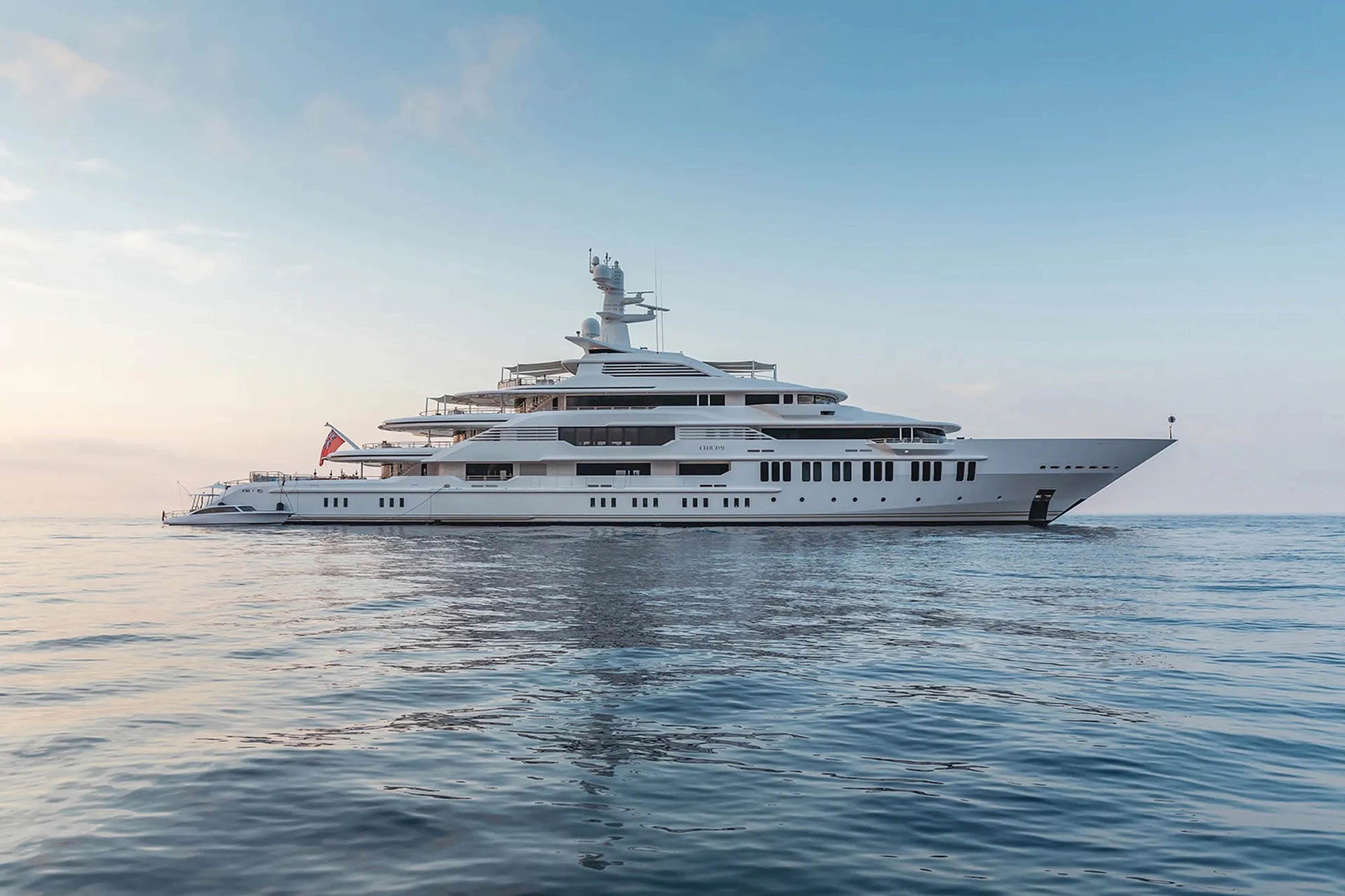 If being on cloud nine means experiencing a state of joy, then being on Cloud 9 must be better still —Cloud 9 being the name of the magnificently imagined superyacht that's recently come on the market for sale or charter.
Completed in 2015 by Dutch shipyard Oceanco, with the exterior design work of Espen Øino International and interiors by Sinot Exclusive Yacht Design and David Kleinberg Design Associates, Cloud 9 very much elicits superlatives. It's not just luxury supersized; it's the best of the very best from bow to stern, earning Cloud 9 a place in a world where bespoke luxury is table stakes, and it takes something over the top to impress.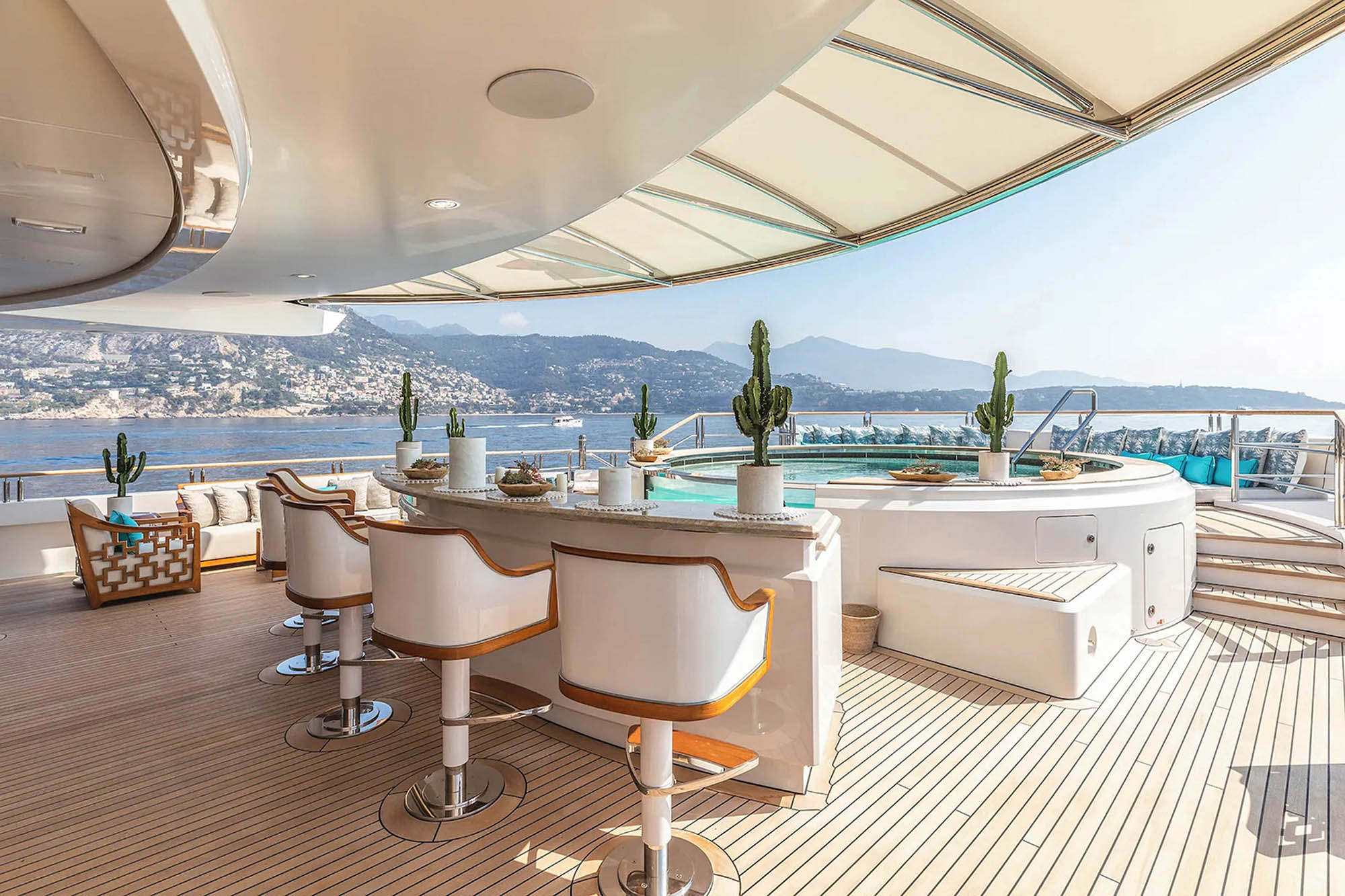 Measuring a generous 88.5 metres in overall length and gliding on a spacious 14.2-metre beam, Cloud 9 is a big yacht by any measure. So it should come as no surprise that it can accommodate a dozen fortunate people in eyeball-popping comfort. With four decks, multiple cockpits for enjoying the sea air, and seven private staterooms, there's no shortage of space to find quiet time onboard with a glass of wine and a good book.
Step aboard, and it's difficult to not be blown away by the amount of outdoor lounging and recreation space on this elegant yacht. On the main deck, a five-metre-diameter circular swimming pool is surrounded by sun loungers, while steps either side of the cockpit lead down to the enormous stern swim platform, with its full range of tenders and water toys.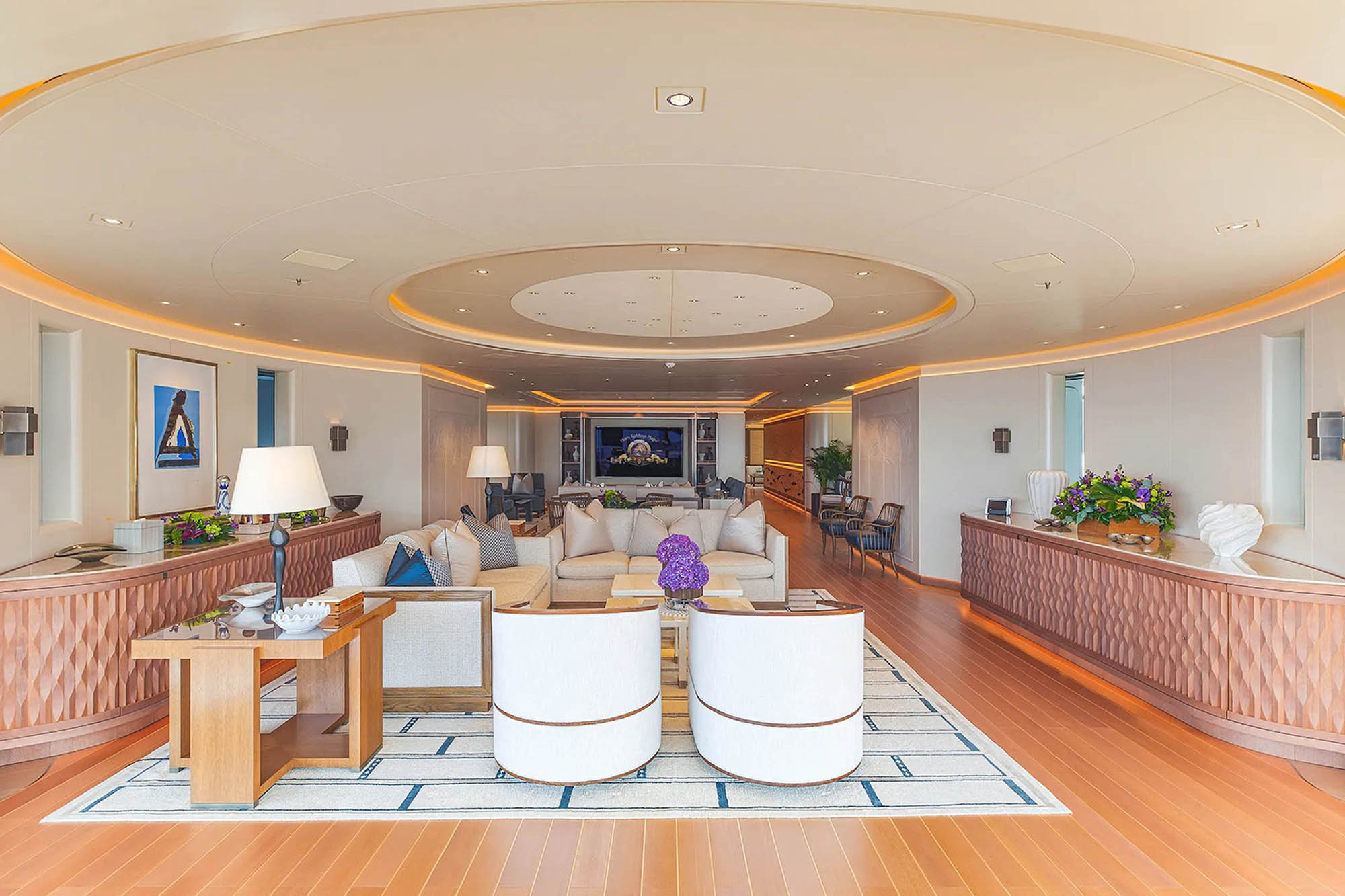 For more privacy, back indoors a glass-walled elevator leads up to the sun deck, providing three more levels of outdoor lounging to enjoy—two of them with Jacuzzis.
Once you've had your fill of lying about in opulent luxury, raise your heart rate with a vigorous workout at Cloud 9's fully equipped gym, which features sliding glass doors that open to provide plenty of fresh air and stunning ocean views. Afterward, cool off with a relaxing massage in the dedicated massage studio, or enjoy a bit of me time at the yacht's onboard hair and beauty salon.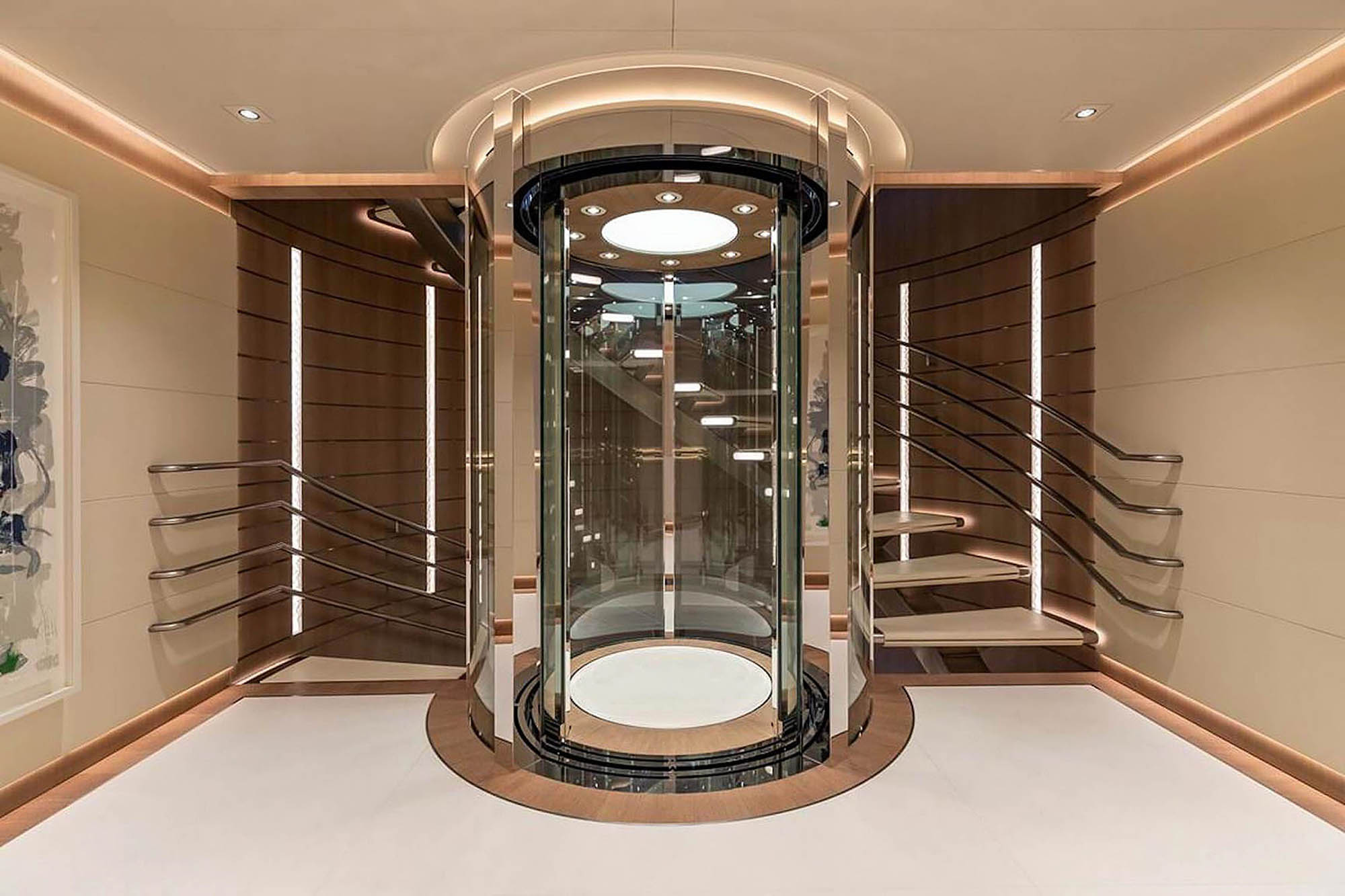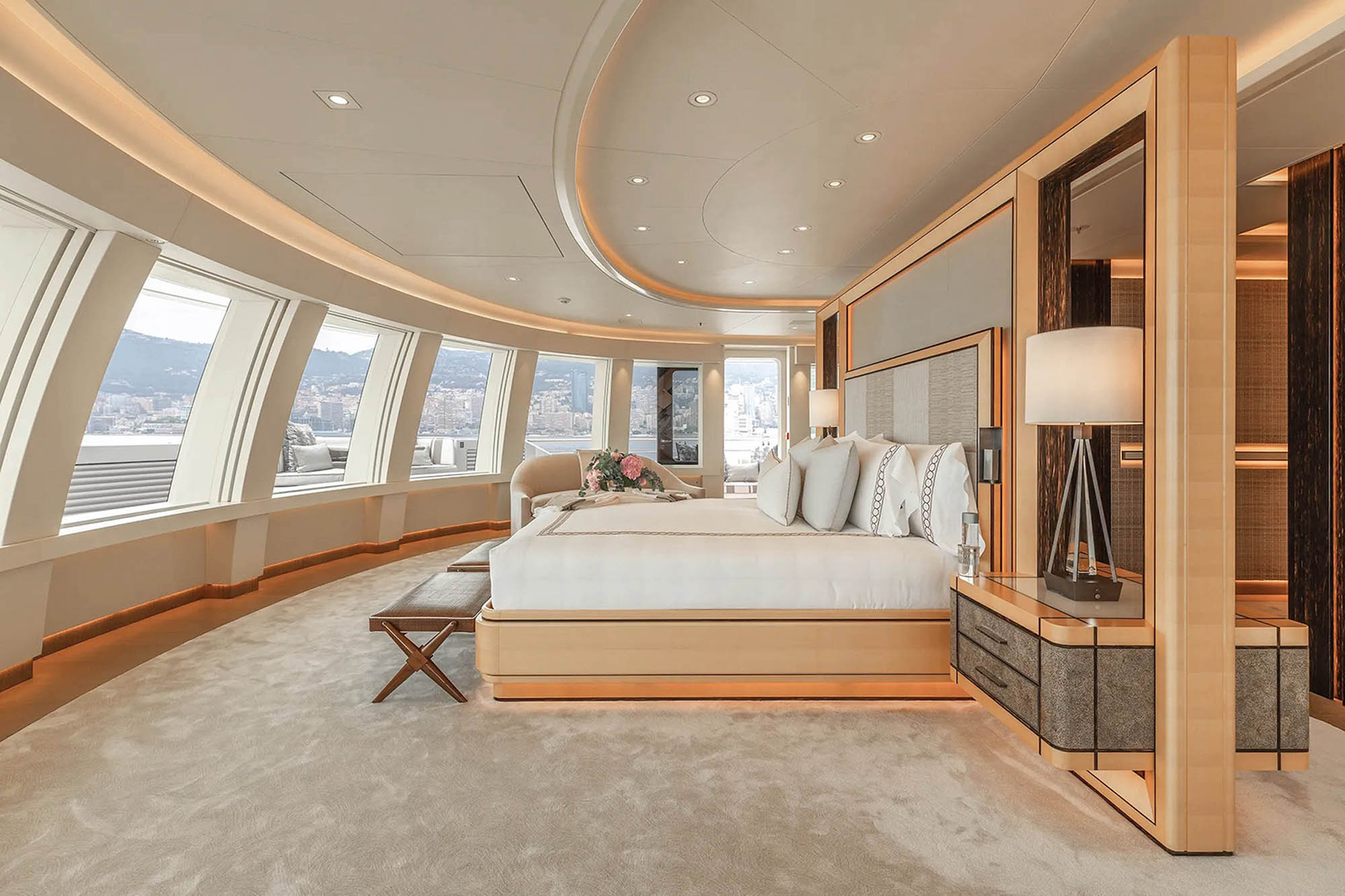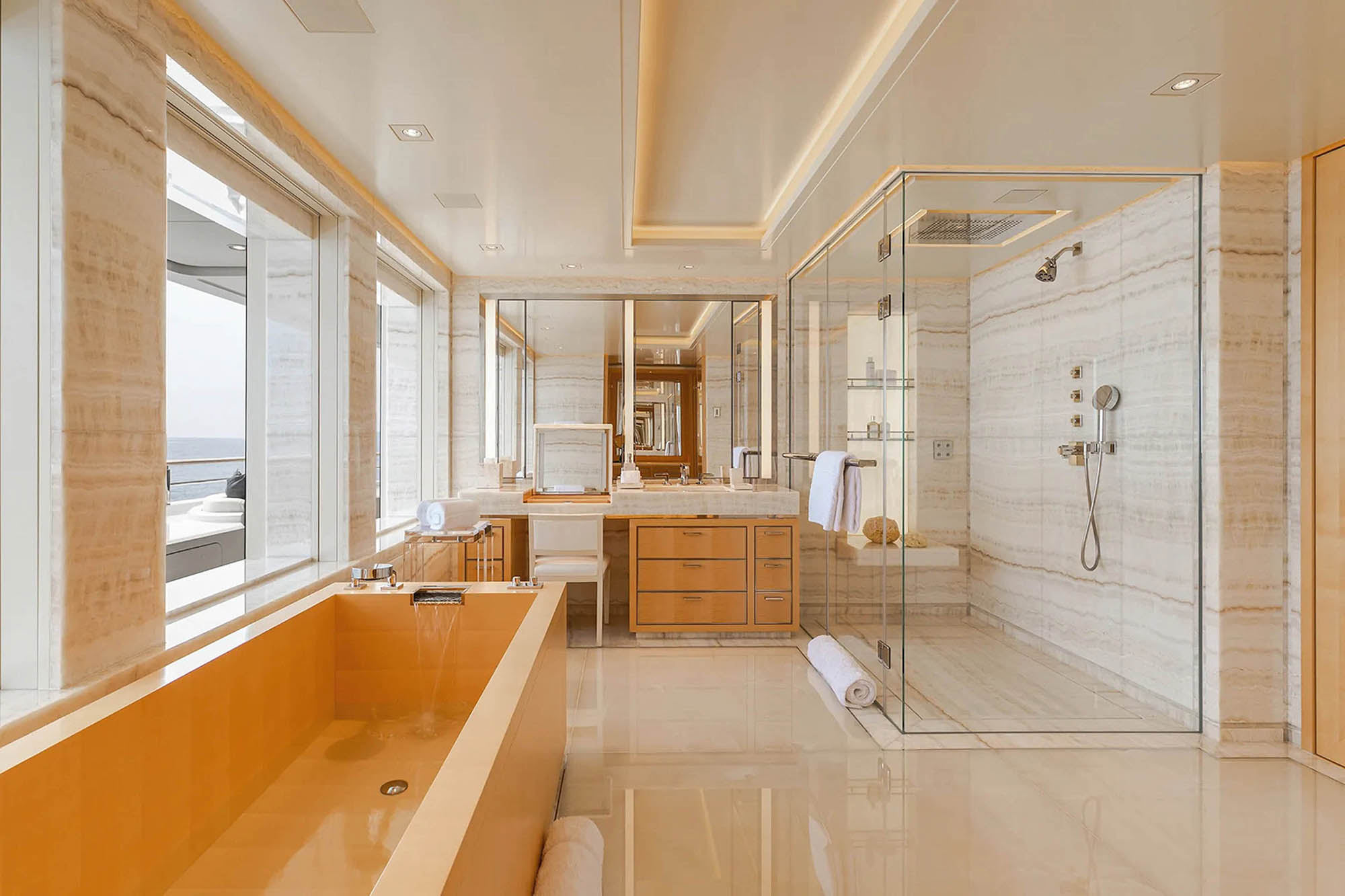 If you'd rather head into town for some shopping, then a custom Hodgdon yacht limo tender makes the trip to the quayside.
When it's time to reconnect over dinner, Cloud 9 offers a variety of indoor and outdoor dining options—if you're undecided, choose the uppermost sun deck, taking your meal al fresco while enjoying unmatched views before moving the party inside. Multiple salons provide spaces to relax with music, fine conversation, or a favourite movie.
When it's time to tuck in, Cloud 9 ensures a great night's sleep for all with four spacious guest staterooms, two luxurious VIP suites, and an otherworldly owner's suite that includes its own private exterior deck and whirlpool. The owner's suite also includes a separate office area, his and hers private heads, his and hers private dressing rooms, and an enormous bow-facing private sleeping area with wraparound glazing for commanding views ahead. There are also balconies either side of the suite, which make the ideal spot to wake gently with morning coffee.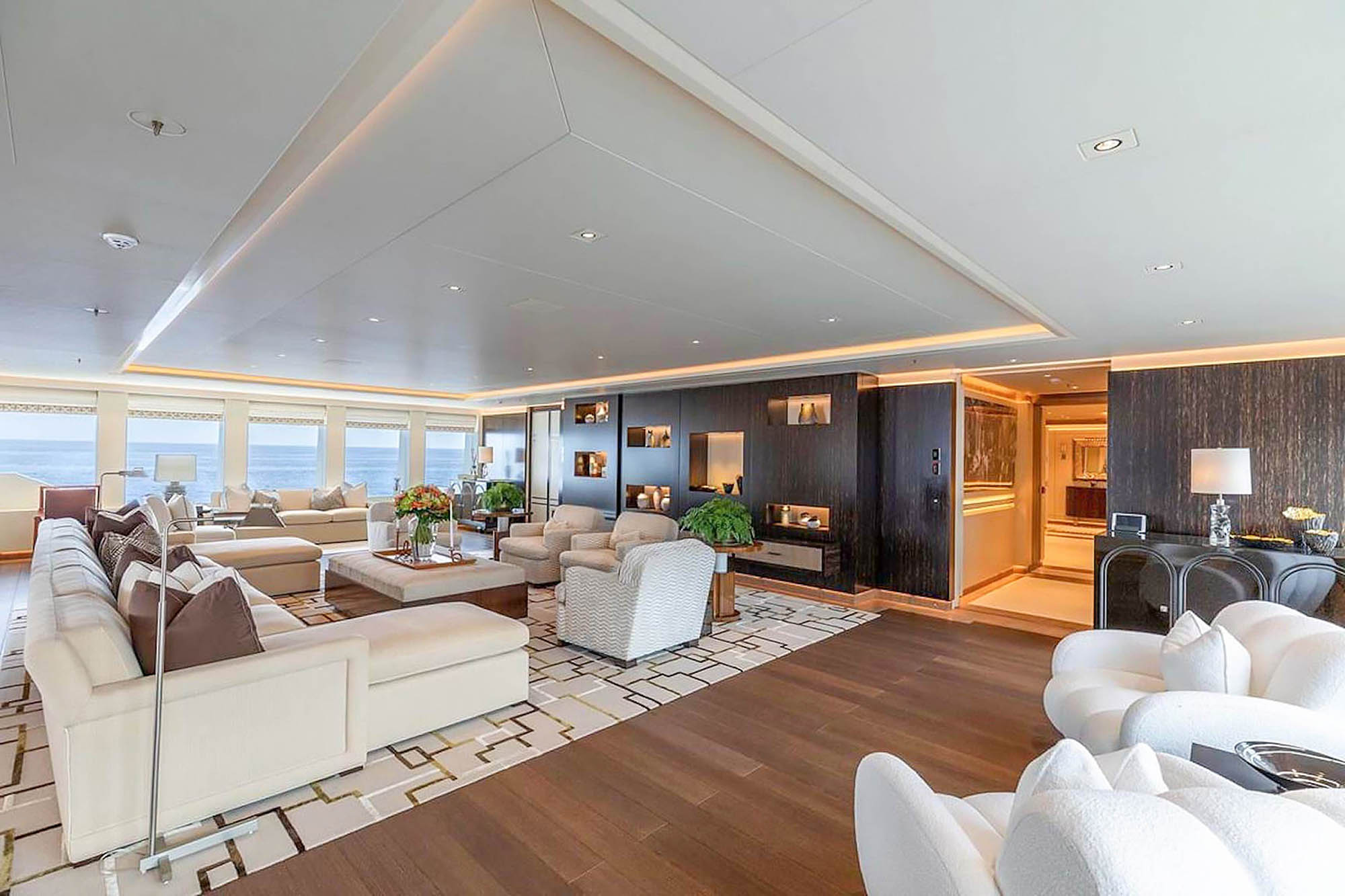 Powered by twin Rolls-Royce mtu 20-valve M73L engines generating an astounding 4,828 horsepower apiece, the 2,200-ton Cloud 9 can skim along at speeds approaching 20 knots and cruise comfortably in the range of 12 to 15 knots. With its enormous 280,000-litre fuel tank, the yacht enjoys enough range to go literally anywhere in the world—in perfect comfort thanks to both dynamic and zero speed stabilizers.
Looking for pure bliss, utter elation, or extraordinary happiness? With summer charters starting at a cool 1,000,000 euros per week, time on Cloud 9 may not come cheap, but can anyone really put a price on happiness?