Humaniti: Montreal's New Vertical Community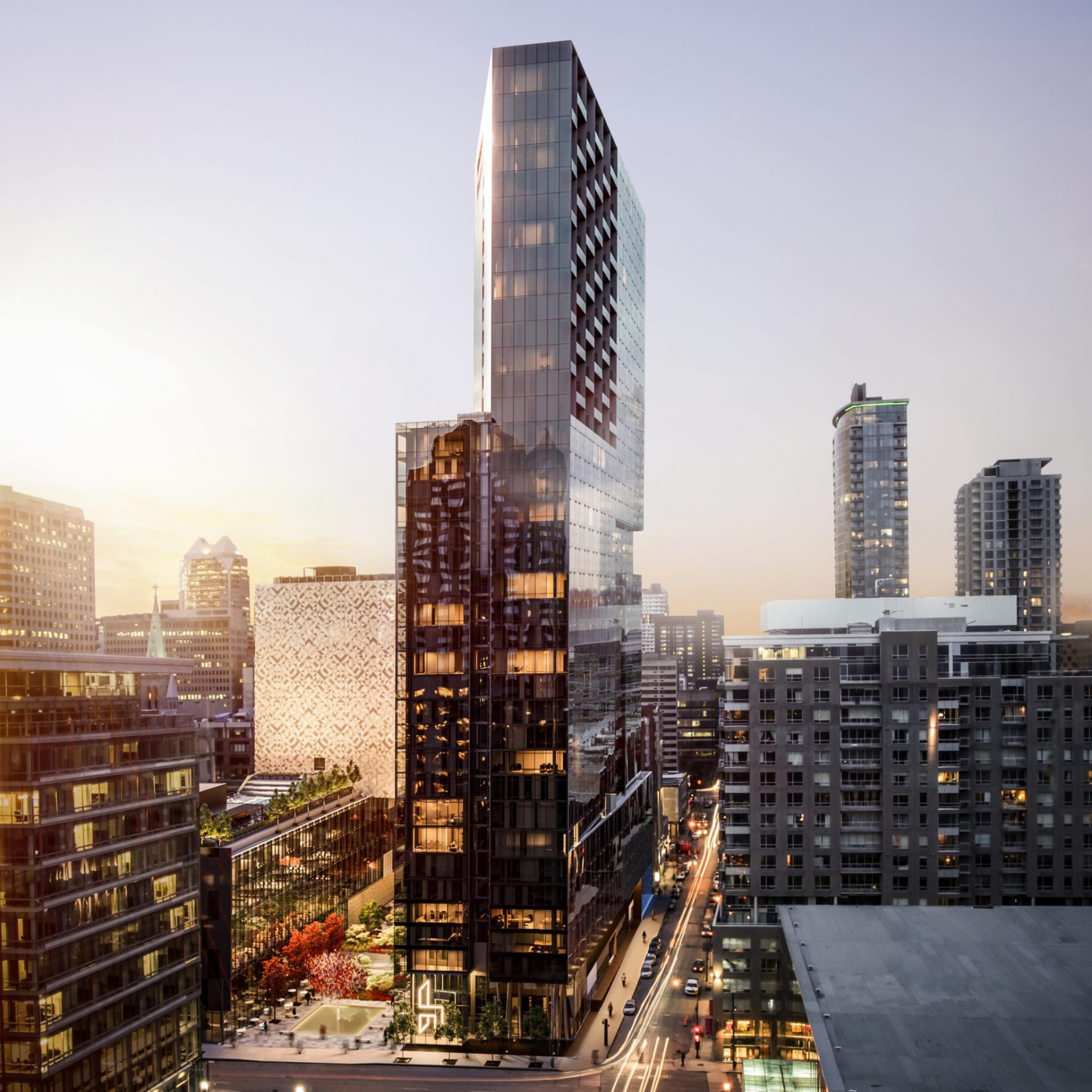 The human experience is influenced by where we live, eat, work, and play, but today, in many ways, this connection has become fragmented. Especially in the city, many of us are longing for community while actively seeking to reconnect with people and to breathe connection into our lives.
At the newly opened Humaniti Montreal, a project done by Lemay and Cogir, community is a primary focus. Humaniti marries coworking, dining, boutiques, public spaces, residences, and one of Quebec's first Marriott Autograph Collection hotel into one convenient hub. The mix is meant to foster dialogue and kinship.
The location of Humaniti is a major contributor to its effectiveness at building connections. Designed by Canadian architects Lemay, this identifiably H-shaped vertical community sits next to Place Jean-Paul-Riopelle in downtown Montreal.
The interior design is meant to connect the hotel, the condos, and the amenities, offering inhabitants moments to observe art or linger in a public space. Connection becomes a literal and figurative theme. Andres Escobar, design principal at sister firm Lemay + Escobar, says, "The location is indeed a prominent aspect of Humaniti: you're in an intersection of many things, amid a new developed area bursting with a lot of activities close to the Palais des congrès, the World Trade Centre, the Quartier des spectacles, and in few steps, you are in the heart of old Montreal." Guests are greeted by a chandelier that resembles a strand of DNA. Lead designer Haley Wagg mentions that the curated tones in each room serve a purpose: the turquoise hues convey a sense of calm, while the pops of yellow bring an energy that also interacts with and plays off the location in Old Montreal.
Artwork is everywhere. It spreads across each floor and seeps into every room. Artist Marc Séguin's pink tree-like sculpture Hanima, which occupies prime real estate in the lobby, is an ode to nature and human existence. Another effervescent piece is the hot-pink neon display near the elevators. It says, "OVER YOU" upside down and was created by artist Mark Clintenberg. In the guest rooms, fingerprint glass is meant to soften the space with human-like accents, and touches of wood add warmth and a nod to nature.
Humaniti challenges the traditional and escapes design conventions by being multidimensional. Its aim to cultivate community comes at a critical time when connection seems elusive. "I think that the humanity aspect of Humaniti and its very true achievement was to create a meaningful connection among four or five city blocks and made them feel very congruent to each other," Escobar says. The bold and balanced, bright and soft colour palettes, and a plethora of art mixed with the richness of Montreal's culture encapsulates what it means to have a joyous human experience.