How to Build an Exercise Beauty Kit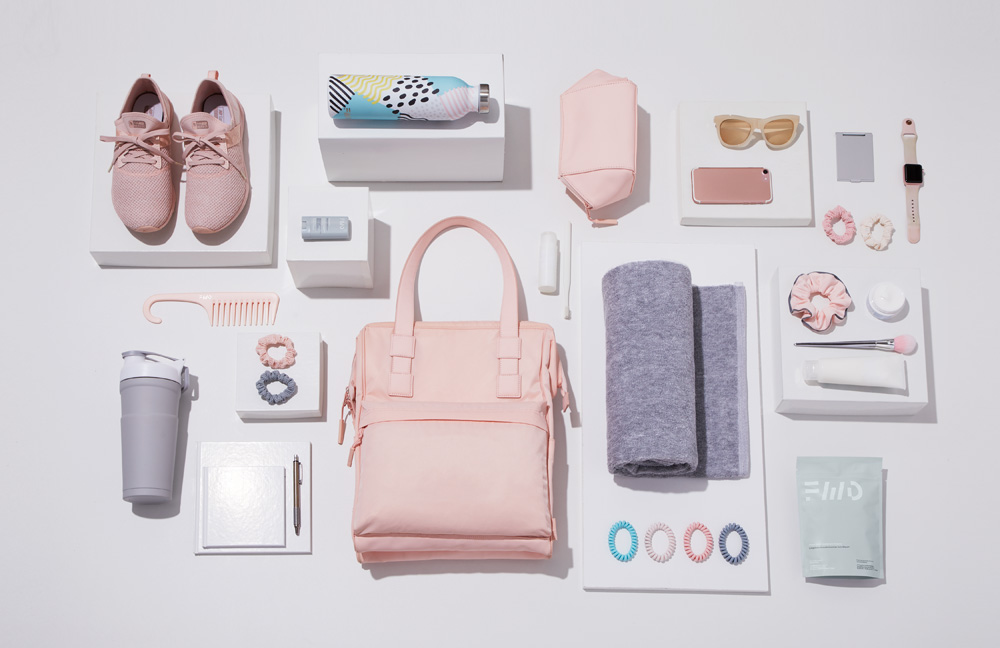 It's no great revelation to say that exercise is good for the body, mind, and soul; lots of people even enjoy it. Often, the biggest barrier to a workout is time—not to do the exercise itself, but the getting ready, both before and after. "To exercise, you often feel like you have to sacrifice other things like feeling confident, clean, and ready for your day," says Caleigh Rykiss, founder and CEO of Toronto fitness studio BOLO and a spokesperson for the exclusive–to–Sport Chek active lifestyle brand Forward With Design (FWD). "Many women—me included—need solutions that can get us from sweaty to at least moderately professional-looking in a short period of time."
Those solutions need to be light and portable, as we can't carry around the contents of our bathrooms to work, then the gym, back to work, and on to drinks or child pickup, especially if we take transit. One strategy is to shop the travel beauty section for miniatures, and refill your favourites. "I save smaller product samples for my gym bag and always repack it as soon as I empty it, so I know I've got what I need," says Vancouver barre-fitness enthusiast and beauty blogger Lisa Wong.
Many gyms and workout spaces have basics like shampoo and body wash available, but there are essentials that aren't covered. It's good to cleanse the face before a workout. "It is principally important to remove anything around the eyes, as they are most sensitive. Creams on the forehead in particular, or about the cheeks, could be quite irritating if they get in or about the eyes when you sweat," says Dr. Mark Lupin, dermatologist, founder, and director of Cosmedica laser centre in Victoria, B.C. "It also makes sense to remove any heavy makeup, to allow your skin to breathe while working out." Cleansing wipes are a gym-bag must for pre- and post-exercise—Sephora Collection has options for every skin type. For those who want to pack extra light, RMS The Ultimate Makeup Remover Wipes are infused with coconut oil and come individually sealed (the wipes themselves are biodegradable, though the individual packaging is not recyclable).
Those who exercise outdoors need a good sunscreen. Shiseido Ultimate Sun Protection Lotion for Sensitive Skin is particularly good because it actually gets more protective when it comes into contact with water or sweat. LaSpa Ultra Sun Protection Stick can be kept in a tiny pocket for mess-free on-the-go protection. Swimmers need a different kind of product. Chlorine can be irritating to skin, but rather than applying lotion immediately before swimming only for it to wash off, Dr. Lupin suggests daily application at home on a daily basis, and after swimming. "Something like CeraVe Moisturizing Lotion can help minimize irritation, as dry skin is naturally more sensitive to chlorine," he explains. "After swimming, have a shower with a moisturizing soap such as Skinceuticals Gentle Cleanser in order to remove the chlorine quickly from the skin."
Chlorine is almost worse for hair than it is for skin—and then there's saltwater. "These are both damaging because they start to eat away at the cuticle—the layer that keeps colour fresh and hair shiny," says hairstylist Beth Weber, founder and CEO of Refuge Hair. "My favourite trick for swimmers is for them to wet, shampoo, and rinse their hair, apply a hair treatment or mask, and then put on their swim cap before they hit the pool. Hair is like a sponge, so if we can fill it first with good stuff, it won't soak up as much of the damaging pool water." After your swim, you can rinse out a lighter mask without shampooing. Weber says to choose a mask that best fits your hair needs—Refuge's Redew for hydration or Reamp for volume. A richer one such as Nexxus Keraphix Masque, which comes in single-use sachets, might need to be shampooed out. Using a clarifying shampoo once a week or so can also help remove chlorine. Amika Reset Exfoliating Jelly contains pink charcoal to absorb toxins, dirt, odours, and pollution.
Some people think that exercising—in particular, not showering afterward—encourages acne, but Dr. Lupin says that's not the case. "What most people experience is a general flush to the skin from workouts, and any existing acne may look temporarily redder and more prominent, but this soon settles, and exercising is not a trigger for acne," he says. "Tight-fitted, polyester clothing can sometimes rub the skin and irritate acne during workouts. A simple solution is to wear cotton-based workout clothing that is not too tight, so that the skin can breathe and be less prone to irritation. A shower is certainly nice and refreshing and helpful to keep the skin clean, but it is not necessary strictly as regards to preventing acne on the face, chest or back." This will come as a relief to people who either can't shower after working out or don't want to because—like Caleigh Rykiss—they work out where they work, either because their job includes working out, or because they exercise in a workplace gym. Rykiss is a fan of FWD's Body Wipes, which are large and make her feel thoroughly clean post-exercise. They come in individual, recyclable packets; the paper wipes are made from sustainably sourced wood and bamboo, and are biodegradable, as are the brand's Deodorant Wipes.
Dry shampoo might seem like a post-workout must, but Beth Weber says it's great for beforehand. "Think of it like a deodorant that you apply to absorb future sweat," she explains. "If you spray it on before working out or putting on your cycle helmet, you may not need it at all afterwards." Lululemon has recently launched a self-care range that includes dry shampoo, moisturizer, lip balm, and deodorant, all of which come in small sizes for your gym bag and big sizes for home. Weber says that if you shower after exercise, it's usually okay to skip the shampoo unless you have oily hair. "Sweat will rinse out with just water," she states. To minimize damage and breakage, she suggests drying with a microfibre towel and moving the position of your ponytail around every day so you're not constantly tugging on the same hairs.
In terms of post-exercise skin care, moisturizer and sunscreen are—as usual—musts. A helpful extra step if you have room in your bag is to cool the skin using a facial mist. Designed for those with sensitive skin, La Roche-Posay Toleriane Ultra 8 immediately reduces redness and also hydrates and soothes skin. Instead of slathering on a heavy foundation to conceal a flush from exercise, use a foundation with a high water content that can actually reduce redness. Sulwhasoo Perfecting Cushion Brightening SPF50+ is light and buildable, with a semi-matte finish. Stila Lingerie Soufflé Skin Perfecting Color is 70 per cent water and has tiny bubbles that burst on contact with skin to deliver instant freshness.
Finally, and importantly, remember not to sweat the small stuff. Says Wong: "Sometimes I end up forgetting something and when that happens, I do without. It's not fatal, and if exercise has taught me anything, it's to get comfortable with being uncomfortable."
_________
Never miss a story. Sign up for NUVO's weekly newsletter here.