Chef Ned Bell's Wild Pacific Halibut Niçoise Salad
This simple salad brings together the best of land and sea.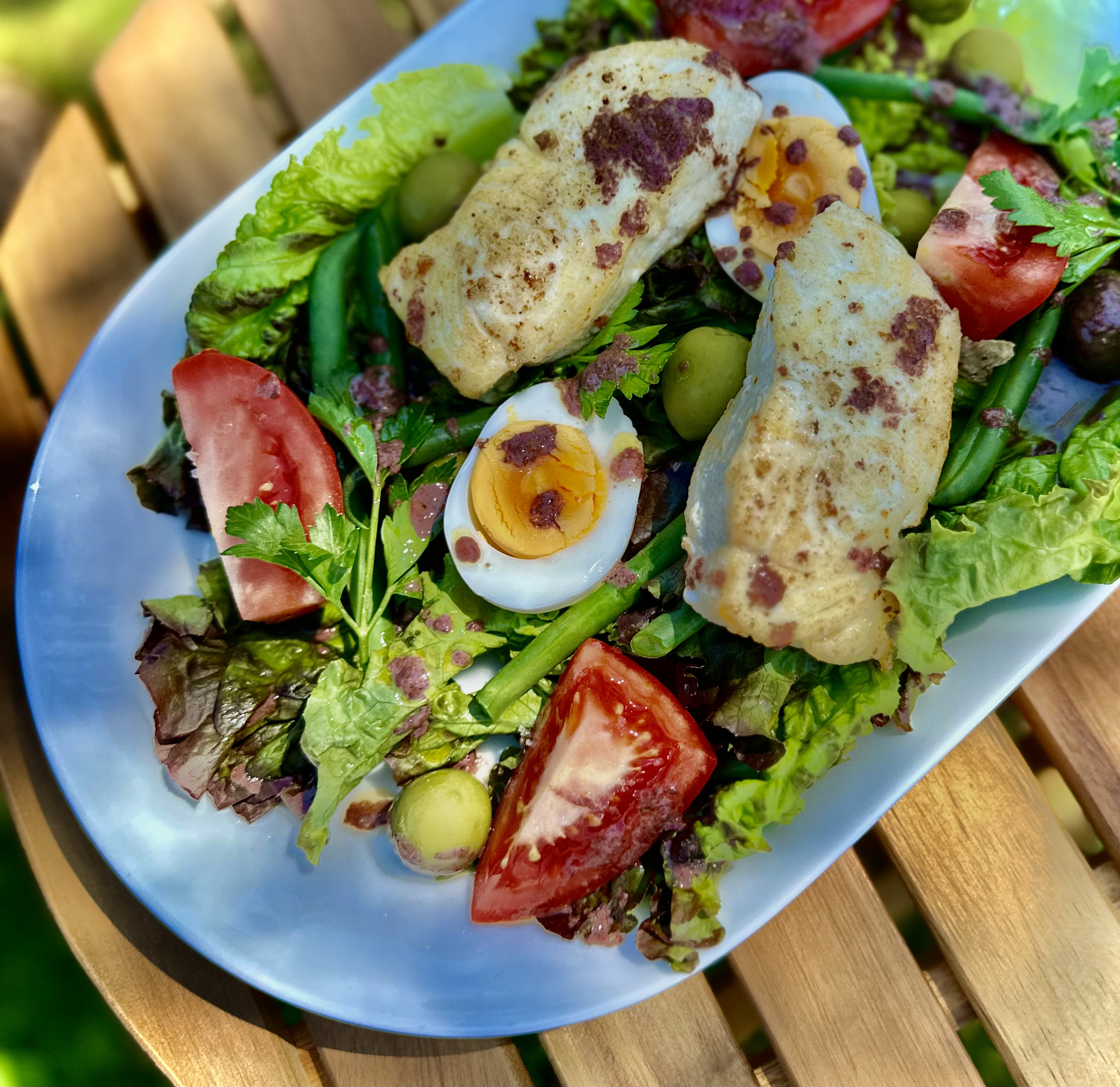 As a chef ambassador for both Buy BC and Ocean Wise, chef Ned Bell knows a thing or two about fresh produce and fish. Bringing his two ambassadorships together, the Hatch Hospitality owner developed this recipe for a simple wild Pacific halibut niçoise salad. Topped with a tangy black olive dressing, this easy-to-make salad is a fantastic way to use up what's left of summer's bounty.
Ingredients
For the halibut:
3–4 ounces wild Pacific halibut (filet, cheeks, or steaks) per person
Kosher or sea salt
2 tablespoons olive oil per piece of halibut
Tomato (enough for 4 large chunks per person)
3–4 black or green olives per person
2 cups fresh salad greens per person
1 medium boiled egg per person
5-­6 green beans per person (blanched in a pot of salted boiling water for 30 seconds and then shocked in ice water)
2–3 tablespoons of fresh herbs per person (dill, chives, or parsley)
For the black olive dressing:
1 cup extra virgin olive oil
1/2 cup apple cider vinegar
1 tablespoon Dijon mustard
3 tablespoons black olive tapenade
Method
For the halibut:
Preheat a frying pan over medium-high heat.
Season the halibut with kosher or sea salt on all sides.
Add 2 tablespoons of olive oil to the pan for each piece of halibut.
Lay the fish in the pan and sear for 1-2 minutes.
Flip the fish over and continue to cook for an additional 2 minutes until it is gently firm
to the touch.
Add 1 tablespoon of butter and a squeeze of fresh lemon.
Baste the fish with the butter/lemon for 30 seconds. Remove and serve.
For the black olive dressing:
Whisk all the ingredients together in a bowl or put them all in a Mason jar and shake until mixed.
To assemble:
To build the salad, lay all the vegetables except the herbs on a plate, top with the cooked halibut, and then spoon the dressing generously over all the ingredients.
Garnish with fresh herbs and serve.