First Look: Ritz-Carlton, Fukuoka
High above Hakata Bay on the island of Kyushu in Japan, the Ritz-Carlton, Fukuoka, occupies the top nine floors of the 25-storey main tower of the Fukuoka Daimyo Garden City complex, designed by the Tokyo architecture firm Kume Sekkei.
Opened in July, this elegant boutique hotel has 167 guest rooms, including 20 suites, and is located in the downtown core of a city formerly called Hakata, once the eastern gateway to the ancient Silk Road. Modern day Fukuoka lures Japanese and foreigners to indulge in its notable cuisine, especially street food.
Australian firm Layan Architects & Designers found inspiration for the hotel interiors in Fukuoka traditions such as hakata-ori, textiles used for kimono sashes. The hotel commissioned Nishimura Orimono, one of the oldest weavers of hakata-ori, to produce exclusive fabrics: one design is displayed behind the bed in guest rooms, and another is used for partitions in the Lobby Lounge & Bar. Both fabrics were adopted from a sample textile book from the late Edo period (1603-1867) and woven in traditional hues of black, golden-brown, and grey.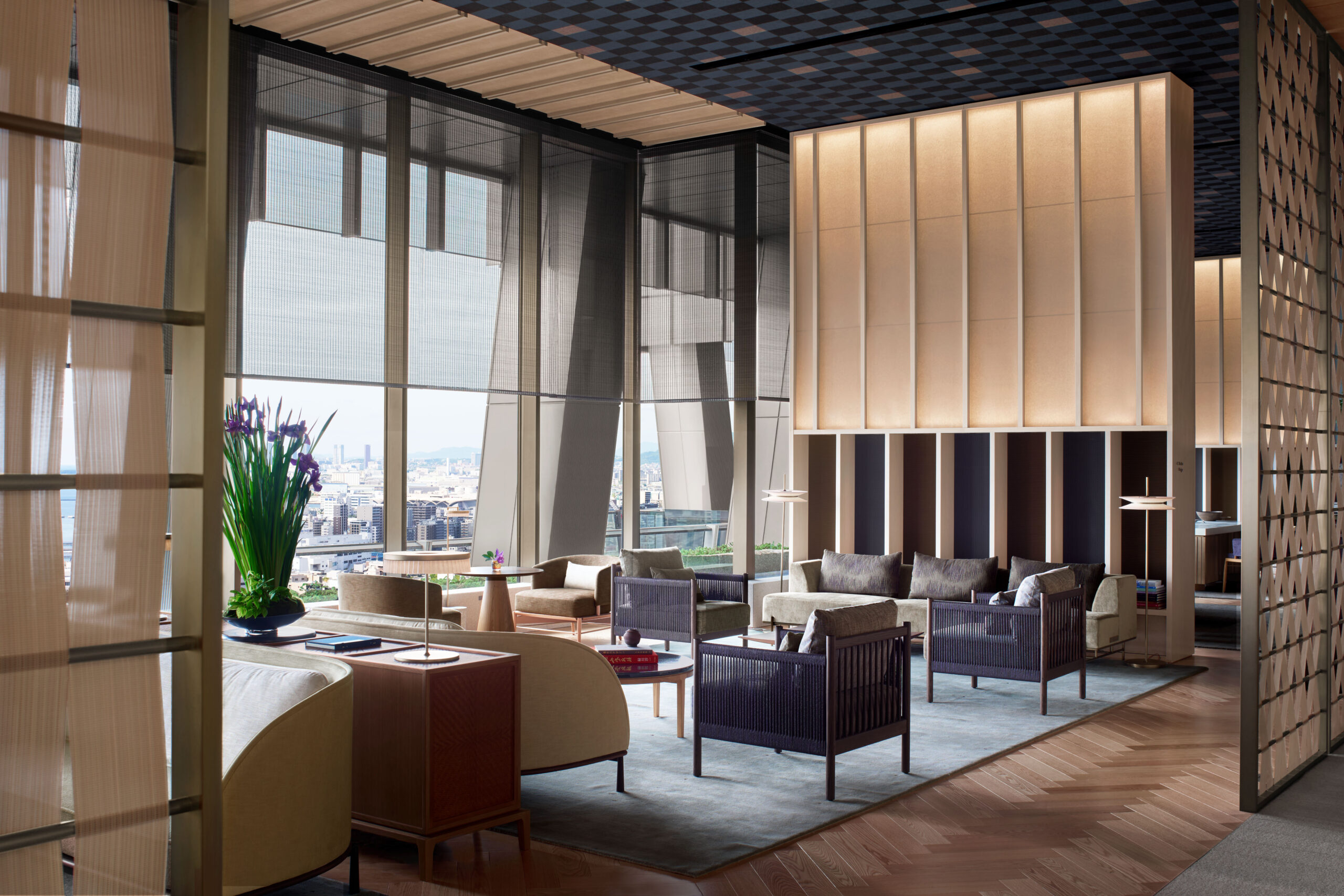 In public areas of the hotel and restaurants, the blinds are reminiscent of sudare, bamboo blinds that are a decor staple in Japanese homes. The horizontal orientation of the window coverings is typical of Japanese architecture and a reference to Fukuoka's landscape of sea and mountains.
Guest rooms, on floors 19 to 23, are decorated in airy and calming shades of white, grey, and blue, with pale wood panelling and modern furniture. Headboards are upholstered in ochre microsuede made from recycled plastic bottles, and a pair of elegant pendant lights illuminate each side of the bed. A corner loveseat and chair create a sitting area beside the floor-to-ceiling windows with skyline views. All rooms are decorated with blue-and-grey plates of koishiwara-yaki pottery, a traditional craft in Fukuoka, while bathrooms with matte-gold fixtures showcase Mont Carmelo granite from Brazil. Upgraded rooms feature a free-standing bathtub.
Deluxe rooms, deluxe suites, and premium suites display items from the hotel's art collection. Saori Masuda's abstract paintings recall city landscapes, and the artist's use of mineral pigments is in the nihonga tradition, popularized in Japan's Meiji period (1868-1912). The hotel's Presidential Suite has an abstract oil painting by Fukuoka native Aki Mitsugi.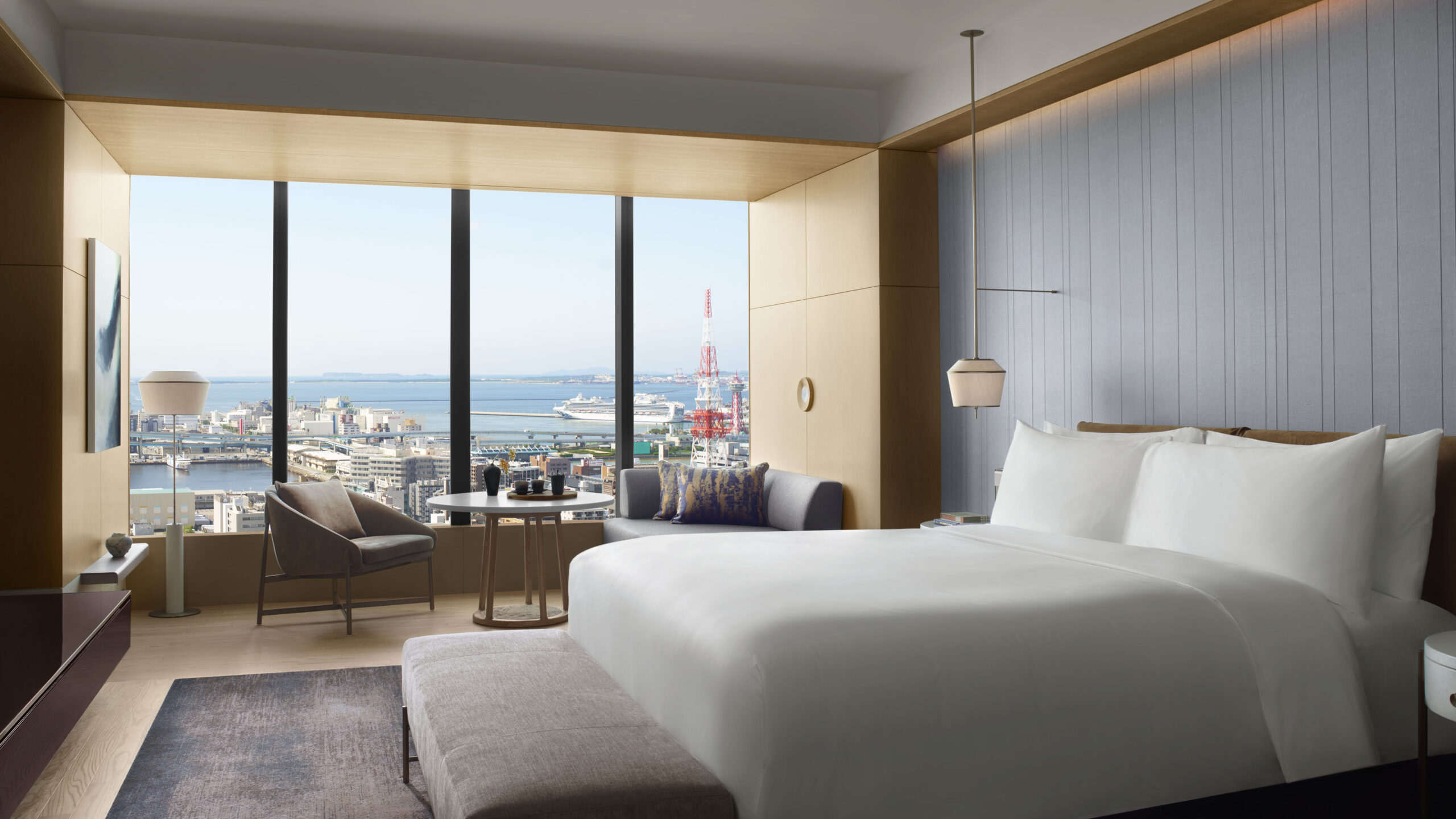 Hotel guests can choose from six in-house dining options, including in-room service. The Lobby Lounge & Bar, with a calming palette of neutral tones and subtle textures from the pattern of the wood flooring to the woven chairs, offers unbeatable views of Hakata Bay along with Kyushu teas and whiskeys from around the world, while the low-lit Bay bar with its reflective ceiling, lantern lighting, and long bar pairs cocktails and tapas, ideal for date nights. Diva, the hotel's elegant café serving light refreshments and Japanese green tea, is furnished with oatmeal-coloured chairs and loveseats clustered around round tables; Viridis serves Western cuisine made from sustainably produced local ingredients; and Genjyu, decorated in shades of green and blue with banquette seating, offers a modern take on traditional Japanese cuisine such as kaiseki, sushi, and teppanyaki.
Additional amenities include a fitness centre with Technogym equipment, the Ritz-Carlton Spa on the 24th floor (which also includes the Ritz-Carlton Club), and a minimalist indoor swimming pool for a calming dose of aquatherapy.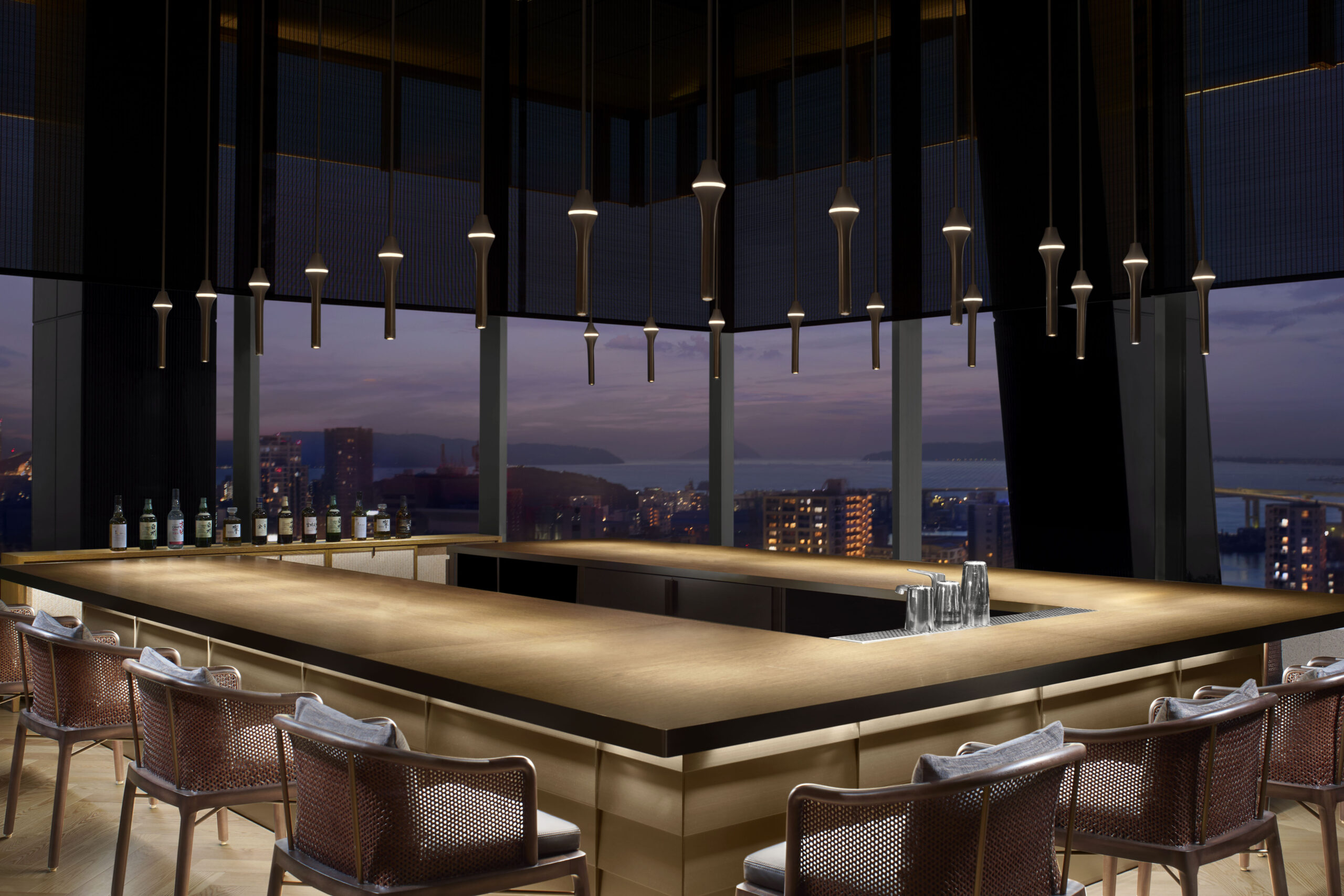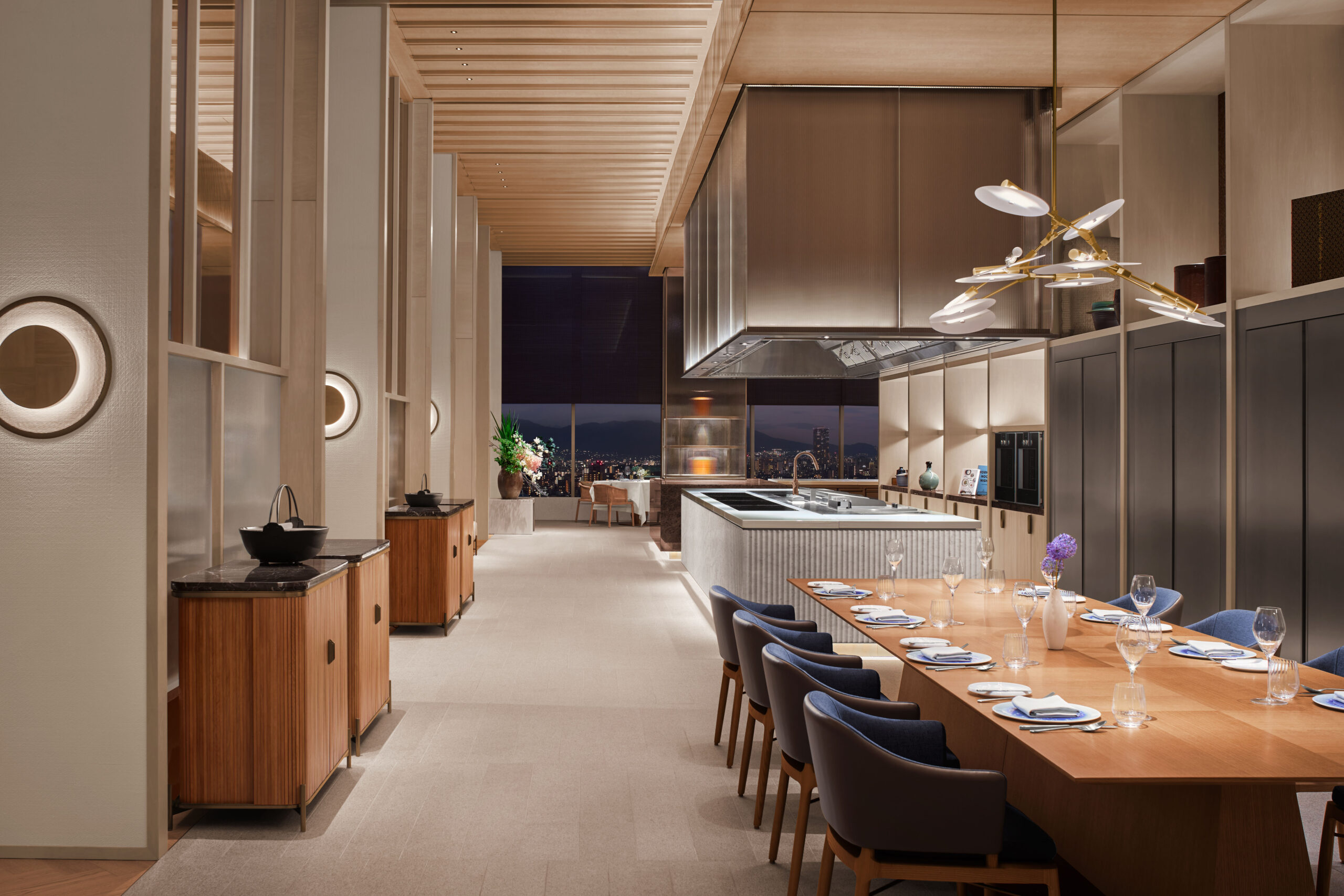 Photos by Christopher Cypert.