Cheesy, Heavenly Choux Pastries
Cèpe gougères from Restaurant Vignette's chef Ashley Kurtz.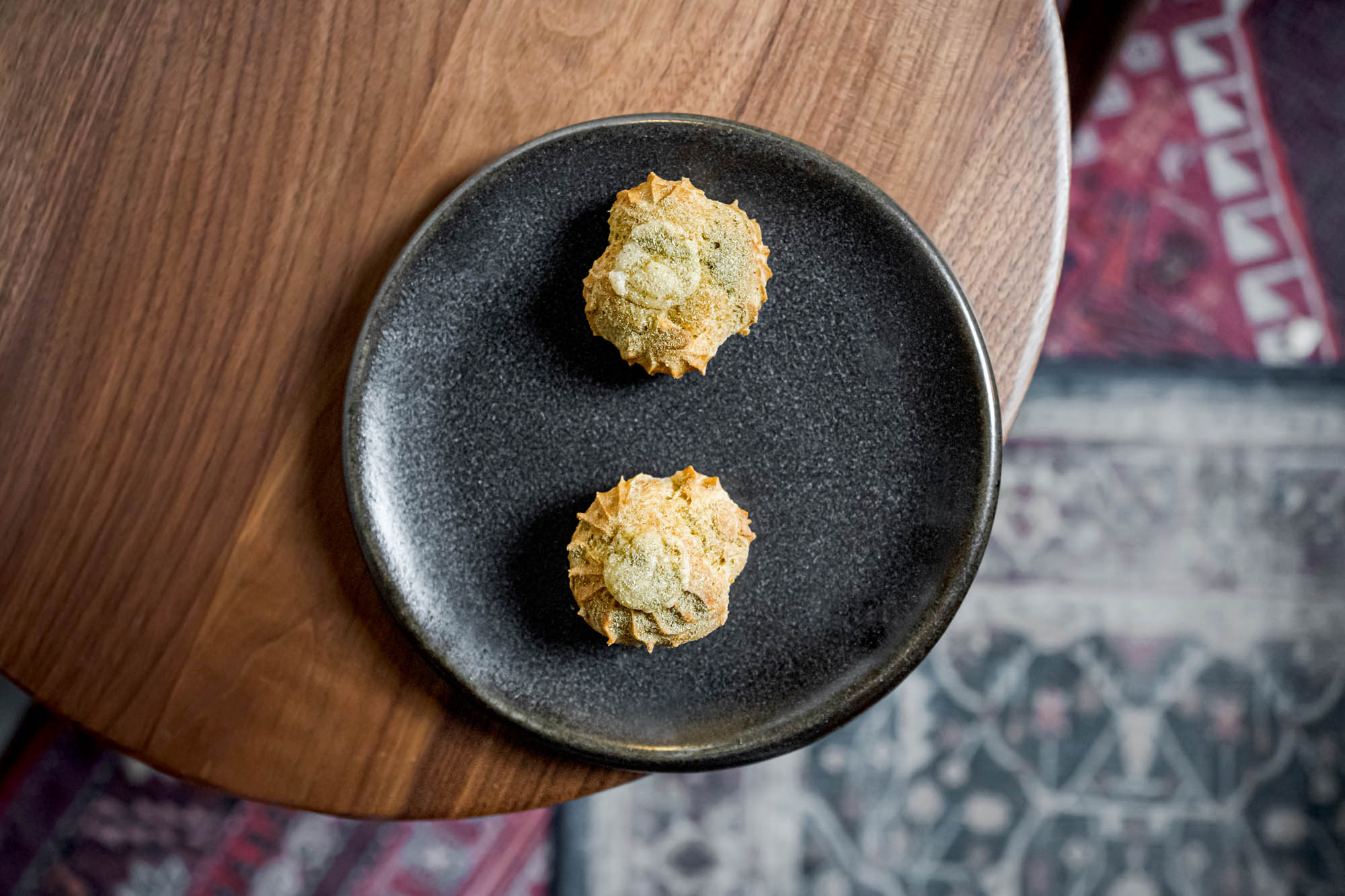 Chef Ashley Kurtz of Vancouver's Restaurant Vignette gives classic French gougères a lift thanks to loads of mushrooms and even more cheese than usual. Piped full of two types of sauce and best served with a heaping amount of cheese, these fantastically balanced pastry balls are ideal little bites to start any meal. Think of them as cream puffs for adults.
Makes 12-14 gougères
Ingredients
For the choux pastry:
125 millilitres water
125 millilitres milk
100 grams butter
5 grams salt
5 grams sugar
200 grams flour
5 eggs
For the cèpe mornay:
500 grams milk
1/4 onion, studded with two cloves and 2 bay leaves
33 grams dried cèpes
43 grams butter
43 grams flour
60 grams gruyère, grated
60 grams parmesan, grated
Banyuls vinegar, to taste
For the portobello mushroom mostarda:
75 grams shallots, finely diced
15 grams garlic, minced
150 grams portobello mushrooms, finely diced
40 grams madeira
70 grams balsamic vinegar
2 grams yellow mustard seeds
5 grams sugar
15 grams olive oil
Salt, to taste
Pepper, to taste
To finish:
Gruyère or comté cheese
Method
For the choux pastry:
Preheat oven to 400°F.
In a heavy-bottomed pot, bring the water, milk, butter, salt, and sugar to a boil. Remove pan from heat and whisk in the flour using a wooden spoon. Mix vigorously until the flour has been absorbed completely. Cook over low heat, stirring continuously for a minute or two, allowing the flour to cook and absorb excess moisture.
Transfer the dough to a KitchenAid mixer fitted with a paddle and mix on low speed for a couple of minutes to cool the dough slightly. Replace the paddle with the whisk attachment and add the eggs one at a time, whisking on medium-high speed.
Transfer dough to a piping bag fitted with a large round or star-shaped tip. On a tray lined with parchment paper and sprayed with oil, pipe loonie-sized balls.
Bake gougères for 22 minutes or until golden brown on the outside. Remove tray from oven and transfer profiteroles to a wire rack. Poke holes in the bottoms of the gougères with a cake tester to release steam.
For the cèpe mornay:
In a heavy-bottomed sauce pot, bring the milk, studded onion, and cèpes to a simmer. Remove from heat and cover with a lid. Steep for 20 minutes. Pass the milk through a fine-mesh strainer and discard the onion and cèpes.
In a separate saucepan, make a roux by melting the butter. Add the flour and remove pan from heat, stirring vigorously with a wooden spoon. Return pan to the heat and cook roux for a few minutes.
Add the warm milk to the roux in segments, whisking frequently. Cook over medium heat until the raw flour taste is cooked out, about 10–15 minutes. Remember to whisk every minute or two to prevent the flour from burning.
Add the gruyère and parmesan, and whisk for a minute until they are completely dissolved.
Add Banyuls vinegar to taste.
Allow the mornay to cool for 15 minutes, then transfer to a piping bag, or cool mix completely and store in an airtight container in the fridge until needed.
For the portobello mushroom mostarda:
In a heavy-bottomed pot, sweat the shallots and garlic in olive oil. When soft, add the mushrooms. Season with salt. Cook until the mushrooms and onions are caramelized.
Deglaze the mix with madeira, using a wooden spoon to scrape the fond from the bottom of the pan. Add the balsamic vinegar, mustard seeds, and sugar, and reduce until the mushrooms are almost dry. Check the seasoning, adding more salt if needed, and pepper.
Remove the pot from the heat and allow the mushrooms to cool. When cool, transfer mushrooms to a piping bag.
To finish:
Preheat oven to 400°F.
Cut the tip off the piping bag of mostarda and pipe a bit into the gougères, then pipe in the cèpe mornay until the gougères are full and almost coming out the bottom.
Bake gougères for about 4 minutes. Check the temperature using a cake tester inserted into the middle. Remove the cake tester after two seconds and place it on the bottom of your lip. If you burn your lip, the gougères are ready. Transfer gougères to a small plate. Using a microplane, grate a heaping amount of gruyère or comté cheese over top of the gougères.
Photography by Sarah Annand.