Candles to Light Now and Later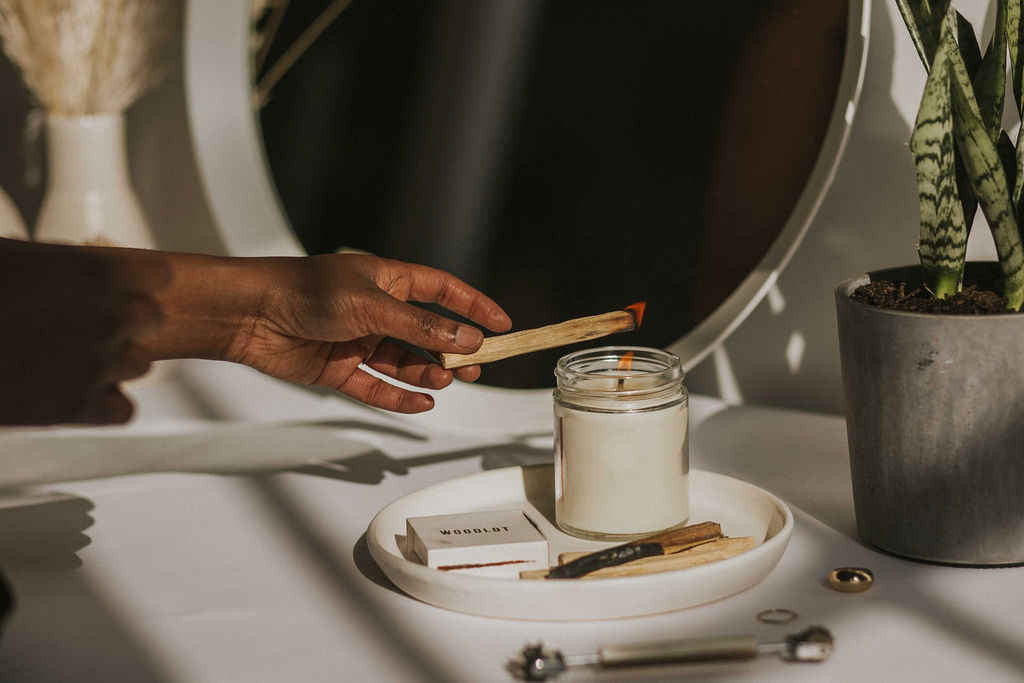 The final touch to an interior worthy of even the most discerning interior decorators is a good candle. Scented candles have become an indispensible accessory, and on a winter evening, a candle is not just a beautiful object but an enveloping fragrance that spreads through the room. With the holiday season upon us, look beyond the initial moment of giving and consider the ongoing experience the gift will provide. A candle is a joyous thing to unbox, but it also gives your recipient hours and hours of pleasure. Whether you are giving a gift to someone or just treating yourself, here are five candles that don't merely smell delightful, but also look the part.
Woodlot
Woodlot is an artisanal Canadian line of all-natural home and body basics whose ingredients are "as pure as our intentions". Vancouverites and co-owners Sonia Chhinji and Fouad Farraj (partners in business and in life) began their company in 2014, learning their craft from family members, and handmaking soaps and candles in their own kitchen. The company has grown beyond the capacity of the couple's kitchen, while the products continue to be rooted in an ethos of inspiring wellness and igniting conversation. The latest, Amour Collection, is designed to inspire romantic rituals and includes three blends: Amour, a blend of floral palmarosa, rose damask, and black pepper; Rose & Palo Santo; and Rose & Cannabis. Woodlot caters to the eco-conscious consumer.
Eclectic Candles Collection by Tom Dixon
Tom Dixon—the famed product designer primarily known for his forward-thinking furniture, lighting, and home accessories—has added two candles to his Eclectic collection: Underground and Alchemy. They join a stable that already includes London, Orientalist, and Royalty. Housed in slender, waisted metal containers, the candles come in a variety of sizes from travel to extra-large and even a hefty mega weighing over seven pounds; there's one that's suitable for every occasion.
Kandl Artistique
More than just a candle purveyor, Kandl Artistique is a full sensory experience. The boutique, located in Toronto's Yorkville neighbourhood, stocks the ne plus ultra of candles—Cire Trudon, Fornasetti, Jonathan Adler—in addition to its signature line, KANDL; but at its core, it is a customizable candle laboratory. In the workshop located in the back, one can create one's personalized scented candle from scratch. Choose from a selection of 125 fragrance oils and create your own blend, select the vessel, and pour the vegetable-based wax yourself. Kandl Artistique is a place to lounge and linger, all the while being intoxicated by the power of scent.
Louis Vuitton
The French fashion house entered the candle category last year offering a $185 candle in a white ceramic pot designed by Marc Newson, which featured a leather handle reminiscent of classic Louis Vuitton handbags. Each candle is hand-poured and topped with a gold-finish metal lid, doubling as a coaster. Master perfumer Jacques Cavallier-Belletrud developed the scents: to the existing four—L'Air du Jardin, Île Blanche, Feuilles d'Or, and Dehors Il Neige—are added En Mai, a blend of galbanum, blackcurrant, and peach, and Écorce Rousse, with wood and vanilla. Inspired by the spirit of travel embedded in the maison's heritage, Louis Vuitton perfumed candles are olfactory snapshots of faraway places.
________
Never miss a story. Sign up for NUVO's weekly newsletter here.