Planning the after-party.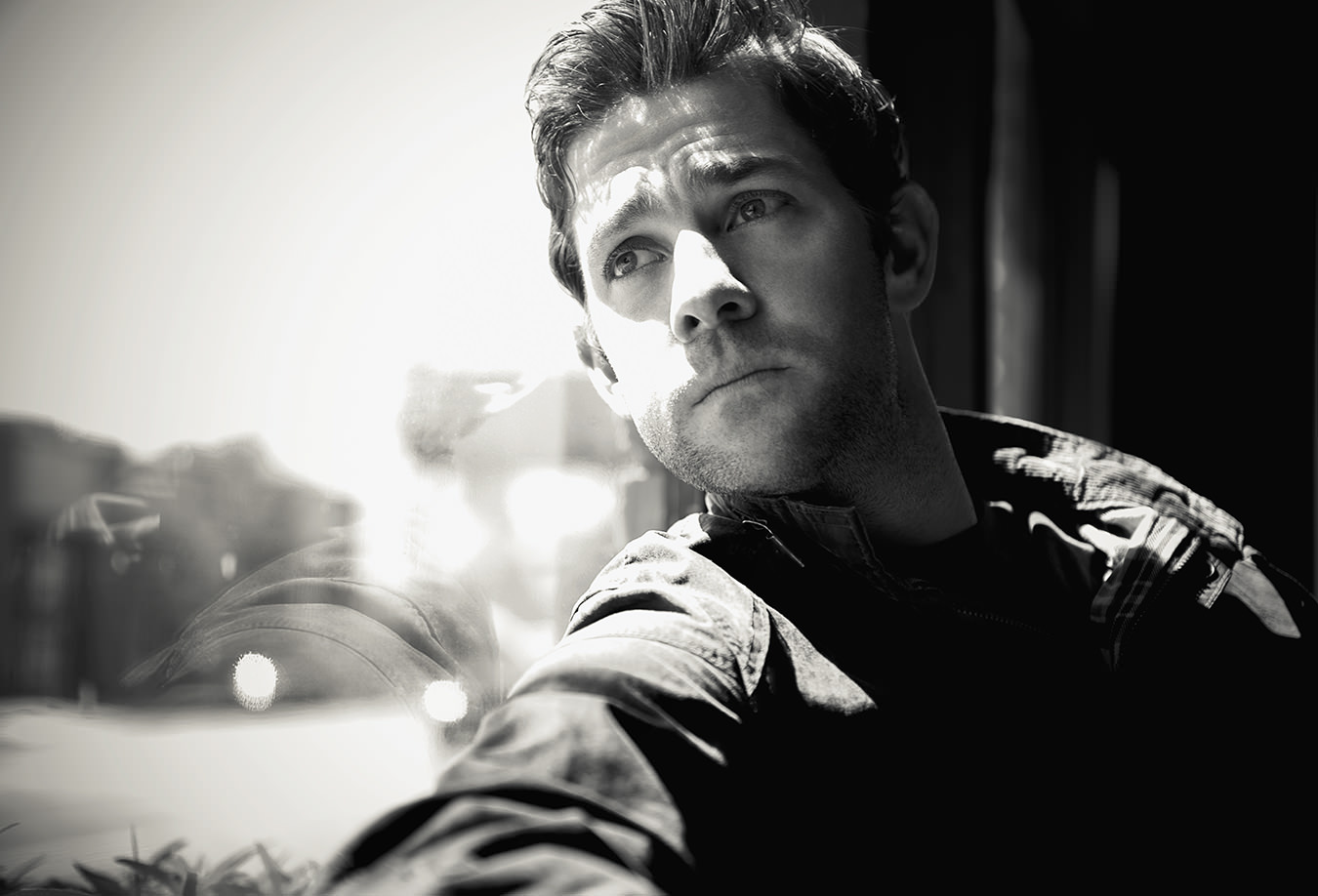 The party isn't over just yet, but everyone knows the end is fast approaching. Finish your drink. Find your coat. Prepare to make the goodbye rounds. The ninth season of The Office just premiered in September, but there's an air of finality to the proceedings: last May, NBC announced that this season will be the show's last. For John Krasinski, who has played Jim Halpert throughout the show's run, the impending conclusion is bittersweet. "There's a big difference between leaving the party and being asked to leave the party," he says. "I always thought that this show was so special; I hoped we would get to leave on our own terms."
While The Office is being given a chance to wrap up its storylines and satisfy fans with a planned finale, it's still tough to say goodbye to a series that has been a significant part of the TV comedy landscape for nearly a decade. That's as true for the loyal viewers as it is for the cast and crew. "It's not just a show that's really funny—it's a show where people care about these characters," Krasinski says. "When you're walking in the streets of New York and someone says they love the show, there's this energy to it. The way they're talking to you is not just, 'Oh my God, you made me laugh'—there's this sense of community with the show. Hopefully that won't go away too soon because I'll need some withdrawal time."
The end of The Office opens up new possibilities for the 33-year-old actor, who notes that the arduous TV filming schedule has limited the number of projects he could take on. At the same time, there's no sense of regret over missed opportunities: he credits the series with the current trajectory of his career. "It's the first thing I ever did, for all intents and purposes," he explains. "So for me, it is the beginning of everything, and in a way will always be the motor behind everything I do from here on out. And I'm extremely proud of that and honoured to have been asked into this really special experience."
Krasinski is so consistently gracious that it is something of a trademark. Like so many actors, he has paid his dues. Before nabbing the role of Jim Halpert, he worked as a waiter, did readings of off-Broadway plays, and interned at Late Night with Conan O'Brien. His pre-Office roles include bit parts on CSI: Crime Scene Investigation and Law & Order: Criminal Intent. The way Krasinski talks about The Office, it's clear his appreciation is sincere, both in terms of the visibility it has afforded him and the sense of community he prizes.
As he copes with the loss of a show that he's spent the last nine years doing, Krasinski is also focused on another very personal project. His next film, Promised Land, is based on a story he conceived and developed with Dave Eggers, and boasts a screenplay co-written by Krasinski and Matt Damon, both of whom also star. "This is a really weird moment for me," Krasinski reflects. "To be having a movie that I had a lot of say in creating coming at the time that the thing that has been my family, my career, and my life is ending, is this weird, bizarre juxtaposition."
Emotional truth is something Krasinski believes in deeply, whether or not it's in fashion. Sincerity is essential, he concludes, no matter how easy it is to get distracted by sarcasm.
In Promised Land, Krasinski and Damon go head to head: Damon as Steve Butler, a corporate salesperson trying to buy natural gas drilling rights in a rural town, and Krasinski as Dustin Noble, who organizes a grassroots campaign to stop Butler from going through with his plans. Although Promised Land does concern itself with the contentious process of fracking—a technique that uses drilling and pressurized fluids to extract natural gas from rock layers deep with the earth, sometimes risking environmental damage and long-term health problems—Krasinski never envisioned the film as an "issues movie".
"I wanted to do a movie that really sort of discussed the modern-day version of American identity," he says. "And I know it sounds super pretentious and heady, but really what I thought was, with all this weird partisan stuff going on in the political landscape, I think we're sort of moving away from a lot more basic and maybe vital discussion of where we are as a people." In his mind, fracking is a backdrop—an issue that faces many small towns throughout the United States, but one that doesn't necessarily have a right or wrong answer. Krasinski notes that while the topic is very current, he hopes Promised Land harkens back to a simpler time—"simpler," he says, "in the best way."
He refers to a time when America was based in community and faith—not religious faith, but faith in one another. At its core, Promised Land is a film about the choices we make, and how those choices affect our fellow man. As far as Krasinski's concerned, there's nothing partisan about it. "People's situations are always going to be the same," he offers. "People are going to succeed in certain situations, be failing in certain situations, need help in certain situations, be able to give in certain situations—and so that's what we're dealing with: the basic, common good-neighbour idea."
According to Krasinski, Promised Land is "as political as a Frank Capra movie," in that it comments on contemporary society without trying to push its audience one way or the other. Although some have already described the film as an anti-fracking movie, Krasinski denies that it has any political agenda. "We're not driving anyone to believe one thing," he insists. "We're actually driving them to stop and make their own decision, whatever decision it is, and feel stronger about your decision, if you already felt it, or feel like you might want to consider the other option, the other side."
The sincerity with which Krasinski speaks about the project is refreshing, but for many audiences, sincerity can be a tough sell. Capra stopped making movies 50 years ago; nowadays, earnestness is rarer, and those films that do speak from the heart are often dismissed as cinematic cheese or Oscar bait. But emotional truth is something Krasinski believes in deeply, whether or not it's in fashion. Sincerity is essential, he concludes, no matter how easy it is to get distracted by sarcasm.
"I think sincerity is one of those things that we're always looking for desperately," Krasinski says, "but it's always probably more fun to be snarky, and probably more fun to read snarky or see snarky or listen to snarky. And so I think the sincere movie, whether it's ours or something else, is just trying to connect to you on a real level." The same emotional truth Krasinski values in Promised Land is something he's always tried to bring to his work.
Even in The Office, a series that exists in a kind of heightened sitcom reality, the humour is grounded in the characters, caricatures of "average" office workers who highlight the absurdities of their daily nine-to-five. It may verge on wacky, but it still speaks to a universal human experience. "The success of The Office is purely—if you boil it down to one thing—based on people getting to experience something that they know well but can't experience in this way in their actual lives," Krasinski muses.
"If you're going to be funny in a role," he continues, "hopefully it's because it's coming through that character … If people can't understand the person, then they just are laughing at the person, or probably not necessarily getting so emotional with the character."
Fans of The Office have long felt connected to Krasinski's Jim, who is—in many ways—the audience's entry point into the world of Dunder Mifflin, the fictional paper sales company that provides the main setting for the show. The way Krasinski sees it, the strength of the character is in his relatable quotient: at times, Jim may seem more competent than his co-workers, but he's far from perfect. "The character is honest and he's flawed," Krasinski says. "He isn't necessarily the most ambitious and isn't necessarily the most figured out and complete of a person, which I don't think most people are."
Jim's everyman qualities have informed much of the public perception of Krasinski, but then, there are worse things than being thought of as a nice guy. Although Krasinski has taken roles that offer a departure from Jim Halpert (he cites the 2009 subtle indie movie Away We Go, co-starring Maya Rudolph, as one of his favourite filming experiences), he's embraced those trademark awkward but charming characteristics in films like It's Complicated and Something Borrowed.
For many actors, being typecast can be a serious concern, but Krasinski approaches the concept with graciousness. "I'd be an idiot not to say that I'm lucky to be here at all," he admits. "To be typecast becomes this thing that people say is a really bad thing, but that's jumping over the glaring fact that you're in the game at all. To me, it's just been such a thrill to be participating in this at all, and to have the opportunity to do this at all." To those who associate actors with giant egos, Krasinski's modesty might sound like an affectation. But his humility is genuine, and he speaks about the future of his career with equal parts excitement and a healthy sense of reality.
"I don't feel that at any level you achieve in this business, you're ever confident in the future," Krasinski reveals. He calls acting "the craziest temp agency out there."
With The Office coming to a close and Promised Land soon hitting theatres (the U.S. release date is December 28, and the Canadian release is set for January 11, 2013), Krasinski is faced with seemingly endless opportunities—and no guarantee that any will pan out. "It's as exciting, as it is totally terrifying at the exact same time," he says. "I've always been a very honest person, so to put a spin on it—like, the world's at my fingertips—is insane. It's not true at all. This business is very, very difficult and hard to navigate. The freedom is terrifying at first."
That's why, even as his schedule clears up, he hasn't given much thought to taking a break. In part, he just loves working. But he also sees truth in the adage "strike while the iron's hot," and he doesn't want to squander the success he's found so far. The feeling of doing what you can while you have the opportunity to do it isn't unique to Krasinski: he says it's something all actors experience. He may be more honest about it than most, but Krasinski expresses an insecurity that is endemic in an industry characterized by uncertainty.
"I don't feel that at any level you achieve in this business, you're ever confident in the future," he reveals. "There's a very legitimate, real fear that nothing will come after this next one. And that is weirdly comforting, because if they're going through that, then you don't feel so ridiculous and anxious that you're going through it, too. But there's also something very real about that." Krasinski calls acting "the craziest temp agency out there."
It's not only a matter of finding jobs—it's about doing the work he wants to be doing. Without The Office's hectic shooting schedule, Krasinski has a lot more availability, and that means options. When it comes to the choices he'll make, he hopes to model his career after the actor he most admires—his wife, Emily Blunt. The couple have been together since 2008 and got married in 2010. "She's just made the most genuine choices of anybody I know," he says. "She'll chase it down, whether it's a big commercial movie or a tiny indie, whether it's Your Sister's Sister or The Five-Year Engagement. She just believes in the experience, and she loves it, and I think that is so extremely courageous and so extremely admirable and just downright cool."
Krasinski realizes that making the choices he believes in isn't necessarily the same as making the best choices for his career. But he's resolved to "follow through, good or bad." Because while The Office party may be ending soon, there's a sense that you don't have to go home—you just can't stay here. He scoffs at the idea of considering his legacy, saying it's far too early for that. Instead, he makes it a point to follow his own path, and hopes that his fans won't be far behind.
"I always knew that being at the party at all was really, really a huge opportunity and a very, very rare opportunity," he says. "[Your fans] are either going to go with you or not, and you hope that they see the opportunity you had and that you took it, and understand why you took it, and hopefully enjoy that you took it."
Wardrobe styling by Hayley Atkin at the Wall Group. Grooming by Lauren Kaye Cohen at Tracey Mattingly.
Nov 20, 2012
Updated: Dec 31, 2014
Updated: May 24, 2015