One of Canada's Largest and Hidden Art Collections Goes Online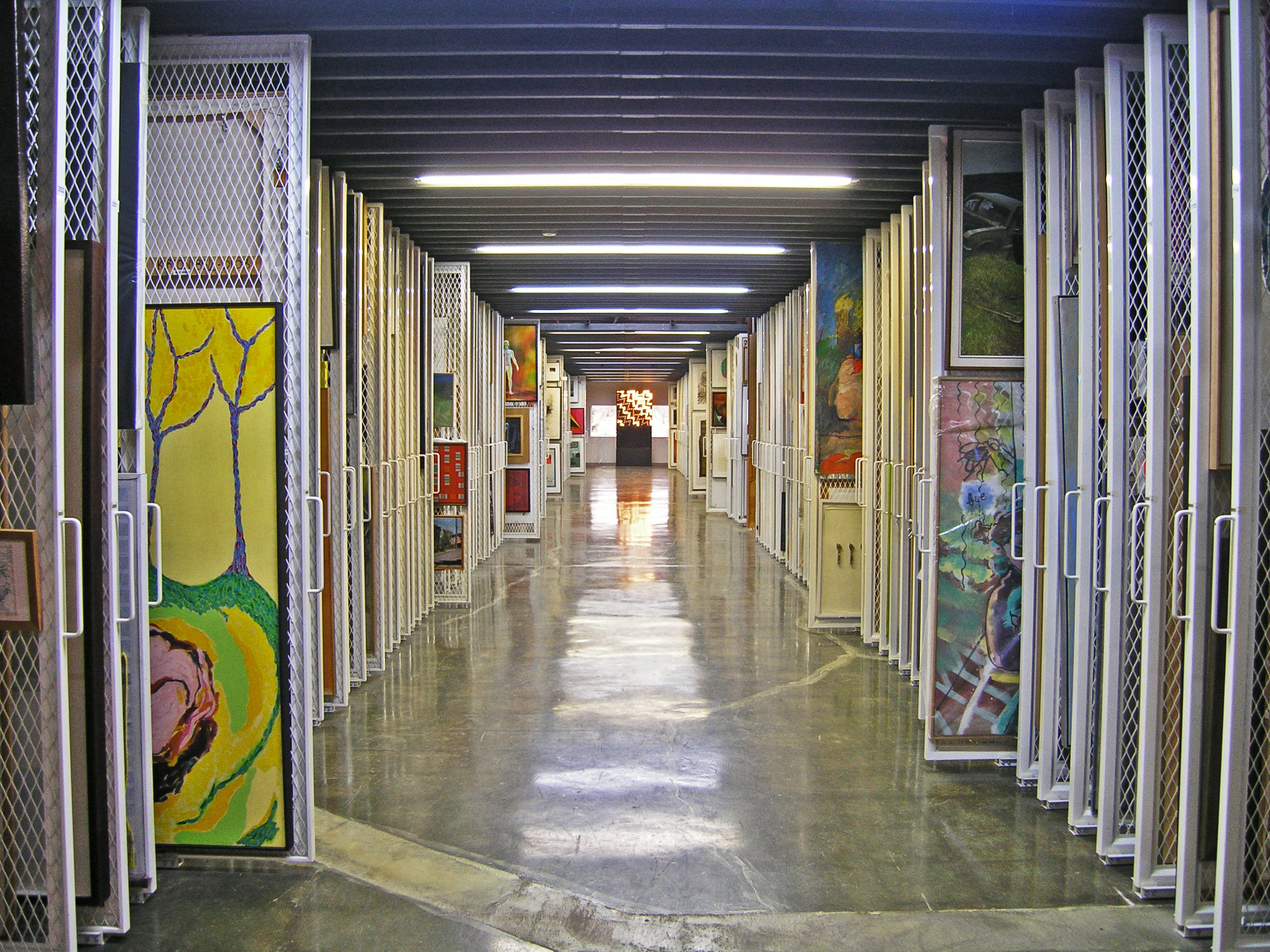 There's a collection of Canadian contemporary art that flies under the radar of the art world, and is spread out as if the whole continent was one massive gallery for Canadian art. Many do not even know it exists.
The Art Bank, founded in 1972 by the Canada Council for the Arts, contains 17,000+ works of art, all created by living Canadian artists, established and emerging, including paintings, prints, fibre work, sculpture, photography, textiles, craft, and mixed media. The collection also features a large collection of Canadian contemporary indigenous art.
"We are a public collection and want to make it accessible to the public," explained Tara Lapointe, Director of Outreach and Business Development for the Art Bank. With over 3000 artists within the collection, there's many well-known names like Pierre Ayot, Jean-Paul Riopelle, Jack Bush, and Rita Letendre. Located on Ottawa's Saint Laurent Boulevard, this treasure trove of modern Canadian art fills every possible space of the building, but unlike a typical gallery, it's not open to visitors.
So how does this collection work?
Back in the 1970s and 1980s, the Art Bank helped establish a benchmark for prices for emerging Canadian artists, becoming the source for art displayed in federal government offices across Canada. Back in the day, Art Bank staff travelled to artist studios across Canada to meet artists and see their work. They were tasked with focusing on supporting careers within the fledgling contemporary Canadian art scene.
In addition to many government offices in Ottawa and across Canada, works from the Art Bank can now be seen in provincial government offices, and since the late 1990s, rented by corporations to add a touch of quintessential Canadiana to their interiors. And it's a source of pride: when Canada hosted the G7 in Charlevoix in 2018, 80 pieces from the Art Bank were on display for the perusal of foreign dignitaries and staff.
Items from the Art Bank also travel outside Canada's borders, with recent loans to museums and institutions like the Institute of American Indian Arts in Santa Fe and the United Nations offices in Geneva. Some pieces are included in exhibitions in art galleries found within Canadian embassies and high commissions in Washington DC, London, and Paris.
"Each piece is on loan for two years, but there are a few pieces that are regularly out, including one that has been routinely loaned to the same corporation for almost 20 years," explained Lapointe. For corporate rentals, Art Bank staff make recommendations on where the art can be displayed based on exposure to sunlight, staff movement, and cleaning. Surplus from rental income from corporations and funding received from the Canada Council goes toward future purchases for the collection.
For most of us, it's not easy to get a glimpse of the Art Bank's riches. In Ottawa, the Canada Council for the Arts' exhibition space, Âjagemô, offers regular exhibitions which include items from the collection, but there's another way to discover this Canadian art collection without leaving home.
"We were the first art collection to put it all online," says Lapointe, which not only allows those who want to rent to peruse by artist, medium, decade or colour, but makes it easier for anyone  to see cutting edge artistic works from Kent Monkman, Dana Claxton, Megan Krause, Julia Dault, and Shuvinai Ashoona.
This Spring, the Âjagemô will be showing Awakening, an exhibition that toured to the United States, Germany, and Switzerland last year. The result of a partnership between the Art Bank and the Office of the Lieutenant Governor of Ontario, the exhibition was inspired by the United Nations Sustainable Development Goals 2030. Curated by Bruce Mau, the exhibition includes 21 works from the Art Bank including Kim Ondaatje, Norval Morrisseau, Edward Burtynsky, Michael Snow, and Germaine Arnaktauyok.
With a team of 14 taking care of this evolving collection, the Art Bank is continuing its mission to include more works from the next generation of Canadian artists, adding to a collection that may not be typically physically accessible, but has become an invaluable art resource for curators, artists, and art lovers.
_________
Never miss a story. Sign up for NUVO's weekly newsletter here.