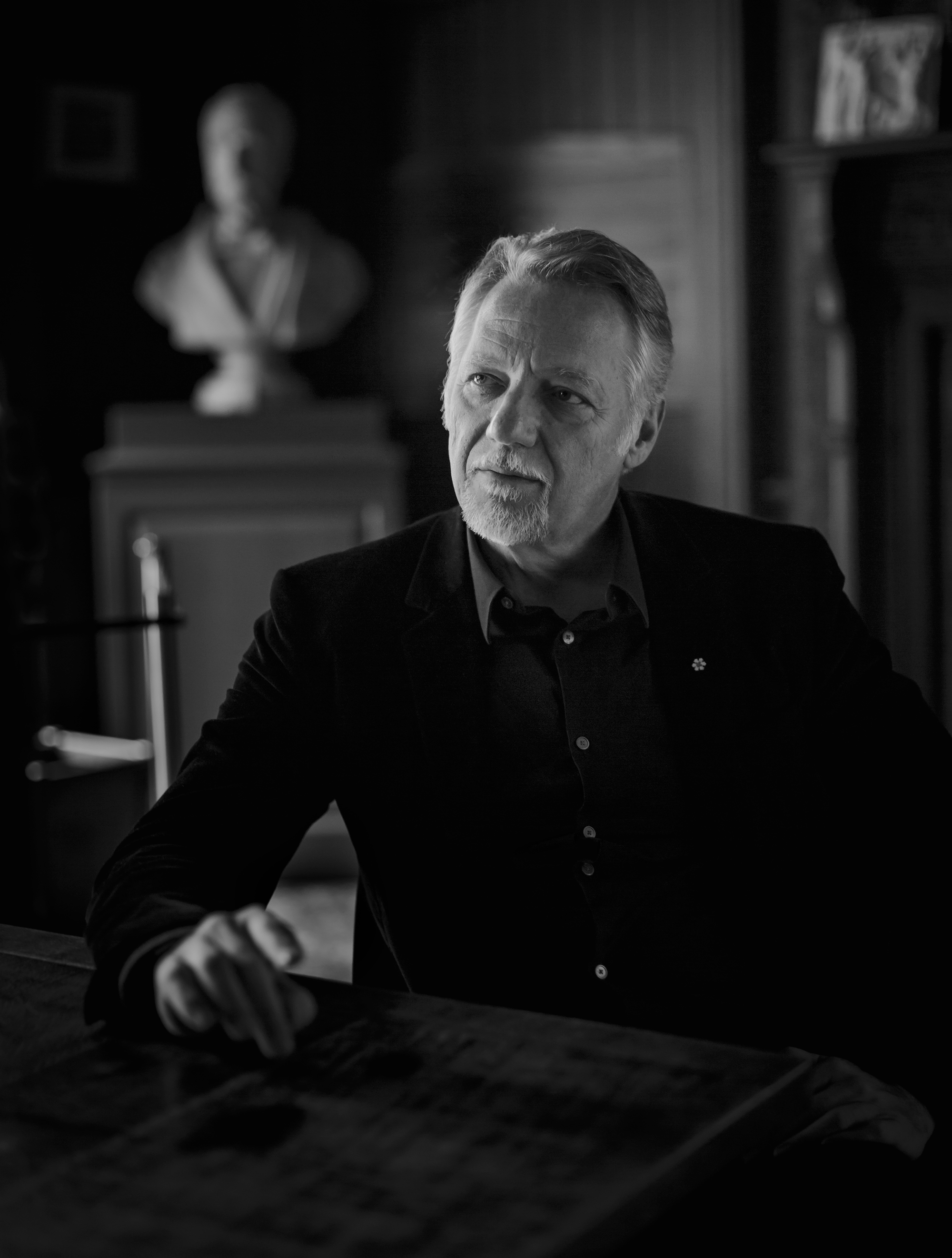 Edward Burtynsky has made his name standing behind the lens. But today he is out front and in focus as the man who would save us from ourselves. It's mid-morning at the Art Gallery of Ontario (AGO) and as the Canadian master photographer strolls through The Anthropocene Project, the acclaimed multidisciplinary exhibition combining large-scale resource extraction images, scientific research, and immersive media, he is recognized by several gallery-goers, who rush over to take his picture. They close in when Burtynsky pauses by a 10-by-20-foot high-resolution mural of a pristine coral bed in Indonesia's Komodo National Park, one of thousands of images he has made of at-risk ecosystems in a 35-year career documenting the beauty and the brutality of the industrial footprint.
Silhouetted against one of his artworks, Burtynsky's black suit contrasts sharply with the faded abstract-expressionist colour burst that makes the print look more like a Jackson Pollock painting than a call to action. And he makes no apologies for it. "Aesthetics is still one of the most powerful tools at the disposal of a visual artist," the 63-year-old Burtynsky says. "Not to engage in a powerfully visual way with the image seems to go in an opposite direction."
Beauty is Burtynsky's stock-in-trade—how he gets people to pay attention to what he thinks is important. And the people are paying attention now. Or at least these electrified gallery-goers are. Rapidly clicking their smartphones, they silently congratulate themselves on their good luck. They might be amateurs, but they've managed to shoot the picture of the day—a portrait of the artist as an accidental celebrity.
Burtynsky has emerged as the country's most celebrated living photographer because of a consistent point of view that he has—just as consistently—kept relevant by evolving with the times. He has called his latest body of work Anthropocene, the term many scientists have proposed for the current geological epoch in which humanity is altering the Earth and its related atmospheric, biospheric, and geologic systems more than all natural processes combined. This new geological period would replace the Holocene epoch, which began with the last ice age some 12,000 years ago.
One proposed start date is around 1950, around the time of the Great Acceleration, a time marked by increased industrialization and globalization. But the exhibition Anthropocene does not necessarily herald the coming of the apocalypse. What it does is declare the Earth to be at a turning point, with humans driving the change. It's a theory, and Burtynsky presents it in a non-controversial way to get people to decide for themselves which direction they want the planet to go—up or down. Burtynsky personally wants the planet to survive, and has taken efforts to consume less and to drive an electric car. In 1985, he even planted a 2,000-tree forest in northern Ontario to offset his own effects on the environment. But he's not preaching.
"I am working with the things in the time I was born," Burtynsky explains, "and I am living in the Great Acceleration, the most recent period of the Anthropocene era, in which human activity is outpacing the rate at which ecosystems can repair themselves. I create photographs and they become stand-ins for the larger activity in the world. They speak to the collective impact we are having on the Earth. They are seen in aggregate, but they are really telling just one story." And that story, points out American artist and art critic Carol Diehl, is paradoxical. While the content of Burtynsky's photographs is disturbing, she wrote in 2005, "The deft seduction of his art keeps us transfixed."
Anthropocene declares the Earth to be at a turning point, with humans driving the change.
To document the "toxic sublime", Burtynsky travels the globe to photograph strip mining, water pollution, deforestation, large-scale agriculture, overcrowded cities, toxic oil refineries, ship graveyards, suburban freeways, and landfills like the Dandora dumpsite in Nairobi, Kenya, a slum made from 30 acres of plastic and mixed waste. The imagery is often horrific. But Burtynsky, an Order of Canada recipient, renders it artistically, zooming in on the swirls, whorls, and undulating lines criss-crossing the scrapes and hollows inflicted by humanity on the Earth.
From an aerial perspective—one of Burtynsky's preferred points of view—the gouging looks like an expression of pure design. Burtynsky sees that as a plus, not a problem. Yet critics have occasionally questioned his pictorial ambiguity: Artforum, for instance, has said that his minimalist images of belching factories and gaping mines are so seductive that they run the risk of being pretty pictures with a limited depth of content. Not so, says Andrea Kunard, associate curator of the Canadian Photography Institute at the National Gallery of Canada in Ottawa. "Burtynsky's images are complex statements designed to keep viewers in a state of questioning. And many are not immediately comprehensible. You have to spend time and puzzle them out to understand what you are seeing."
Born and raised in St. Catharines, a commercial and industrial hub on the Niagara Peninsula at the edge of Lake Ontario, Burtynsky is the son of a Ukrainian immigrant who worked the production line at the local General Motors plant. The late Peter Burtynsky had artistic inclinations and installed a darkroom in the family home when Burtynsky was 11, instilling in him early on an appreciation of photography. The secondhand darkroom, purchased from a widow whose amateur photographer husband had passed away, came with a Minolta, and Burtynsky, who has two sisters and a brother, inherited it. He took photographs first of people, selling them for 75 cents to friends. Later, he graduated to shooting pristine aspects of nature when he enrolled in Ryerson University (then called Ryerson Polytechnic Institute) in 1976 as a photography major.
Burtynsky first began photographing man-made environments when he (literally) followed a fork in the road during a two-week vacation in Pennsylvania in 1981. He became lost and ended up in Frackville, a railroad town surrounded by hills of coal slag with white birch trees growing out of them. Beyond stood fields of man-made devastation. Thinking it surreal, Burtynsky took photographs of this industrial wasteland and soon after knew what it was he wanted to do for the rest of his life. Once back in Toronto, he applied for a 1983 Canada Council for the Arts grant to travel across the country photographing rail cuts, mines, and homesteads. "To see and experience the scale of these places first-hand and then to bring them into our urban centres through their presentation in galleries, for me, was an important way to work as an artist," he explains.
"To see and experience the scale of these places first-hand and then to bring them into our urban centres … was an important way to work as an artist."
Another influence had subliminally entered his consciousness at an early age: the industrial environment he experienced in his youth. Burtynsky accompanied his father once a year to the GM factory's open house, and even outside the plant you could hear the pounding noise of the forge plant. "I remember at the age of seven visiting the McKinnon plant on Ontario Street, which had a forge, and seeing these guys in silver suits flipping red-hot ingots, and being able to put the sounds I heard of their hammering to a visual image. These were alien other worlds," Burtynsky reminisces. "And then seeing steaming-hot engines coming off the line and realizing as a kid, 'Wow, this is what you have to do to make a car.' That fascination of where the things we use come from and what they look like sparked a natural curiosity in me as a kid."
That curiosity shapes The Anthropocene Project, two complementary exhibitions simultaneously unfolding at the AGO in Toronto (until January 6, 2019) and the National Gallery of Canada in Ottawa (until February 24, 2019). Both parts opened on September 28 following the world premiere of the accompanying feature documentary, Anthropocene: The Human Epoch, which was presented at the 2018 edition of the Toronto International Film Festival earlier the same month. There is also a photo book as part of the package. Burtynsky created it all with frequent collaborators Jennifer Baichwal and Nicholas de Pencier, filmmakers who partnered with him to make Manufactured Landscapes in 2006 and Watermark in 2013, and who share his environmental passion. (Notably, Burtynsky, Baichwal and de Pencier made sure that the entire Anthropocene project was carbon offset.)
An artist who is concerned with process as much as the final product, Burtynsky uses technological innovation to stay at least one step ahead. (Indeed, in 1985 he launched Toronto Image Works, a full-service custom photo lab and darkroom rental facility that transitioned into a complete digital lab for photographers and artists; this lab is where Burtynsky prints most of his own work.) Originally, The Anthropocene Project was conceived as a photographic essay and is one component of the group's film trilogy. But as Burtynsky began to explore innovative ways of practising what he calls lens-based art, the concept expanded to include a growing range of contemporary storytelling tools, including film installations, large-scale high-resolution murals enhanced by film extensions, 360° virtual reality (VR) short films, and augmented reality (AR) installations, which Burtynsky developed from proprietary software created in collaboration with Avara, a company co-founded by Burtynsky and Vikas Gupta. The technology allows viewers, using a smartphone or tablet, to move around an object as a kind of virtual sculpture in the gallery space.
The AR component is a powerful you-are-there experience that heightens emotional engagement. It brings participants up close and personal with, for example, the historic 2016 ivory burning at Nairobi National Park of thousands of elephant tusks; Big Lonely Doug, a 1,000-year-old Douglas fir on Vancouver Island, which a sympathetic logger refused to fell; and the last surviving northern white rhino before its death earlier this year. Burtynsky believes that AR, an extension of photography, offers up many new possibilities. "Now, anyone can take a picture. With auto exposure, everyone is enabled. It's a complete paradigm shift," he explains. "I take 2-D images that are digitally captured, and I take hundreds and thousands of them of an object, like the elephant tusk pile the day before its burning, of which I took 2,500 images over two hours, later recombining them as a 3-D experience," he reflects. "As an artist, I use technology not to have the tail wag the dog, but to preserve something for the future. To get people to look at the world as if it were a whole new form."
_________
Never miss a story. Sign up for NUVO's weekly newsletter.