4 Beautiful Diffusers from Vancouver (and One Strange Bonus)
The west coast of Canada has a reputation for mountain-climbing granola-eating wellness junkies. When searching out Canadian-made diffusers and essential oil companies, it is hard to argue with the stereotype. The overwhelming majority of standout firms originate in British Columbia. Maybe it's all that mountain air—the people want to capture and bottle it to be rationed and periodically dispensed in a puff of vapour year-round.
Here are four of the best Canadian diffusers on the market from Vancouver-based companies, and one that was too weird and wonderful not to share.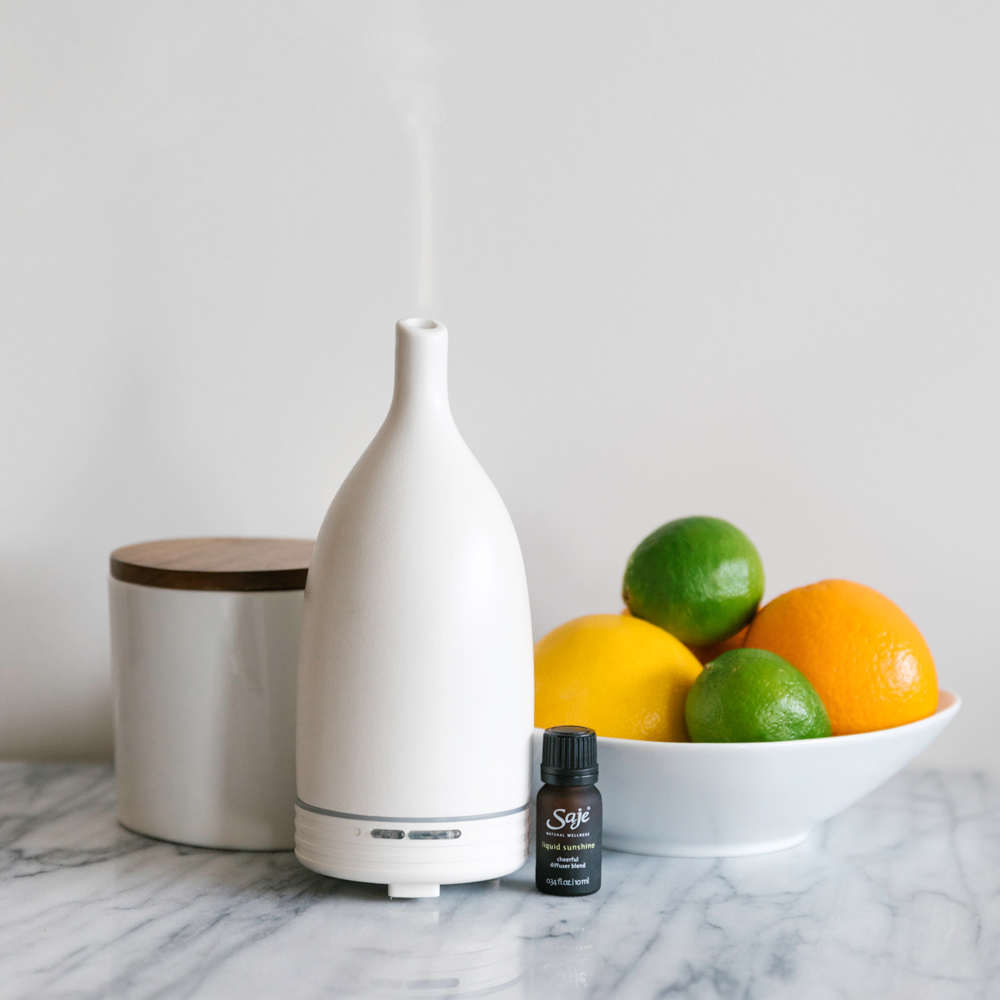 Saje Natural Wellness
Long before the salubrious boom of essential oils and diffusers around the world, there was Saje. Suffering health challenges and chronic pain after a car accident, Saje co-founder Jean-Pierre LeBlanc turned to aromatherapy and essential oils. His background in chemistry makes Saje's blends the perfect combination of pleasant and effective. Some of them are even approved over-the-counter medications in the United States and registered with NPNs by Health Canada. Saje's hero products though, by far, are its Aroma collection of ultrasonic diffusers. When Jillian Harris partnered with Saje to design one, it sold out in a matter of hours. The understated monochromatic design means they blend seamlessly into any décor, while the vapour disseminates the benefits of the aromatherapy blends up to a 700-square-foot radius for as many as 12 hours.
Vitruvi
A multi-faceted lifestyle brand, Vitruvi has released an essential oil recipe book, a magazine, and dreamy stone diffusers in five colours. The sibling-founded company is design-centric, and everything it creates is displayable. The simple yet elegant White Stone is Vitruvi's best seller, and for good reason. Its single origin oils make for the perfect "build your own" blend, and the essential wellness book has some suggestions to match your mood.
Fern + Petal
A small family-run operation, Fern + Petal is dedicated to wellness on a hyper-local level. Its all-natural products are handmade and bottled in Vancouver. In this company's case, it's quality over quantity. It only offers one diffuser, but it is elegantly shaped, like a white vase with subtle, twisted ridges. With seven coloured light settings, it purifies and humidifies the air up to 400 square feet. And as you inhale, you can feel twice as good because $1 from each order is donated to planting a tree in Canada.
Escents Aromatherapy
Escents, like Saje, has been around for a long time, and its collections have grown exponentially over the years. Of its 13 diffusers, the ceramic Aura and Venetian are the most design-forward. The Aura is the most adaptable to any colour palette and gives a candle-like lit from within glow. The Venetian is an accessory in itself while being ultra quiet and lasting up to eight hours on the intermittent setting.
Bonus: Norlan
Moving away from ultrasonic diffusers, the Vam Monolith by Norlan is an exercise in pushing the boundaries of design in household objects. Best known for glassware, Norlan put down its whisky glasses to try its hand at aromatics of a different nature. The porous black cube resembles coral or lava rock and aerates in a similar way. The increased surface area from the holes absorbs more of the essential oils, and the airflow through the cube disperses the scent throughout the room. It's one for the mantelpiece, and is undoubtedly a conversation piece.
________
Never miss a story. Sign up for NUVO's weekly newsletter here.