Belle of the Ball: Wallywhy150
The Wallywhy150 makes waves at the world's largest yacht show.
After making a splash at this year's Cannes Yachting Festival, the new Wallywhy150 is raising even more eyebrows at the largest in-water boat show in the world as the company's latest dreamboat makes its U.S. debut at the Fort Lauderdale International Boat Show.
Presented as a more compact variant of the successful Wallywhy200—indeed, both models were designed simultaneously—the Wallywhy150 takes everything wonderful about its bigger sister and somehow fits it into a trim 24-metre hull with a displacement of 150 gross tonnes. To say this puts the wallywhy150 in a unique position in its class is an understatement—it pushes into entirely new frontiers among luxury yachts in the sub-24-metre range.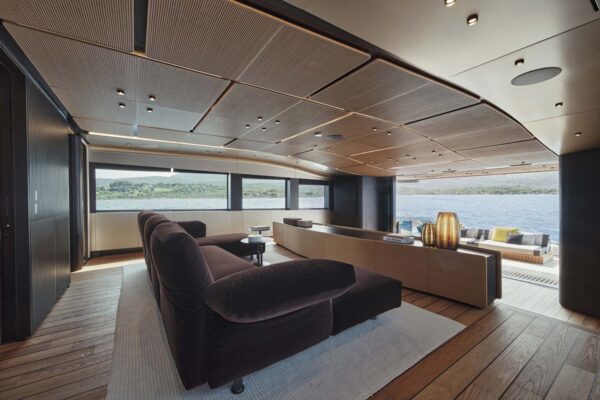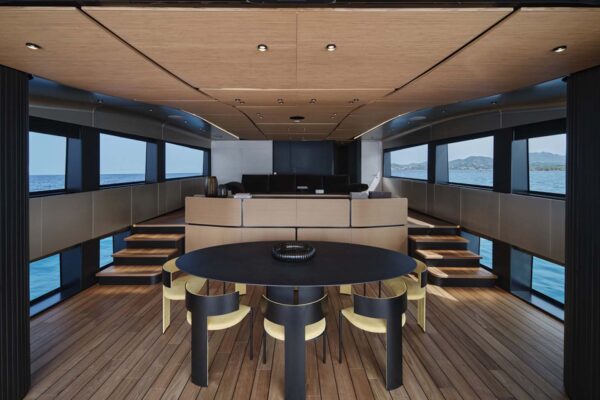 Those familiar with the Wallywhy200 model will feel right at home in the 150's familiar layout and arrangements. That includes the immaculate owner's suite located high in the bow at main-deck level, complete with its 270-degree panoramic views ahead, to the side, and even behind. A comfortable island bed faces ahead to greet each new day while maintaining plenty of walkaround space.
There's also the nod to one-level living, with the owner's suite sharing the main deck with a split-level saloon and dining area, continuing aft to reveal direct access to the stern beach club. And of course, there is the brilliant interior by Studio Vallicelli Design.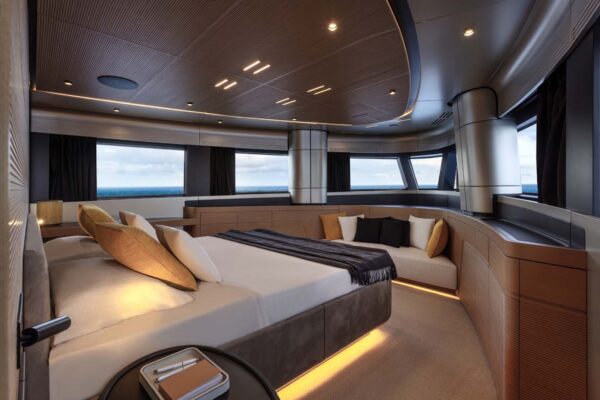 So "one-level" living may be a stretch, given the salon is split between an upper lounge with comfy seating for relaxing with a book and a glass of wine or private conversations, and a lower salon three steps down, which could be set up as a dining space. But these positions could be just as easily reversed, reflecting the versatility of the design and its ability to be configured to suit the owner's taste. That includes trading the dining room for a free-standing bar.
Farther aft, the spacious cockpit provides plenty of opportunities to relax in the fresh air. A substantial central section of the aft platform drops on hydraulic actuators to present an appealing submersible swim platform as part of the overall beach club experience and provide access to the neatly concealed transom tender garage.
A wide centreline stairway entices guests up to the sun deck, which runs nearly the entire length of the yacht. Part exterior sundeck, part protected chill lounge, and part evening party space, the upper deck is very much the place to unwind on board, whether that means working on one's tan, enjoying a fine meal with a view to match, or kicking back in style at the end of the day.
And when that day comes to a close, the Wallywhy150 accommodates guests in plush comfort with a VIP, guest double and guest twin cabins, or two VIP cabins. Regardless of which layout the owner chooses, the stretch of glass that enwraps the hull and superstructure ensures guests will enjoy flowing vistas and natural light in abundance.
With its on-board comforts and standard twin Volvo penta IPS 1200s delivering a speed of 21 knots and a range of around 400 miles, the Wallywhy150 is tailor-made for extended cruising. That's in no small part a function of the yacht's advanced hull form and abundant use of carbon up top to reduce weight aloft. Onboard stabilization systems further calm excited seas to ensure optimal comfort for all on-board.
And hey, it's a Wally. Founded in Monaco in 1994 by Luca Bassani, Wally remains the only two-time winner of the ADI Compasso d'Oro, one of the world's most important international design awards.
With its renowned pedigree, avant-garde looks, astonishing interior spaces,and impressive performance it is no wonder the Wallywhy150 made such a splash in Cannes. All eyes will be on the yacht now as it welcomes new buyers aboard in Fort Lauderdale and prepares to write the next chapter in its continuing saga of innovation and inspired design.