Pan-Roasted BC Halibut Recipe with Mussels, Chorizo & Fennel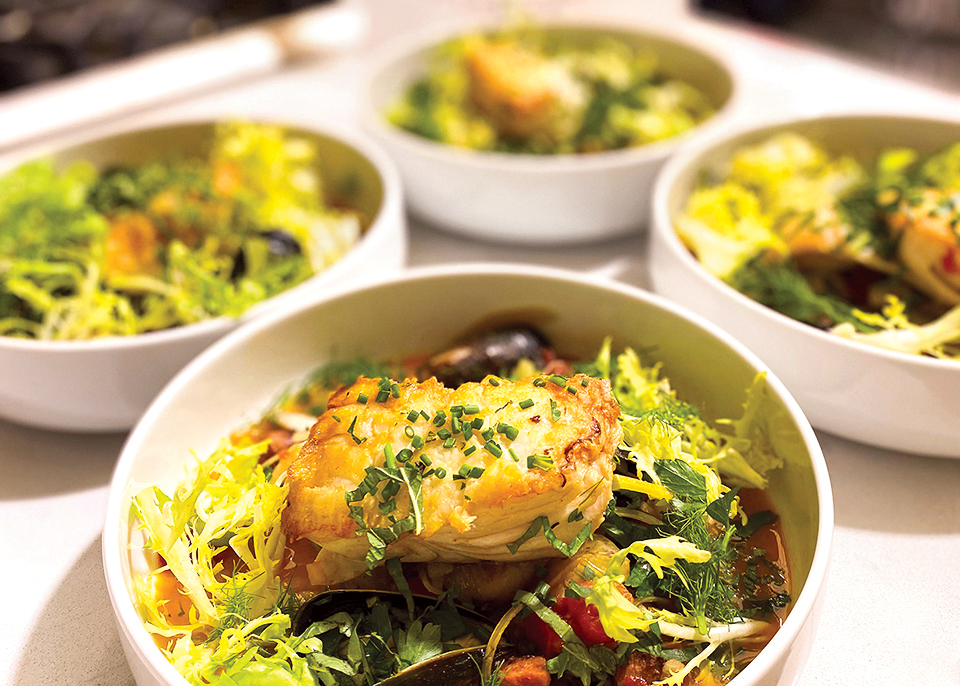 Halibut season is back, and NUVO has the perfect recipe to celebrate with. This fresh one-pan meal from chef Alex Lavroff of the Pacific Institute of Culinary Arts contrasts the flaky halibut with chewy morsels of mussel and chorizo. The rich flavours of the proteins are cut by the fresh combination of tart vegetables and a mélange of herbs. It's a dish so good that when you finish eating your serving, you'll find yourself floundering for more.
Ingredients
6 fingerling potatoes, pre-cooked and chilled
12 mussels, cleaned
¼ cup extra virgin olive oil
4 halibut filets (4 ounces each)
1 piece of dry chorizo sausage, chopped
3 cloves garlic, finely chopped
1 shallot, finely chopped
¼ fennel bulb, sliced thinly or shaved on a mandolin, reserve fronds for garnish
6 cherry tomatoes, cut in half
1 leek, chopped
1 cup dry white wine
2 cups stock (chicken, vegetable, or fish)
1 cup crushed tomatoes
2 tablespoons unsalted butter
3 limes, zest and juice 2 limes and slice the third
1 head frisée (other bitter greens may substituted: endive, radicchio, arugula)
½ cup chopped fresh herbs (any combination of basil, dill, tarragon, parsley, mint, or chives)
Method
Pre-cook fingerling potato ahead of time and chill.
Rinse and clean mussels. Set aside on a bowl of ice.
Heat up a large sauté pan and drizzle olive oil. Deeply sear one side of halibut filets and set aside.
Add 3 tablespoons of oil into the pan and heat until very hot. Add chorizo.
Using your palms smashed the cooked fingerling potatoes. Place in pan along with chorizo.
Once the chorizo starts to render, the fat will turn orange in the pan. Add garlic, shallot, fennel, cherry tomatoes, and chopped leeks.
Let all the ingredients sweat together. Then add white wine, stock, and crushed tomatoes.
Allow all the ingredients to simmer. Season with salt and pepper.
Add mussels. Then carefully place halibut filets into the broth.
Add butter along with the zest and juice of two limes.
Place lid on the pan and let everything simmer for about 3 minutes.
Remove from heat. Garnish with reserved fennel fronds, fresh herbs, and a drizzle of remaining olive oil. Garnish with slices of lime. Serve immediately.