A Tanqueray Gin Cocktail to Enjoy Before Summer's End
1 ou 2 Cocktails' founder Rose Simard's rhubarb and strawberry sour recipe.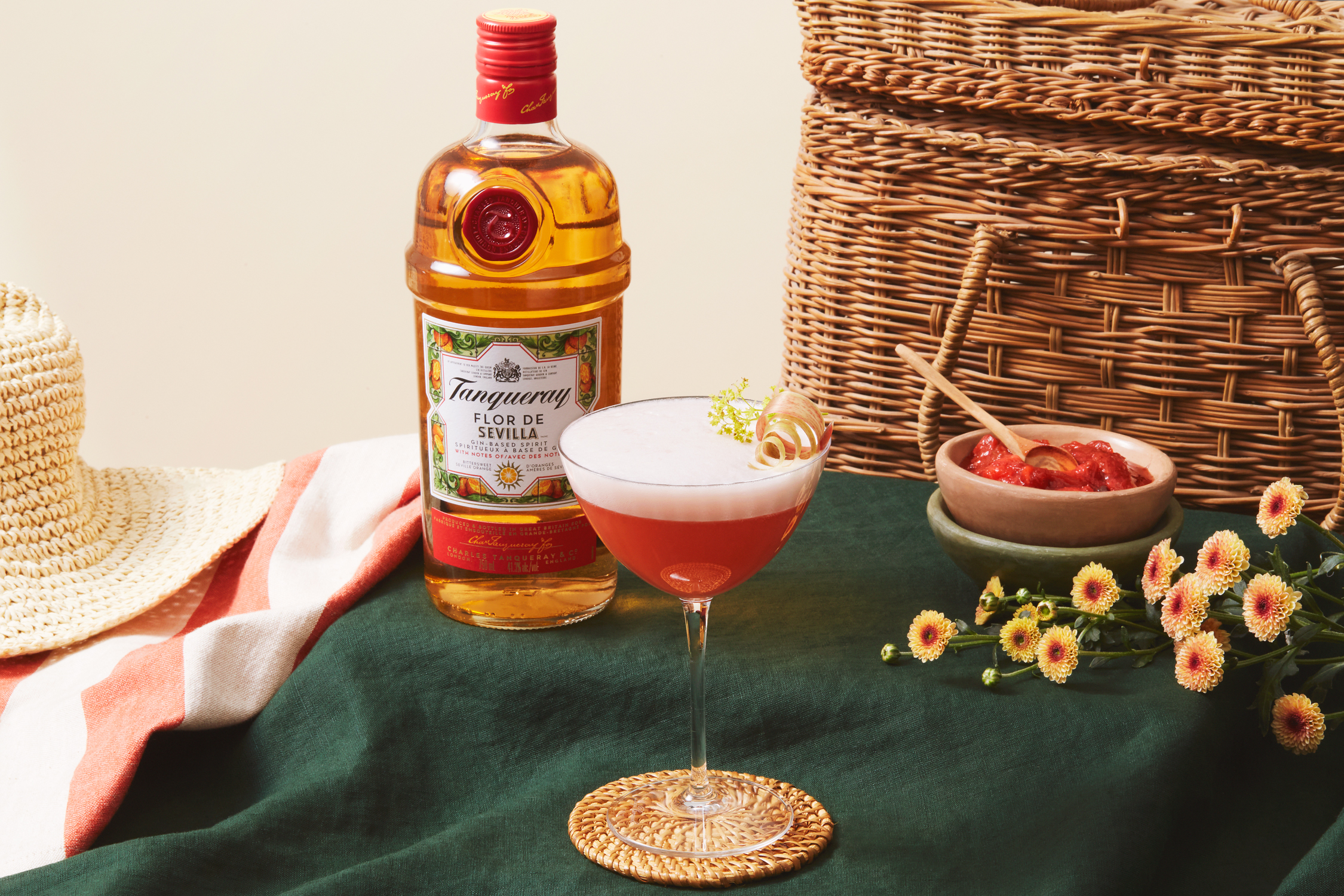 To celebrate what's left of summer, Tanqueray has teamed up with 1 ou 2 Cocktails founder Rose Simard for a series of unique gin cocktail recipes. Her rhubarb and strawberry sour recipe, made with Tanqueray's orange-infused Flor de Sevilla gin, uses the natural sweet and sour qualities of summer's bounty to delight the palate. Yet another reason to hope that summer never ends.

Ingredients
For the rhubarb and strawberry compote:
Makes 2 cups
16 ounces (2 cups) sugar
20 ounces (2 cups) water
1 bunch rhubarb (about 8 stalks), cut into 2-centimetre (3/4-inch) pieces
1 1/2 cups strawberries, hulled and halved
For the cocktail:
2 ounces Tanqueray Flor de Sevilla gin
3/4 ounce fresh lime juice
1/2 ounce simple syrup
1 ounce rhubarb and strawberry compote
1 egg white
1 ribbon of rhubarb

Method
For the rhubarb and strawberry compote:
In a small saucepan, bring the water to a boil, then add the sugar. Reduce heat to low, then stir with a spoon.
Add the rhubarb and simmer for about 8 to 10 minutes, then add 1/2 cup strawberries and simmer for 5 minutes or until the syrup is flavourful.
Remove from heat, then strain the syrup through a sieve. Reserve the syrup.
In the same saucepan, put the rhubarb and strawberry pulp back on the stove over low heat. Add 1 cup of strawberries and simmer for about 5–8 minutes.
Remove from the heat, then coarsely mash the rhubarb and strawberries with a potato masher.
Store the syrup and compote in an airtight container in the refrigerator.
For the cocktail:
Pour all ingredients other than the egg white and rhubarb ribbon into a shaker.
Add ice cubes, then shake vigorously.
Using a fine strainer, double-strain into the smaller part of the shaker or into a container to be able to shake again.
Add the egg white, then shake vigorously a second time (dry shake).
Strain into a chilled glass. Garnish with rhubarb ribbon.