Toronto's Historic Buildings Are Being Demolished for Condos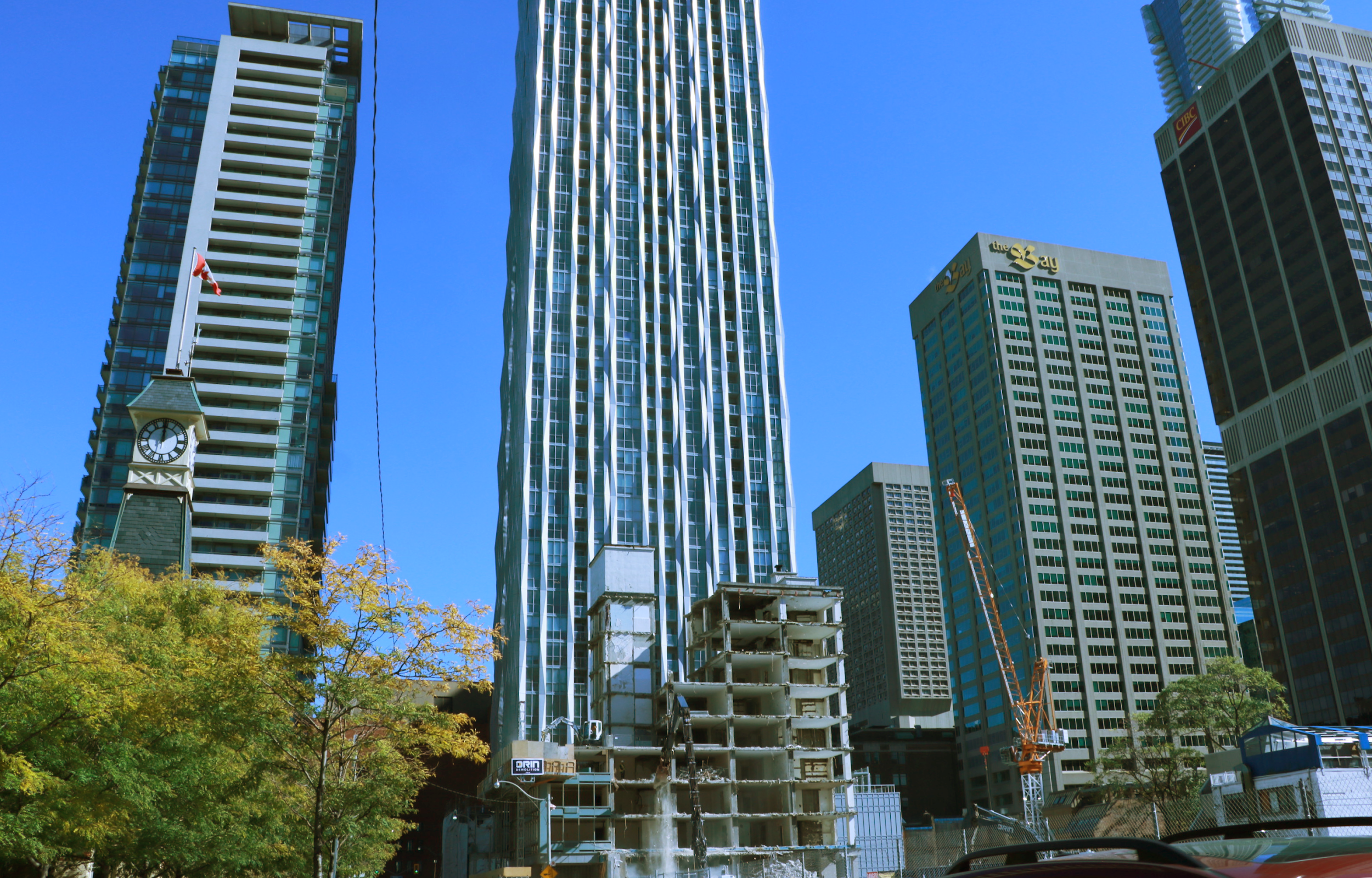 Anyone who has lived in Toronto in the last 15 years has noticed the loud construction, closed roads, and, more than anything else, flurry of signs urging you to check out brand-new condos.
The growth of condominiums in Toronto often directly correlates to the demolition of heritage or historic buildings, and a building's heritage status does not necessarily protect it from the wrecking ball.
According to a 2005 update to the Ontario Heritage Act, a property owner may demolish a designated heritage site as long as the city council has 60 days' notice in advance. Within these 60 days, the city may vote to accept or refuse the proposal for demolition. If the city refuses, then the Ontario Municipal Board makes a final ruling. But in Toronto, the city tends to vote in favour of demolition. After a structure is torn down, any heritage protections of the site are void.
For example, Toronto gifted the designation of a heritage site—one of the first ever for the city—in 1973 to a 3.5-storey building initially constructed in 1856. After falling victim to neglect due to remaining vacant for years, the building collapsed in 2007. A condominium now sits in the Moss Park plot where the heritage site once was.
City councillor Gord Perks explains that Toronto cannot deny developers the right to build condominiums in the city, despite public outcry. According to Perks, this comes partly from legislation by the federal and provincial governments superseding municipalities, enabling the budding condominium industry in the 1990s.
"The federal government, through the Canada Mortgage and Housing Corporation and the provincial government through the Condominium Act, have made it easy for a huge development industry to spring up," says Perks. "People buy up property, demolish what was there, build something bigger, and sell it off to a condominium corporation and go away with a profit."
According to Perks, the issue of constant condominium construction mirrors the housing crisis in Toronto.
"There's two things: lack of social housing and government programs which encourage condominium construction," Perks says. "The province actually, through the Ontario Municipal Board but what's now called the Local Planning and Appeal Tribunal, have always been able to overrule cities when they try to block this kind of development."
But one of the main issues with historic sites being demolished for condominium development is that the city already has a problem with empty condos. There are so many vacant condos in Toronto that some city councillors are calling for a mandatory vacancy tax.
According to anti-poverty activist John Clarke, the rising trend of empty condos in Toronto predicts disaster.
"Toronto is emerging now as one of the key centres of an insecure housing bubble," says Clarke. "Unless the development of city planning and the provision of housing is organized on a different basis, things are going to continue to get worse … We can't continue to let enormous numbers of empty condominiums sit there to serve the interest of speculators."
But historic buildings don't necessarily need to be demolished to be usable housing.
Parkdale non-profit PARC just spent $7.2 million to keep a 1912 heritage building as secure housing for low-income residents.
Clarke believes the necessity of housing in the city must come from community groups.
"The housing needs of the city can't be met by property developers and investors," Clarke says. "It has to be met by a real commitment to build truly affordable housing, which means social housing."