Fairy Tale Fashion at the Museum at FIT
Glass slippers, and riding hoods, and ball gowns, oh my.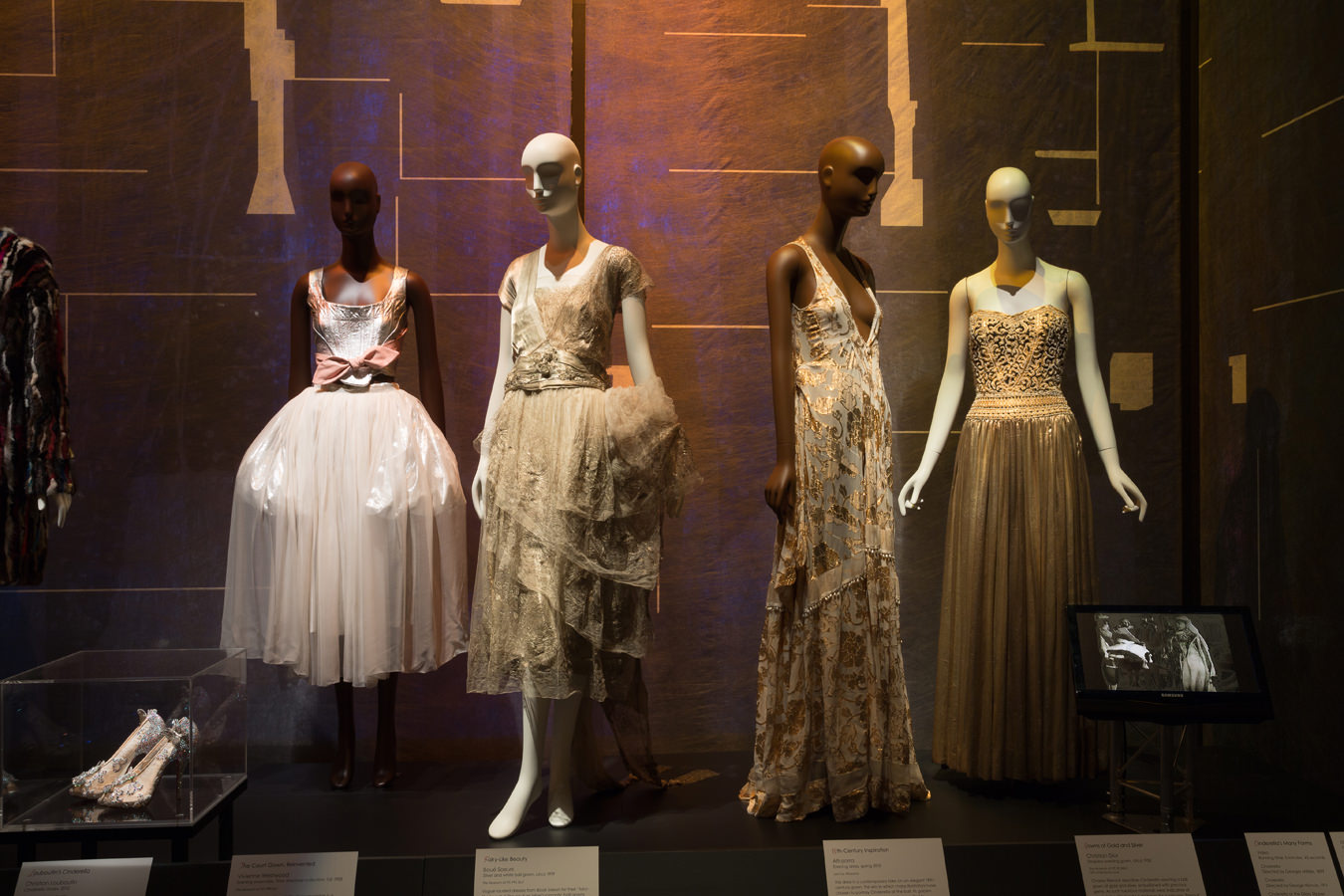 Fairy tales are often associated with childhood bedtimes and the bright colour palates of Disney films—yet the fables from which many familiar tales originate are far less sugary than one would think. Inspired by the enigmatic darkness of classic stories, the Museum at the Fashion Institute of Technology's Fairy Tale Fashion exhibition draws upon the gritty reality of fantasy tales by Perrault, Anderson, and the Brothers Grimm.
Fairy Tale Fashion, on now until April 16, showcases a range of styles from the eighteenth to twenty-first centuries, including designs by Alexander McQueen, Christian Louboutin, and Comme des Garçons. "[The term 'fairy tale'] is typically used to describe clothing that is particularly beautiful, striking, and unattainable," says curator Colleen Hill. The exhibit winks at the unattainability of couture gowns as well as the fantasy of princess stories. "It is the type of clothing that many people fantasize about wearing, but that seems out of the realm of day-to-day life."
Though the collection is unquestionably elegant, featuring beaded detailing, lush textures, and intricate stitching, the pieces are challenging and evocative more so than simply pretty. The stunning Cinderella wing naturally includes a wide selection of gowns, but instead of Disney's iconic shade of azure, various gold and silver numbers are instead presented to signify royal status. As Hill explains, "These luxurious gowns act as the ultimate disguise, since even Cinderella's own stepsisters cannot imagine a cinder maid wearing such fine clothing." There is also a nod to the heroine pre-fairy godmother-assisted transformation in the form of a Giorgio di Sant'Angelo chiffon dress the designer supposedly slashed to tatters on the eve of his show. Fashion is not simply a display of glamour, it seems to suggest. Rather, it is a multifaceted storytelling medium in its own right.
Yet the key challenge Hill faced while compiling Fairy Tale Fashion was not literally translating plot points into styles, but envisioning the conceptual and subjective nature of the exhibition itself. "It is certainly not a straightforward fashion history show," Hill says. "One reviewer called my approach to object selection 'intuitive,' which seems exactly right. I eventually came to realize that what I was doing—selecting objects that I thought represented a moment in the stories based on very little description or detail—was not unlike what the many illustrators of the tales have done over time."
While some pieces of Fairy Tale Fashion do interpret characters' costumes (the variety of riding hoods would cause Red's closet to burst), others are inspired by film adaptations (Dorothy's famous ruby slippers? MGM's way of showing off their newfangled Technicolor technology) or the stories' touchstone imagery (the Alice's Adventures in Wonderland garments are full of playing cards, pocket watches, and red roses).
"In the midst of a global, technologically driven fashion industry, there remains a desire—perhaps even a need—for designs that value fantasy over function," states Hill. Fairy Tale Fashion creates a gateway between the fantastical world and our own, an invitation to visit a complex and charged world of make believe.