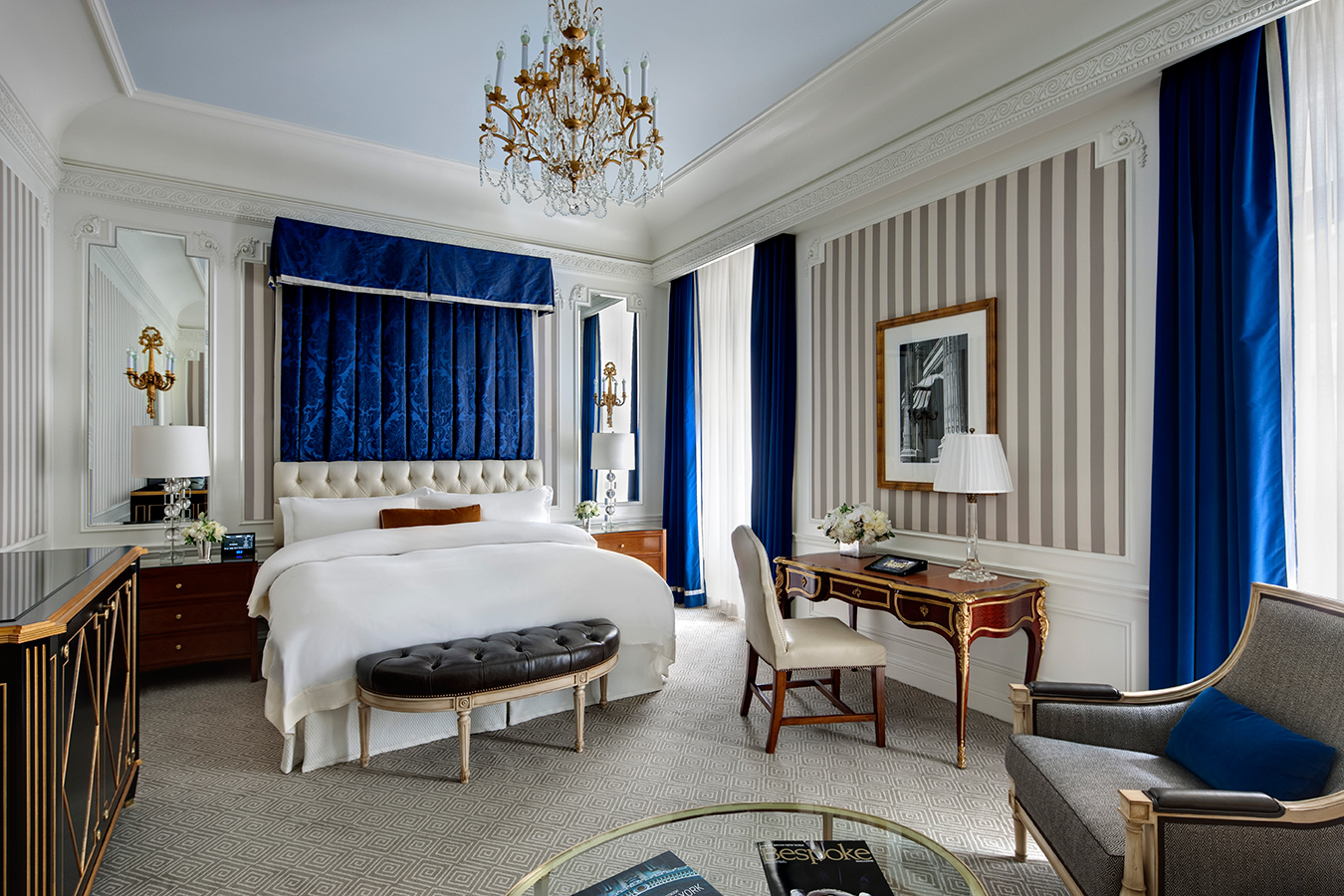 "To know a hotel like the St. Regis, to know it truly, you have to experience it late at night. Not at midnight, when guests still whirl through the front doors and dot the hallways. At midnight, people are still doing all of the talking, and the voice of the hotel itself cannot be heard over this din." –Lesley M.M. Blume, It Happened Here
Indeed, so much has happened at the St. Regis New York, a designated Manhattan landmark with a history that dates back to 1904. The hotel has entered a bold new era of glamour, having completed a $90-million renovation that still retains the timeless allure that has defined the Fifth Avenue icon since its founding by John Jacob Astor IV over a century ago.
Repositioning the property in 2013 was a delicate task carried out so as not to disturb the clientele: guest rooms and suites, floor by floor; hallways and public spaces. Even the butlers, a service mainstay since the hotel opened, have traded their Downton Abbey–era tailcoats for tailored garb inspired by Armani. The hotel's refreshed outlook includes vibrant colours and custom furnishings complementing the architecture's classical crown molding and original Waterford crystal chandeliers.
The treasured King Cole Bar, Manhattan's storied meeting place, was also refurbished and reopened with a black granite–topped bar and its namesake Maxfield Parrish mural restored for a new century. Said to be the birthplace of the Bloody Mary (bartender Fernand Petiot perfected his recipe for the Red Snapper, St. Regis' signature cocktail, in 1934), the King Cole Bar has expanded and in a culinary partnership with native New Yorker and restaurateur John DeLucie, the King Cole Bar & Salon debuts serving modern American cuisine.
For the first time ever, the St. Regis is bottling the original Red Snapper recipe in celebration of the libation's 80th anniversary. Working in partnership with Arrowhead Farms, the cocktail mix is available for everyone to enjoy.
St. Regis New York, 2 East 55th Street, New York, NY 10022 +1 212-753-4500
King Cole Bar, +1 212-339-6857
_________
Never miss a story. Sign up for NUVO's weekly newsletter, here.
December 8, 2014
Updated: February 11, 2015