What's new in Old Montreal.
Hotel William Gray's lobby protrudes, like a lightbox, towards its cobblestoned Old Montreal street. This entrance, dramatic and eye-catching among brick façades, is a glass-walled addition to the 18th-century Maison Edward-William-Gray—once the eponymous manor of an English expatriate-turned-Montreal sheriff known to locals as just "the colonel".
Similarly entertaining nuggets of history can be found all over the hotel, which opened in July 2016. For instance, the kitchen's enormous meat locker was built in homage to the lobby's past life as a ham-hock repository, and the hotel restaurant, Maggie Oakes, is named for Gray's fur-trade-heiress wife. And yet it is Hotel William Gray's encapsulation of Montreal's contemporary spirit that elevates any stay into a cultural experience in its own right. As much as the seven-storey, 127-room structure honours the old, its atmosphere is creative, energetic, and modern.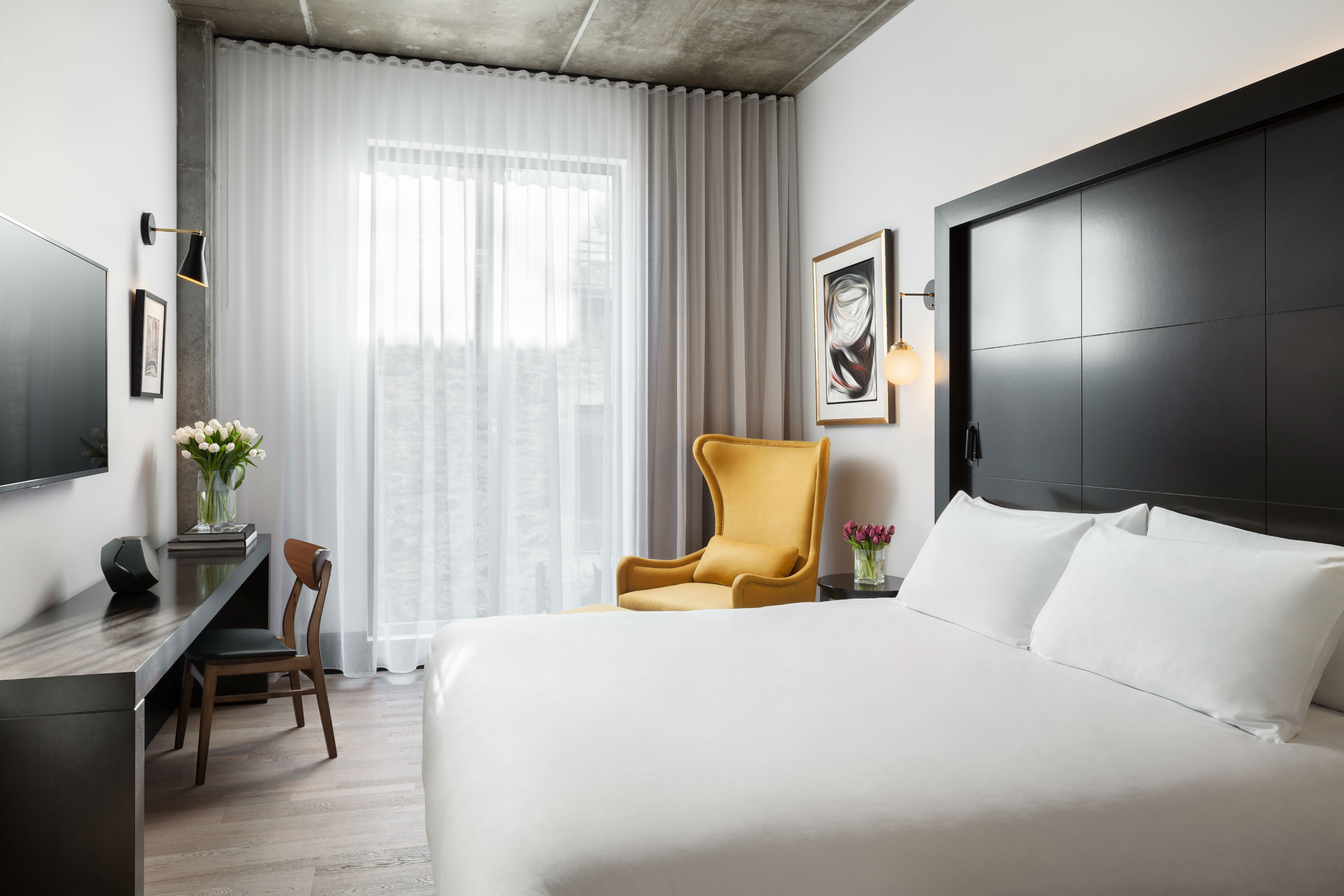 "Our intent with the hotel was not only to supply a certain quality to our guests, but also to draw in local people," explains general manager François Guay. Indeed, locals come for espresso and Italian pastries at Hotel William Gray's outpost of Café Olimpico—the first expansion by the beloved coffee shop, whose flagship has been a Mile End neighbourhood hub for 40 years. Visitors also pop in to shop at Boutique OTH, a Montreal streetwear store, founded in 1999, also now operating its second location from inside the William Gray, and lounge in the communal "living room", where books are free for flipping through, and a bar serving drinks and snacks with high tea opening mid-November. (A pool table and vinyl listening stations are also en route).
At Maggie Oakes, live herbs and chili peppers cover one wall, and diners order hearty, classic cold-weather dishes: house-cured charcuterie, porterhouse steaks, bone marrow on toast, bison tartare, pork chops—and inventive vegetarian mains, too, of course. On the rooftop, a heated patio is packed with people sipping cocktails and gazing out over the neighbouring Place Jacques-Cartier square, past Old Port and the Notre-Dame Basilica.
Hotel guests are treated to minimalist, smartly-appointed rooms. Multi-jet showers stocked with Le Labo Santal-scented amenities and Frette towels and robes await in spacious bathrooms, while down comforters and pillows by Quebecois producer Marie L'Oie are found on cushy, custom-made beds. Even the mini-bars are stocked with locally-made goods. Should one book the 975-square-foot penthouse—also known as "the residence"—a terrace, private outdoor Jacuzzi, and a spacious dining room add extra comfort.
The hotel's spa—Scandinavian style, with an emphasis on herbal treatments—is set to open winter 2016. It will be the final touch to an elegant, contemporary Montreal accommodation with character to spare.
Hotel William Gray, 421 Rue St-Vincent, Vieux-Montréal, Quebec, (514) 656-5600.