The Grande Dame of Athens.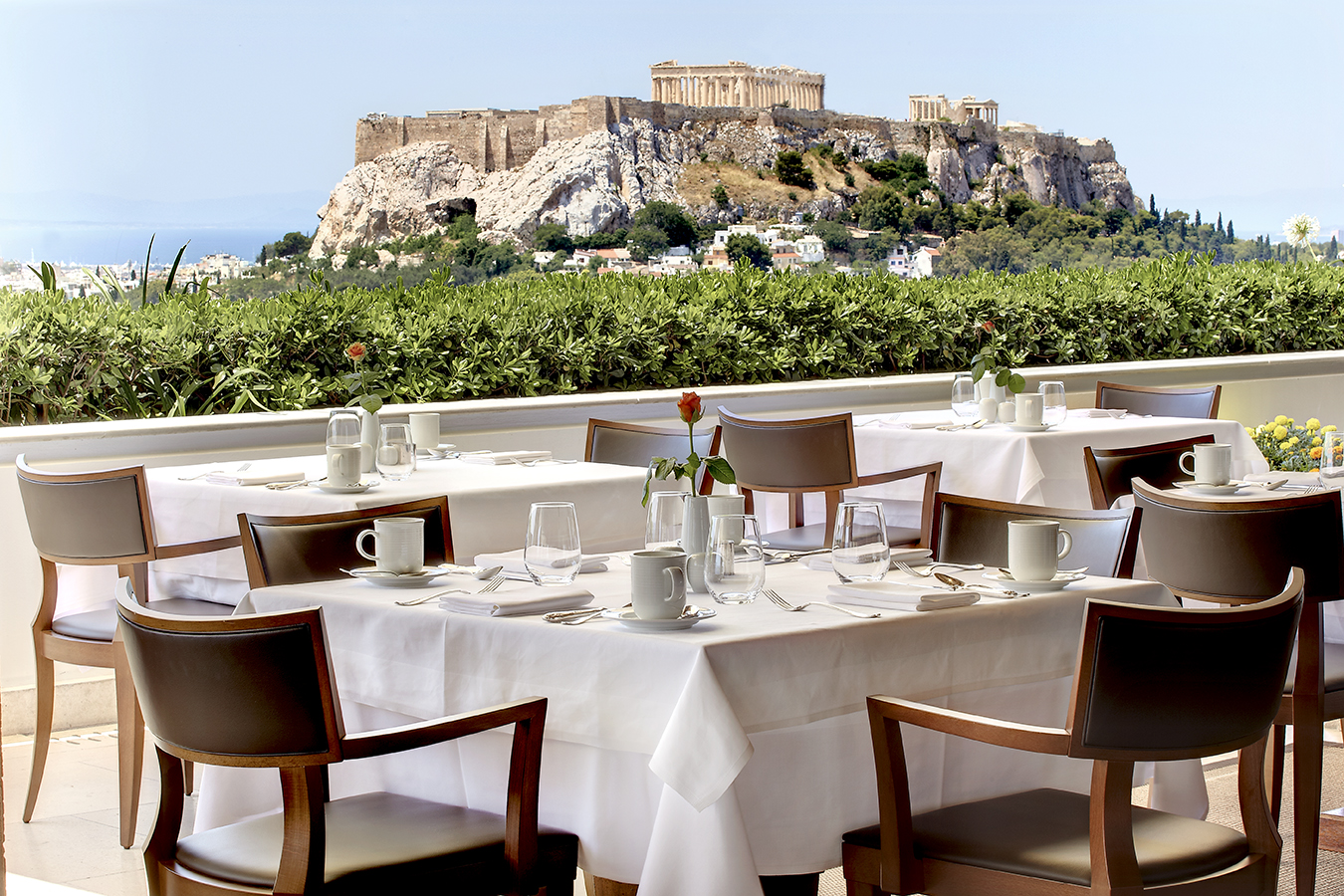 When perched at the open-air bar on the rooftop of the Hotel Grande Bretagne, as the sun slips behind the honey-hued Acropolis, it's clear why this palatial property is known as the Grande Dame of Athens. While the views from the rooftop are breathtaking, so is its rich history, which you feel as soon as you enter the gilded Beaux-Arts lobby with its Corinthian columns, opulent antique furniture, and gleaming marble floors. For over a century, the five-star hotel has presided over one of Europe's oldest capital cities with poise and timeless elegance—its first incarnation was as a private residence built in 1842, and the Grande Bretagne celebrates its 140th anniversary as a hotel this year, having opened its doors to its first visitor in 1874.
The Grande Bretagne was the official host for statesmen and royalty during the Olympic Games in 1896; it hosted many again in 2004 following an 82 million euro overhaul in 2003 (approximately $119,000,000 Canadian). The hotel has also weathered storms such as the First World War, when it facilitated diplomatic negotiations, receiving the likes of Winston Churchill. In more recent years, there has been the economic downturn, but there is still a definite buzz about the city.
Since its early days, a stellar list of screen legends, heads of state, and royalty have bedded down at the lauded hotel. Those in the Royal Suite have included Brigitte Bardot, Elizabeth Taylor, and Sophia Loren—the latter of whom stayed while filming Boy on a Dolphin in 1956. Other notables range from Hollywood icons Greta Garbo, Sean Connery, and Francis Ford Coppola, to musicians such as Jay-Z, Bruce Springsteen, and Sting. Jacques Cousteau and Jean Paul Gaultier have also dropped by.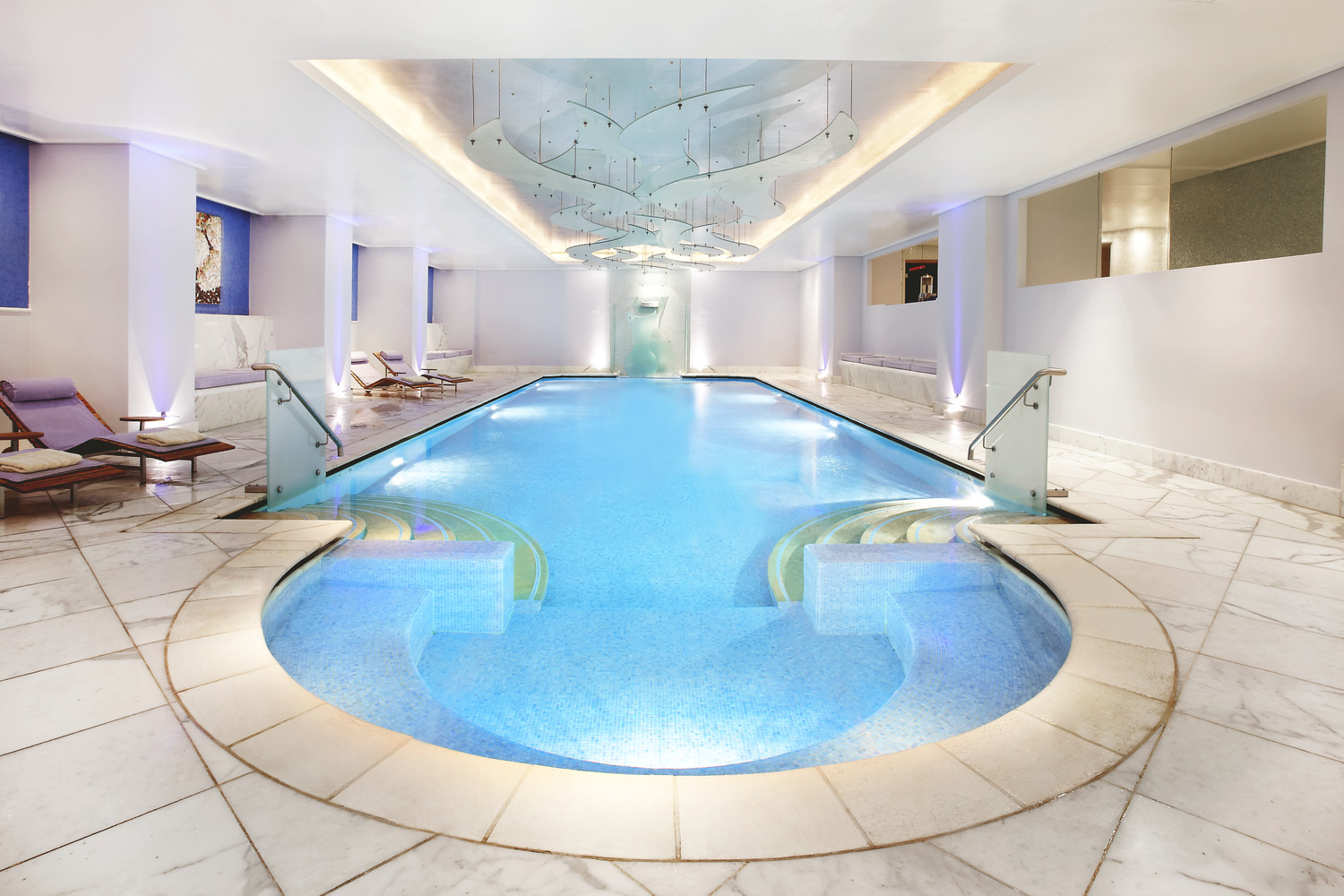 With such an illustrious history, the Luxury Collection hotel has stayed true to its European heritage, exuding old-world charm through its grandiose interiors. Day and night, the hotel's gastronomic settings are the place to be for the beau monde. A favourite is the GB Roof Garden Restaurant & Bar, where chef de cuisine Asterios Koustoudis offers a Mediterranean menu, complemented by an extensive cocktail list. The restaurant comes alive at night with views of the illuminated Parthenon.
If you're partial to afternoon tea, retreat to the Winter Garden, City Lounge—here you'll find a cosy atrium for escaping the hustle and bustle of the city. For a Rémy Martin XO cognac, head to the lobby-level Alexander's Bar, adorned with a 200-year-old French tapestry of Alexander the Great. Alternatively, enjoy an al fresco signature GB Lady cocktail (made with gin, elderflower liqueur, Cointreau, lime juice, grape molasses, and cucumber) at the cypress tree-lined Rooftop Pool Bar, with views of the highest point in the city, Mount Lycabettus. For those celebrating a special occasion (or just for oenophiles who would like a private tasting for up to 12 people), there is the Cellar, which boasts an impressive collection of over 3,000 bottles, including a 1994 Domaine de la Romanée-Conti Romanée-Conti Grand Cru pinot noir.
No stay at the Grande Bretagne would be complete without a visit to the spa, and a collagen facial by Swiss skincare brand Valmont is the ultimate in pampering. A heated indoor pool, clad in gleaming white marble, the luxe Thermal Suite, and an Herbal Bath room infused with fresh Greek herbs including mountain tea, chamomile, sage tea, and lavender make it difficult to leave this stately property that unites 21st-century luxury with a truly majestic past.