For centuries, those arriving at Ireland's Ashford Castle have done so by crossing a stone bridge over the Lough Corrib. Although not de rigur, one may even arrange to enter with great fanfare: led by a piper, past a duo of stone Irish wolfhounds stoically guarding the entrance the building's medieval edifice. A little pomp and circumstance, after all, is not out of place in a historic castle.
Built in 1228, Ashford Castle was owned by the eminent Guinness family during the 19th century, changing hands over the years to ultimately be acquired by Red Carnation Hotels in 2013. The firm embarked on a $75-million restoration, which imparted the historical grand dame with touches of contemporary high-style. Having reopened in April 2015, the property, which sits amidst 350 acres of gardens and forestland within walking distance of the village of Cong (where the Oscar-winning John Ford film "The Quiet Man" was filmed), now features extra conveniences, including a cinema, a cigar smoking terrace, and a pool and spa with its own Turkish-style hammam.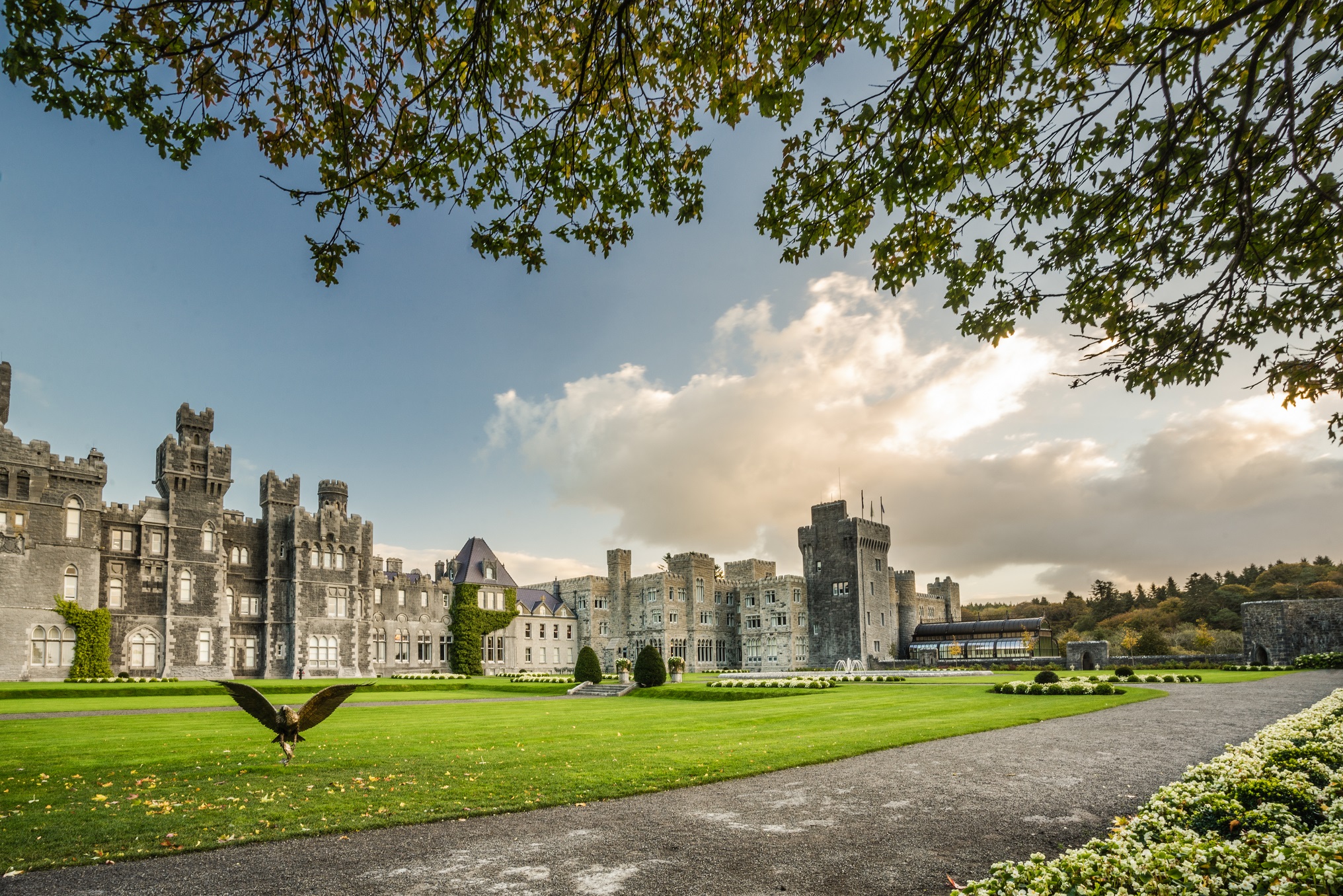 The renovation has been widely lauded as a contribution to not just the hospitality industry, but to the preservation of Ireland's historic culture. Indeed, Ashford Castle is akin to a livable museum, rich with antiques, tapestries, wood mouldings, textiles, silverware, and artwork. The Waterford crystal chandelier in its foyer is one of 11 throughout the grounds, while the Oak Hall is silently guarded by a late 19th century set of German armour.  A framed correspondence between the Guinness family and King George V, circa his reign as the Prince of Wales, hangs in the library, evoking  the elevated atmosphere of a bygone era.
The amenities at this crown jewel of western Ireland do not disappoint—from the luxurious afternoon tea room to the cozy billiards room, it's hard not to feel like the lord or lady of the manor, especially with hospitable staff always at hand to offer assistance or tell a story. Any of the five castle suites are a welcome retreat, with layers of patterned textiles, and spacious marble bathrooms with Irish-made, seaweed-based Voya organic bath amenities that tempt one to prolong their stay. The desire to remain in one's suite is understandable, but do explore the castle, which still holds its share of secrets. Niall Rochford, General Manager of Ashford Castle, happily revealed one such tidbit: a cavernous space discovered beneath the hotel during renovations. "Not many people are aware that hidden deep below the castle was an abandoned underground tunnel. We have transformed this tunnel into a spectacular wine cellar which now can be hired for private parties and wine tastings," he says.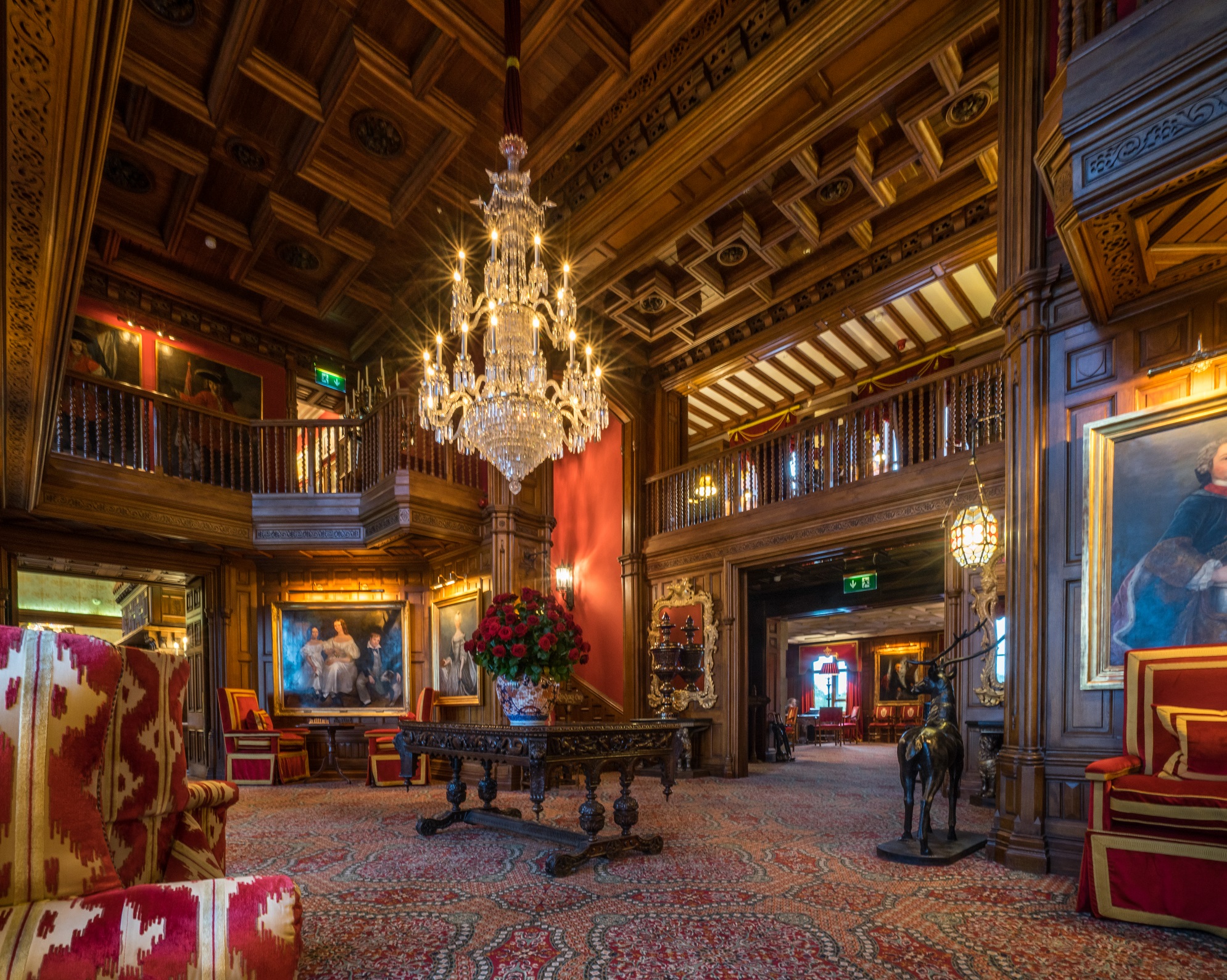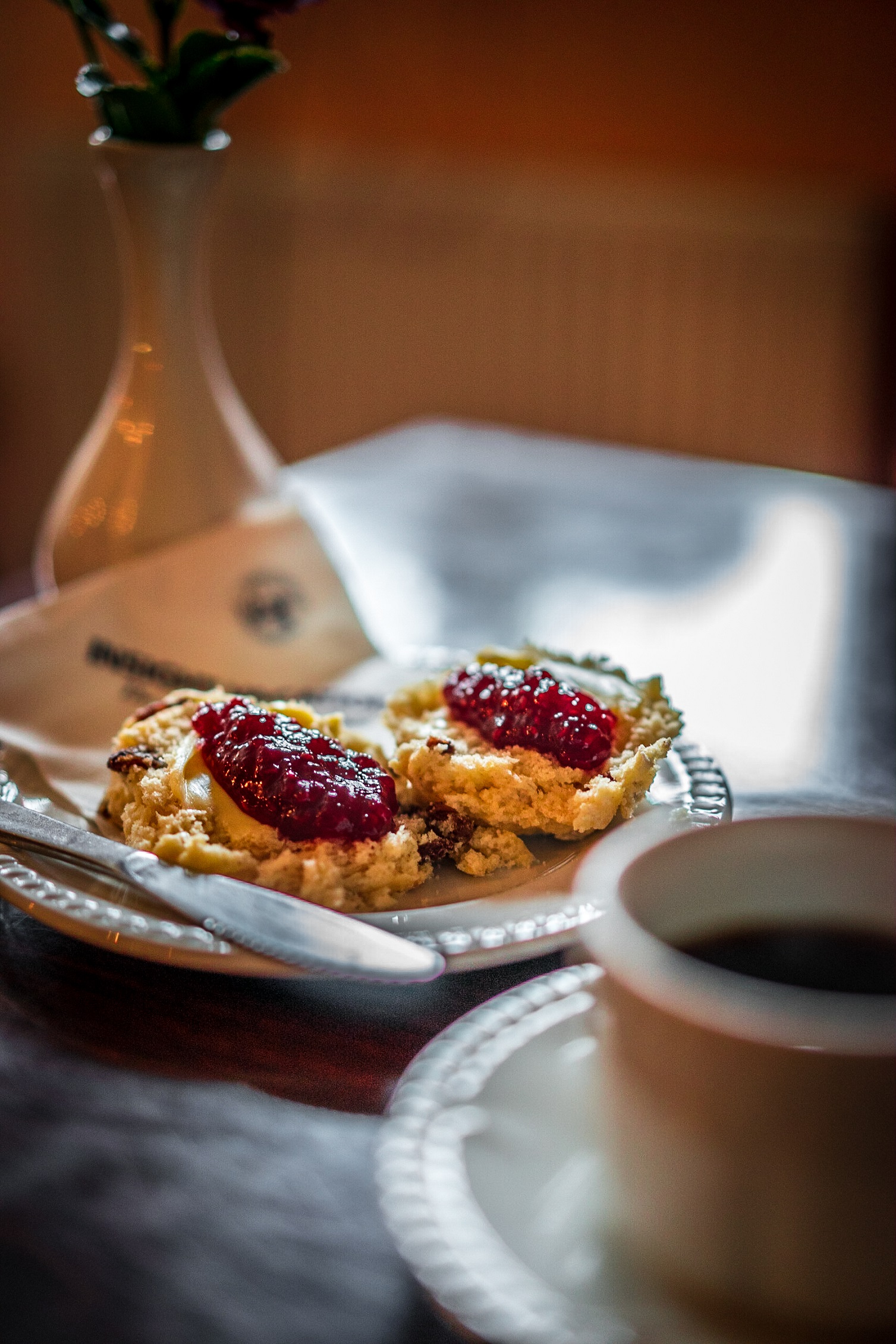 Dining at Ashford Castle features many local temptations, including freshly-baked brown breads and the Connemara Whiskey one may enjoy at the bar or add to their morning bowl of oatmeal. Overall, menus are inspired by traditional Irish fare, with locally-sourced lamb, beef, salmon, cheese, and seasonal fruits and vegetables appearing frequently. A particularly cozy option is dining at nearby Cullen's at the Cottage on the castle's grounds, which offers a casual atmosphere and features menu items influenced by Mrs. Beatrice Tollman's (founder and president of Red Carnation Hotels and owner of Ashford Castle) South African tastes, such as spicy bobotie spring rolls.
Those craving exercise can choose from walking along the shore of the lough or through the forest and gardens to riding horses, shooting skeet, or even learning about hunting with birds of prey at the School of Falconry. And don't worry if the Hunter boots didn't get packed: Ashford Castle will happily provide a pair during one's stay, and a raincoat if needed, too. No detail has been overlooked at this regal five-star accommodation, where it's a chance to live the luxe life of the Emerald Isle.