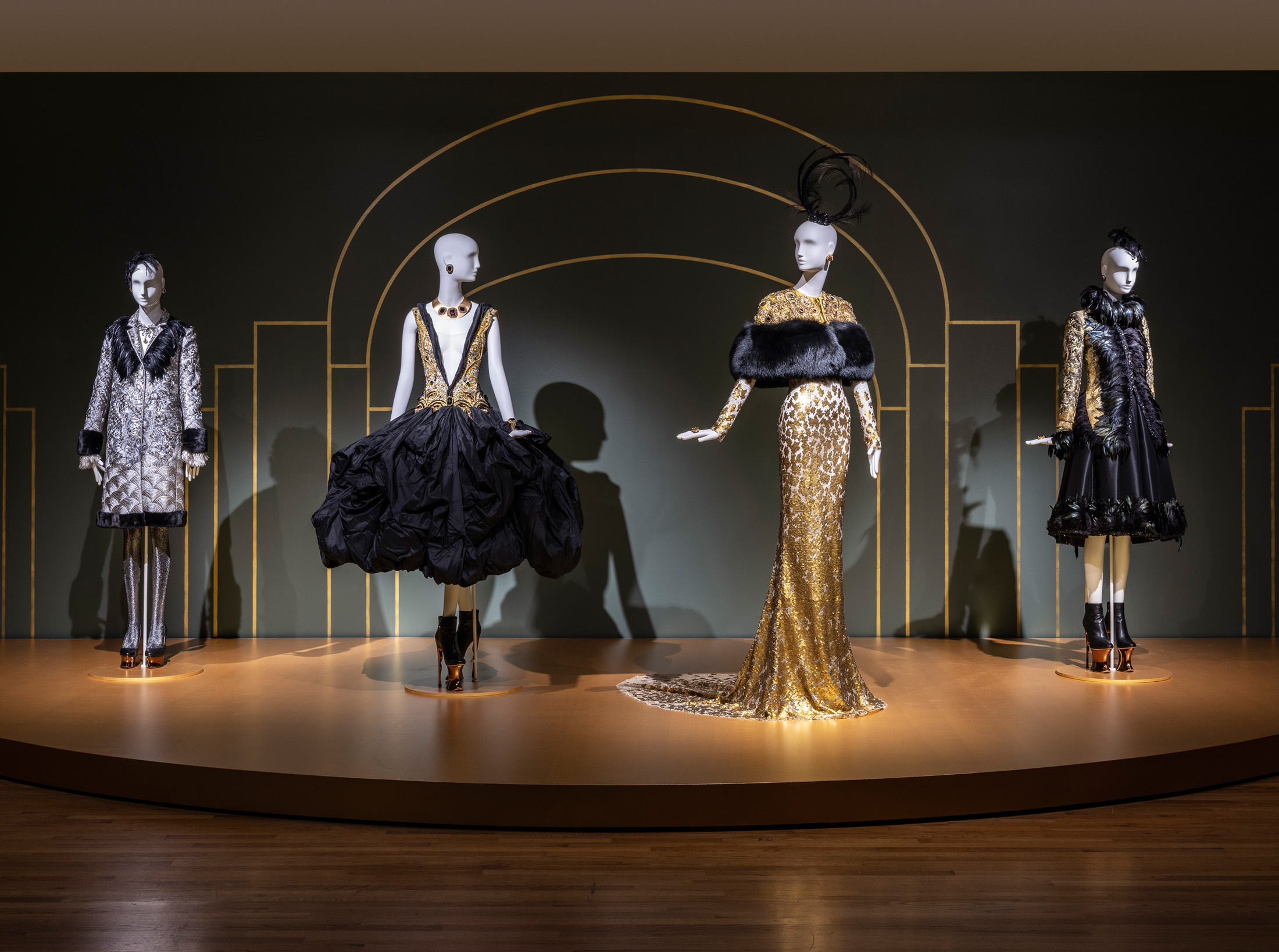 It was the first of May in 2015 when Rihanna took to the red-carpeted steps at the Met Gala in an unforgettable ensemble: an opulent yellow silk cape, trimmed with fox fur, woven with golden thread. Images of the pop star took the Internet by storm, and the garment made its designer, Chinese couturier Guo Pei, an instant fashion icon in North America. This winter, the Vancouver Art Gallery presents Pei's work, including the golden mantle, in Guo Pei: Couture Beyond, an exhibition that features a curation of more than 40 garments made between 2006 and 2017.
Though Pei only recently caught the attention of North America, her work has been widely admired in China for the past two decades. Pei graduated from the Beijing School of Industrial Fashion Design and worked in the fashion industry for 10 years before launching her own brand and atelier, Rose Studio, in 1997. A skilled seamstress, Pei, along with her team, began experimenting with and developing embroidery techniques inspired by both traditional Chinese needlework and 3-D embroidery used in European clothing. She began gaining attention in the early 2000s, and was commissioned to design a dress for singer Song Zuying during the 2008 Beijing Olympics closing ceremony—the resulting garment was a dazzling, whimsical design that sparkled with more than 200,000 Swarovski crystals.
To this day, each garment that Pei produces has been meticulously made by hand; each stitch is the work of a master embroiderer. Rihanna's yellow cloak took over 50,000 hours to complete, and it isn't even one of Pei's most heavily embroidered pieces. "Craft is the most charming element of my work," says the designer. "Embroidery allows me to explore in a large creative space. I [like to] incorporate the tension and three-dimensionality of Western images into a two-dimensional traditional Chinese embroidery to create a new visual experience."
"I hope to leave behind not only a name, but a spirit, just like many of the valuable artifacts I see in the museums."
Pei's craftsmanship is on full display at the VAG's exhibition—the experience of walking amongst such works of skill and labour can be likened to an encounter with the divine. And, indeed, Pei herself is the recipient of some divine inspiration: "I've been exploring the subject of 'sacredness' lately," she says. "Commonplace works that share a sacred spirit and mission often move and inspire me to create new work. My [spring 2017] Legend series, for example, was inspired by my visit to St. Gallen Cathedral. As I imagined people from a thousand years ago creating such a timeless structure for their faith, I—though living in a different era—still felt the power of that spirit, that sacred dedication."
Each of the pieces on display has a regal presence. Garments from 2010's One Thousand and Two Nights collection call back to an age of imperial opulence long forgotten, while frocks from 2015's Garden of the Soul inspire visions of a futuristic fairyland, with shapes that merge the organic with the highly technical. "Most of my designs express my own ideas and feelings," says Pei. "In the beginning, I was more drawn towards aesthetic beauty. Later, I became very interested in art, especially antiques and ancient artifacts." It is these varied creative mediums that still inform Pei's design practice, inspirations that invite the viewer of Couture Beyond to explore each piece of clothing as a work of high art.
"I think a museum is actually the best showcase for my work," Pei says. "I spent a lot of time refining my craft in the hope that my work could one day be exhibited in a museum, allowing viewers to walk into a space and quietly appreciate and feel my work." While a runway show lasts but a few minutes, exhibitions allow close inspection, and even contemplation, without rush. "I hope to leave behind not only a name, but a spirit, just like many of the valuable artifacts I see in the museums," she says. Every piece is truly a testament to the dedication and mastery of Pei and her team—each stitch is a moment in a dressmaker's life, each fold of fabric is a dream realized. Bearing witness to Pei's extraordinary vision through the exhibition is an honour of the highest calibre.
Guo Pei: Couture Beyond is on at the Vancouver Art Gallery until January 20, 2019.
_______
Never miss a story. Sign up for NUVO's weekly newsletter, here.