Calgary's New Central Library
A library is a public space that allows its patrons to become immersed in a book, expand their imaginations, and open their minds to new ideas. It is not only a home for the stories that shape our culture—the building itself transcends generations, telling a story of its own. Such is the case with Calgary's new public library. After 14 years in the making, the highly anticipated Central Library opened its doors for the first time at the beginning of the month. Led by Norwegian architecture firm Snøhetta and Calgary design firm Dialog, in collaboration with the Calgary Public Library Foundation, the City of Calgary, and the Calgary Municipal Land Corporation, the Central Library encapsulates the city's story through its design, drawing inspiration from the community, landscape, and climate.
"This space is just as much a representation of the people as the city itself," explains Michael Brown, CEO and president of the Calgary Municipal Land Corporation. "Calgary can be seen in every detail, and for that reason, this building could only be built here."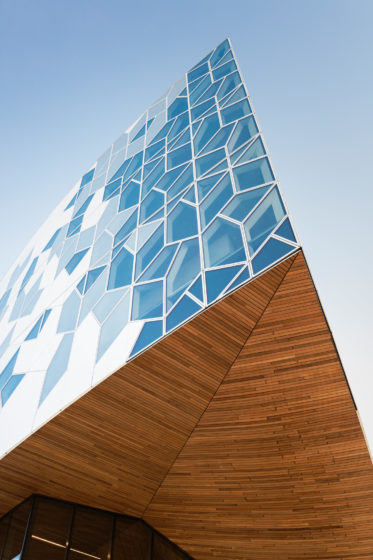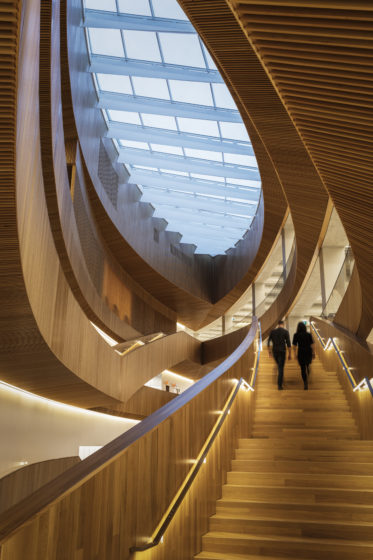 Located between the downtown core and the up-and-coming East Village, the library is a convenient destination for purposeful visitors that could also easily draw in passersby. As Brown affirms, "this building truly has a presence." Indeed, dubbed one of the most anticipated buildings of 2018 by Architectural Digest, the library makes a striking first impression with its sleek white curved façade. The overlaying pattern of interlocking hexagons can be interpreted as snowflakes, interlocking houses, or an open book—all motifs meant to evoke the library's overall sense of community and inclusivity.
At the entrance of the building is a sweeping wooden archway that reflects a Chinook arch—a rare, flat cloud formation that in Canada, occurs almost exclusively in southern and central Alberta. Once inside, the colossal foyer is immediately welcoming, drenched in natural light with the aroma of coffee from Lukes, the on-site café, wafting through the air. The terraced wooden floors, built to accommodate the LRT line that runs directly beneath the library, add depth to the space.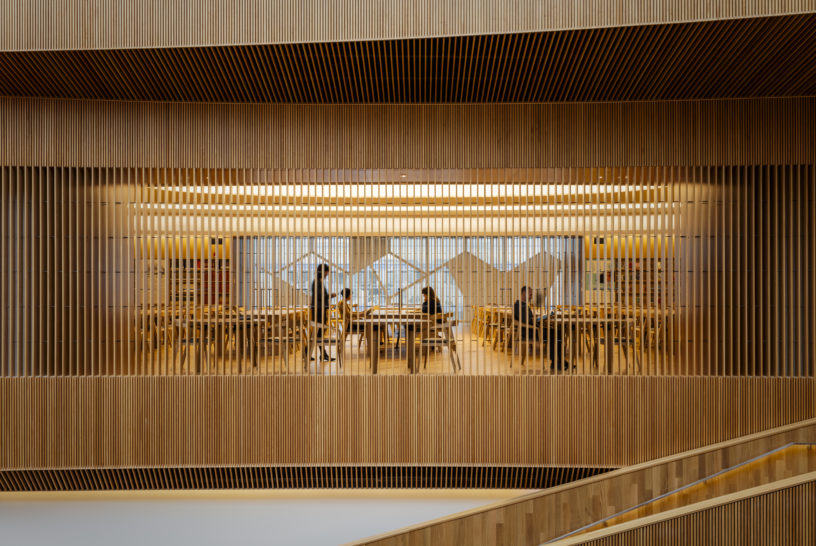 For all parties involved in the new library, it was important to ensure the building was accessible and inclusive, so that that it could not only function successfully as a library, but as a community gathering space. As such, throughout the 240,000-square-foot library are thoughtful details to enhance the experience of visitors—think warmed handrails for chilly days, impressive light fixtures to illuminate every bookshelf, and functional yet design-savvy furniture. Artwork that has been either created or influenced by the Indigenous community also features prominently; the entrance is adorned by a mural painted by six Indigenous artists, and crowning the top of the stairway to the mezzanine level is a life-size buffalo statue by Lionel Peyachew comprised of metal words and letters from Indigenous languages.
"A building needs to be both challenging and radical," explains Snøhetta's founding partner Craig Dykers. "People need to be pushed so that they want to expand their horizons and broaden their knowledge, while also offering characteristics that are warm [and] intimate, which provides comfort and familiarity." To add to that, Calgary Public Library CEO Bill Ptacek points out that "this building is spectacular, so naturally people will come and see it, but we wanted to give people a reason to come back."
With its beautiful architectural features, thoughtful design details, and community-minded approach, the Central Library is sure to keep people coming back time and again.
Calgary's Central Library is now open as of November 1, 2018.
Photos by Michael Grimm.
_______
Never miss a story. Sign up for NUVO's weekly newsletter, here.