From fashion to furnishings: A Gucci Décor pop-up at Holt Renfrew.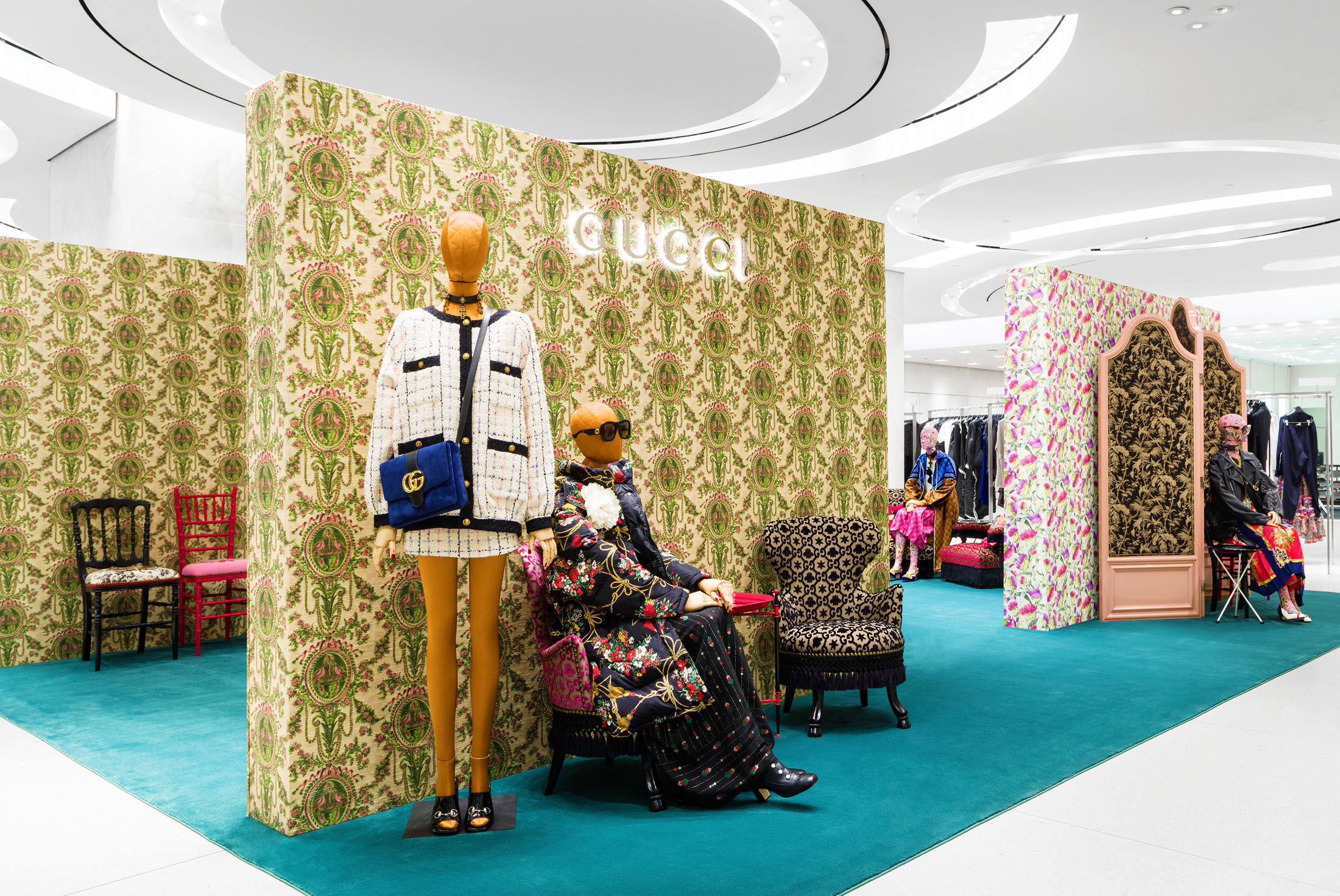 An eclectic world of Gucci Décor has taken residence at Holt Renfrew on Bloor and Holt Renfrew Vancouver. The dedicated home collection, as conceived by creative director Alessandro Michele, is a riot of botanical prints, animal motifs, and bright colours that wink at the Florentine fashion house's maximalist aesthetic. On the runway and now dressing our homes, Gucci continues to be revered with unwavering adoration.
The Gucci Décor creations are a series of versatile objects ideal for personalizing different environments of the home. From porcelain table accessories to Chiavari chairs of coloured lacquered wooden frames and upholstered seats, folding tables printed with the words Maison de L'Amour, velvet cushions with tassels and embellished borders (along with the words "Guccification" and "Guccy" in needlepoint), wildly spectacular screens and silk wallpapers, and jacquard armchairs suited for livening up the bathroom or the boudoir. Each element of the Gucci Décor collection evokes the romantic scenarios that have tread the latest Gucci catwalks: the head of a cat, Bengali tiger, slithering snake, and Cavalier King Charles Spaniel dog.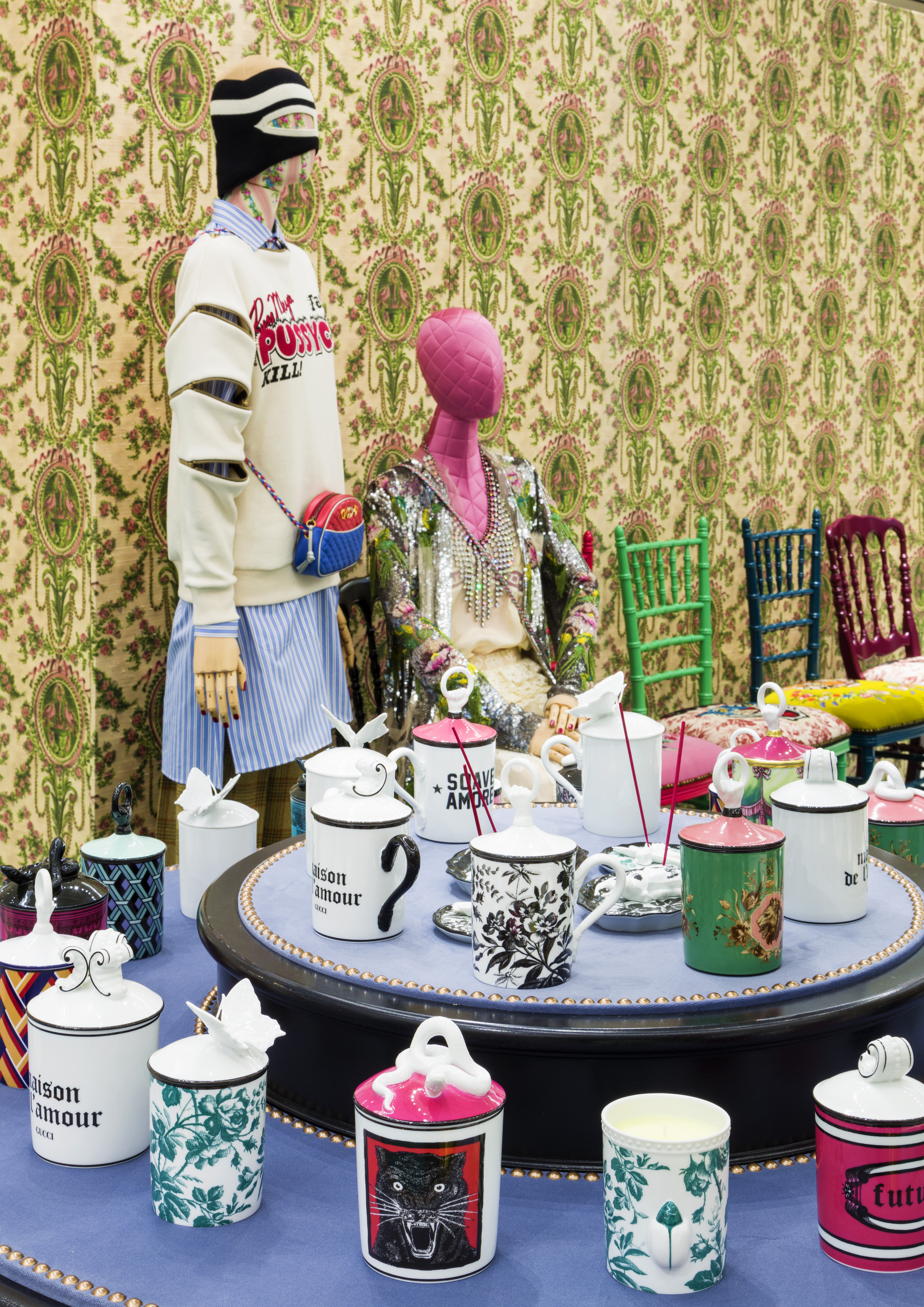 Moreover, in collaboration with Richard Ginori—the 283-year-old porcelain company acquired by the Gucci Group in 2013—Michele has designed a collection of tableware beautified with the green and white Herbarium motif, a series of porcelain candle holders decorated with zigzag patterns and lucky eyes. Furniture and furnishings are covered with recurring insects in the Gucci garden: bees, butterflies, and beetles.
Gucci isn't the first fashion house to venture into the interior design realm (Armani, Ralph Lauren, and Calvin Klein have created lucrative home branches). The chance to broaden one's design vision to a multitude of platforms is enticing. Is Alessandro Michele looking to expand Gucci across a multitude of fronts? So long as Gucci continues to be a mark of worship, the brand will continue to augment its aesthetic territory. (The latest addition, Gucci Wooster Bookstore—a reading nook within the Gucci Wooster boutique—just opened in New York).
Gucci Décor is a unique style between kitsch and haute that has come to distinguish Gucci in the Alessandro Michele era. There are no design rules with Gucci Décor, rather a blend of nuances to mix with each other and give life to a home universe. In the wrong hands, maximalism is too much tchotchke—but in the right hands, Alessandro Michele's creative hands, the visual cacophony of patterns and things and textures is fantastical eccentricity. It's time to live in your own personal Gucci world and dress your home Gucci.
The Gucci Décor pop-up at Holt Renfrew Bloor and Holt Renfrew Vancouver will run for the duration of the holiday season.
Photos by Stephanie Kretzschmer.
_______
Never miss a story. Sign up for NUVO's weekly newsletter, here.