5 Jumpsuits That Make a Statement
The stylish jumpsuit is a wardrobe staple, an instant ensemble that can be dressed up or down. It can function flawlessly as trendy street fashion as well as be boardroom ready. Every woman should have at least one jumpsuit in her arsenal. So many designers and brands have leapt on the one-piece bandwagon that choices for jumpsuits are abundant. We have narrowed down the options to five pieces that cover all the bases from formal to casual, from luxury to everyday wear.
Here are five statement making jumpsuits to add to your wardrobe:
The Ethical Everyday
Gus Sloan is a Canadian slow fashion brand that rose to prominence with the Little Black Jumpsuit and a body-positive message. The latest design, the KARMEN Special Edition Jumpsuit, is an effortless, soft jumpsuit that can be styled with a long sleeve shirt for a more everyday fall outfit or with a bralette/bandeau for a sexier approach.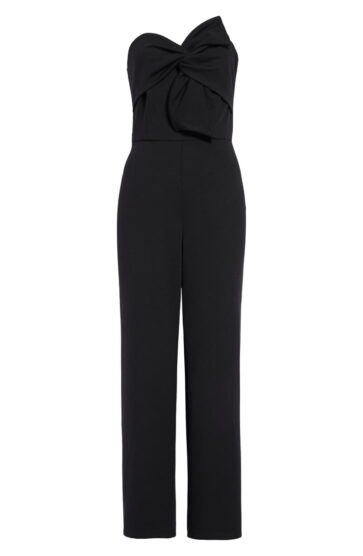 The Timeless Classic
There is much to be said for a simple silhouette done up in a bow. This strapless jumpsuit by CHELSEA28 is an exercise in elegance with no frills—just the bustier with a bow for added flair. It can be made edgy with accessories and chunky jewelry or styled like a contemporary nod to Coco Chanel and Audrey Hepburn—wearer's choice.
Rocking Around the Clock
Smash + Tess is an instantly  recognizable name in Canadian jumpsuits. Most of its styles are relaxed loungewear that can transition from the couch to the grocery store if required, but its new Roxy Romper in Roaring Red is a statement making outfit for the more daring fashionistas among us. Paired with a back belt and matching shoes, it's a testament to the instant outfit that jumpsuits provide.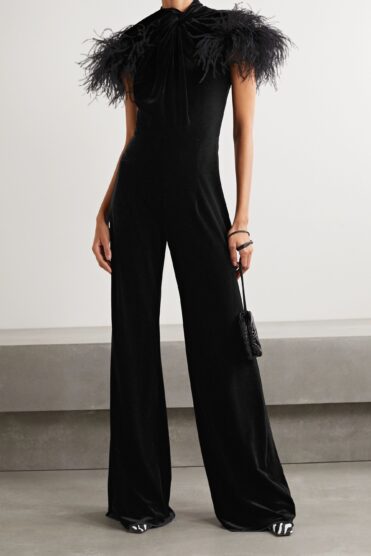 Drama-Inducing Feathers
Wispy feathers trim the shoulders of this sweeping black velvet jumpsuit from 16ARLINGTON. It walks the line between minimalism and flamboyance and is easily paired with other fashion forward pieces.
Flirty and Flowing
This belted knitwear jumpsuit is ultra comfortable and can be worn as loungewear or casual daywear. The light copper colour and lightweight knit is perfect to transition from early to late fall.
_______
Never miss a story. Sign up for NUVO's weekly newsletter here.