Taj Rishikesh Resort & Spa by YH2
Rishikesh, a city in northern India, is renowned as a place of healing and contemplation because it sits near the headwaters of the holy Ganges River. The clear air and the verdant foothills of the Himalayas provide an atmosphere that for centuries has attracted mendicants, healers, and sages all kinds.
Building on a tradition millennia old, the Montreal architecture firm YH2 has created a stunning 150,000-square-foot resort and spa in the area. The structure takes inspiration from the Himalayan architectural idiom, mirroring the construction of the darbargadh, the traditional residences of aristocrats in the region. These structures mix light, slanting roofs with sturdy stone walls so the exterior gives the simultaneous impression of fortress and palace.
The mixture of locally sourced river stone and steel beams is emblematic of the Himalayan kath-kuni, though the traditional method calls for wood instead of steel.
A terraced landscape spreads out around the primary building, and on these planned ledges sit the villas. The designers chose the terrace so that individual buildings could have views of the Ganges below.
Interior designer Eco.id chose simple and elegant furnishings with many ergonomic chairs and couches to reflect the local holism.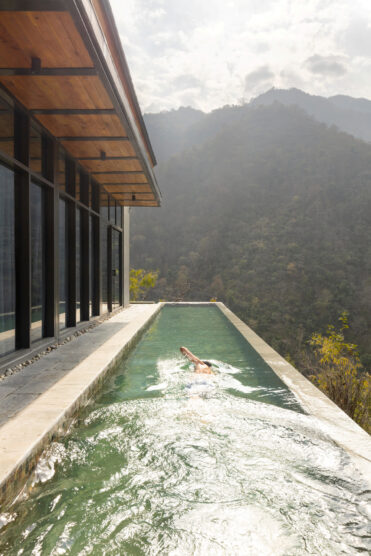 A yoga pavilion, spa complex, and infinity pool are other standout benefits of the site. Floor-to-ceiling windows in many of the villas give guests the opportunity to take in their surroundings. Despite the grandness of the Taj Rishikesh, the mountains loom tall above, and anyone who has ever been to the Himalayas can tell you that being at the mountains' feet is humbling.
Photography by Maxime Brouillet.
_________
Never miss a story. Sign up for NUVO's weekly newsletter, here.