Benetti's Oasis 40 Is the One to Beat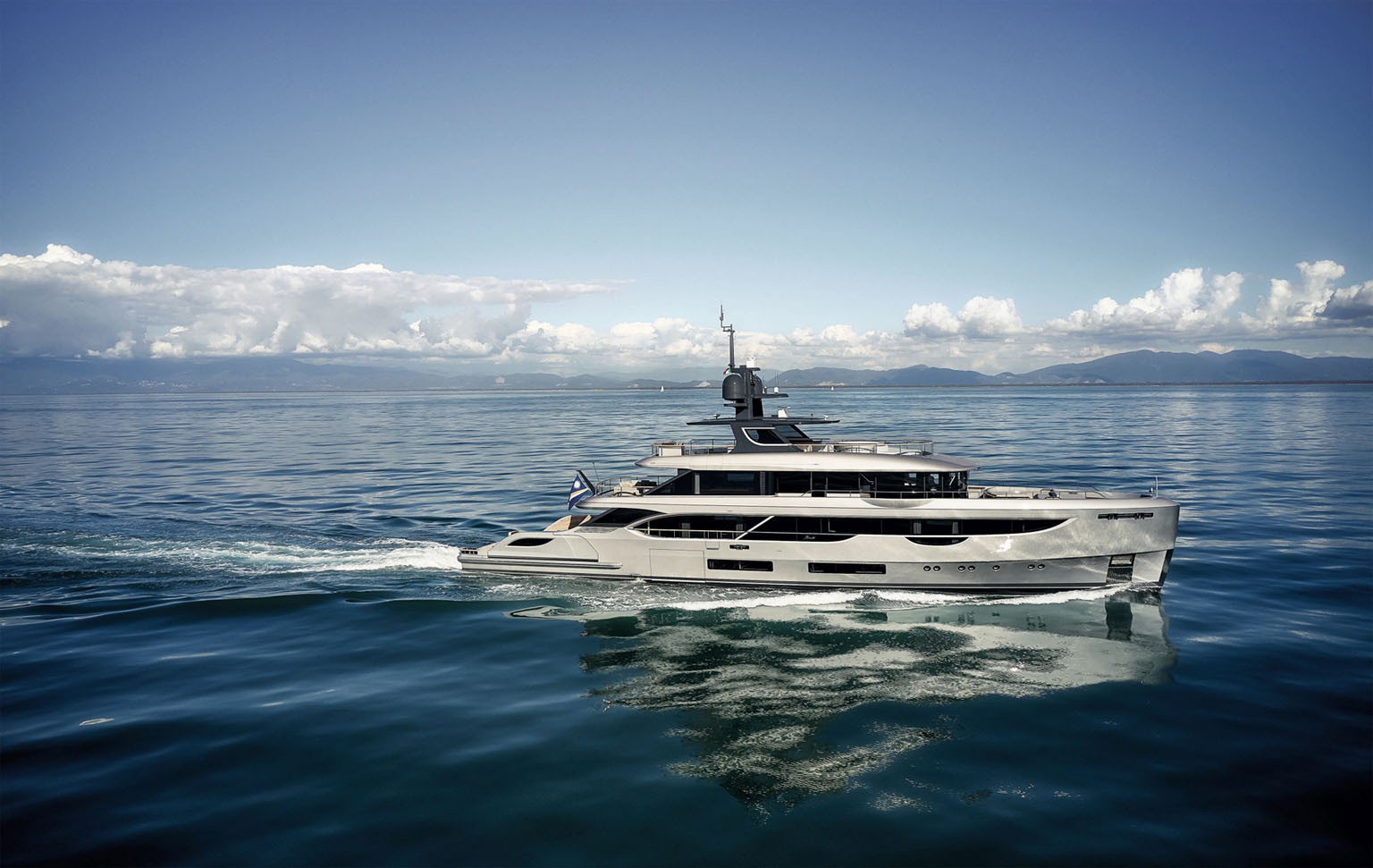 Italian yacht builder Benetti could be excused for feeling a bit smug these days, as the company continues to rack up sales for its extraordinary Oasis 40. The term "rack up sales" isn't something you often hear when talking about custom luxury yachts, but it's an accurate description for what's going on in Livorno these days as the iconic Italian brand continues to build on its already impressive order book. The company has now signed the paperwork for its 12th Oasis 40—a torrid pace for a yacht so new to the lineup.
The Oasis 40 appeals because it's just right in so many different ways. It's large enough to impress up to 10 guests, yet not such a leviathan that it can't get into those smaller, more interesting ports of call. Twin MAN 1,400-horsepower diesels provide a range of 4,000 nautical miles—over 7,400 kilometres—yet can sprint at speeds of up to 18 knots or cruise like a champ at 12. Guests relax in luxury, yet the yacht doesn't require a huge crew. Everything about it seems just right, and that's particularly apparent once you step aboard.
With an exterior design by U.K.-based RWD Design and interiors by New York-based Bonetti/Kozerski Architecture, the Oasis 40 carries a cosmopolitan appeal. Think classic English lines with the refinement of a fine Italian motor car.
Inspiring Entrances
Guests boarding from the dock via the beach club at the brilliant stern, with its infinity pool and fold-out bulwarks, are at once assured their journey will entail being spoilt rotten every step of the way. The massive U-shaped settee and sea-facing lounge will tempt one to stop right there and order a drink, but fighting that urge and continuing inside reveals further delights.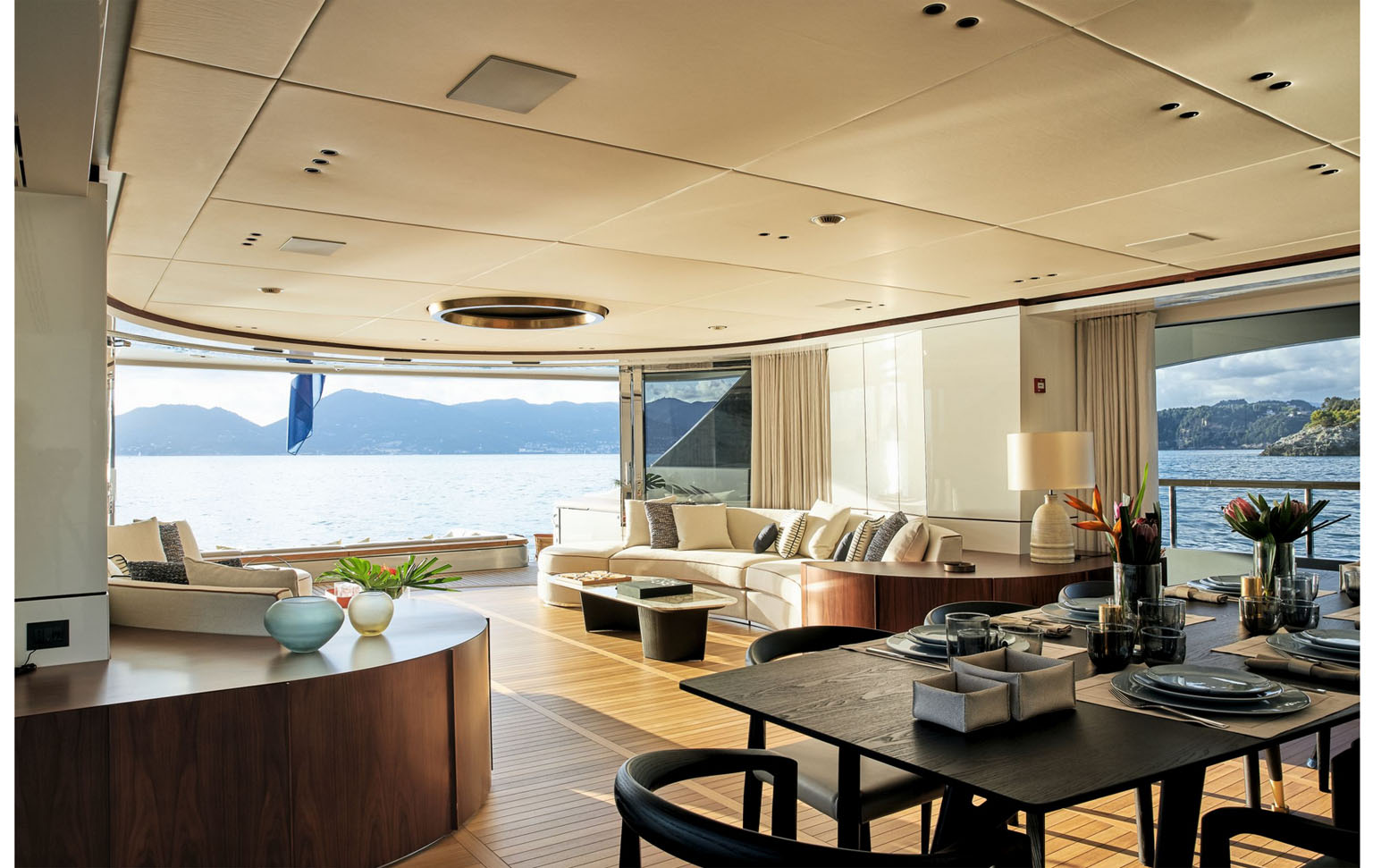 Two enormous doors of floor-to-ceiling curved glass open to the salon, where a pair of curved sofas face one another to create a welcoming space for conversation or relaxation away from the heat of the sun. With the salon doors open, the entertaining space seems continuous from indoor to outdoor elements. The interior decor continues the fresh, contemporary style established at the beach club, with light tones and exquisite woodwork in the floor creating a warm and calm space.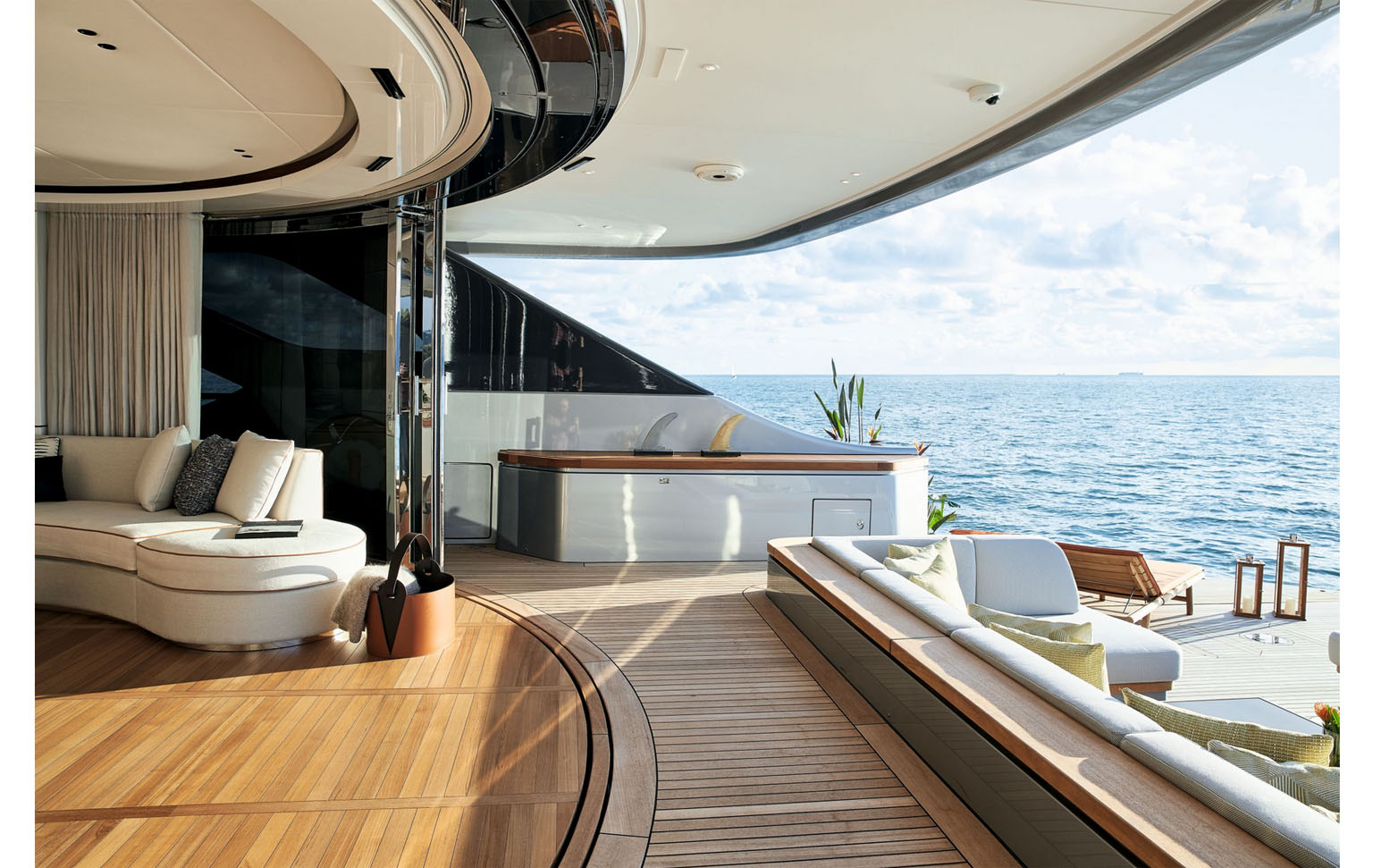 Just forward of the salon is a charming dining area, flanked by enormous windows that bathe the space in natural light.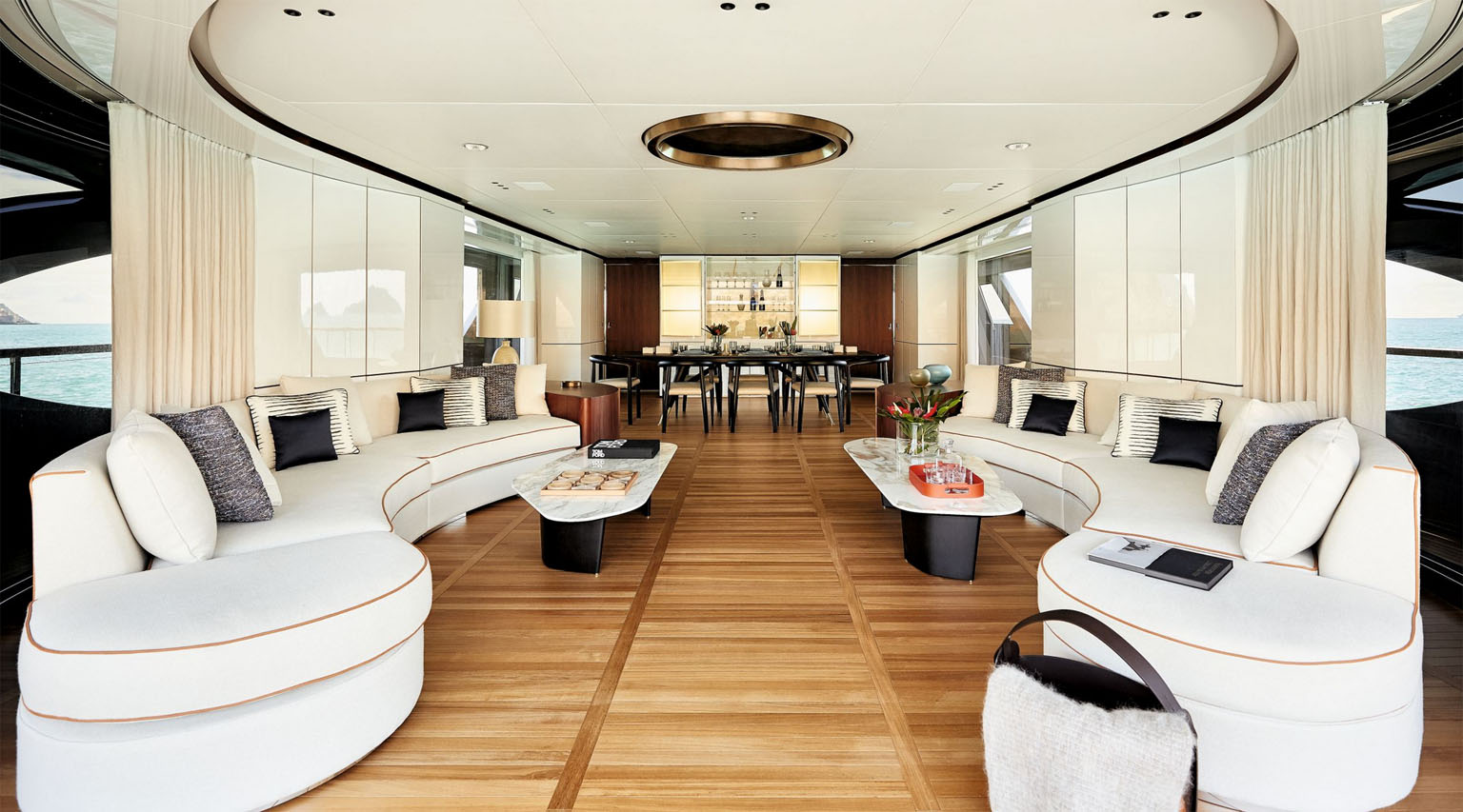 For You—or a Crew
If there's one thing Benetti does especially well with the Oasis 40, it's providing a balance between commercial utility and contemporary elegance in the yacht's functional areas. The galley, for example, is fully enclosed and set up as a commercial kitchen for when the yacht is piloted by a professional crew. Yet if the owners decide to fix themselves a midnight snack, it delivers a homey touch with its custom marble countertops and backsplash, which provide a tasteful break from the traditional wall-to-wall stainless steel. A window over the triple sink allows daylight to shine through, providing another contemporary break from the traditional.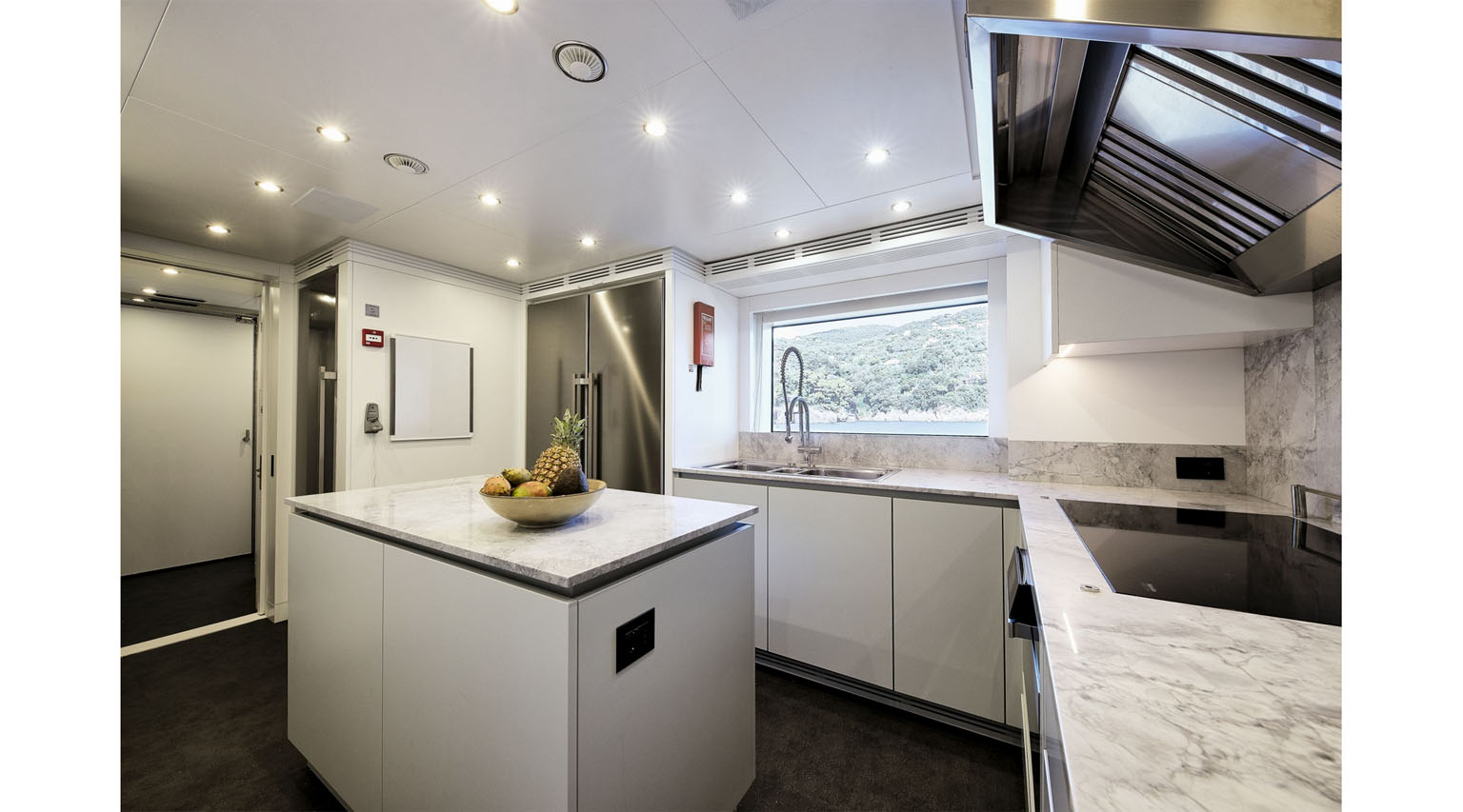 The bridge likewise balances form and function, with enormous floor-to-ceiling windows providing exceptional visibility. Twin compact consoles surround a magnificent leather captain's chair for a look and feel à la George Jetson. And then you see it—there's no steering wheel. Instead, a double binnacle throttle control tops the right-hand console, while a simple joystick tops the left. Multifunction display screens, one on each console and three overhead, provide the captain with all the data needed for a trip down the bay or a transoceanic voyage. Further, Wi-Fi remote control allows the captain to dock the Oasis 40 from anywhere on board, even the swim platform for the ultimate convenience when backing in.
Ahead of the bridge, the bow features an expansive sun lounge area with facing sofas and twin teak tables, creating the ideal spot to watch that next port of call materialize.
Upstairs, Downstairs
The upper deck echoes the same basic decor approach as the main level, with a formal dining area offering elevated views, a comfortable salon space, and a large exterior patio.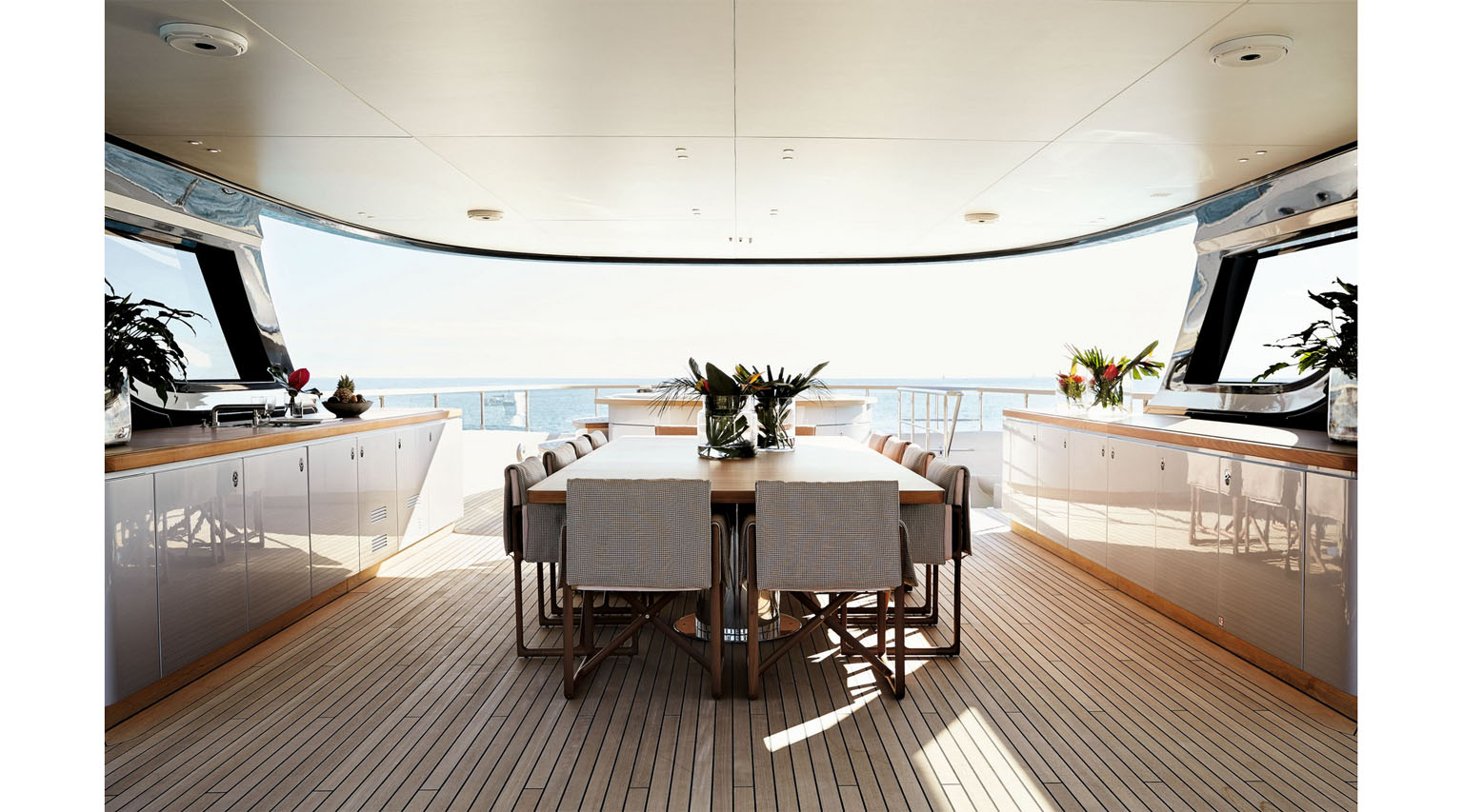 Higher still, the sun deck provides an exquisite outdoor dining space with an unbeatable view. To the stern, there's a spacious lounge area with an aft-facing bar, which is served by a barbecue grill. Forward, a large circular hot tub marks the ideal spot to enjoy late-night cocktails in obnoxious comfort.
Below, guests enjoy the luxurious comforts of five staterooms. The full-beam master suite includes a custom king bed, dressing room with walk-in closets, large and spacious ensuite bath, and sitting area that's equally perfect for either that first morning coffee or that last evening nightcap.
Guests enjoy an almost-equal level of luxury, from the elegant VIP suite to twin suites for the kids.
As it's a semicustom yacht, Oasis 40 buyers can change or move things around to suit their taste, albeit at a cost. Yet even in its standard form, this is a yacht that can't help but take one's breath away. Little wonder that the Oasis 40 has become a best-seller for Benetti.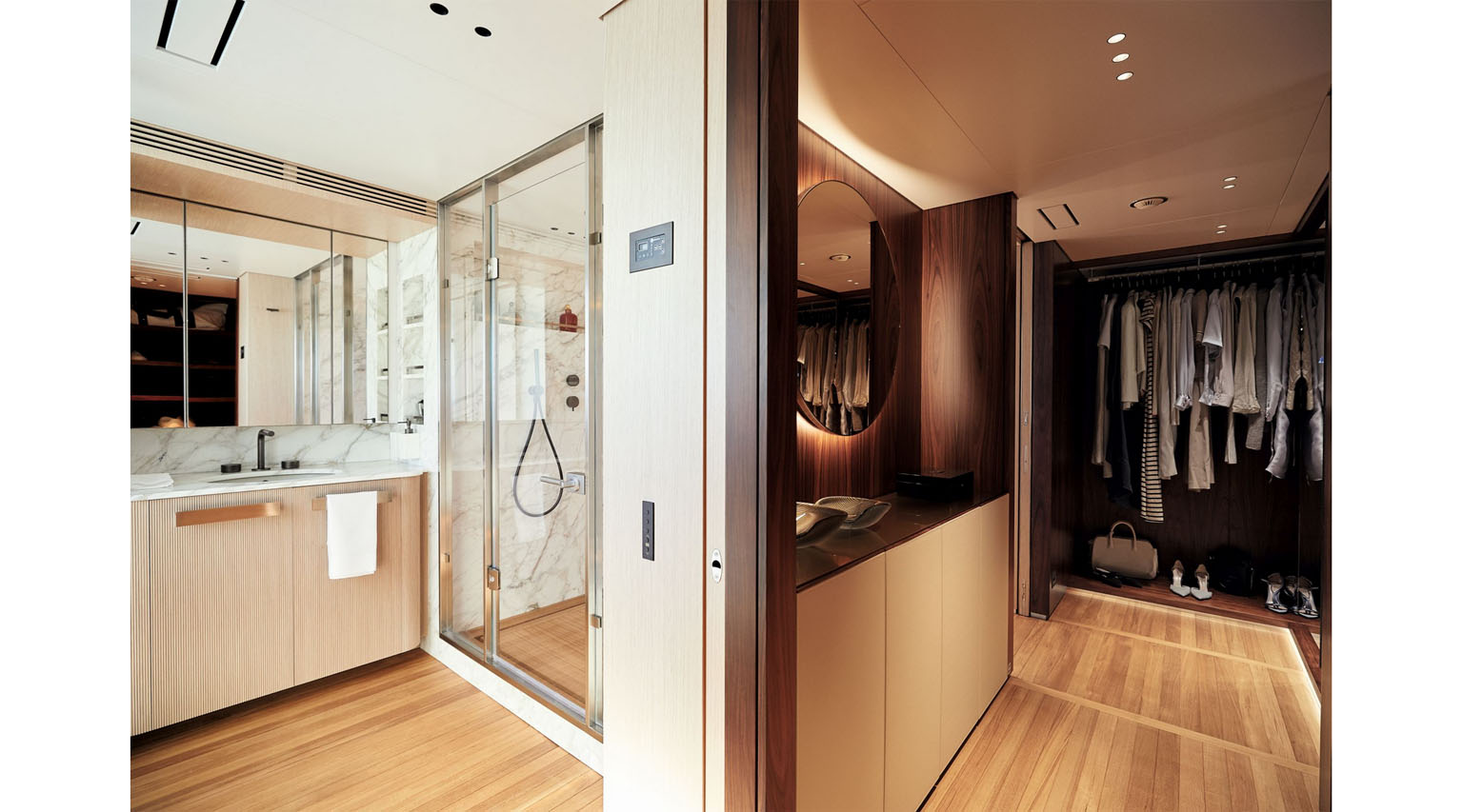 Photography complements of Benetti.