7 Grand Marques With New Releases at the Cannes Yachting Festival
High sea debuts from the iconic festival.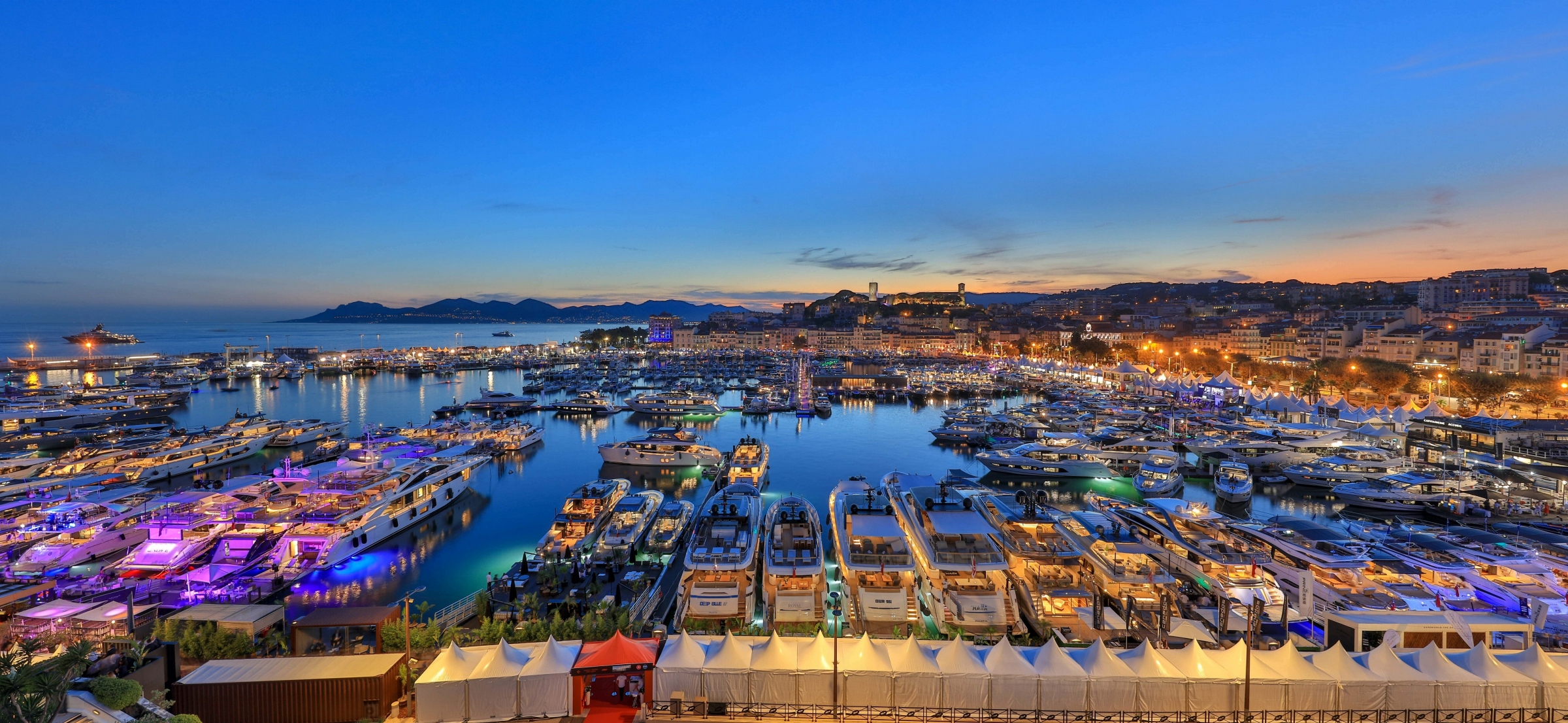 Europe's largest in-water show, Cannes is where serious yachters go to see the latest and greatest from Europe's leading luxury marques, and 2021's event at Cannes' Vieux Port and Port Canto from September 7 through 11 promises to be one of the most anticipated after our long wait. Already a number of prominent shipyards have released teaser announcements hinting at new models making their global debut.
While the Cannes Yachting Festival is open now, make sure to keep yourself safe by staying apprised of the COVID rules and regulations.
Here's a sample of new yachts coming from the best makers at the event.
Azimut Yachts has made it clear the company plans to make a major statement, with 18 boats on display including the world debut of four new models: the Azimut Grande Trideck, Azimut 68, Azimut 53, and Magellano 66.
Of the four, the 38-metre Grande Trideck, Azimut's largest yacht to date, will surely draw the most oohs and aahs with its bold exterior styling by Alberto Mancini giving way to suave, sophisticated interiors by Achille Salvagni.
The Azimut 68 is a new flybridge model also showcasing the work of Mancini and Salvagni, designed for families who wish to enjoy extended cruising in superlative comfort. Only slightly smaller, the new Azimut 53 offers a similar arrangement and comfort in a more compact footprint, for buyers looking to access smaller ports.
Also making its debut will be the Magellano 66, a Navetta-style yacht with a fresh, contemporary design and versatile, comfortable interior layout.
One of the most-anticipated new yachts marking a world debut is the brilliant Baglietto 40, the sporty 40-metre, three-deck luxury sportster from La Spezia, the Italy-based superyacht builder. Designed in collaboration with Francesco Paszkowski Design, the Baglietto 40 sleeps 12 guests in five luxurious cabins while delivering every luxury.
Italian luxury yacht builder Ferretti is still finalizing its Cannes lineup, but its Ferretti 500, Ferretti 670 Fly, and Custom Line 106 will definitely be in the mix.
With seven brands under its umbrella, the company will also debut its all-new 62-foot Pershing 6x, as well as its previously announced Wallytender X, the outboard-powered version of its classic yacht tender.
Perhaps the most exciting new yacht in the Ferretti stable, however, is the all-new Riva Diable, a fresh 68-foot sportster. The elegant yacht features an innovative built-in hard top, with a clean, linear design that hides the technological elements from view. It also protects and shelters the central areas of the yacht, including the dining area and the helm station on the main deck, while its integrated sunroof can open in either forward or reverse direction depending on the angle of the sun. The result is total coverage and maximum comfort without sacrificing the enjoyment and sportiness of an open yacht that has a top speed in excess of 40—yes, you read that right—4-0 knots.
German sport yacht manufacturer Frauscher Bootswerft will use Cannes to debut its all-new 1212 Ghost Launch. The 12-metre powerboat, driven by twin Volvo Penta D6 diesels at 440 horsepower, is said to feature a belowdecks cabin that sleeps two, allowing the 1212 Ghost to handle weekend trips in typical Frauscher style and comfort.
Frauscher will also exhibit its 1017 GT Air, a 10-metre open bowrider with a central helm console and over-the-top luxury throughout, and its 1414 Demon Air sport yacht, designed with naval architect Harry Miesbauer and featuring interior work by Gerald Kiska.
Germany boat builder HanseYachts AG will use the festival to debut its all-new Ryck sports powerboat line, starting with its just-launched Ryck 280.
Designed as a stepped-hull weekender that's easy to handle and to trailer, the Ryck 280 features a stepless cockpit that provides a surprising amount of interior space, with its standard L-shaped bench seat and available table, fridge, and wet bar including a grill. With its integrated T-top and two additional awnings, the entire cockpit can be shaded for added comfort.
Standard power on the Ryck 280 will be a Mercury Verado outboard, with 250-, 300-, and 350-horsepower options.
American powerboat manufacturer Regal will also be presenting its extraordinary 33 SAV, a 10-metre open runabout that incorporates two sleeping cabins below and a long list of luxury appointments. Although not a global premiere, Cannes will mark the model's European debut.
The legendary British yacht builder is still finalizing plans, but expectations are that the focus will be on the five new models announced so far this year, including its Manhattan 55, Predator 55 EVO, 65 Sport Yacht, 88 Yacht, and 90 Ocean. What is clear is that the company plans to have a strong presence at all of this winter's shows, with Cannes being the launchpad. Five global debuts is a strong start.