Vitalie Taittinger on Taking Over Her Family's Iconic Champagne House
"My aim is to carry on this beautiful patrimony"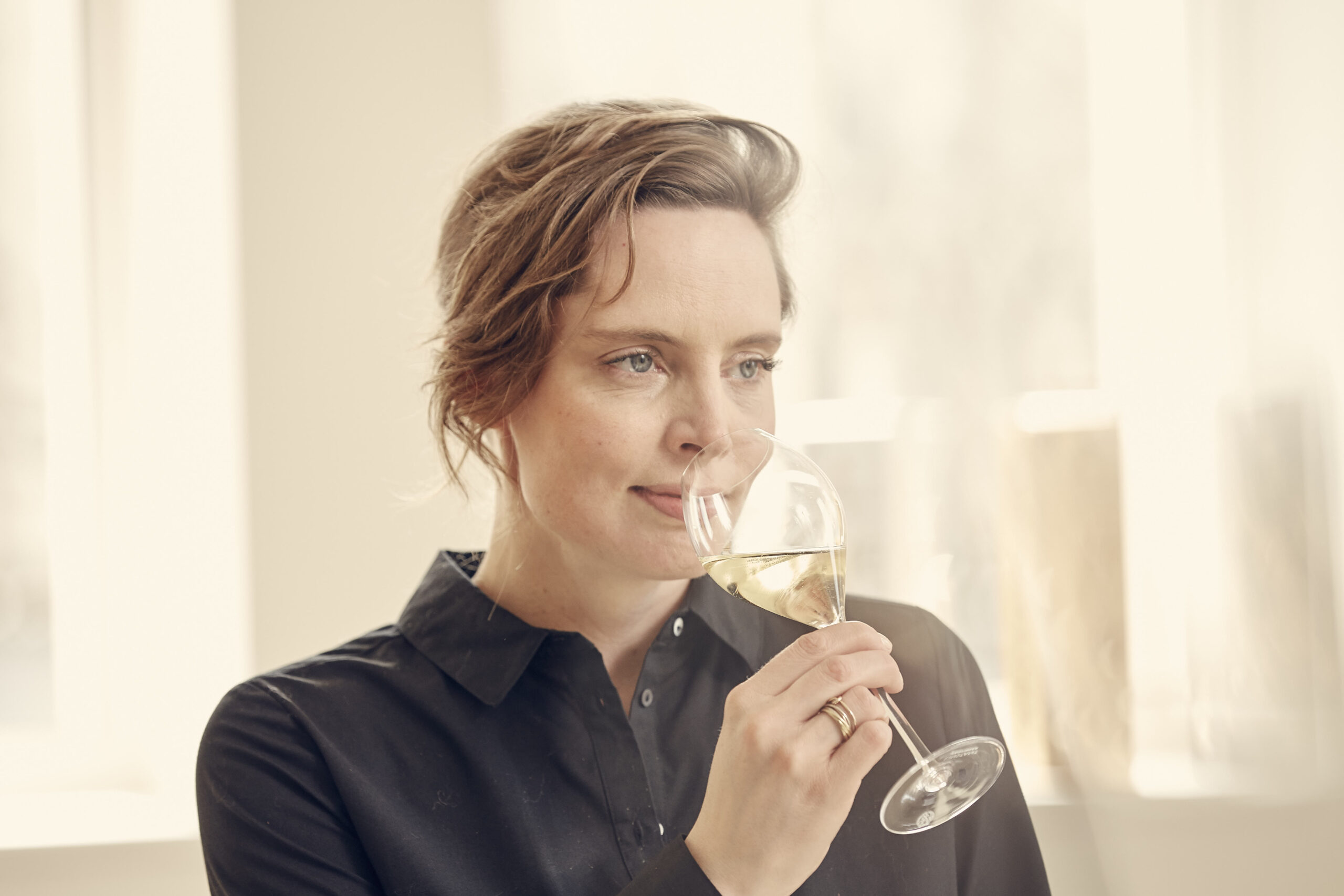 Since the early 1800s, women have played prominent roles in the champagne industry. Barbe-Nicole Ponsardin, who, as a widow (veuve in French), took over the running of a champagne house after her husband, François Clicquot, died, created Veuve Clicquot. The house of Pommery flourished after Alexandre Pommery died and his widow, Louise, took over. After the death of Eugène Laurent, his widow, Mathilde Emilie Perrier, created Laurent-Perrier. Women such as these perfected the "champagne method" and added the dry (brut) styles popular today to what had usually been much the much sweeter sparkling wines made in Champagne.
The most recent member of this lineage is Vitalie Taittinger, who early in 2020 became president of the Taittinger champagne house, succeeding her father, Pierre-Emmanuel Taittinger. Vitalie Taittinger trained as an artist and designer and started working with her family only in 2007. That was the year her father regained control of the champagne business after the extensive Taittinger family holdings in wine, hotels, and luxury commodities had been sold two years earlier to an American investment firm. Starting as a consultant to the marketing department, she became marketing and communications director, and then president in January 2020, when her father retired. Her brother, Clovis, who had been export manager, became general manager.
Although Vitalie Taittinger had not intended to join the business, she says she was inspired by her father's determination to regain the champagne house. Did she feel any pressure to work with him? "Not at all. My father never said anything about it." As for her own children, she says that "to be honest, I would like them to join the company, but I will do nothing to persuade them—and perhaps that is the best way to make them join."
Vitalie Taittinger took over the business two months before COVID-19 disrupted lives everywhere—and also disrupted patterns of wine consumption. In this year that she calls "very weird," champagne has not been a favourite wine because "it is a wine for celebration and there was nothing to celebrate." Many champagne houses cut back on marketing, thinking it was inappropriate to promote luxury goods when so many people were suffering. At Taittinger, even though the results were not as bad as first expected, the pandemic "made us rethink and rebuild."
What will Vitalie Taittinger bring to Taittinger champagne? No doubt there will be changes on her watch, she says, but she has no particular agenda other than to improve Taittinger champagnes. "My aim is really to carry on this beautiful patrimony, to improve it as much as I can. I'm not here to prove something about myself. This patrimony is now four generations old, and I want to give the same gift to the next generation. This is not an ego project … But maybe, after I have left, you will see something there that looks like me."
Will there be a new champagne to add to the existing portfolio? "We are thinking about it, but we think we have things to improve in the present cuvées. I don't want to do something just to do something." It would take at least three years and perhaps as many as 10 to develop another cuvée, "so really, I can't tell you anything about it."
In the meantime, Vitalie Taittinger is excited about Taittinger's sparkling wine project in Kent, in southern England. English sparkling wine has been attracting attention for some years, and Taittinger was one of the first champagne houses to plant vines there. This is, she says, "a great adventure, a true experiment, because nothing is obvious." The company has planted the three main grape varieties of Champagne (chardonnay, pinot noir, and pinot meunier), and although it has had three harvests, no wine will be released until 2023 or 2024. "I'm sure about one thing," Vitalie Taittinger adds. "We will produce a very beautiful wine." On the basis of the Taittinger record to date, that seems like a good bet.
Three Taittinger champagnes are widely available in Canada. Taittinger Brut Réserve is a non-vintage cuvée that is mostly chardonnay, reflecting the preponderance of chardonnay in the Taittinger vineyards. Taittinger Prestige Rosé is also non-vintage and also has a higher than usual chardonnay component. It derives its rich colour from the addition of 15 per cent pinot noir to the final blend. Both these wines are fine examples of affordable champagnes, with the rosé notable for its defined and focused flavours and good structure.
Taittinger's icon wine is Comtes de Champagne Grand Crus Blanc de Blancs, with the current vintage 2008. Made solely from chardonnay, the grapes for this wine were drawn only from Grand Cru vineyards in the villages on the Côte des Blancs. The base wine was aged for 12 years in the chalk tunnels, dating from Roman occupation nearly two millennia ago, that run for kilometres under Taittinger's headquarters in Reims. This is a stunningly elegant wine, with waves of complexity, vibrant acidity, and endless beads of fine bubbles.
Taittinger champagnes to try 
Taittinger Brut Réserve (Non-vintage)
Taittinger Prestige Rosé (Non-vintage)
Taittinger Comtes de Champagne Grand Crus Blanc de Blancs 2008