The Toronto Beach Club Brings the Mediterranean to the Great Lakes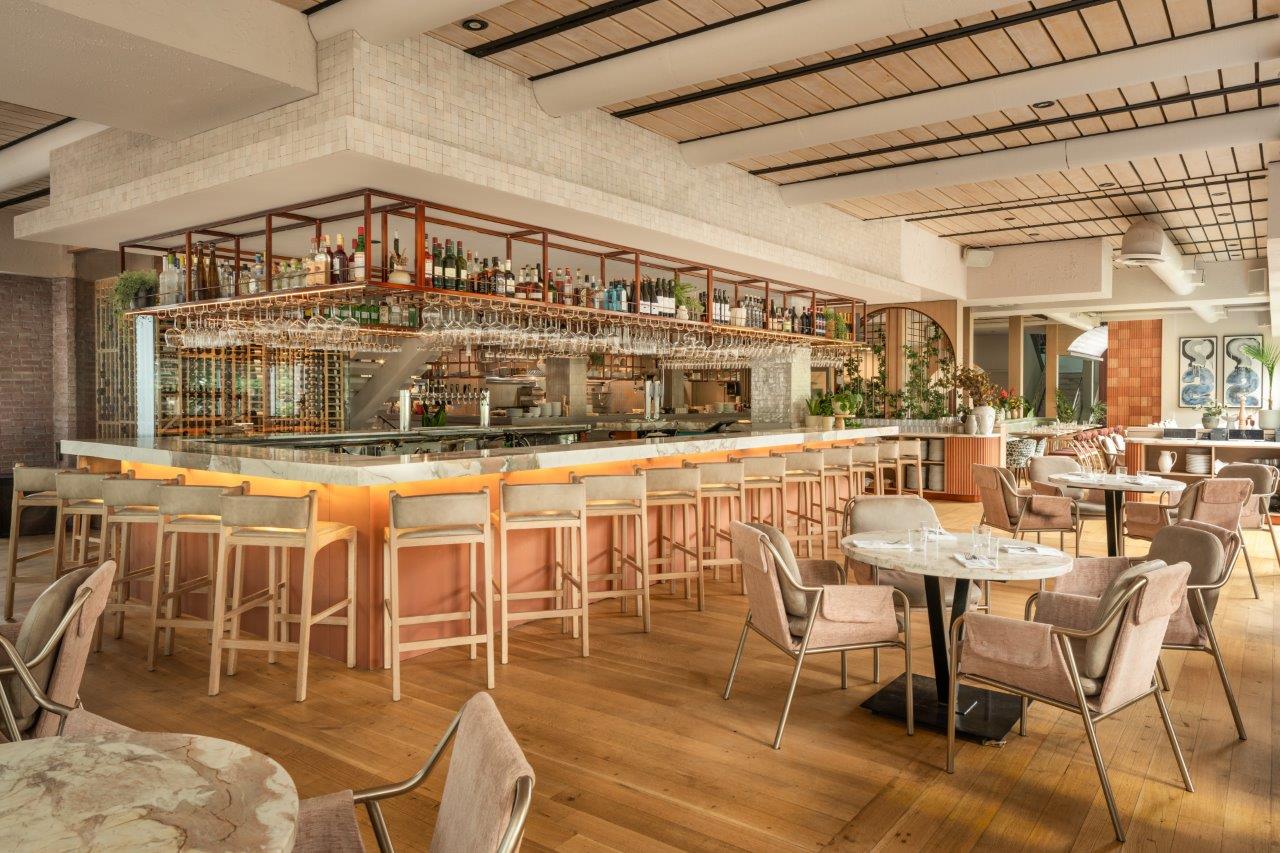 It's a summer evening; beauty sweeps across the sky. The waterfront breeze whispers past us on a stylish, palm-lined patio. The music is Café del Mar; the view is sparkling blue water and an expansive sandy beach. The craft cocktails are icy cold, made-to-order elixirs that guests, hungry for socializing in person, are finally able to enjoy together.
You'd think this is Ibiza or the South of France, but I'm in Toronto's east end at Woodbine Beach's newest addition, the Toronto Beach Club. This fresh take on a Mediterranean-inspired space and menu is the work of Scale Hospitality, led by restaurateur Hanif Harji (Shook and Byblos among others).
Harji says he was inspired by the location. "I felt that, as a world-class city, we needed our version of a world-class beachfront restaurant. The setting brings me back to all my fond memories of trips I've taken to the Mediterranean."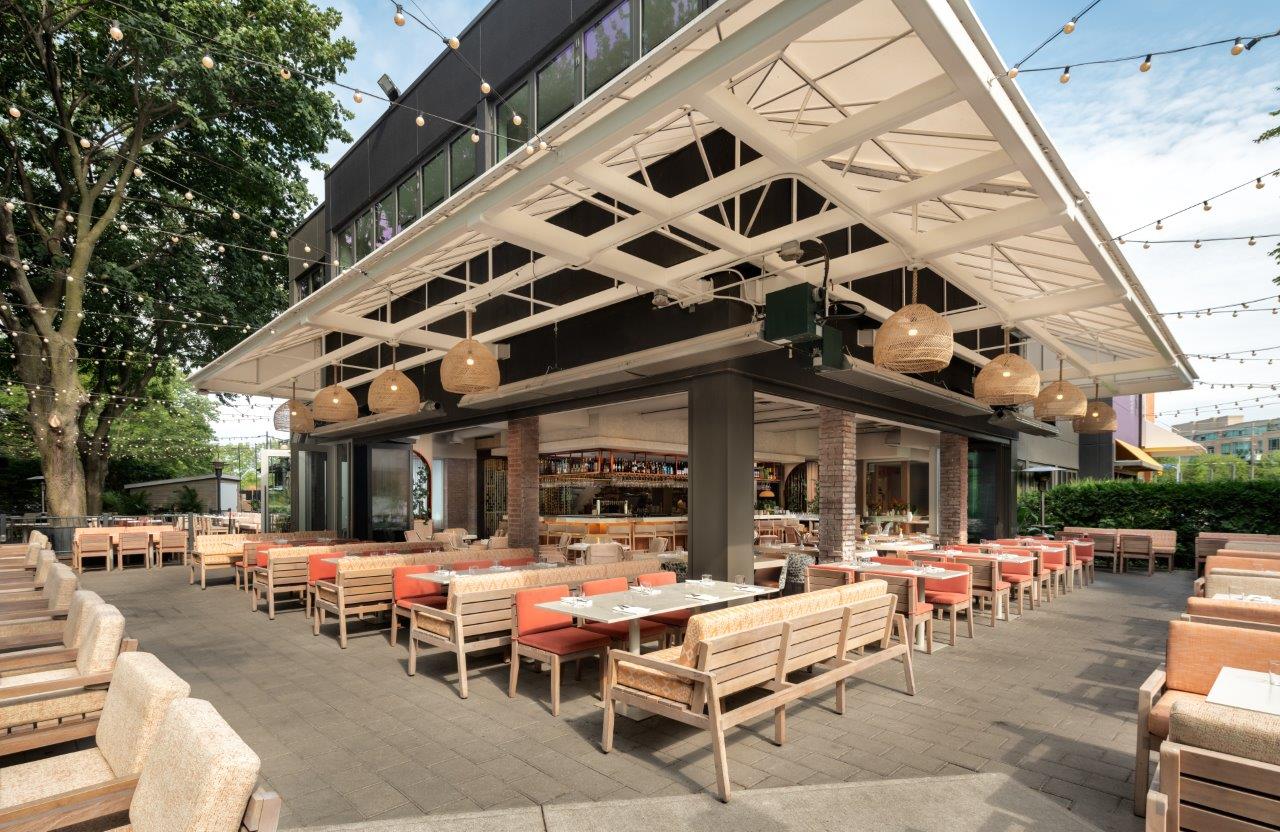 Bringing the restaurant's coastal vibe, a fantastic curated wine menu and boutique vermouths are offered alongside a tasty array of mezze, mains, sides, and desserts spanning the flavours of Spain, France, Greece, Italy, and Turkey.
I whet my palate with the Gimlet d'Avignon, made with Tanqueray gin, lavender, and a lime-leaf cordial—Provençal perfection. My dinner companion's Sienna Sour features Bulleit bourbon, honey agrodolce, lemon, sumac, and thyme. It's a well-balanced, delicious way to start the evening.
One of the menu's most intriguing ingredients, according to chef Ted Corrado, is the barrel-aged feta imported directly from Greece. "This is something I've never used before," he says. "It's the first time I've seen feta treated in such a special way. It's a very elevated version." It's a much more complex and flavourful feta than what you normally find on restaurant menus, save in Greece.
The Mediterranean, a fresh green salad, features the much-lauded cheese, oregano, kalamata olives, and a lemon-dill vinaigrette. For purists, there's a slab of feta served with caper leaf, lemon, pita, and mountain oregano, too.
It's the simple zucchini fritte, however, that steals the appetizer show. Long ribbons of zucchini are coated in a cornstarch and flour slurry mixed with carbonated water. The result is a shatteringly crisp bite dressed with a flourish of honey and tzatziki—an unexpected, simple, and terrific textural sensation.
Tables around us are enjoying Spanish jamón iberico sliced off the leg to-order and avocado labneh with lemon and pita. Since we can't travel to faraway lands quite yet, this comes as close to the Med as we can get in Toronto.
The Toronto Beach Club is one of a handful of restaurants in the GTA that use a real charcoal grill. Chef says all the meat and fish on the menu are grilled this way, giving everything from a simple steak to a fillet of fish an alluring flavour that ties the dish to a more authentic, laidback beach culture.
Corrado works with a number of suppliers to source fish from local waters, Europe, and even New Zealand. We order a side of branzino crudo, simply grilled and served with three side sauces: a citrusy-cilantro-flecked mojo (our favourite), a chimichurri, and a harissa-spiced butter. We pair it with oregano-dusted Greek lemon potatoes, wilted greens topped with crispy strings of fried shallots, and a white sancerre from Pascal Jolivet—a refreshing foil to the fish.
Get an order of the spaghetti pomodoro: al dente pasta and a flavourful sauce with chili and fresh basil. It's chef's favourite and his homage to the simplicity of Mediterranean cuisine and his Italian roots. "Our pasta is made fresh, in-house daily. It's a dish that I myself could eat every day and will always come back to."
By around 8 o'clock, a duo of musicians sets up in a corner of the patio. One plays the Spanish guitar, the other the cajon, a box-like instrument that provides flamenco percussion. The restaurant plans to offer live musicians, dancers, performers, and DJs every Friday and Saturday night. We enjoy a shared bite of the sumac-dressed strawberry crostata over frangipane with yogurt ice cream as the sun paints the evening sky a nectarine rose-gold.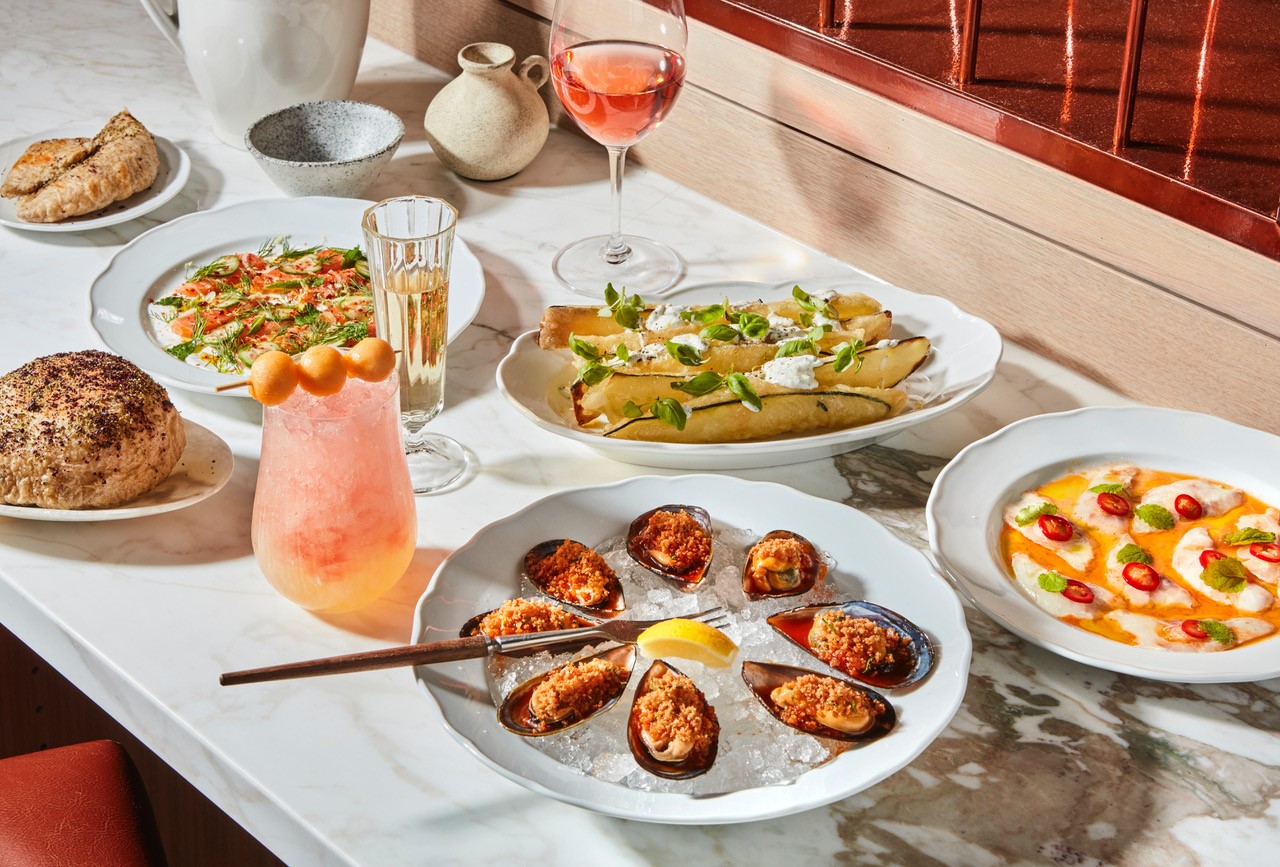 Hanji says his goal was to create a place that sweeps people away. While the Spanish music drifts over the beach, and as we sip on Moroccan mint tea, I count myself lucky to have enjoyed a night "away" in my own backyard.